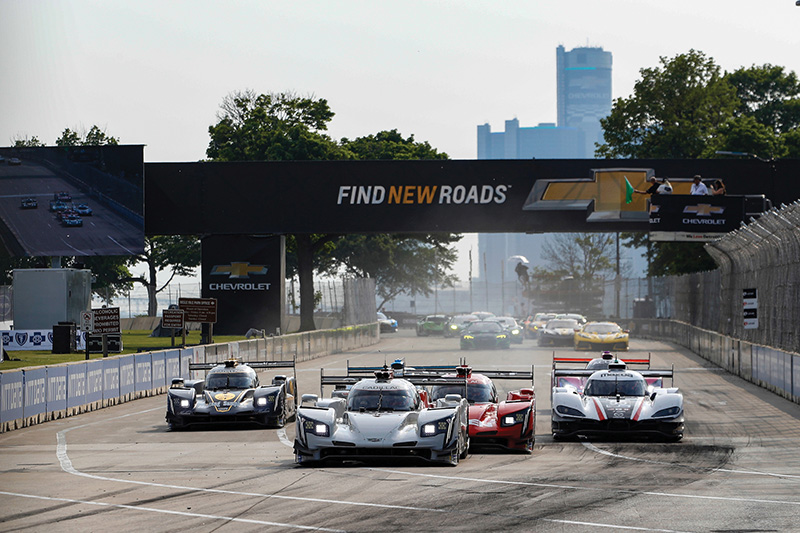 The first Sunday in June will be the last time racers barrel around Belle Isle in the Chevrolet Detroit Grand Prix presented by Lear — not to mention the swan song for the winner's ritual of splashing in the James Scott Memorial Fountain. Next year, the action moves back to the city streets. Memo to the 2023 winning driver: Don't jump into the Detroit River. 
Detroiters still love the Grand Prix, which started 40 years ago, in 1982, on the Renaissance Center course and moved to Belle Isle in 1992. With a couple of idle intervals — most recently the COVID year of 2020 — racing has continued there. 
Here's a look at the 2022 Grand Prix happenings from Friday, June 3, to Sunday, June 5, and how things stack up for drivers and fans.  
The Format
After spending weeks swooping around Indianapolis Motor Speedway, culminating in the Indianapolis 500 on May 29, the NTT IndyCar Series comes to Detroit to bump and grind. It's for one race only instead of the Saturday-Sunday
doubleheader, called Dual in Detroit, that was on offer since 2013. The 70-lap, 164.5-mile Grand Prix starts Sunday at 3:30 p.m. IndyCar brings along two companion series as well. Sports prototype cars of the IMSA WeatherTech SportsCar Championship vie to win the Chevrolet Sports Car Classic on Saturday, followed that afternoon by the Indy Lights Presented by Cooper Tires open-wheel cars. Indy Lights, the long-established development series for young drivers, races again on Sunday after  the Grand Prix. 
The Strategy
The 2.3-mile, 13-turn  track is narrow, rough, and known for making noodles of drivers' arms. So much comes down to Saturday's qualifying run, which determines starting positions for the race. Being among the first to take Sunday's green flag is crucially important, although a year ago, Pato O'Ward, who was Indy 500 Rookie of the Year in 2020, started the second Dual from 16th on the grid, yet somehow won.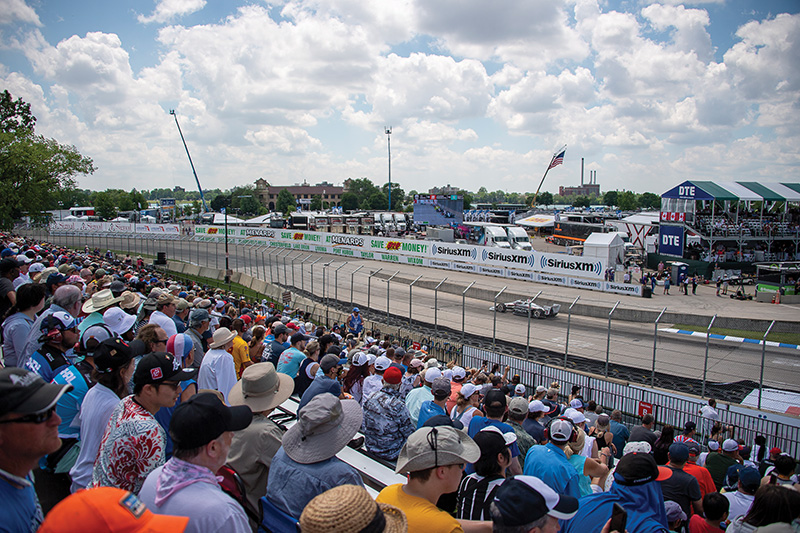 The Cars
IndyCars are made in the Dallara IndyCar Factory near Indianapolis Motor Speedway. Dallara, an Italian company, developed early expertise in working with carbon-composite materials used in these cars. Engines are small, twin-turbocharged V6s made by Chevrolet and Honda. Menacing in appearance, the IMSA sports prototypes have closed cockpits, full fenders, and a large rear fin and spoiler. Top IMSA competitors Cadillac and Acura provide their own engines. Indy Lights cars use a smaller Dallara chassis and are powered by turbocharged four-cylinder engines. 
IndyCar Drivers to Watch
Pato O'Ward figures once again to be strong in his Arrow McLaren SP. Marcus Ericsson, a steady Swede, won the first Dual in Detroit race last year and started strong this season. Colton Herta is only 22 years old but has won six IndyCar races; his take-no-prisoners approach could pay dividends. Team Penske's Scott McLaughlin, the 2021 series Rookie of the Year, won this season's opener on the streets of St. Petersburg, Florida. And his teammate, the veteran Will Power, led last year's Dual 1 until the car quit. Newcomer alert: Watch for Christian Lundgaard, a 20-year-old rookie from Denmark, to crack the top 10. 
The Fans
Purchase tickets at detroitgp.com/tickets or call 866-464-7749. No ticket is required Friday, June 3, on Comerica Bank Free Prix Day. Prices range from $50 for Saturday and Sunday general admission to $230 for reserved Grandstand 1 seating for both race days. Kids 15 and younger get in free with a ticket-bearing adult. General admission includes access to all fan areas and viewing platforms, plus watching the teams work in the paddock. The new Fountain Fan Area features a music stage with performances throughout the weekend. Food and beverages are available there. Bring your own lawn chair to watch the racing.
---
This story is from the June 2022 issue of Hour Detroit. 
Facebook Comments