A honeymoon is a once in a lifetime experience, so it stands to reason the destination should be a memorable one. Really, there's no better time to embark on a unique, far-flung jaunt, one where memories last a lifetime — and set the tone for the rambling road ahead.
Whether you enjoy lounging on the beach with a good read, trekking through the countryside, or sussing out architectural wonders, a romantic vacation is in reach. Throw in an off-the-beaten-path destination and a mind-bending change of scene, and a honeymoon to write home about is in store. Feeling daunted by the planning process? Don't be. We've uncovered 10 of the globe's most remote — and highly covetable — haunts, leaving you to the fun part: kicking back.
---
Destination: Con Dao, Vietnam
Con Dao is a rugged, 16-island archipelago in Ba Ria-Vung Tau Province, 110 miles off Vietnam's southeast coast. To date, it remains unspoiled. Its largest island, Con Son (aka Con Dao Island), is the site of rock-dotted Bai Nhat beach. A large portion of the island is dedicated as a national and marine park, spanning mangrove forests, coral reefs, and sea grasslands. The island is an important breeding ground for sea turtles, and it's home to rare dugong (marine mammals similar to manatees) and dolphins — not to mention many kinds of orchids found nowhere else in Vietnam.
The island also features expansive, diverse coral reefs, making snorkeling a must. It's also where French colonists established a harsh prison system, remnants of which now stand as a museum. Whether you tour the island by motorbike, hike the trails (some unmarked) with a guide, or dive off the coast, be sure to grab a bite at Tri Ky, a seafood-centric spot on Nguyen Duc Thuan Street on the outskirts of town. And whatever you do, book a room at Six Senses Con Dao (sixsenses.com/sixsensescondao). Each of its 50 stunning, modern villas set along an arch of sand has its own infinity pool with staggering views of the East Vietnam Sea. Learn to make local delicacies during a cooking class at Vietnamese by the Market. Hire a boat to see the islands' most remote vistas, or engage in water sports by taking advantage of the kayaks, Hobie Cats, basket boats, surf boards, and boogie boards on hand.
---
Destination: Laconia, Greece
Situated on a petite peninsula off the Peloponnese, Monemvasia, Greece, is laden with plateaus and peppered with Byzantine churches. About a four-hour drive from Athens, the "Gibraltar of the East," built atop rock overlooking Palaia Monemvasia Bay, dates back to the Middle Ages and is home to the 13th-century Church of Ayia Sophia. Traverse the winding paths down the hill to the Aegean Sea. Visit, too, Christos Elkomenos. Adorned with carved peacocks, it's said to be the largest medieval church in southern Greece. Take a day trip north of Monemvasia to the Port of Gerakas, its fjord-like layout surrounded by wetlands and a quaint fishing village. Explore, too, the tiny island of Elafonisos, home to pristine beaches and waterside tavernas.
Adventurous travelers will find themselves drawn to the cave of Kastania, at the tip of Cape Maleas. When it's time to rest your head, only the Monemvasia Hotel (kinsternahotel.gr) will do. This secluded, refurbished mansion houses architectural evidence of the Byzantine, Ottoman, Venetian, and modern-Greek phases, but also plenty of modern conveniences. Those include a swanky Mediterranean restaurant, a hammam-outfitted spa, relaxing cistern, and a jaw-dropping freshwater pool overlooking scenic citrus groves. Plus, the property is intersected by E33, an idyllic hiking trail connecting the villages of Agios Stefanos and Nomia.
---
Destination: Saint Vincent, Caribbean
Saint Vincent, a volcanic island situated between Saint Lucia and Grenada in the Caribbean Sea, stands as the largest of the Saint Vincent and the Grenadines chain, part of 32 islands and cays in the Windward Islands. Fringed by both black- and white-sand beaches, it's both mountainous and forested. Popular for yachting and a boon for divers and snorkelers, Saint Vincent is also an eco adventurist's dream. Climb imposing La Soufrière volcano, a 4,048-foot behemoth. Absorb the beauty of Trinity Falls and meander picturesque coastal paths. Not to be overlooked is the Owia Salt Pond on the island's northeastern coast. Sheltered by volcanic boulders, it's a serene spot and a therapeutic respite.
While on the island, take in the oldest botanical gardens in the Western Hemisphere and gaze upon looming Fort Charlotte above Kingstown Bay. Birders visiting the island revel in its many winged wonders — including the rare St. Vincent parrot — that call the Vermont Nature Trail their home. To sample St. Vincent's fresh local produce, meat, and fish, venture into bustling Market Square early on a Friday or Saturday morning. Meanwhile, consider Buccament Bay Beach Resort (buccamentbay.com) your home base. Nestled in a lush, green valley on the island's southwest coast, this 95-villa property features a soccer school, tennis and performing arts academies, a spa, and a children's club. There are also several onsite restaurants and bars, including a pristine sushi bar, an al-fresco eatery, and a contemporary Indian dining room.
---
Destination: Basilicata region, Italy
Sure, there are more obvious spots when it comes to traveling in Italy, but the Basilicata region is truly special. Setting it apart from other Italian tourist attractions, many of Basilicata's hotels and restaurants are built from caves, formerly homes of the poor. You'll also find ancient Matera, a city of stone, studded with a maze of churches, caves, and stone-facade buildings, some of which date back to Roman times.
Find rustic luxury at the Sextantio Albergo Diffuso Le Grotte Della Civita (sextantio.it), where grottoes are gracefully incorporated into the rooms. Or kick back at Palazzo Margherita (palazzomargherita.com), Francis Ford Coppola's new nine-room property. Situated on a 19th-century estate, it's anchored by a vaulted, brick kitchen, where regional cooking classes court the foodie. It also features balconies overlooking a lush courtyard and an onsite theater stocked with hand-selected Italian films. From there, set out to see Neolithic cave dwellings and crumbling Greek ruins outside of Metaponto. Visit quaint mountain villages scattered along hillsides, and soak up some rays on the Ionian Sea's cobalt shores. Whatever you do, though, don't miss breakfast at Hotel Torre Fiore, where the morning buffet features ricotta made by a local artisan.
---
Destination: Cheltenham, England
Less than 100 miles from London, Cheltenham feels worlds away. Part of England's west-central Cotswolds range, Cheltenham makes an excellent base for journeys into Bath, Oxford, and Stratford-upon-Avon. Marked by ornate ironwork- and stucco-detailed regency townhouses, it is rich with squares and terraces, hidden towns, and quaint villages. Cheltenham's tree-lined main thoroughfare is the Promenade, considered among the most beautiful in England, flanked by smart shops and cafés — some dating back to 1823 — and a Neptune Fountain.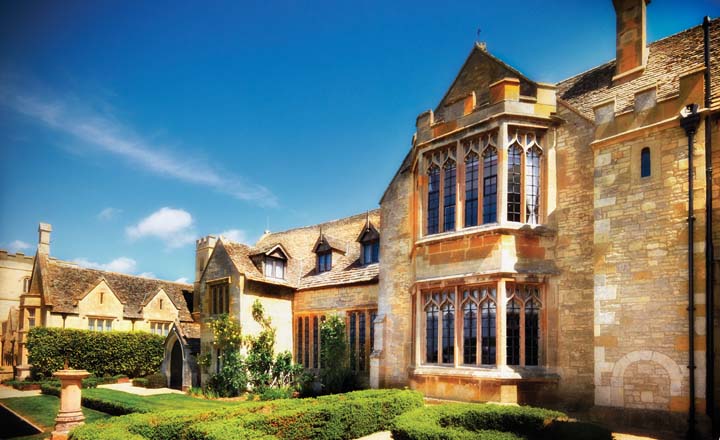 While there, treat yourself to Ellenborough Park, a 62-room country house with a spa, oak-paneled dining room, and casual brasserie (ellenboroughpark.com). Wander its covert corridors, and retire to individually designed rooms conceived by Nina Campbell. Hit Cheltenham Racecourse for a thrilling horse race, or stroll the footpaths to Belas Knap, a barrow in Winchcombe near stately Sudeley Castle. And do enjoy a pint over dinner at Royal Well Tavern, a bastion of prime-cut beef, Scotch eggs, and burgers well worth sinking your teeth into.
---
Destination: Shangri-La, China
Perched deep in the valley of Ringha in China's Yunnan province of Shangri-La is Balinese-style resort Banyan Tree (banyantree.com). Its 32 rustic-posh suites and wood-poled lodges boast private balconies overlooking the lush valley of Shu Du Gang River. Handmade wooden bathtubs beckon you to sink in and unwind. Throughout the resort are recycled details, including repurposed bits of Tibetan farmhouses. Local arts and crafts and vivid thangkas (Tibetan paintings) and rugs abound. Settle in for a hot pot at Chang-Sa, or book a hot stone treatment at the spa. When it's time to explore, embark on a day trip to the surrounding canyons, ridges, and snowcapped mountains. Treks are a popular way to pass time; fortunately, there's something for all skill levels. Naturally, seeing gilded-roofed Buddhist monasteries,  including Ganden Sumtseling Monastery, is an absolute must.
---
Destination: Ljubljana, Slovenia
Capped by a ninth-century hilltop castle, culturally rich Ljubljana, Slovenia, has an active student population, thanks to several resident art academies and universities. Replete with flag-strung bridges and architecturally interesting buildings, it's also the capital city and the resident address of one of Europe's oldest philharmonic societies. Word to the wise: Stay at Antiq Palace Hotel & Spa (antiqpalace.com), which was built in the 16th century as a residence for nobility. It shows.

The property's 13 elegant, uniquely designed suites and studios are a perfect launching pad to traverse the compact, pretty city, much of which was designed by architect Jože Plečnik, including the Church of St. Francis, the town's central market, the pedestrian-only Triple Bridge, and the university library. Wander from one square (or trg) to another, popping in galleries, shops specializing in handmade lace, and specialty food stores. And do make your way to Stari Trg ("The Old Market"), a wide, central street lined with chapels and homes tucked behind stunning stone gates. When hunger strikes, stop for a meal at Gostilna Sokol, an upper-level gostilna and microbrewery with a rustic, tavern-like feel, heartwarming goulash, and a mean prekmurska gibanica, a cottage-cheese dessert laden with apples, walnuts, and poppy seeds.
---
Destination: Havasu Falls, Arizona
It's hard to believe a place like Havasu Falls exists. But if you're willing to make the hike, you'll be amply rewarded with a tropic-esque paradise, smack in the middle of Arizona. It's located in a remote canyon in Grand Canyon National Park. That's why you should stay at El Tovar Hotel (grandcanyonlodges.com) to rest up for the big event. The 10-mile hike is strenuous, starting at the Hualapai Hilltop, located off Highway 66 about 90 miles northwest of Seligman, Ariz. With its steep grade,the first mile-and-a-half is the toughest.

There's nothing in the way of luxury along the way, though you can stop to buy snacks and souvenirs in the village of Supai, home to the Havasupai people. Once you arrive, plan on spending the night — camping. One of the country's most beautiful campgrounds is found between Havasu and Mooney Falls. Pitch a tent creek-side, beneath towering cottonwoods and 400-foot red rock walls. The end goal: to reach the tumbling, electric blue falls and waterway. With a relatively constant year-round temperature of 70 degrees, the idyllic spot is about half a mile from Navajo Falls and a mile from turquoise blue Mooney Falls. The tree-shaded wonder is a favored swimming hole, so be sure to bring your suit.
---
Destination: Cayos Cochinos, Honduras
An archipelago in the Bay Islands, Cayos Cochinos, Honduras, consists of two small islands managed by the Honduran Coral Reef Society. Protected by the government, its ecosystem teems with life – some still waiting to be discovered. Far from the throngs, these islands lack roads, cars, and even bikes. Get around by foot to meet a handful of residents in Garifuna fishing villages, climb to the lighthouse for a panorama of the Cayos Cochinos and the water beyond, and dive amid untouched reefs. Stay at Plantation Beach Resort (plantationbeachresort.com), where simple rooms are the gateway to land and sea. Take a guided boat tour to visit Chachahuate, a small cay accommodating but a handful of people. Swim and snorkel with rays and resident turtles, or visit Isla Menor to learn about the science station and biological preserve.
---
Destination: Mabul, Malaysia
Swaying palms and bucolic, waterside villages are par for the course on the oval-shaped island of Mabul, Borneo, off of Malaysia's northeastern coast. A 15-minute speedboat ride from more frequented Sipadan Island, it's a renowned muck-diving destination. What's more, it's situated on the northwest corner of a large coral reef, at the edge of the continental shelf and a deep, sloping drop-off. Look for moray eels, spike-fin gobies, and blue-ringed octopi. As the days unfold, retire to Sipadan Water Village Resort (swvresort.com), where Bajau-style, over-water bungalows are like living the dream. The property's dive center offers scuba training and takes visitors out on fiberglass boats to the area's 13-plus dive sites. There's also an onsite dining hall serving buffet meals. After a long day, unwind in the tropical, wood-trimmed lounge.
---
Whatever your speed and whichever destination you decide on, you'll likely pinch yourself to ensure that it's real. As for the return home, you'll have no shortage of roads-less-traveled stories to tell.
Jennifer Olvera is a Chicago-based author who has covered overseas destinations for frommers.com as well as the travel sections of the Chicago Tribune and The Los Angeles Times.