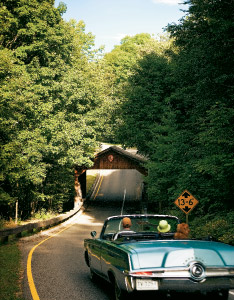 1. Leelanau Escape_549 miles
To experience what National Geographic magazine once called "Michigan's most scenic drive," get yourself first to Frankfort (I-75 north to US-10 to M-115), where you'll find a magical ride on M-22. For 85 miles it rolls along Lake Michigan to Northport and then south along Grand Traverse Bay to Traverse City, revealing quaint towns, lighthouses and unforgettable beaches. This is not a trip to rush through in a day.
Pause first six miles north of Frankfort at the 150-year-old POINT BETSIE LIGHTHOUSE, possibly the most photographed of Michigan's 116 lighthouses, and then CHIMNEY CORNERS RESORT (231-352-7522; chimneycornersresort.com). The woodsy resort overlooks a beautiful beach on Crystal Lake and includes rooms, cottages with fireplaces and a rustic dining hall. (On Thursday and Friday, the restaurant is open to the public, so nonguests can savor the finest beef Wellington in Northern Michigan.) M-22 then enters SLEEPING BEAR DUNES National Lakeshore, home to the state's most beautiful beach. Spend a day stretched out in the sun or rent an inner tube from RIVERSIDE CANOE TRIPS (231-325-5622; canoemichigan.com) for a leisurely float from M-22 to the Great Lake.
In Glen Arbor, there's CHERRY REPUBLIC (800-206-6949; cherryrepublic.com), the world's largest cherry retailer. Its cafe dishes up 12 varieties of cherry ice cream, cherry lemonade and cherry burgers. In Leland, stroll through FISHTOWN, a historic district of weather-beaten "shacks" on the water. Once ice and smoke houses for commercial fisherman, they're now shops stocked with everything from art to smoked whitefish. To get whitefish served five ways, dine at THE COVE RESTAURANT (231-256-9834) at a table overlooking the docks. Eventually, M-22 arrives in the hamlet of Northport, where it swings south for Sutton's Bay (more shopping, more restaurants) and finally Traverse City. Along the way it passes BLACK STAR FARMS (231-271-4970; blackstarfarms.com), a vineyard where you can sample award-winning wine or even spend the night before returning home. Sleeping Bear Dunes Visitors Bureau (888-334-8499; sleepingbeardunes.com) or Leelanau Chamber of Commerce (800-980-9895; leelanauchamber.com).
2. Heart of Michigan_360 miles
Get up early and take I-96 to Lansing, and then head north on US-127. If you need to fuel up on doughnuts, make a pit stop just past St. Johns at UNCLE JOHN'S CIDER MILL (989-224-3686; ujcidermill.com), which doubles as a bustling farmers market and gift shop. But the real journey begins when you reach Mount Pleasant and go west on M-20.
The 44-mile drive to Big Rapids is a dizzying delight as you begin in the country and end up in the woods, all while perusing antiques and dining on the edge of a lake. To find your first stop off M-20, take Costabella Road five miles south to Blanchard, a picturesque mill town settled in the 1860s that's now home to a bevy of antique and gift shops. The largest is LOAFERS GLORY (989-561-2020), a former three-story hardware store built in 1885 that's now crammed with everything from quilts and rocking horses to dried flowers and jars of raspberry-crunch mustard. Back on M-20, as you close in on Big Rapids, the scenery fades from red barns to snug little cabins and an idyllic lunch spot appears.
On Blue Lake is NORTHERN SHORES RESTAURANT (231-972-3165), a classic log lodge serving fine walleye and fried perch. Ask for a table on the porch overlooking the lake. Once you reach Big Rapids, head south on US-131 and instead of shooting home on I-96, cut across the state on M-57. Stop in Chesaning, where lumber-baron mansions have been converted into gift shops, restaurants and inns. Two standouts: CHESANING HERITAGE HOUSE RESTAURANT (989-845-7700) and the STONE HOUSE BED & BREAKFAST (877-845-4440; stonehousebnb.com). Pick up I-75 just east of town. Greater Big Rapids Visitors Bureau (888-229-4386; www.bigrapids.org), Mount Pleasant Area Visitors Bureau (800-772-2022; mountpleasantwow.com) and the Chesaning Chamber of Commerce (989-845-3055; chesaningchamber.org).
3. Rolling on the Lake_381 miles
There's plenty to do along Lake Michigan, and BLUE STAR MEMORIAL HIGHWAY (I-94 west to I-196 north to exit 7) provides a dandy sampling of everything. Pulling you away from the boring interstate, it leads you along the Gold Coast of Michigan, past beaches, museums, fruit stands, antique shops and roadside restaurants.
The first memorable stop is the MICHIGAN MARITIME MUSEUM (269-637-8078; michiganmaritimemuseum.org) in South Haven. Dedicated to Great Lakes shipping, it's surrounded by a collection of historical vessels, including a fully equipped commercial fish tug that visitors can climb aboard for a view of life as a fisherman. For a fine wine list and some of the best Italian cuisine on the Gold Coast, there's TELLO'S TRATTORIA (269-639-9898), so cozy and intimate that every table has its own dimmer switch.
It's a 17-mile drive from South Haven to Saugatuck, and along the way you can detour to DUTCH FARM MARKET (269-637-8334), a rambling red barn packed with produce, fruit, homemade jams and preserves as well as baked goods. Be a kid again; indulge in a caramel apple and a horse-drawn wagon ride through the farm.
The center of Michigan's coastal culture are the twin towns of Saugatuck and Douglas, which between them boast 34 outdoor sculptures and almost as many fine-art galleries. To find them all, pick up an Art 'Round Town Walking Tour Map from the visitors center. Or you can skip the culture for some goofy fun with HARBOR DUCK ADVENTURES (269-857-3825; harborduck.com). The company uses open amphibious vehicles from World War II to give a wild tour of both towns, including a crossing of the Kalamazoo River. South Haven Visitor Bureau (800-764-2836; southhaven.org) or the Saugatuck/Douglas Visitors Bureau (269-857-1701; saugatuck.com).
4. Cruising Cherry Country_438 miles
You have to endure a few hours of I-75 to get within striking distance of this prized drive, but a stop at SPIKE'S KEG O' NAILS (989-348-7113) in Grayling makes it worth it. This classic northern Michigan tavern opened the day after Prohibition ended in 1933, and they've been refueling tourists with burgers and beer since.
When you're good and ready to keep rolling, head west on M-72 to US-31, which takes you on a 43-mile journey north through cherry country to Charlevoix. Within 10 miles you pass through Elk Rapids, which was founded in 1848 and once rivaled Traverse City in size. Today its beach at VETERANS MEMORIAL PARK is nicer than any sand in Traverse City and never as crowded. For a meal, there's RIVERWALK GRILL (231-264-9121), where you can grab a table on its outdoor deck and watch a parade of boaters cruise Elk River.
For the next 30 miles, US-31 is cherry trees and farm stands. At FRISKE ORCHARDS (231-599-2604; friske.com) you can purchase a quart of sweet black cherries or pick your own. A little farther north is BIER ART GALLERY (231-547-2288; biergallery.com) with an interesting mix of art, jewelry and pottery on display in a red century-old schoolhouse. The peaceful rural landscape ends when you reach Charlevoix, a bustling resort town squeezed in between Round Lake and Lake Michigan. There's a wide range of accommodations here, including BRIDGE STREET INN (231-547-6606; bridgestreetinn-chx.com), a three-story Colonial Revival bed-and-breakfast built in 1895.
From Charlevoix, follow scenic Boyne City Road along Lake Charlevoix, stopping at the HORTON BAY GENERAL STORE (231-582-7827). Writer Ernest Hemingway idled away his youthful summers on the large front porch of this classic country store and later used it in his short story "Up in Michigan." In Boyne City, refuel on barbecue ribs or Bayou peel-and-eat shrimp at LESTER'S (231-582-4500), housed in the town's historic train depot, and then head home. Charlevoix Chamber of Commerce (231-547-2101; charlevoix.org).
5. Beaches & More Beaches_529 miles
Pack the swimsuit, beach umbrella and the suntan lotion and hightail it out of town by heading north on I-75 and then northwest on US-10 all the way to Ludington.
If you have kids in tow, they'll be thrilled if you stop first at FORT DAUL (231-843-2890), a sprawling gift shop that looks like a stockade and is packed with every souvenir imaginable. A good bet too before hitting the sand is a quick stop at BORTELL'S FISHERIES (231-843-3337). Since 1937, this out-of-the-way shop has been dishing up fresh salmon, trout, walleye and other delicacies from the Great Lakes. Order take-out and eat across the street at SUMMIT PARK overlooking Lake Michigan. It's a picnic-table lunch with a five-star view.
When it's time to kick back, you have plenty of options. First, you can roll north on M-107 to LUDINGTON STATE PARK (231-843-8671) to find your own stretch of sand along the park's 5.5 miles of Lake Michigan beach. If the water is too cold, the park also has a beach along much warmer HAMLIN LAKE. Your next option is to meander north from there on Quarterline Road to Lake Michigan Road, where the LAKE MICHIGAN RECREATION AREA offers a wide, golden beach sandwiched between two towering dunes. And then there's Manistee. The softest sand is downtown at 1st STREET BEACH; the most unique lodging is RAMSDELL INN (888-823-8310; ramsdellinn.net), a boutique hotel built in 1891 as a bank; and the best dining is the BLUE SLIPPER BISTRO (231-889-4045), six miles north of the city in Onekama.
To get back to I-96, head south on M-37 and top off your trip with a stop in the town of Grant. Its wooden water tower looks as if it belongs on the set of Petticoat Junction. And train enthusiasts will love the GRANT DEPOT RESTAURANT (231-834-7361), where they can savor its Mile-High Lemon Meringue Pie while studying all the memorabilia. Ludington Visitors Bureau (877-420-6618; ludingtoncvb.com) or Manistee Visitors Bureau (877-626-4783; manistee-cvb.com).
6. Railroading Road Trip_168 miles
For train lovers, there's no better starting point than Pinckney, northwest of Ann Arbor, easily reached by taking M-36 west from US-23. The first stop is the town's historic depot, where you can pick up the LAKELANDS TRAIL. Trains rumbled through there as late as 1978. Today, it's a rail-trail best enjoyed on two wheels; rent a bicycle at VILLAGE CYCLERY (734-878-0117) for the scenic 10-mile ride to Gregory and back.
From Pinckney, make tracks north on M-52 to Owosso and the STEAM RAILROADING INSTITUTE (989-725-9464; mstrp.com). The seven-acre museum is packed with railroad memorabilia and exhibits, but its star attraction is Pere Marquette No. 1225, the steam locomotive that was built in 1941 and used to develop the train images for the movie Polar Express. On weekends, you can take a 45-minute ride.
More railroading lore is reached by heading east on M-71 to Durand, home of UNION STATION (989-288-3561; durandstation.org). Bring your camera, because this impressive Chateau Romanesque-style depot has been called the "most photographed depot in the country." Built in 1905, Union Station has been designated the Michigan Railroad History Museum. Inside you'll find an exhibit gallery, gift shop and a huge model railroad, along with the furnishings of a 1900-era depot. (989-723-5149; shiawassee.org).
7. Cruising Canada_250 miles
Go on, get beyond Windsor. To see another side of our neighbors, cross the Bluewater Bridge to Sarnia, continuing east along Kings Highway 402 for 35 kilometers and then north on Kings Highway 21. This road skirts Lake Huron — all the way to Bruce Peninsula if you're so inclined — and your first opportunity to dip into its waters is at PINERY PROVINCIAL PARK (519-243-2220 or pinerypark.on.ca). With its towering dunes, beautiful sunsets and six miles of wide, sandy beach, this park makes you think you're on Lake Michigan.
Beyond the park, Kings Highway 21 passes through a number of towns and tiny hamlets. BAYFIELD is delightful and farther north, GODERICH is larger but just as quaint. It boasts three excellent beaches, and on Saturday morning a large farmers market fills COURT HOUSE SQUARE. If you're in town on Friday evening, join the locals at ROTARY COVE BEACH for the sunset while listening to the Celtic Blue Highlanders "pipe down the sun." And then retreat to nearby BENMILLER INN (800-265-1711; benmiller.on.ca), a country inn tucked away on the wooded banks of Sharpe's Creek. The food is outstanding and the beds are impossibly soft. Tourism Goderich (800-280-7637; www.goderich.ca).
8 South to the Border_90 miles
Before there was I-75, there was US-24 (Telegraph Road). Built in 1925, Telegraph will still lead travelers to Toledo, and help you dodge all that highway construction.
This road trip is short but packed with places to stop, with one of them being Monroe. The home of La-Z-Boy is also one of Michigan's most historic cities. At the Monroe County HISTORICAL MUSEUM (734-240-7780), you learn about a youthful Gen. George Custer, who grew up in the neighborhood. Nearby, the RIVER RAISIN BATTLEFIELD Visitor Center (734-243-7136) guides you through the site of one of the largest battles fought during the War of 1812.
Back on the road, Telegraph will lead you into the heart of Toledo. The city's beloved Mud Hens may be a Triple-A affiliate for the Detroit Tigers, but this no minor-league town. FIFTH THIRD FIELD (419-725-HENS; mudhens.com) is a fun place to watch baseball because of its proximity to the field — box seats are only 40 feet from first base — and amenities such as Muddy's Marsh, a play area for children. Families will also love the TOLEDO ZOO (419-385-5721; toledozoo.org). Located four miles south of the city, the 62-acre zoo is home to more than 4,000 animals.
For dinner, cross the Maumee River to TONY PACKO'S CAFE (419-691-6054; tonypackos.com). The neighborhood tavern became a landmark after Cpl. Max Klinger, played by native Toledo native Jamie Farr, repeatedly mentioned it on M*A*S*H. It's debatable what's more interesting: the Hungarian dishes on the menu or the memorabilia on the walls. Greater Toledo Visitors Bureau (800-243-4667; www.toledocvb.com).
9. Tripping at the TIp of the Mitt_633 miles
If you try this trip on a Friday, leave work early to beat the northern traffic jam on I-75 and cruise to exit 310, where you'll pick up M-68 toward Petoskey. M-68, M-119 and US-23 create a 191-mile loop that includes the shorelines of two Great Lakes, one strait and a lot of woods while going from ritzy (Harbor Springs) to rural (Onaway).
Off M-68, attractions begin with ODEN STATE FISH HATCHERY (231-347-4689), which opened in 1921 and today includes interactive exhibits and an underground viewing area where you can stand eye to eye with trout swimming in a stream.
M-119 begins near PETOSKEY STATE PARK (231-347-2311), where visitors flock not just for sand, but also the famed stones in the surf. The state highway then passes through upscale Harbor Springs and becomes the "Tunnel of Trees," a scenic and winding drive that skirts forested bluffs above Lake Michigan. It ends in Cross Village, where a Polish meal and a Polish beer await you at LEGS INN (231-526-2281; legsinn.com).
Continue north by following Lake Shore Drive, which in 6.5 miles brings you to BLISS TOWNSHIP PARK, a wonderful, undeveloped beach. At Mackinaw City, you can pick up a pound of fudge and then follow US-23 south along Lake Huron, pausing at HISTORIC MILL CREEK (231-436-7301; mackinacparks.com), the re-created lumber mill that cut the timber for the British to build Fort Mackinac in the 1780s. Tuckered out? Rent a snug cedar log cabin at MANITOU SHORES RESORT (989-734-7233). The next morning, pick up M-68 in Rogers City and head west to I-75, stopping along the way to admire the tumbling water at OCQUEOC FALLS near Onaway, one of only two waterfalls in the Lower Peninsula. Whatever you do, avoid heading home on Sunday evening when I-75 is jammed with road trippers. Boyne Country Visitors Bureau (800-845-2828; boynecountry.com) or the Mackinaw Area Visitors Bureau (800-666-0160; mackinawcity.com).