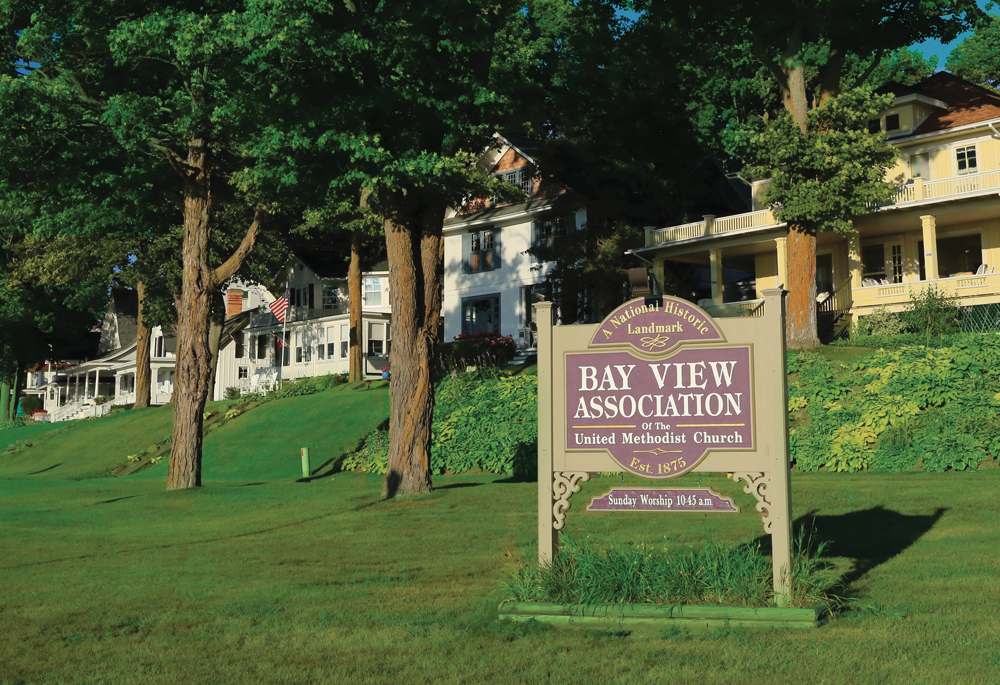 Earlier this spring, I booked a mini vacation at one of my favorite places on earth. A few days later, a coworker stopped me by the coffee machine. "Did you hear that story about Bay View on NPR this morning?"
The story in question was about a lawsuit that claimed the Bay View Association is in violation of the Fair Housing Act, which explicitly prohibits religious discrimination. Apparently, an association bylaw restricts cottage ownership to "Christians only." It goes beyond not letting an outsider buy a cottage. One woman claims she can't inherit her family's place — her membership was rejected as she identifies as being Jewish.
Bay View is a summer resort north of Petoskey made up of more than 400 privately owned, largely Victorian gingerbread-styled cottages that can cost up to $1 million dollars. The view of Little Traverse Bay alone is worth the visit. It's been designated a National Historic Landmark.
Now, the quaint town is the center of attention for all the wrong reasons.
I've visited the area for decades, often staying at the Terrace Inn located right within the Bay View Association. Memories range from drinking by their fireplace after cross-country skiing in our young and single days to watching our then infant daughter crawling up the steps to their gorgeous patio. A place where we bought our kids twin bed frames at a community "garage sale." A place we still go to get away from it all.
A visit to Bay View has always been a bit like taking a step into the past. And while I knew some aspects of the Association's history, I had no idea there was still a religious covenant baked into its bylaws.
A Chautauqua (Learning) Moment
Let's take a little break from legalities and delve into the Bay View Association's history. It was founded in 1875 as a summer getaway camp for Michigan Methodists. They took a page from their Chautauqua, N.Y., siblings and started a series of summer programs "for intellectual and scientific culture and the promotion and cause of religion and morality."
Within a few years, they developed a "summer university" program and Chautauqua series that attracted a slew of visitors. Soon, cement slabs were poured to stabilize the "tent city" — then "wooden tents." The Victorian cottages then sprang up.
A visit to Bay View has always been a bit like taking a step into the past.
For a comprehensive history lesson, check out Mary Jane Doerr's book, Bay View: An American Idea (The Priscilla Press, 2011). She tracks the Chautauqua concept from its origins to its growth as a popular nationwide movement. President Teddy Roosevelt once remarked that Chautauqua "is the most American thing in America."
While the residual "Christians-only" restriction is certainly disturbing, it might be worth noting that Doerr's book cites numerous examples of the movement's quite progressive past. They invited such social reformers as Dr. John Harvey Kellogg and prison reformer Maud Billington. Booker T. Washington and William Jennings Bryant were among the guest speakers.
Over the years, the learning programs increased, as did the musical offerings. The association says its music festival is one of the longest running summer chamber music festivals in the country. This year's Summer Concert series is bringing in national acts such as Ben Folds and Blues Traveler.
The Calm Before the Court Rules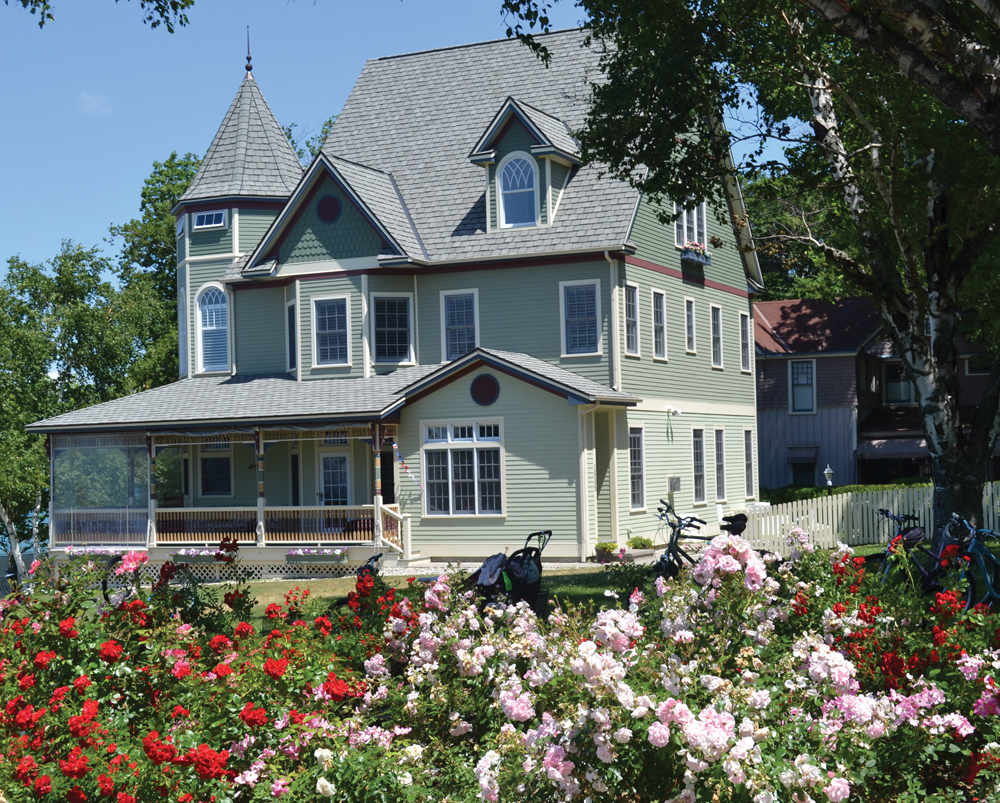 Over the decades, the sleepy place was like paradise — if you were a white, well-to-do Christian, that is. Bay View's history reflects much of America's. As in a "whites-only" provision was in place until 1959 (and yes, it's still really, really Caucasian up there).
However, most private Methodist camps and associations across the country no longer restrict membership by religion. So, why did the Bay View Association decide to challenge this suit? I reached out to the Association for comment. They preferred to answer by email.
According to Association President, Jon Chism: "The Board of Trustees supports defending Bay View against the membership litigation and HUD complaints because they believe our members should have the right to determine our membership policies and not have them dictated by a court or the regulatory system."
Furthermore, he notes: "All prospective members are provided the bylaws when they apply for membership. Once their membership is approved in accordance with our bylaws, they voluntarily sign a lease that states they agree to comply with the association rules and bylaws. For over 100 years, our private and voluntary organization has remained true to the principles of our founding and mission to be an institution in which Christian values and traditions are fundamental and all members are aware of this."
To be clear, the United Methodist Church itself is not part of this suit and does not control the Association's membership agreements. And not all Association members wish to continue abiding by all of the "old" rules. The suit was brought by a group of cottage owners called the Bay View Chautauqua Inclusiveness Group. I also read a news report that, as recently as 2013, more than half the residents voted to lift the restriction.
But the Association bylaws call for a two-thirds majority to change any rules.
Still a Paradise?
I'll likely never buy a cottage in Bay View. For one thing, I don't think I could find a minister to vouch for my church-going habits. Also, I'm a journalist. We don't make that kind of money.
But I still love to visit. While I considered cancelling our vacation, we kept our reservation the week before Memorial Day. And the Terrace Inn was as charming as ever — the weather was great, and food was wonderful (try the planked whitefish for dinner, and just try to resist the mini waffle maker at breakfast).
In the nearby town of Petoskey, the shops and restaurants weren't packed yet. We strolled the quiet grounds of Bay View where life went on as usual as a smattering of owners (or their hired help) were busy getting their summer homes ready to open.
Perhaps, since "self-improvement" was part of the original Chautauqua idea, this lawsuit could be a "teachable" moment.
Cottage Walk ticket sales were brisk (the annual event was scheduled for July), and the summer program was getting ready to celebrate its 143rd year of education, music, religion, and recreation. While Bay View representatives said it was not intentional, I found it interesting that this year's summer lecture series includes the return of a Yale professor of Constitutional Law.
At press time, the Bay View lawsuit was winding its way through the courts. And there's always hope for change.
According to Chism's email: "The membership requirements are part of our bylaws, which were established by our members and can only [be] updated by our members through a simple voting process each summer."
Perhaps, since "self-improvement" was part of the original Chautauqua idea, this lawsuit could be a "teachable" moment. Maybe they lose the suit, or perhaps the next time the vote comes around, a two-thirds majority will bring at least the membership requirement aspects of Bay View into the current century.