It's Friday night at The Fields of Michigan. There's Joey, the vintage pickup truck that will tote you back to your tent for the weekend. You're just in time for happy hour, where the on-staff sommelier has selected wines that owner Irene Wood describes as being both highly rated and affordable.
You may have opted to partake in an opening night farm-to-table dinner prepared by the staff chef. Or you may have other plans at a nearby restaurant.
Eventually, you'll want a campfire, and a cattle farmer named Dave is only too glad to start it for you. S'mores? Your marshmallows, graham crackers, and chocolate bars are served on a plate.
Sure, this is camping. Sort of.
Well, not really. The Fields in South Haven offers luxury camping, with 19 high-end tents situated on a 30-acre working blueberry farm. Each features lighting, a king-size bed with luxury linens, and a private bath with a sink, shower, towels, and high-end toiletries.
"It has everything you need," says Wood, who's also one of the hosts.
Weekend Preview
The Fields is open May through October. It offers three two-night stay options, with check-ins on Friday (for an actual weekend stay), Sunday, and Tuesday. 
Guests who opt to spend $50 extra per person can begin their first night with that farm-to-table dinner served in the main building, called "The Willow," and never have to leave the property after arrival. The May menu included a curated charcuterie platter, a crushed cucumber salad with crispy shallots, guests' choice of a dry-aged New York strip steak or Chicken Valentine, braised wild greens with Parmesan and truffles, and Baked Alaska for dessert. Want wine with that? Just add on a pairing.
In lieu of a full-service kitchen, The Fields handles meal preparation in a food truck that is on-site three nights per week and in South Haven the other four. 
"We have a new chef," Wood says. "He's actually elevating our food experience."
Many guests enjoy adjourning to a campfire following the meal. Sure, farmer Dave can start it for you, but Wood also encourages guests to try their hand at it themselves and earn a reward.
"Many guests are coming from the city and haven't honed their fire-starting skills," Wood says. "But you can earn a badge — just like if you went to camp — if you can do it yourself."
Most guests tend to hit the hay by 10 or 11 p.m., Wood says, explaining that The Fields "isn't the party place." It caters mostly to adults, while offering four specific weeks when children are welcome in the summer.
"We love kids; we just need to love them when it's Kid Week," Wood says.
Day Two begins with complimentary breakfast. Then guests typically head out to take in the surrounding area. They may bike around South Haven, then take a winery tour. How about a workshop at the Ox-Bow School of Art, or renting a boat? Wood is also glad to recommend a favorite restaurant for dinner out. When you return for the evening, your room is ready and your campfire is roaring.
Guests who remain on property during the day may want to take advantage of The Fields' spa, a more recent addition that features opportunities for massage as well as aromatherapy in small huts built along the Black River.
"This really aligns with what our guests are looking to do here, which is relaxing," Wood says. "They're looking for a respite in a safe manner."
Day Three might start with yoga, followed by a late breakfast, also included. Checkout is 11 a.m.
About That Pandemic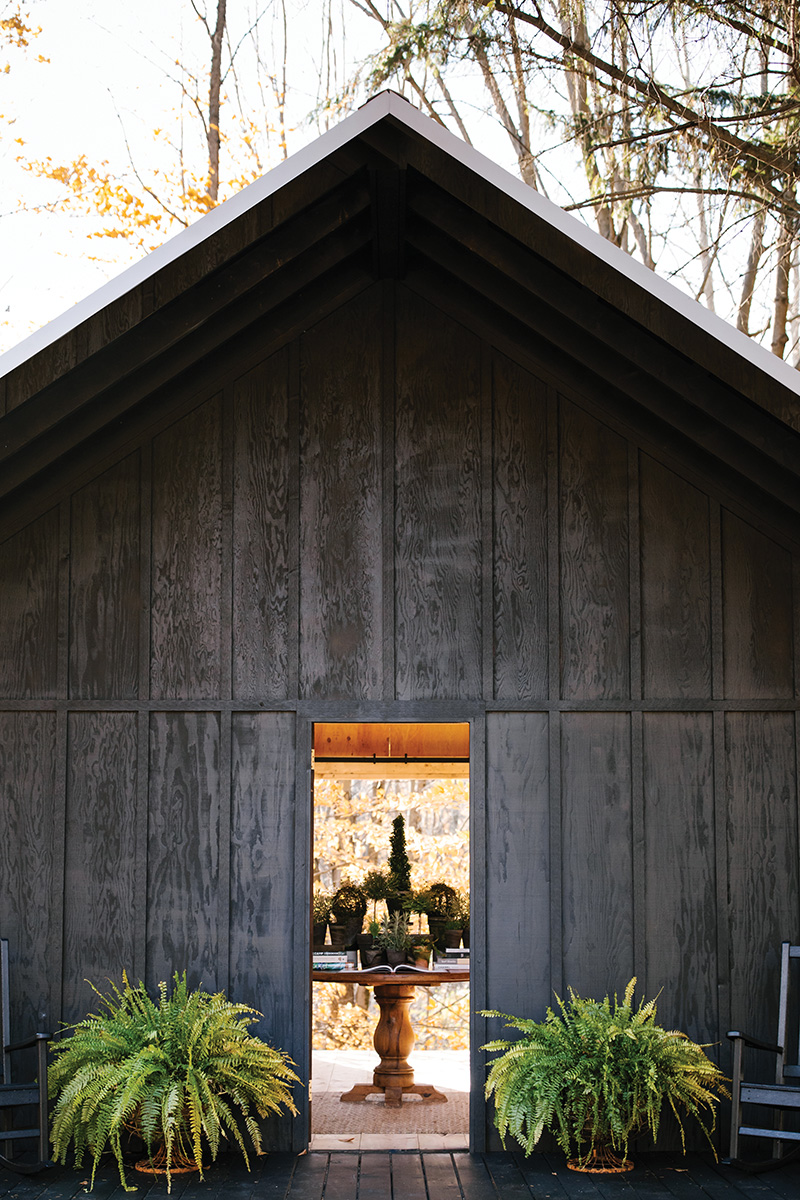 The Fields opened in 2019; when COVID-19 came along, it affected Wood's ability to maintain staffing as well as a fulfilling guest experience.
Not being able to send guests out and about to visit wineries and the like meant looking inward. Wood added the spa and wine tastings.
"If we couldn't send them to a winery, we brought the winery to them," she says.
In the second year, she added more tents. As it turned out, The Fields was right on target with the public's need to get out but be socially distant.
"I would be remiss to say that COVID didn't help our business," she says. "People weren't ready to go to hotels. People were able to travel and work from a distance."
Who's Staying?
On a full weekend, as many as 40 guests are lounging around the property.
"We know them by name," Wood says. "It's very intimate. They send us Christmas cards and handwritten thank-you notes."
Last year, The Fields welcomed about 4,000 guests, most of them ages 40-70. 
"Most of our guests are not campers," Wood says. "Our guests don't want to pitch their own tent, blow up their mattress, or buy a bunch of gear. They want more solitude than a crowded campground. They want the finer things. They want to be served."
In fact, guests just need to show up.
"When you go regular camping, the list of things you have to bring is so long," Wood says. "When you come here, just throw a few clothes in a bag. Bring sunglasses, a hat, your swimsuit, some flip-flops, a basket if you want to pick blueberries. You can fit it all in a duffel bag."
Michelle Mio of Birmingham and her boyfriend, Chris Lewis, have stayed at The Fields twice — the first time in July 2020 when they had to cancel an international trip because of COVID and the second time in September 2021. Both times they brought their two French bulldogs. Mio had never been luxury camping before. Now she's hooked.
"Our experiences at The Fields have been no different than staying at a luxury hotel," Mio says. "We had amazing gourmet meals with wine pairings and had firewood and s'mores kits hand-delivered to our tent.
"The decor of the entire grounds is out of a beautiful vacation magazine. If that isn't luxury, I don't know what is."
The Itinerary
Guests come expecting to be pampered, and The Fields is dedicated to meeting those expectations.
Wood and her staff curate a list of activities to recommend to guests, including date-specific events that may be happening during their stay. 
"We do have a curated list: the perfect 48 hours of romance, the perfect 48 hours of a girls' trip," Wood explains. 
"Having grown up in the area, I know exactly where to be, what to do. We call them pro tips."
Wood chats with guests on the phone and communicates via email in advance so she can help provide the ideal lineup. A walking meditation on a farm? Goat yoga? A boat rental? Art class? A drumming circle? Wine tasting? Bike riding? Yoga? Sailing? A massage?
"We know all the hidden gem places to send guests," she says. "It's like we are hosting them at our own home. It's like an outdoor B&B."
And Wood loves showing off South Haven.
"South Haven is just as pretty as Telluride, just as pretty as Aspen, just as pretty as Big Sky, Montana," she says.
She'll even suggest cool stops along the way from Detroit or Chicago, or wherever you're coming from — a winery here, a brewery in an old church there.
Mio loves that The Fields offers such suggestions. She plans to return this summer and bring along friends who haven't experienced The Fields yet, in part for that reason.
"Every year we go back, Irene and her staff have coordinated new experiences and special accommodations for their guests that have made our trips better than the last," she says.
About Irene

 
Who is this woman who turned a blueberry field into a luxury camping destination?
Well, she used to work in automotive engineering and pharmaceuticals but loves art history and women's studies. 
The South Haven native was a single mom at age 19. She now has four kids, ages 20 to 32, and three dogs. She bartended through college at Western Michigan University. "Bartending is the art of hosting," she says. "It's more intimate than just serving." 
After she met her husband, Cary Wood, she moved to Chicago and made a career of event planning. When he traveled the world for work, she went, too, meeting rice farmers in the paddies with their water buffalo and chatting with women selling ducks along the side of the road. "I fell in love with authentic, cultural travel," she says.
When her dad decided to sell his farm five years ago, she bought it, converted it to grapes, restored the falling-down 1880s barn, and rented the farmhouse out to tourists, who loved feeding the chickens and gardening during their stays.
Then came a night in Montana where she slept in a luxury tent. "I thought, 'I could do this,'" she says. "'What kind of experience could I create that only I can do?'"
Her own farm didn't meet zoning requirements. So she bought a blueberry farm 3 miles down the road, equipping it with luxury tents, an attentive staff, a chef and sommelier, a spa, and most recently, a "treehouse" with a lavender field in front of it.
"That's where our brides and grooms stand when they get married, tucked in the pines," Wood says. 
Couples can get married and have small receptions for about 40 right there in the vicinity of the treehouse. A large group of 350 might celebrate among the blueberries.
"With 30 acres, we have a lot of opportunities," Wood says.
The Price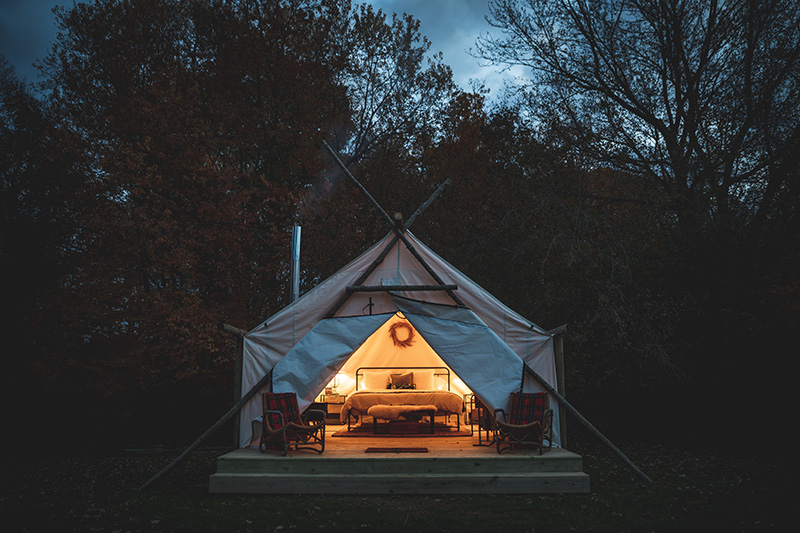 Cost per night at The Fields is $325 to $450, depending on the day of the week and the season, and includes complimentary breakfast." There's an additional charge of $100 for each child 12 or younger. 
"People come here if they're looking for an experience they can't get anywhere else," Wood says. "It's not just a place to sleep. You wake up in a blueberry field."
But just don't call it the G-word. "I hate using the word 'glamping' because I think it diminishes what people are doing. It's an outdoor bed-and-breakfast. You're hosted at the highest level, with the elements of outdoors combined with the niceties of a hotel." 
The Fields is located at 154 68th St., South Haven; 269-906-1911. Visit thefieldsofmichigan.com. 
Freelance writer Kathy Gibbons contributed to this article.
---
This story is from the July 2022 issue of Hour Detroit magazine. Read more stories in our digital edition.