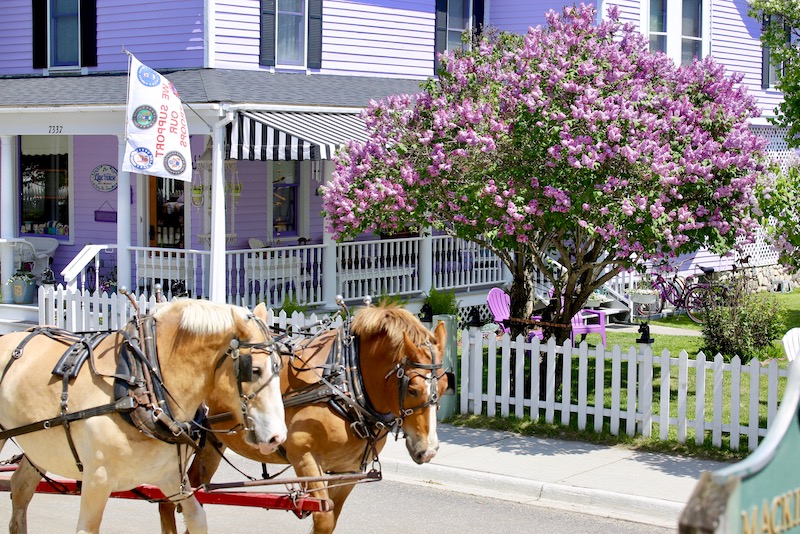 After having to cancel many of its large headlining events last year due to the pandemic, the annual Mackinac Island Lilac Festival is back. Returning for its 73rd anniversary from June 4-13, the festival kicks off the island's summer event schedule with 10 days of both in-person and virtual activities that celebrate the beauty of the lilac.
"…Whether here in person or tuning in through social media, we're eager to show off the island's gorgeous lilacs this spring," says Tim Hygh, executive director of Mackinac Island Tourism, in a press release
Events begins at 5 p.m. on June 4 in Marquette Park with the coronation of the festival's queen, court, and princess and the unveiling of this year's Lilac Festival poster. Then at 8 a.m. on June 5, visitors can head to Mission Point Resort to participate in the Lilac Run and Walk. Children can also join in the Lil Lilac Kids' Race at Mackinac Island Public School at 11:15 a.m. Those who don't feel comfortable in crowds can participate in the race virtually. More information can be found at runmackinac.com.
If running isn't for you, sign up to compete in Mission Point Resorts Michigan Cornhole Tournament at 10 a.m. on June 5. The tournament is open to both "social" and "competitive" players with separate divisions for different skill sets. All participants will compete for a cash prize.
To fully embrace the island's beautiful florals, visitors can participate in a walking tour with Jeff Young, aka "The Lilac Man." The lilac expert guides tourists through the island and hosts planting sessions for floral enthusiasts. These tours are held from June 4-13 at various times and locations. Self-guided walking tours are available during the festival as well.
This year's festival is also marked by the release of Lilacs: A Fortnight of Fragrance on Mackinac Island, a book written by Young and lifelong Mackinac Island summer resident Sue Allen. The book features a deep history of lilacs on the island, their origin, and their cultural impact.
Along with the in-person events, Mackinac Island Tourism will also share virtual lilac content on its Facebook, Instagram, and Twitter pages.
For more information, visit mackinacisland.org.
Facebook Comments