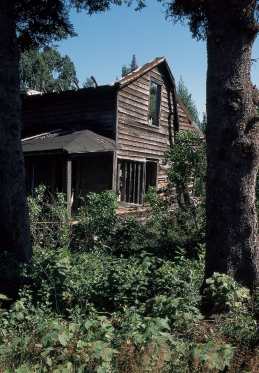 Long before Michigan was molding steel into cars, its fortunes were shaped by the glittering possibilities of a different metal: copper.
In the late 19th century, Michigan was the largest copper producer in the world. Over the course of the copper-rush heyday (1843-1967), more than 300 companies harvested ore from the shiny metallic veins that meander beneath the ground of the Upper Peninsula.
The glory days of U.P. copper (and later) iron mining created a bustling society that lingers today, mostly as ghostly ruins and preserved historic sites.
Tucked between the lakeshore and hardwood forests, some of the old boomtowns still stand, offering travelers in search of an autumn escape the opportunity to see the past as it's reflected in quaint homes and churches, overgrown cemeteries, and the occasional historical museum.
Finding some mining towns can require an almost archeological eye; their crumbling foundations are scattered among encroaching trees and scrub. But that doesn't mean they're not worth a visit; it just requires grabbing a guidebook and getting out of the car.
"Some of [the sites] are more photogenic than others," says Lawrence Molloy, author of A Guide to Michigan's Historic Keweenaw Copper District. "It's neat to go to some of these sites and sit and just think. What was it like to be here? Could I live the life that they lived? Most of them were without electricity or the telegraph, though the telegraph came in eventually. There is a mystique about them."
Other spots are overtly opulent, a grand reflection of copper's commercial value. There's the Laurium Manor Inn B&B, which was built for Thomas H. Hoatson, owner of the Calumet & Arizona Mining Co. The 45-room estate features silver-leaf ceilings, a triple grand staircase of hand-carved oak, and a 1,300-square-foot dining room. Built in 1908, when miners' wages were 25 cents an hour, the house cost $50,000. Furnishings ran another $35,000.
Among the wildflowers and towering trees, one can almost hear the echo of voices of people from another time. White City, for example, was once a premier summer resort; its early 1900s attractions included a roller coaster, merry-go-round, tourist cottages, dance pavilion, bandstand, and 75-foot steamer dock.
The region, which attracted immigrants from 32 countries, had Greek candy shops, Syrian fruit stores, and Chinese laundries. And the library stocked newspapers in an array of languages; many ethnic groups had their own printing presses.
Today, in a tiny Eagle Harbor cemetery, one inscription on the tombstone of an Irish immigrant offers a poignant reason to tour the vestiges of the U.P. boom era. It reads: "Remember me as you pass by, as you are now, so once was I."
In that spirit, here are a few U.P. ghost towns that are especially worth a drive across Big Mac.
1. Mandan
Pass Delaware on Highway 41 and head just about to Copper Harbor at the tip of the Keweenaw Peninsula, and you'll find Mandan, which today is little more than a handful of crumbling houses in the middle of the woods, but once was home to about 300 people. Watch for the sign along the highway that marks the dirt road that runs to this true ghost town. Mandan was the site of one of the last copper mines to open, one of just a few that operated north of Delaware. Once, about 20 homes lined its main street. About four of those workers' residences still stand. Also visible is one of the two large log cabins that housed management, and, on a small hill, there's the foundation of a former school. Railroad buffs might spot the tracks of the old Keweenaw Central Railroad, which ran to Copper Harbor, though Molloy says the rails and ties are nearly gone. As a sign of changing times, present-day ATV and snowmobile paths run along the route of the former trains.
2. Fayette
This iron-mining town just east of Escanaba on the Lake Michigan shore is a good place to begin a tour of Upper Peninsula mining history. Fayette thrived after the Civil War into the 1890s. Today, it's run by Michigan's state park system, which means you'll have a trained interpreter to guide you through its visitor center and 20 still-intact historic buildings, including the town hall, mine workers' homes, and Fayette's furnace complex. Then there's the natural beauty: After an afternoon walking tour, hike the lush forests near the town and maybe set up camp along Fayette's beautiful white beach, beside its gleaming white cliffs.
3. Wilson
West of Escanaba on Route 2 sits Wilson, where you can check out the old tavern, built by the Menominee Brewing Co. in 1902. Wilson was established as a stop along the Chicago and North Western Railroad route from Green Bay to Escanaba. The town boomed in 1881, when Frank D. Wilson built a large sawmill; it eventually grew to be home to about 500 people. Most of the homes and businesses are abandoned, but make for an interesting self-guided tour nonetheless. Check out the brick mansion built by general-store owner August Enfield.
4. Caspian
This iron-mining town doesn't fully qualify as a ghost town, though it likely soon will. Located on Highway 189, Caspian is nestled among green hills and dense woods, part of a once-flourishing iron-mining region. Caspian's mine shut down decades ago, and its downtown has its share of boarded-up homes and businesses, though newer homes are still occupied. An old mining complex houses the Iron County Museum, and the old mine super-structure is still intact and worth exploring.
5. Phoenix
This town lies on the beautiful Keweenaw Peninsula, which is home to numerous old copper mining towns. Several of its buildings are now owned by the county, which ensures their preservation. Because of that, it offers more to see than many other abandoned copper communities. In Phoenix, you'll find a lovely church that now functions as a museum. The church is actually the oldest remaining building from the neighboring copper ghost town of Clifton. When mines closed, Clifton residents moved the church to the still-populated town of Phoenix. The town offers a functioning general store, where visitors can buy a cold beer or an ice cream. A defunct blacksmith shop also still stands.
6. Central
The copper town of Central, situated along Highway 41 just past Phoenix, got its start in 1858 and is still inhabited today, especially in the summer. Every July, the town hosts a reunion at its restored Methodist church. Lawrence Molloy, a member of the church who gives town tours, says that at the beginning of each regular service, attendees yell out the last name of any friend or relative with connections to Central. "It's kind of a hair-on-your-arm thing, hearing all these names come back," he says. Check out the visitor center, where artifacts include pictures of a beautiful three-story school that no longer stands. Visitors also can tour two historic homes furnished with period furniture and drive by others still used as residences, including the saltbox houses once occupied by miners.
Facebook Comments