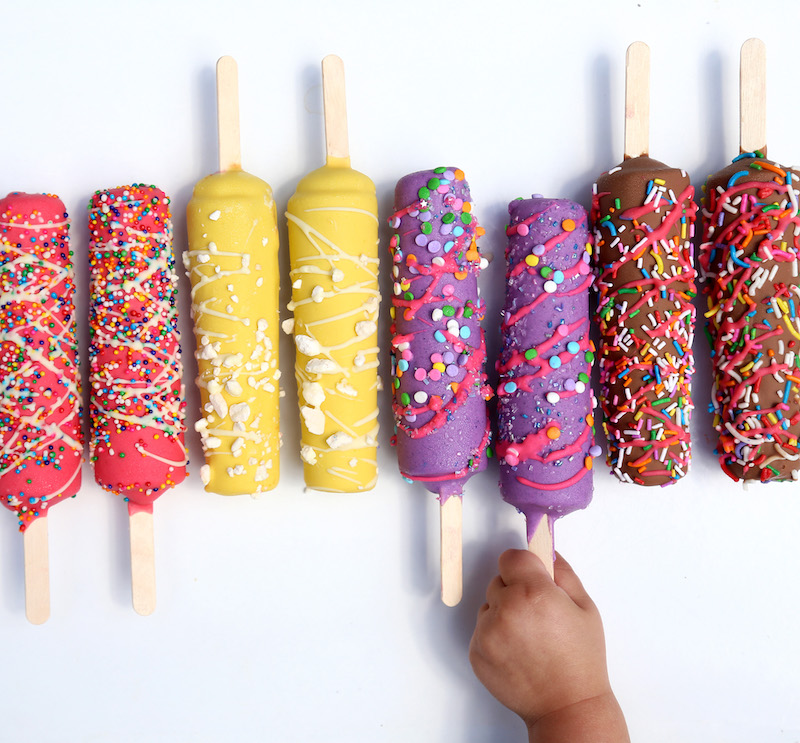 Beat the summer heat with a new frozen treat. Bombshell Treat Bar, a metro Detroit business that sells chocolate-dipped popsicles called Party Pops, is launching with local delivery next month. 
"I've had a passion for all things sweet my entire life and have always dreamed of starting a feel-good business like Bombshell," says owner Jill Kasle. 
Operating out of a commissary kitchen in Troy, Bombshell Kitchen dips its Party Pops in Belgian chocolate before coating them with candy toppings. Flavors include Summer in Traverse City, a creamy vanilla popsicle with a Michigan cherry shell that's topped with candy caviar and white chocolate drizzle with glitter dust; Thin Mint Wannabe, a vegan milk-n-cookies popsicle with a peppermint patty shell and crushed Oreos; and Lemon Meringue, a creamy vanilla popsicle with a lemonade shell topped with crispy meringue crumbs, white chocolate drizzle, and crushed Lemonheads. 
Party Pops orders are now being accepted on the Bombshell Treat Bar website. Customers can select from three different Taster kits, which include 8 or 12 popsicles and start at $40. Contact-free doorstep deliveries — available in select cities across metro Detroit — will start on Sept. 10 and take place Thursday through Saturday each week. Delivery is available at no cost. 
Originally, Kasle intended to launch Bombshell Treat Bar this spring with a custom cart that would offer soft-serve ice cream and small-batch popsicles, but she pivoted her business plan when the pandemic hit. "Despite the current circumstances, I'm grateful we've found a way to bring smiles to our neighbors and friends with an elevated selection of handcrafted frozen treats," she says. 
Kasle plans to host socially distanced Bombshell Treat Bar pop-ups twice a month and, eventually, open a brick-and-mortar shop with a walk-up window and expanded menu. 
For more information, visit bomshelltreatbar.com. 
Facebook Comments