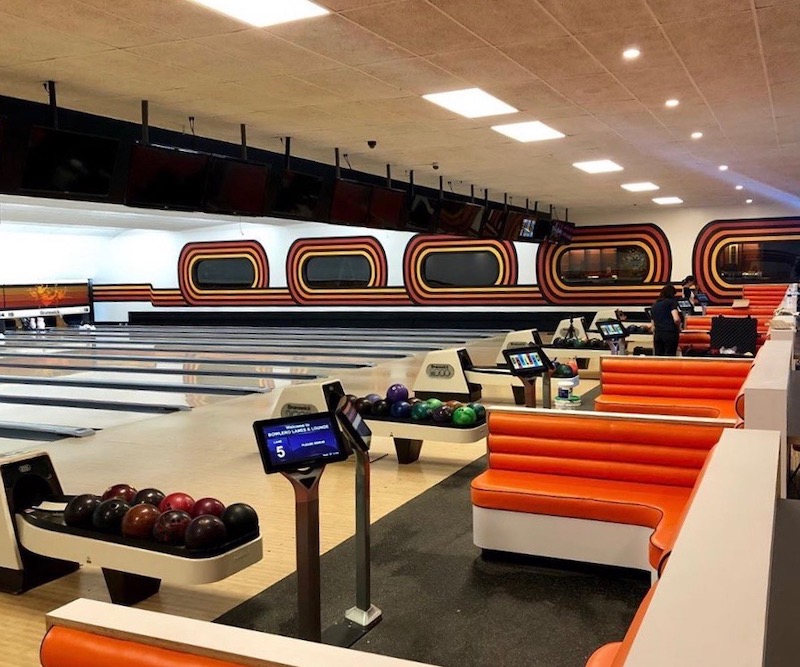 Following a one-year shutdown and a $1.4 million renovation and restoration, Bowlero Lanes and Lounge debuted its shiny vintage-inspired interior in Royal Oak in mid-August. Now, its owners are inviting the community to come by to celebrate the accomplishment with an all-day, grand opening event on Sept. 28.
Originally opened in 1957, the business, located at 4209 Coolidge Hwy., was purchased by Royal Oak locals Kelly and Dean Elliott and their friend Dave Zainea, owner of Majestic Detroit and Garden Bowl. Designed primarily by Kelly, the interior provides 1970's nostalgia with hand-painted wall stripes, wallpaper, mid-century art, and vintage bowling accessories. 1970's era television programs and bowling tournaments play on the television sets and bowlers can play pinball and arcade games. "We put a lot of love into this," Kelly says. "Every square inch the public sees, I've looked at and addressed. I want people to feel like they're going back in time."
A new DJ stage, lighting and sound systems, and craft cocktail menu have all been added to Bowlero's lounge area, which has a classic cocktail lounge vibe. A kitchen is expected to open in early 2020 and offer pizza and deli items from the chefs behind Sgt. Pepperoni's and plant-based eats from the popup Street Beet. The bar and lounge space will feature live music from local bands and DJs, as well as karaoke. In particular, the grand opening event will feature performances from DJ TopKat, DJ L Boog, DJ Soul-Lo, and DJ Dash.
Bowlero is a Certified Autism Center. The International Board of Credentialing and Continuing Education Standard and Autism Society recognize CAC organizations for having highly trained staff and being fully equipped to serve the fastest-growing population of developmental disorders. Kelly, a licensed school psychologist, wanted to bring her Certified Autism Specialist training to Bowlero. "I know that it can be difficult for families with special needs to go out for a day of fun," Kelly says. "We are here to make their experiences as enjoyable and carefree as possible." Bowlero will also schedule special events for people with sensory differences which will include dimmer lighting, availability of noise-canceling headphones, visual timers, and designated break areas.
Large groups can reserve lanes for parties and special events including birthdays and holidays. Bowlero also individually plans parties for special needs families. Party amenities include games, shareable 100 oz cocktails, and photobooths. The grand opening will also give bowlers a chance to sign up for fall leagues, which begin scheduled play on Sept. 30. Beer leagues and special needs leagues will also be available.
The grand opening event begins at 11 a.m. and is a family-friendly, free event. Beginning at 9 p.m., the lounge will admit those who are 18 years old and older. For more information, visit bowlerodetroit.com.
Facebook Comments