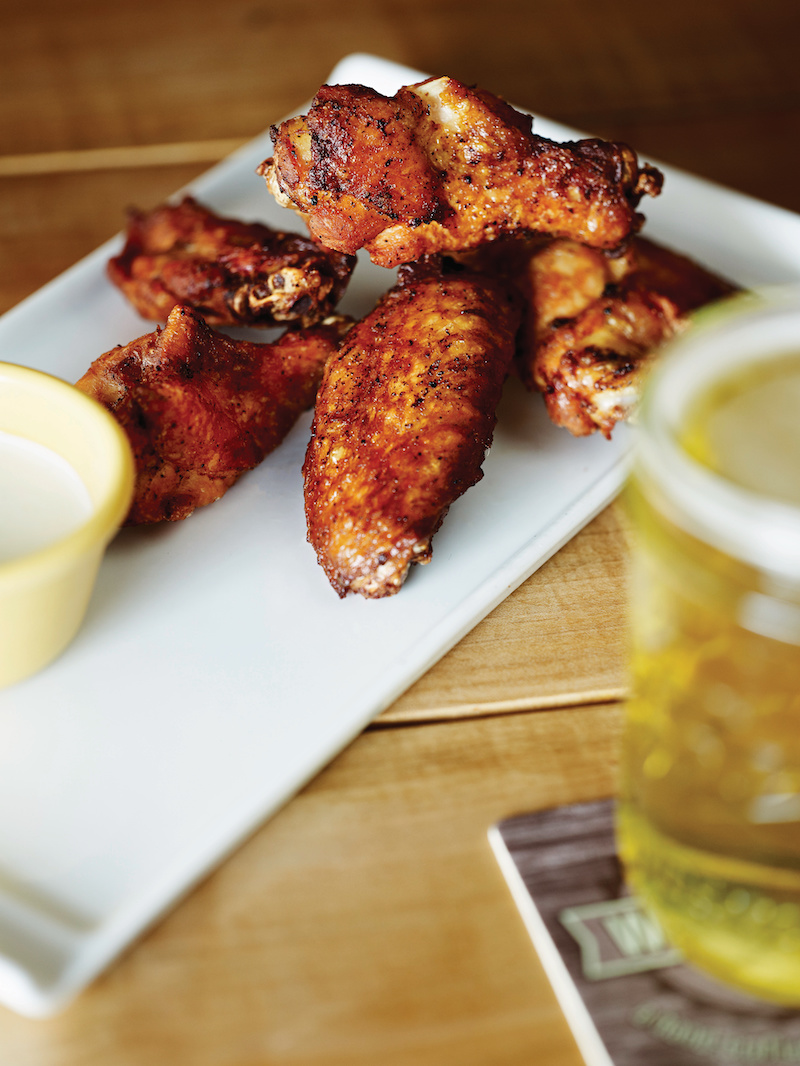 From no-frills classics to high-end remixes, there's plenty of ways to enjoy chicken wings in metro Detroit. Indulge in the best the area has to offer at these 12 hot spots. And don't forget to ask for ranch — are you even from the Midwest if you don't?
Anita's Kitchen
The Lebanese restaurant may be revered for its hummus, chicken shawarma, and fattoush, but it's also worth a visit for its chicken wings. Available at the eatery's Ferndale and Detroit location, the crispy Joe's Not-so-Buffalo Chicken Wings are tossed with zip sauce and served with creamy feta dressing and carrots. Anita's Kitchen Ferndale, 22651 Woodward Ave., Ferndale; 248-548-0680; AK Takeaway, 150 W. Jefferson, Detroit; 313-771-3030; anitaskitchen.com
Broasted Brothers
As its name would imply, this family-owned eatery specializes in broasted chicken. Individual wings ring in at $1.50 a piece, and wing meals, which come with several pieces of chicken, one side, and a biscuit, start at just under $8. Sauces include Mango Habanero, Bleu Cheese, Blackened Dry Rub, and Lemmon Pepper Dry Rub. For an after-dinner sweet, try one of the restaurant's flavor-burst milkshakes. Broasted Brothers, 15171 N. Sheldon Rd., Plymouth; 734-892-2900; broastedbrothers.com
Chicken Shack
It wouldn't be a chicken wing roundup with a shout out to one of metro Detroit's longest-standing establishments. Founded in 1956, Chicken Shack offers a variety of à la carte options as well as value meals and buckets. Sauce choices are BBQ or Hot N Spicy. Sides include potatoes, French fries, onion rings, coleslaw, corn, and green beans. Overall, it's a simple menu. But its ability to stand the test of time makes it a standout locally. Chicken Shack, visit chickenshack.com for locations   
Coop
Situated in the Detroit Shipping Company in Midtown, Coop — as its name would imply — is known for its chicken. The restaurant is helmed by Chef Max Hardy, who was a runner up on the Food Network cooking competition show Chopped. The six-piece Coop Wings have jerk flavor and can be paired with a number of sauces, such as Honey Lemon and Curry Love. Wash it all down with a Jamaica Punch or Sangria. Coop Caribbean Fusion, 474 Peterboro St., Detroit; coopdetroit.com
Detroit Wing Co.
Voted the Best Wings – Suburb 2019 by Hour Detroit readers, Detroit Wing Co. first began in Eastpointe and now has locations across the metro area. The restaurant offers up 16 signature sauces — including Butter Cheese, Creole Parmesan, Greek, Whiskey BBQ, and Calypso Heat — to coat its classic and boneless wings. Detroit Wing Co., visit detroitwingco.com for locations
Flowers of Vietnam
For a flavorful spin on the classic, stop by Flowers of Vietnam for its dinner-time Caramel Chicken Wings. The wings are Korean fried and served with rau mau. The Southwest Detroit eatery, which operates out of a former Coney Island, also offers up a more traditional take on wings. During its Coney-style brunch, order up a plate of the Chicken Wings, which are fried and served with hot sauce, ranch, and BBQ sauce. Flowers of Vietnam, 4430 W. Vernor Hwy., Detroit; 313-554-2085; flowersofvietnam.com
Kuzzo's Chicken and Waffles
There's plenty of ways to enjoy the sweet-and-savory combination that is chicken and waffles at Kuzzo's, but a standout is the Big Red. Listed under the Southern Comforts section of the menu, the dish features a red velvet waffle with three wings — or tenders, if you prefer — with a side of bourbon maple syrup. For a more classic dish, you also can't go wrong with the eight-piece Red Wings, which are marinated and grilled in house spicy sauce. Kuzzo's Chicken & Waffles, 19345 Livernois Ave., Detroit; 313-861-0229; kuzzoschickenandwaffles.com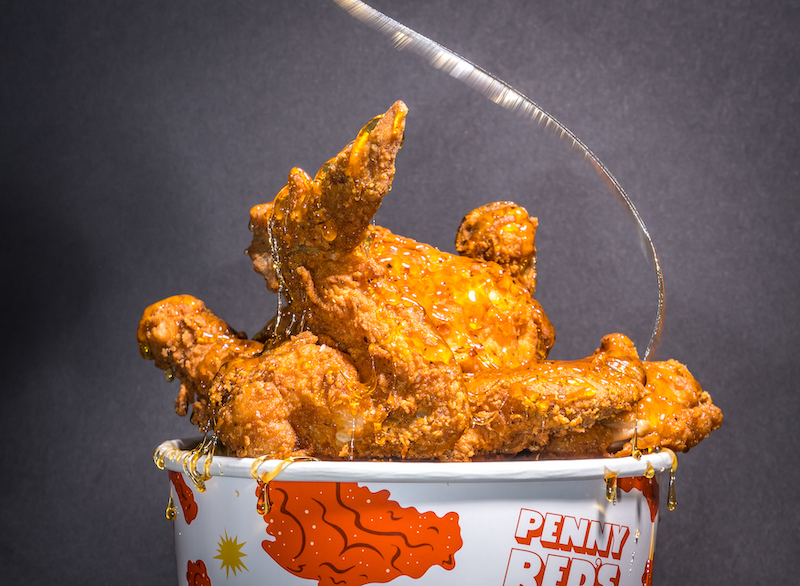 Penny Red's
Penny Red's is one of the latest establishments to join the lineup of culinary experiences at the Shinola Hotel. The restaurant means business when it comes to chicken. It's finely curated menu only features chicken sandwiches, buckets of fried chicken, and tasty sides like Penny's Potato Salad, Crispy Brussels, and Dang Tangy Slaw. Penny Red's, 1445 Farmer St., Detroit; pennyreds.com
Savannah Blue
Expertly mixing interesting flavors, Savannah Blue offers up contemporary northern soul food. The restaurant's House Dry-Rub Wings are served alongside an interesting garlic molasses barbecue sauce. Order up to the Georgian Hummus, which is made with black-eyed peas, the Jumbo Crab Cake, and Catfish Fritters to round out your appetizer selection. Savannah Blue, 1431 Times Square, Detroit; 313926-0783; savannahbluedetroit.com
Second Base
This neighborhood joint doesn't try too hard to impress. Instead, Second Base serves up solid takes on bar classics with games like pool, darts, and keno, and menu items like burgers, sandwiches, and appetizers. The Second Base Wings, which come with sweet and spicy sauces, are a steal at 10 for $8 or 20 for $15. Second Base, 1309 E. Nine Mile Rd., Ferndale; 248-548-7771; secondbaseferndale.com
Sweetwater Tavern
The Detroit restaurant has been named Best Wings – City 2019 by Hour Detroit readers and one of the top chicken wing restaurants in the U.S. by Thrillist. Sweetwater gets its wings delivered every morning from Eastern Market. They're then marinated for 24 hours before being soaked in spices then fried. To get the best of the restaurant's offerings, opt for a combo like the Rib and Wing Combo, BBQ Rib Tip and Wing Combo, or Chicken Strip and Wing. Sweetwater Tavern, 400 E. Congress St., Detroit; 313-962-2210; sweetwatertavern.net for more information and Sweetwater Express locations
Union Woodshop
The self-described "hand-crafted, wood-fired joint" specializes in all things barbecue. From sandwiches to burgers and pulled pork to ribs, there's plenty to satisfy your cravings. The House-Smoked Chicken Wings can be ordered one of two ways. Naked wings can be topped with table sauces, which include regional varieties inspired by cities like Memphis, Tennessee; Raleigh, North Carolina, and Hell, Michigan. Wings can also be ordered Nashville hot style. Union Woodshop, 18 S. Main St., Clarkston; 248-625-5660; unionwoodshop.com
---
From The Archive: Red Dunn Kitchen Boasts an Imaginative Menu with Plenty of Originality