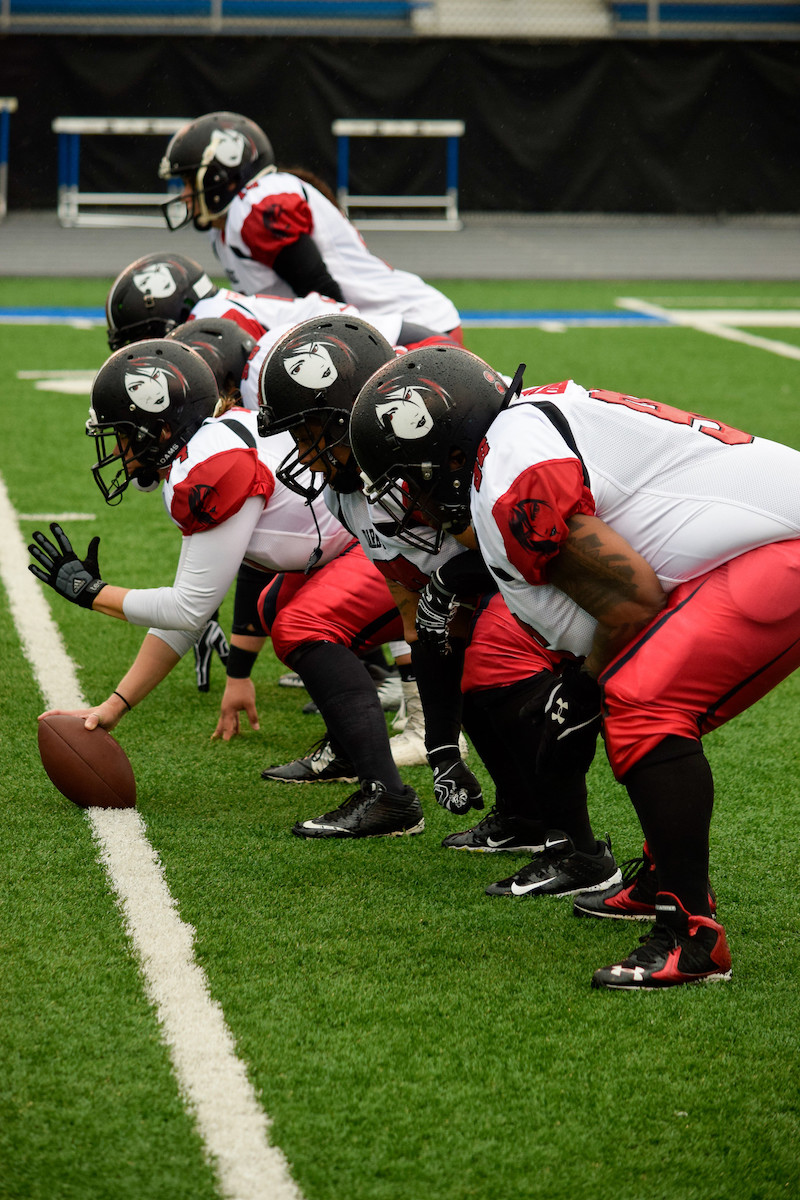 The Detroit Dark Angels is a force to be reckoned with. One of nearly 65 teams in the Women's Football Alliance — a full-contact league that started just over 10 years ago — the Southfield-based all-female roster played one of its best seasons last year. After nabbing the National Conference title, DDA went up against the St. Louis Slam for the National Championship. And while the team ended up losing the game, it hasn't stopped DDA from dreaming big.
Recently, Hour Detroit spoke with DDA's special teams coordinator and head coach, Keith Thomas. Better known as "Coach KT" by his players, he's been with the football team for about a decade. He spoke on what it's like coaching the team, what DDA hopes to accomplish this year, and how football can empower female athletes. He also let us know why he believes the San Francisco 49ers are positioned to win Super Bowl LIV over the Kansas City Chiefs on Feb. 2. Let us know in the comments if you agree with Thomas' take.
Hour Detroit: How would you describe your coaching style?
Keith Thomas: I got a philosophy that's built on one: effort, if you get an athlete who's not as big or strong or fast as another, you can narrow that gap if you give more than 100% effort; two: be a great teammate, you don't always have to be the captain but help your team out; three: want to be a champion; if you're going to play a sport, you should want to be the champion. A lot of the things I teach my players to help them on the field, I try to teach it also to help them in their lives. You've gotta stay motivated, you gotta keep inspiring yourself, and, as a coach, you get the opportunity to do that to your players, your team, your staff, the ownership group.
What has your experience been like coaching DDA?
If you're a competitive athlete, [gender] doesn't matter so long as you're motivated. Obviously, there are things that women go through that men don't. [My team and me] laugh about it. I let my team know, "look, I'm not coaching women who are playing football, I'm coaching football players." I really try to remind people of that. If you're a competitor, if you want to be a champion, it doesn't matter your gender. I often call the DDA players "sponges" because they're receptive and just want to learn.
Why is playing football empowering?
The empowering part comes in that [DDA players] can play this "man's game" and they can play it well and don't have to sex it up. We have respect for all women involved in the game of football — no matter how they play it — but the women in [our] league want to be recognized for how well they can catch, run, block, and tackle. These women play the game the way it was meant to be played. The DDA also has the best running back in the country, Tatyhana Pauling, who ran over 2,000 yards in 2019 — it was tremendous what she did last year.
How did the team feel when they won the National Conference title last year?
There's a reason why when you watch sports and you see ultimate professionals, or the women's soccer team, or Serena and Venus they're clasping that trophy [and] tears are streaming down their faces. It was mythical, memorable, and I'll be 75 in an old folk's home telling people about it.
 What are you looking forward to next season?
National Championship. In the past, I've described our team as the "little engine that could." We had a chant a few years ago that went "why not us," but those days are done. DDA knocked out the Pittsburg Passion in the Conference Championship last year, which was a monumental upset because we were 0-7 and they were favored to win. We've proved ourselves worthy of playing a National Championship.
Last, who is your pick to win the Superbowl?
I've chewed on it. I love the way [Patrick] Mahomes, quarterback of the Kansas City Chiefs, plays. I'm also a big Andy Reid fan, just love his coaching style. He does it the way he's supposed to do it. On the other side, I like Richard Sherman, cornerback of the San Francisco 49ers, and part of me wants them to win because they have a female on their coaching staff. What better way to promote my team? Based on [Reid's] history on some of his big games and the way that Kansas City has played some of their games, I'm going to go with the 49ers.
---
Learn more about the Detroit Dark Angels, at detroitdarkangels.com.