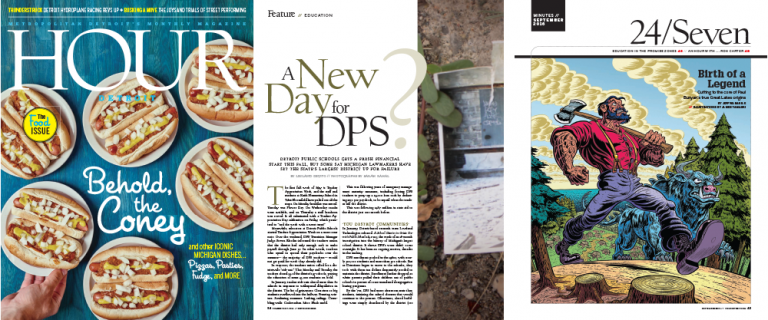 ---
Hour Detroit magazine was honored with more than a dozen honors from the annual Society of Professional Journalists – Detroit Chapter (SPJ) 2017 Excellence in Journalism Awards celebration.
Reviewed by journalists from other SPJ chapters, the Excellence in Journalism Awards recognize outstanding achievements in print, broadcast, photo, and online journalism across southeastern Michigan. Hour Detroit was honored in the following categories:
Feature Story:
1st: Hour Detroit staff/freelancers (Leyland DeVito, Joe Grimm, Dorothy Hernandez, Helen Kwong, Jeff Waraniak, Steve Wilke)— Ode to Michigan Food (August 2016)
Honorable Mention: Mark Kurlyandchik (freelancer) — Holy Schvitz (February 2016)
Headline Writing:
1st: Jeff Waraniak — Falls, Bond Falls; Branches on the Evolutionary Tee; A Ginger Tale; Red, White & Booze; The Missing, Linked
Localization of a National Story:
3rd: Monica Mercer (freelancer) — Compassion Fatigue (July 2016)
Honorable Mention: Dorothy Hernandez — Raw Talent (December 2016)
Explanatory Story:
1st: Leyland DeVito — A New Day for DPS? (September 2016)
Honorable Mention: Steve Neavling (freelancer) — The Gateway Drug (Health Guide 2016)
Personality Profile:
1st: Jeff Waraniak — Birth of a Legend (September 2016)
Cover Design:
2nd: Valerie Morgan, Jenny Risher – January 2016 (Auto Issue)
3rd: Jennifer Choi, Nicole Lazarus, Joe Vaughn — August 2016 (Behold, the Coney)
Honorable Mention: Nicole Lazarus, Jennifer Choi, Jenny Risher — September 2016 (Best Dressed)
Magazine Spread Design:
3rd: Valerie Morgan, Jenny Risher – Spellbound (January 2016)
Honorable Mention: Jennifer Choi, Carolyn Chin Watson, James Yamasaki — Pirate of the Great Lakes (November 2016)
For more information, please visit www.spjdetroit.org  and www.hourdetroit.com.
---
About Hour Detroit
Hour Detroit magazine is brought to you by Hour Media, publishers of DBusiness, Detroit Home, Metro Detroit Bride, and numerous other magazines. Hour Media also publishes the Metropolitan Detroit Guest and Resource Guide, The Metropolitan Dining Guide, and a variety of custom publications. To subscribe to Hour Detroit, call 248-588-1851 or visit www.hourdetroit.com. Visit Hour Detroit on Facebook, Twitter @hour_detroit, Pinterest and Instagram.