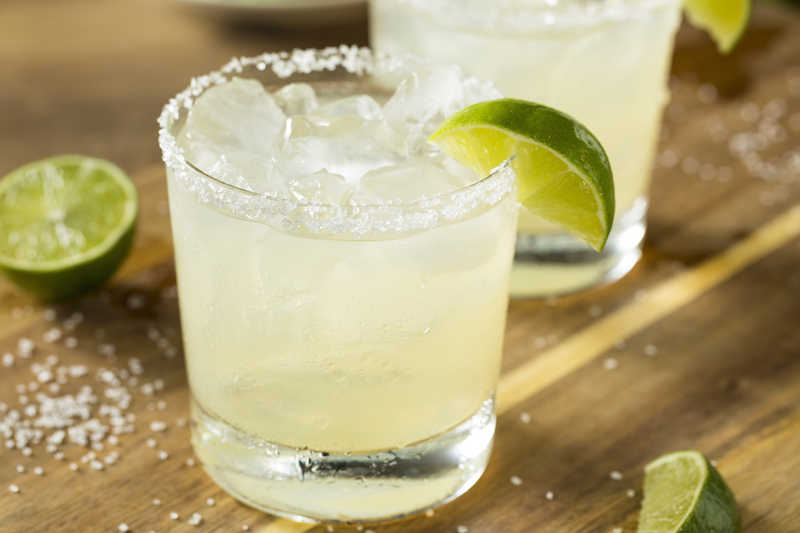 If you're on the hunt for a delicious margarita, at least one of these 10 local restaurants will live up to your expectations. From unique flavors to classic concoctions, here's where to grab margaritas in metro Detroit.
Imperial
The trendy Mexican restaurant on Woodward Avenue has a small but mighty lineup of margaritas. You can't go wrong with the $7 classic House Margarita, which features Sauza Silver Tequila, Triple Sec, and lime, and the more premium option, the Imperial Margarita at $11, is also excellent. The cocktail is made with Hornitos Plata Tequila, Combier, and lime. If you want to try something unique, consider adding jalapeño, hibiscus, or pineapple flavor to your drink, or try the Strawberry Margarita, which is crafted with a strawberry balsamic and a hint of banana. Imperial, 22828 Woodward Ave., Ferndale; 248-850-8060; imperialferndale.com
Mexican Village Restaurant
Mexican Village's two locations offer up a variety of margaritas that can be ordered by the glass — rimmed with salt, of course — as a half-liter, or as a full liter. Pick from a standard margarita in flavors like strawberry, wild berry, raspberry, or mango. Or, order up a top shelf or specialty margarita, which are both made with higher quality tequilas. Mexican Village Detroit, 2600 Bagley St., Detroit; 313-237-0333; and Mexican Village Utica, 47350 Van Dyke Ave., Utica; 586-254-2290; mexicanvillagefood.com
Xochimilco Restaurant
Featuring Xochimilco's "secret recipe," the margaritas at this Mexicantown staple are available both on the rocks or as a frozen concoction. Offered in a range of sizes, a small margarita starts at just $3.25. Flavor varieties include raspberry and strawberry, and banana and amaretto orange are exclusive to the frozen margarita selection. Xochimilco Restaurant, 3409 Baglet St., Detroit; 313-843-0179; facebook.com/xochimilcodetroit
El Charro
The home of the Puffy Taco, this Best of Detroit winner's massive salt- or sugar-rimmed margaritas are available on the rocks or frozen and come in flavors like classic, jalapeño, peach, wildberry, pomegranate, and melon. If you can't choose just one, consider ordering a Margarita Flight, which comes with your choice of three margarita flavors. And, take advantage of happy hour, which frequently features discounts on various margarita flavors. Visit elcharrousa.com for locations.
Iron Horse
Iron Horse keeps it simple with one margarita listed on its extensive Drinks menu. The Margarita can be made traditional or with a strawberry or jalapeño flavor. The cocktail is concocted with Hornitos, Reposado, Curacao, simple syrup, and fresh lime juice. On Tuesday, the restaurant offers half-off all drinks. Iron Horse, 316 W. Fourth St., Royal Oak; 248-291-6313; facebook.com/ironhorsero
Peso Bar
Named one of the best places to grab a drink by Hour Detroit's editors in 2019, Peso Bar features 20 different margaritas on its menu. Take a seat at the restaurant's custom-built bar and enjoy everything from the more classic Peso Tradicional, which is made with Cabresto Blanco, triple sec, a citrus agave blend, lemon, and lime, to a unique option like the Señor Cason, which is made with Cabresto Blanco, ginger ale, lime juice, and ginger bitters. Peso, 2547 Bagley St., Detroit; 313-974-6197; pesobardetroit.com
Taqueria Mi Pueblo
Stop by this three-level authentic Mexican restaurant's gazebo-style wood bar for a variety of margarita options, which can be ordered by the glass or pitcher. Flavored margaritas, which are made with Tequila Jose Cuervo Especial, are available in mango, strawberry, watermelon, and blackberry. The drinks menu also features other margaritas, such as the Electric Margarita and El Patron Margarita, that can be ordered with no ice for an additional charge. Happy hour is held from 2 p.m. to 7 p.m., Monday through Thursday. Taqueria Mi Pueblo, 7278 Dix St., Detroit; 313-841-3315; mipueblorestaurant.com
El Barzon Restaurante
This Italian-Mexican restaurant is a must-visit due to its stunning back patio and plenty of options when it comes to margaritas. Offering 14 different margaritas, all made with el jimador tequila, you can choose from drinks like the standard Classico; the De Oro, which is made with fresh orange juice; or the Basil, which features muddled basil. The restaurant also has three V.I.P Signature margaritas listed on its menu. El Barzon, 3710 Junction Rd., Detroit; 313-894-2070; elbarzonrestaurant.com
Los Galanes
Serving Detroit since 1967, this independently owned and operated restaurant embraces the saying "it's always margarita time at Los Galanos." The eatery carries more than a dozen tequilas, all of which can be mixed into a margarita. Margaritas are available in a jumbo size to full liter, and flavors include strawberry, banana, and raspberry. Several special margaritas, such as the Cadillac Margarita made with Grand Marnier, Herradura Tequila, lime juice, and lemon juice, are also available. Los Galanes, 3362 Bagley St., Detroit; 313-554-4444; losgalanesdetroit.com
Armando's
In the heart of Mexicantown, this family-owned restaurant has a unique Build Your Own Margarita option. To start, choose your tequila, then pick between Armando's original mix or top shelf, add a flavored syrup such as strawberry, peach, or mango, and choose if you want salt, sugar, or nothing on the rim. Don't miss out on the $5 daily drink specials with Wednesdays being Strawberry Margaritas, and Sundays being Armando's Original Margaritas. Armando's, 4242 Vernor Hwy., Detroit; 313-554-0666; armandosmexicantown.com
Facebook Comments