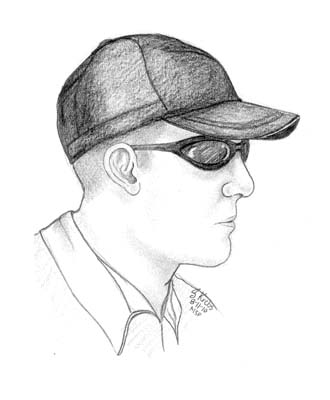 Nearly one year after a Royal Oak man was gunned down and killed in his driveway on a weekday afternoon in July, a lawsuit filed in Federal District Court in Detroit suggests a possible motive — and alleged suspect.
In a complaint filed June 3, 2011, Nationwide Life Insurance alleges that the shooting victim, Gary Harmon Lupiloff, took out a $500,000 life-insurance policy on himself in late 2003 listing a William Keene, of Ann Arbor, as the primary beneficiary. The purpose of the policy was "to provide coverage over an investor loan for capital purchase," the lawsuit says. Three and a half years after that, Nationwide received forms signed by Lupiloff making Keene the owner of the policy and Keene's wife, Jennifer, the contingent beneficiary (eliminating Lupiloff's daughters, who were originally named).
Further raising concerns are allegations that Lupiloff allegedly owed Keene a substantial sum at the time of his death.
"[Keene] lent Mr. Lupiloff $60,000, which was not paid back," says a source close to the lawsuit, who requested anonymity. "In return, [Keene] received the beneficiary of the insurance policy."
It was Keene who called the insurance company two days after Lupiloff was gunned down in his driveway, alerting them to his death, the lawsuit says. That same day, Keene submitted a beneficiary claim form to Nationwide, asking for a lump-sum payment by check.
Keene never received a payment, the suit alleges, because Royal Oak Police informed Nationwide that he was a lead suspect in the murder on at least two occasions this year (Feb. 11 and May 6). Royal Oak police could not be reached for comment about the lawsuit. Before the filing, they also declined comment and had not publicly named a suspect.
A Michigan law, aptly known as the "slayer statute," prohibits anyone who kills another person from collecting insurance or annuity payments on their behalf.
The source familiar with the Nationwide allegations says: "One can conclude, if he indeed is the assailant, that maybe that was his way of collecting his money back — plus."
Keene did not return phone calls seeking comment.
The Nationwide complaint also names Lupiloff's two adult daughters, who asserted a claim to the policy through their attorney, Albert L. Holtz. "This is not about the money," Holtz says. "His two daughters are grieving over the loss of their father. They're interested in the assailant being brought to justice. It's coming on a year of his death, and it's still been hurtful."
Residents in the northeast Royal Oak neighborhood where the fatal shooting occurred also have lingering emotions — and fears.
Among them is Patricia Sawdon, who recalls the afternoon of July 13 with the kind of clarity that comes from such an experience. After fetching her daughter from summer camp, she ran errands, which put them back home at 4 p.m., about an hour later than usual. Nearing their ranch-style home, Sawdon found police had closed their street and cordoned off the house next door with crime-scene tape.
"We didn't come home right away, thank goodness, because that's when all of that happened," she says, "that" being the fatal shooting of Lupiloff in the driveway next door. It was Royal Oak's first homicide since 2005 and the second of the decade.
Until the recent court filing, few details had emerged. When a neighbor's nanny last saw Lupiloff alive, he was pacing his Ardmore Avenue driveway, talking on the cell phone — typical for the 53-year-old business owner who ran his company, Screen Source Media, from home. Just before 3, a shot rang out from somewhere behind his house. A bullet struck Lupiloff in the back and cleared his body. An employee working inside Lupiloff's home at the time reportedly called 911. Lupiloff was alive when police and EMS arrived; he died shortly after arrival at Beaumont Hospital in Royal Oak.
The shooting rattled the neighborhood in more ways than one. "Nobody should die like that, and nobody should be able to get away with something like that," says a neighbor, who requested anonymity (which, in itself, speaks to the lingering paranoia). "People are looking over their shoulders."
The community received an additional blow when details of their dead neighbor's past emerged. "When I first heard on the news about it and they were using his last name … I didn't know who they were talking about because I didn't know him as that," Sawdon says. "I had been introduced to him as Gary Harmon." By her account, Lupiloff was a quiet neighbor who was rarely home. He was talkative and friendly, "a great person to be living next to."
Adds the name-withheld neighbor: "He was punctual. His punctuality might've been part of his downfall, because they knew where he was, when he was."
Lupiloff, a twice-divorced father, had served two stints in federal prison for bank fraud. A lawyer, he had been disbarred for forging a $12,000 check to himself from one of his clients, and once showed up in the Fox 2 "Hall of Shame" for rolling back odometers and doctoring titles as a car broker. After his last incarceration, he dropped Lupiloff and began introducing himself as Harmon, but trouble still knew his name. Even Screen Source Media, which provided LED-marketing displays at events such as the Woodward Dream Cruise, was the subject of court proceedings over alleged shady business dealings. In 2007, Lupiloff filed for bankruptcy, and, according to the homeowner who purchased his 1,200-square-foot brick ranch after his death, there was a lien on his house. "I still get mail for the guy," says the new homeowner, who also asked that his name be withheld. "It's actually hand-addressed letters to him from people that think he needs help with his financial situation," and believe he's alive.
A Lupiloff friend quoted in a Detroit News report last August estimated that Lupiloff was roughly $2 million in debt when he died. The friend also told The News that he believed relationship problems had more to do with Lupiloff's demise than financial ones.
For their part, Royal Oak Police are mum. "We have nothing new to add," says Interim Deputy Chief Gordon Young.
As recently as late May, a team of detectives was seen apparently combing Lupiloff's former home for evidence. "[The detective] said that they hadn't found anything," the new homeowner says. When he asked whether police had any possible leads, the detective reportedly told him: "No, not really."
In a city with one murder on the books for 2010, lack of closure translates to a clearance rate of zero. "It's important for all crimes to be solved, but more so for a murder because there's an element of, 'If it can happen to him, it can happen to me,'" says Royal Oak City Commissioner Terry Drinkwine. In 28 years as a Royal Oak police officer (he retired in 1999), Drinkwine says, "I don't remember anything where someone was gunned down in their driveway or on the street. … I just don't remember anybody being assassinated, basically."
Given Lupiloff's past, few believe his murder to be random. "Whoever it was could have timed me not being home," Sawdon says. "If anybody had been watching the house, they would have known that every day I left to pick [my daughter] up."
It's believed that a lone gunman hid in the shadows of low-hanging trees behind Lupiloff's garage, where his property meets the Churchill Community Education Center campus. Because of summer break, the school was deserted. From his vantage point, the gunman would have had a clear shot of Lupiloff pacing the driveway.
Police were last believed to be seeking a person of interest spotted practicing golf on the school grounds around the time of the shooting. That person was described as a white male, 5-feet-7-inches tall, weighing 170 to 180 pounds, and wearing a dark baseball cap and black wraparound sunglasses. Early reports also mentioned a man on a mountain bike (possibly the same man with the golf bag) and another man in a black SUV or crossover vehicle. It isn't clear whether the person of interest is believed to be Keene.
On Ardmore Avenue, the initial shock has faded. But questions and a measure of anxiety linger. Sawdon puts voice to the concerns: "Did they just happen to time it just right? Were they actually watching? Did someone know that I wouldn't be home at that time every day? I really don't know. It's just … strange."
Anyone with information may contact Royal Oak Police, Criminal Investigation: 248-246-3515.
 A version of this story is set to appear in the July issue of Hour Detroit.
" onclick="return fbs_click()" target="_blank" class="fb_share_link">Share on Facebook