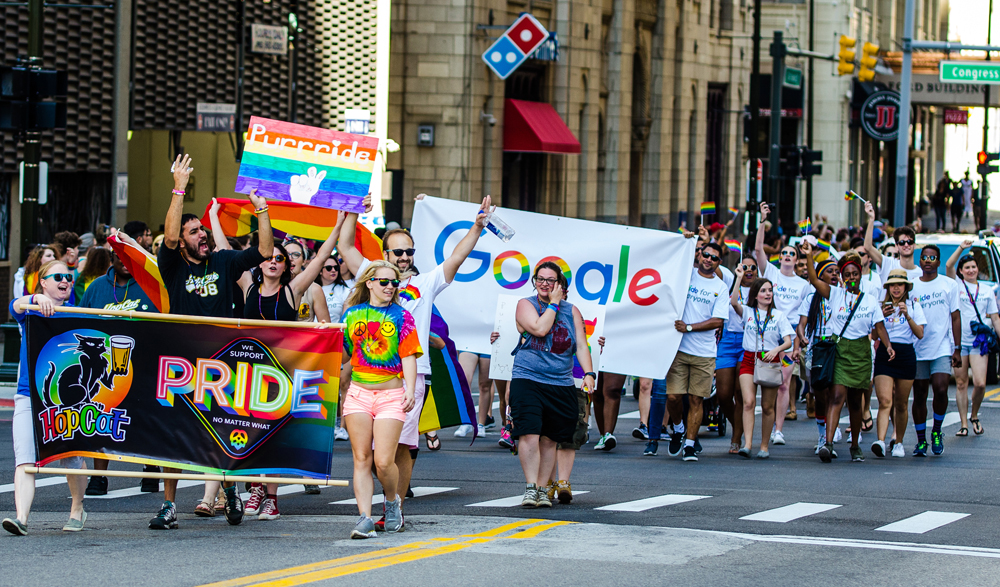 "Pride to me means to be proud," explains Charlie Howard-Putnam. "If I could share why I got involved with Motor City Pride, that would make it easier to understand why I have one solid word for it."
Howard-Putnam was 13-years-old when he attended his first Pride event. It's the year he came out, and the year he was welcomed into a community of friends who were questioning their own sexuality. They introduced Howard-Putnam to the festival.
The experience was surreal. Howard-Putnam tells me he could have never dreamed of being in a space with so many people that normalized his experiences before attending Pride. During that first attendance he remembers walking down the streets of downtown Ferndale, his entire being lit from within.
Nearly two decades later, Howard-Putnam, now 32, is the community relations for the annual June event which moved to Detroit. His goal is to recreate the same enlightening experience he had in his youth for every attendee.
For David Wait, chairperson of the board and planning committee for Motor City Pride, pride means building a space for individuals to be their authentic selves.
"What moves me the most is when I see people who haven't been to the festival before, who are experiencing this for the first time. He adds, "It's really being comfortable in who they are and being empowered to work with other people in the community."
Tristan Putnam, entertainment director of Motor City Pride, says pride is not so much being proud about his sexuality as it is being proud of who he is as a person. For Putnam, who started volunteering with the event seven years ago as a volunteer, the Detroit festival is more than just entertainment. It is a commemoration of all of the generations LGBTQ activists who have fought for greater rights for the community.
Pride events are held every June around North America to honor the anniversary of the Stonewall riots— a series of riots against the 1969 police raid at Stonewall Inn and considered by many as the beginning of the gay rights movement.
"The stereotype of Pride is we are celebrating … but the real thing is the fight," Howard-Putnam explains.
That fight is ongoing. "So many people think Pride is just a celebration, and a lot of people think that because we have made progress … that Pride isn't as relevant as it used to be," Wait adds. However, he makes a case for the event's relevance, as there are still people within the LGBTQ community that are victims of hate crimes and discrimination.
Other misconceptions about the event revolve around what exactly the attendees are celebrating. "Some people believe that we are just out being proud about our sexuality, when that's not the case," clarifies Putnam.  "Members of the LGBTQ community are proud of themselves, as well as their contributions to their families, to their friends, to the community as a whole, and don't have to hide who they are. That's what pride is."
---
Motor City Pride will be held on it Saturday, June 9, from 1-9 p.m., and Sunday, June 10, from noon to 7 p.m.  Click here for more information.
Facebook Comments