Over the past couple of years, campaigns and initiatives have popped up encouraging consumers to shop Black-owned businesses.
First, there was Aurora James' 15 Percent Pledge, which launched on June 1, 2020. Considering that Black people make up nearly 15 percent of the U.S. population, James, the founder of footwear brand Brother Vellies, asked that brands pledge to devote 15 percent of their shelf space to Black-owned businesses.
Sephora, Rent the Runway, and West Elm have opted in, and the pledge has inspired customers to redirect their dollars to Black-owned brands and shops.
Since then, Beyonce Knowles has also launched a directory of Black-owned businesses on her website and partnered with the NAACP to create the Black-Owned Small Business Impact Fund.
Closer to home, Melissa Butler, creator of Detroit-based beauty brand The Lip Bar, co-founded The Black Pact. Those who sign the Black Pact's pledge commit to shopping Black-owned businesses as often as possible. The website for the initiative also features a directory of Black-owned businesses.
In the spirit of these call-to-actions, we're sharing 36 Black-owned businesses to shop in metro Detroit. From luxury clothing to sustainable beauty products and handcrafted arts to tasty tea blends, these local Black-owned brand and retailers are offering up unique goods and finely curated shopping experiences.
Of course, this is just a small snapshot of the Black-owned shops in metro Detroit. Please share more of your favorites with us in the comment section so we can add them to our list.
Clothing & Accessories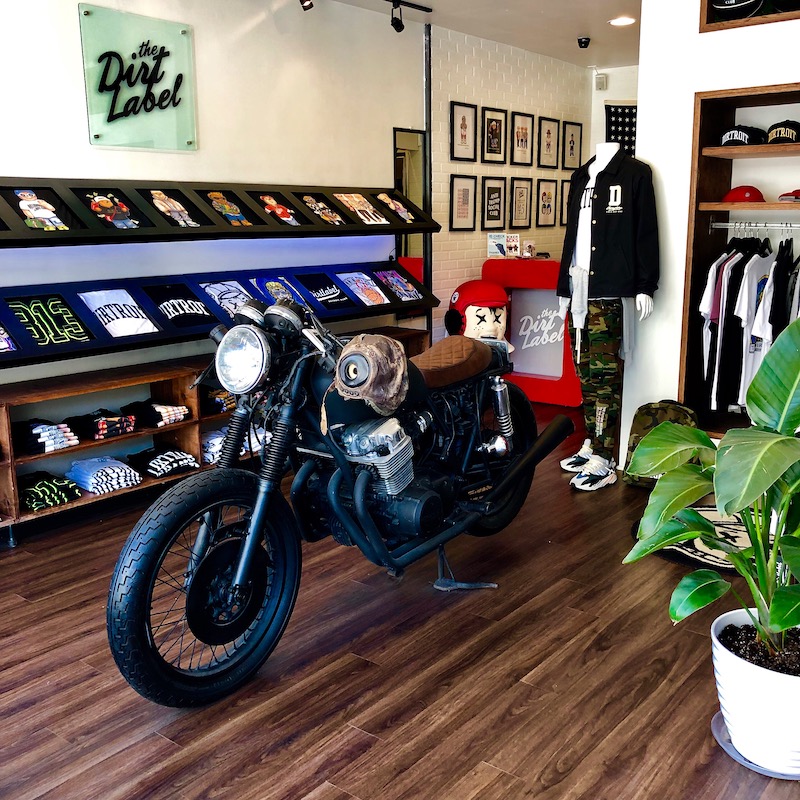 Alter Ego Boutique 313
Ready to take on the world with the trendiest fashion items? Look no further than D'Landon Williams' Alter Ego Boutique. The shop, which offers sizes from small to 3X, carries jeans, shorts, bodysuits, swimsuits, and dresses in bold colors and designs. Alter Ego Boutique, 19100 Livernois Ave., Detroit; 313-647-7675; alteregoboutique.shop.
Dandy Detroit
Dandy Detroit offers custom-tailored clothing for men. The brand is owned by Nelson T. Sanders Jr., who has more than 15 years of experience in high-end custom clothing and previously worked as the creative director at 1701 Bespoke. He's also the founder of The Seen Detroit, a stylish collective of Detroit creatives. Dandy Detroit, 1550 Trumbull St., Detroit; dandydetroit.com.
The Shoe Box
The Shoe Box, located on Detroit's Avenue of Fashion, is a shoe and men's clothing store. Opened in September 2017, The Shoe Box has goals of helping customers look and feel their best while also supplying jobs on the Avenue of Fashion. Open seven days a week. The Shoe Box, 19186 Livernois, Detroit; 313-855-6028; visitdetroit.com.
Definitely Different Boutique
Founded in 1995, Imani Love's Definitely Different Boutique has unique styles for women, with new pieces including tie-dye dresses, and colorful statement necklaces. Definitely Different, 22011 Coolidge Hwy., Oak Park; 248-584-2299; definitelydifferentboutique.com. 
Détroit is the New Black
Roslyn Karamoko's Détroit is the New Black offers T-shirts, hoodies, jackets, and more for men, women, and children, as well as accessories like DITNB hats and totes. The online store also sells its own body roller and room spray, featuring a signature scent of sage, frankincense, and sandalwood. Détroit is the New Black, detroitisthenewblack.com.
The Dirt Label
The Dirt Label was founded by Chris Morris in 2006. The brand's philosophy is "play by your own rules," and it embodies this in its unique designs. The Dirt Label is known for its bear clothing — illustrations of bears dressed as different notable figures are depicted on the items — and newly released graphic tees feature people like Gov. Gretchen Whitmer, and Malcolm X. The Dirt Label, 319 S. Washington Ave., Royal Oak; 248-268-3462; thedirtlabel.com.
Flo Boutique
Felicia Williams-Patrick's Flo Boutique carries men's and women's clothing by local, national, and international designers. The eclectic mix of unique clothing options at this shop, which is named after Williams-Patrick's mother, gives patrons the chance to find something that fits their style. The store has been open for 15 years in West Willis Village. Flo Boutique Co, 404 W. Willis St., Detroit; 313-831-4901; flowingflava.com.
Fly Behavior
Tee Capel's digital showroom Fly Behavior offers women's items that are unique, edgy, and fashionable. Recent offerings include puffer vests, ruffle tops, two-patterned pants, and more. Fly Behavior, shopflybehavior.com.
Hope for Flowers by Tracy Reese
Detroit designer Tracy Reese unveiled her sustainable collection Hope for Flowers in 2019. Made from ethical sourcing practices, the line features feminine dresses and separates in floral prints, stripes, and other unique prints. A portion of sales from Hope for Flowers go to recycling organization Detroit Dirt. Hope for Flowers; hopeforflowers.com.
K. Walker Collective
This lifestyle clothing company owned by Ken Walker offers clothing for men. K. Walker Collective, which held its inaugural New York Fashion Week showcase in February 2019 and opened its flagship store in Detroit, carries luxe tees, vibrant pullover hoodies, tracksuit sets, black velvet face masks, and hats and beanies marked with the brand's "K" logo. K. Walker Collective, 4161 Cass Ave, Detroit; kwalker.co.
Love Travels Imports
This Detroit company sells fair-trade artisan goods handcrafted in places like Haiti, South Africa, Peru, and Guatemala. The founder of Love Travels Imports, Yvette Jenkins, picks out the women's and men's apparel, body products, home décor, and more during her travels, so each piece has a story behind it. Love Travels Imports, 19939 Livernois Ave., Detroit; 313-623-5800; lovetravelsimports.com.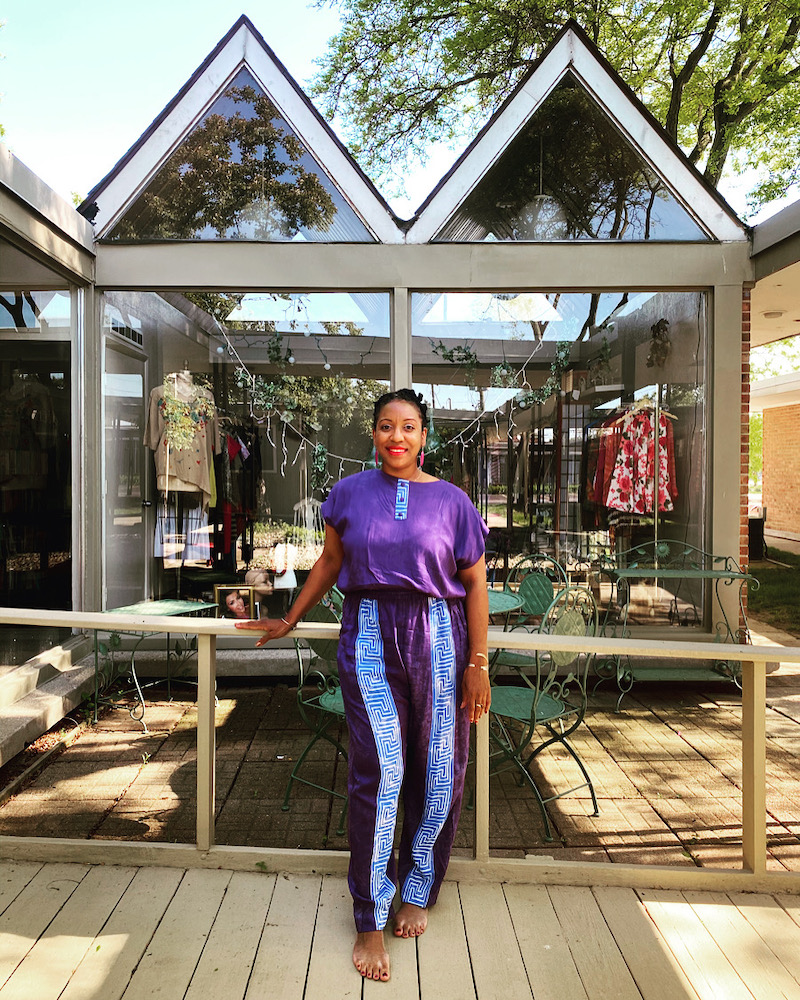 The Lowry Estate
Named after owner Corliss Elizabeth Williams' grandmother, this vintage boutique specializes in festive women's apparel from the '70s-'90s. Recent items, shared on The Lowry Estate's social media pages, include vinyl parachute pants, a satin color block dress, a vintage winter sea burst top, and more. The Lowry Estate, Courtyard Entrance, 23023 Orchard Lake Road, Building F, Farmington; 917-974-4080; thelowryestate.com.
Not Sorry Goods
This brand, co-founded by Dy-Min Johnson and Jessica Minnick, is for those who are not sorry for being themselves. Sustainability and inclusivity are core focuses of Not Sorry Apparel, which sells shirts, crewnecks, accessories, patches, and totes. It's known for its "Not Sorry" items, which include clothing with sayings like "Queer Not Sorry," "Detroit Not Sorry," and "Black Not Sorry." Not Sorry Apparel, 22963 Woodward Ave., Ferndale; notsorryapparel.com.
Negash Apparel and Footwear
Inspired by Egyptian royalty, this brand by Rocklin Jackson is known for its luxury sneaker options. Negash Apparel and Footwear also offers clothing and accessories, as well as books, games, and health and wellness items. Negash Apparel & Footwear; 20331 Middlebelt Road, Livonia, 313-355-4647; negash83.com.
Offin River's Accessories, Etcetera
Started in 1994, Kwame and Sharon Yamoah's Offin River's Accessories, Etcetera sells clothing from sizes eight to 3X, and accessories like hats, handbags, and jewelry. Some of the items in the shop are created by designers Gloria Bradley, Rena Hinton, Karen Travis, and JoAnne Edison. Offin River's Accessories, Etcetera, The Collective, 8325 E. Jefferson Ave. Suite 100, Detroit; 313-499-1122; facebook.com/detroitboutique.
Savvy Chic
The name of this shop, owned by Karen Brown, says it all. This Parisian-style boutique located in Eastern Market carries items ranging from fashion to home goods and even food. Savvy Chic has been a Detroit staple for 16 years. Savvy Chic, 2712 Riopelle St., Detroit; 313-833-8769; savvychictrends.com.
Spectacles
Open since 1984, Zana Smith's Spectacles sells sunglasses, hats, and bandanas as well as shirts and CDs. Spectacles, 230 E. Grand River Ave., Detroit; 313-963-6886; specdet.com.
Wayne McGibbon Clothier
Located on the Avenue of Fashion, Wayne McGibbon Clothier offers hats for all occasions. Owner Wayne McGibbon has been selling hats for more than 25 years, and he started his personal styling business in 2016. Wayne McGibbon Clothier, 19480 Livernois Ave., Detroit; 313-680-0478; waynemcgibbonclothier.com.
Zarkpa's
This West African clothing store, owned by Tracy Garley, offers tops, skirts, pants, head wraps, unisex dashikis, and more in bright colors and unique patterns. Using fabric imported from Ghana, Nigeria, and Liberia, pieces are handmade in Zarkpa's production facility in Detroit. Zarkpa's, 313-516-7002; zarkpas.com.
Beauty & Wellness
12th & ViV
This home decor and skincare company, created by Darian Cook in 2015, offers candles, creams, scrubs, and essential oils made from certified organic oils. The brand's candles are handmade and hand-poured in small batches, and 12th and Viv also offers private candle pouring workshops. 12th & Viv, Twelve Oaks Mall; 248-506-2898; 12thandviv.com.
Bath Savvy
Shannon Reaves' company Bath Savvy offers natural soaps, oil creams, sugar scrubs, bath bombs, and whipped body butters. There are no perfumes, dyes, or artificial fillers in the products, and they are vegan and safe for all skin types. Bath Savvy, 483 W. Marshall St., Ferndale; 844-237-2889; bathsavvy.com.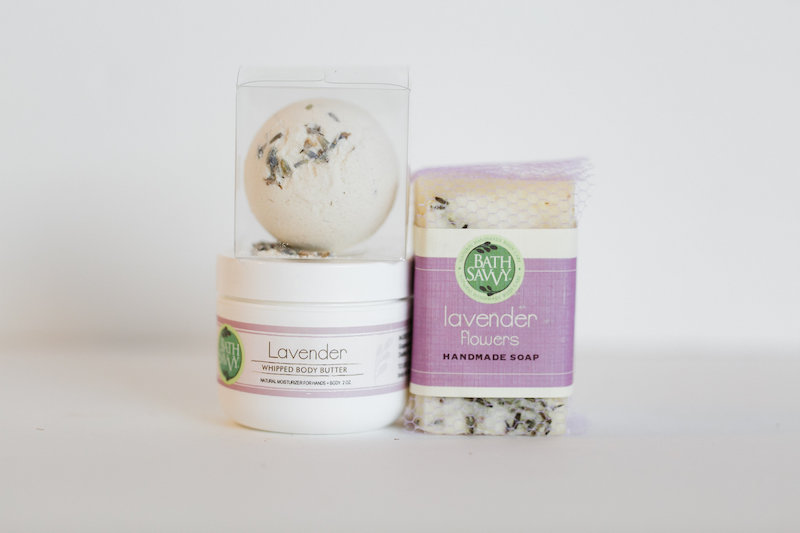 Cream Blends
Cream Blends owners Yolanda and Rick Williams use simple ingredients in their body butters, scrubs, oils, lip scrubs, candles, soaps, and bath bombs. They use beeswax from Detroit Hives, a local bee farm. Cream Blends, 4425 Fernlee Ave., Royal Oak; creamblends.com.
Ella Jae Essentials
La'Asia Johnson's launched her business when skin issues related to her Crohn's Disease could not be resolved with prescribed medications and ointments. Ella Jae Essentials skincare, haircare, beard care, and beauty products aim to be healthy and healing. Ella Jae Essentials, 1214 University Ave., Unit 2, Flint; 810-814-1443; ellejaeessentials.com.
Green Olive Soaps
Green Olive Soaps is a luxury organic and vegan skincare company that specializes in soap bars, body butters and scrubs, bathing salts, and lip balms and scrubs. Started by Camilla Rice, the company's products are cruelty-free and sold in biodegradable packaging. Green Olive Soaps, 888 W. Big Beaver Road, Suite 200, Troy; 248-602-1917; Facebook.com/GreenOliveSoaps.
House of Intentions Candle and Metaphysical Shop
Owned by Shekita Long, this shop sells everything from wellness items such as essential oils, herbs and teas, and crystals to household items like candles, fabrics, yoga mats, and incense. House of Intentions Candle and Metaphysical Shop; facebook.com/shophouseofintentions.
Ilera Apothecary
Chinonye Akunne's natural skincare company is informed by her Nigerian roots. Ilera Apothecary embraces West African practices to create sustainable face and body cleansers, soaps, and other personal care items. Their products are offered at their headquarters and other stores in Detroit, Philadelphia, and Washington, D.C. Ilera Apothecary HQ, 313-936-0223; ileraapothecary.com.
The Lip Bar
The Lip Bar is your go-to spot for lip, face, and eye products. Make the most out of your beauty routine by picking up the Fast Face Kit, a collection of six products that help you apply a full face of makeup in seven minutes. Owned by Melissa Butler, this vegan and cruelty-free brand aims to be inclusive by offering a wide range of shades and producing brand imagery featuring people of all ages and complexions. Lip Bar's flagship store is in Detroit, and its products can also be found in more than 450 target locations. The Lip Bar, 1435 Farmer St., Suite 122, Detroit; 313-952-5198; thelipbar.com.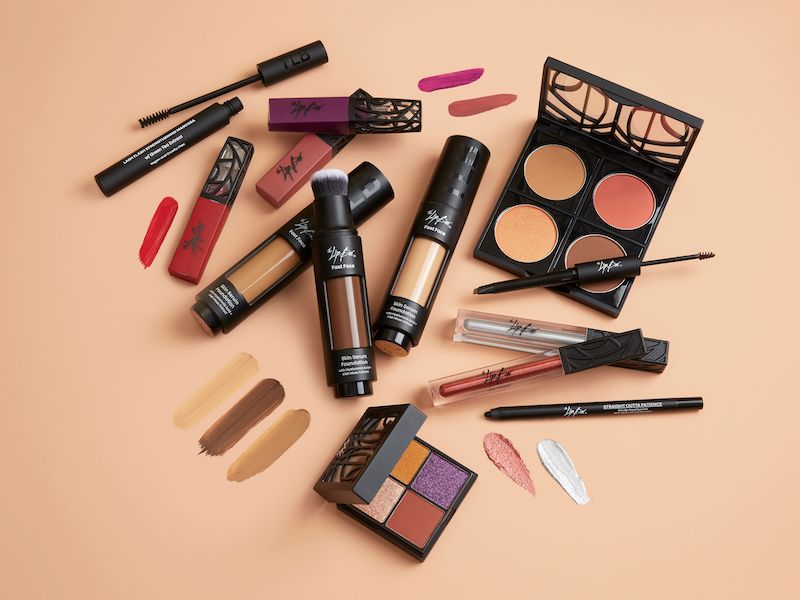 The Ten
You can get a mani or pedi at this nail salon, which boasts an array of beauty goods. The salon sells its own home spray, slide sandals, and candles, which feature a scent of rosewood, blue musk, bergamot, lavender, and amber. Shop online or in the salon. The Ten Nail Bar, 6541 Woodward Ave., Detroit; 313-462-4517; thetennailbar.com.
Books
Detroit Book City
This independent book store, owned by Janeice and Reginald Haynes, offers new and used adult and children's books, as well as books by Detroit Black indie authors and rare African-American books. Detroit Book City also sells T-shirts, CDs, candles, and African body oils and soaps, among many other things. Detroit Book City Bookstore, 27260 Southfield Road, Lathrup Village; 248-993-3844; detroitbookcity.com.
Source Booksellers
This Midtown bookstore owned by Janet Webster Jones offers an array of unique non-fiction books on history and culture, health and well-being, metaphysics and spirituality, and books by and about women. Source Booksellers, 4240 Cass Ave. #105, Detroit; 313-832-1155; sourcebooksellers.com.
Food & Drink
House of Pure Vin
House of Pure Vin is a wine shop and tasting room in downtown Detroit. Shop their wide range of wines in store or online or join the Wine Club to get hand-selected bottles of wine delivered to your door each month. House of Pure Vin, 1433 Woodward Ave., Detroit; 313-638-2501; houseofpurevin.com.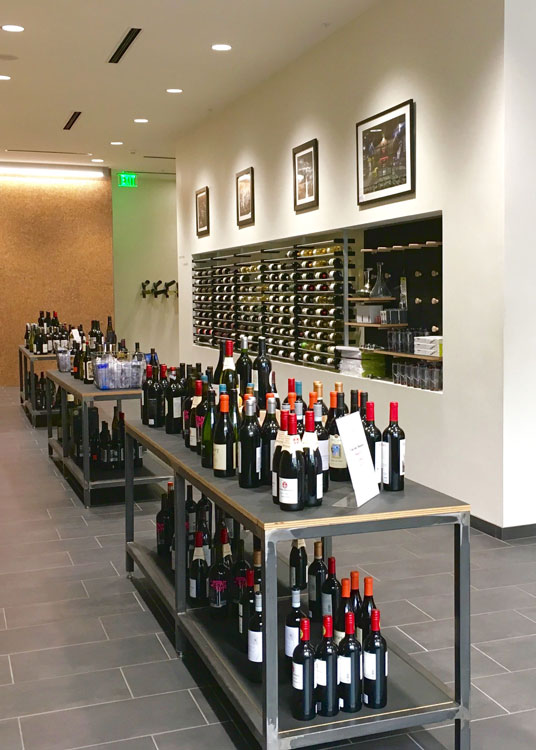 Just a Bit Eclectic
This nonprofit shop owned by Darlene Alston is a tea lover's paradise. Tea blends include Darjeeling, Chai Spice, Pearl Tea, Japanese Cherry Blossom, Orange Chocolate, and Bubba Gum Mango. Customers can sip tea in the shop or purchase the loose-leaf teas to enjoy at home. Just a Bit Eclectic also sells tea-related items as well as handcrafted and vintage goods. Just A Bit Eclectic, 19015 W. McNichols Road, Detroit; 313-533-5692; justabiteclectic.com.
Home & Art
ArtLoft Midtown
Curator Rachael Adadevoh-Woods handpicks items for her store, which carries brands like Jonathan Adler, Michael Aram, and Carrol Boyes. ArtLoft sells housewares, watches, functional art, and one-of-a-kind jewelry. The shop also offers a bridal registry. ArtLoft Midtown, 4160 Cass Ave., Detroit; 313-818-0023; artloftdetroit.com.
Eric's I've Been Framed
This personal framing company carries shadow boxes, plexiglass boxes, and caters to custom orders. Owned by Eric Vaughn, the store also sells goods made by local artists. Eric's I've Been Framed, 16527 Livernois Ave., Detroit; 313-861-9263; ericsivebeenframed.com.
Jo's Gallery
This second-generation gallery now owned by Garnette Archer is the oldest gallery on Livernois Avenue. Jo's Gallery sells original art pieces, high-quality prints, sculptures, and jewelry from creatives across the country. The shop also offers framing services and a café. Jo's Gallery, 19376 Livernois Ave., Detroit; 313-864-1401; facebook.com.
Leaf Me
An online plant boutique created by entrepreneur Alexis Sims, Leaf Me carries a variety of Ficus, Calathea, Dracaenas, and more. The shop also offers services like plant rental, repotting, and plant styling. Leaf Me; leafme.co.
This post has been updated for 2023.