Sunsets are an idyllic way to end any summer night. Michiganians do this warm-weather tradition right, celebrating the sun going down on shorelines, at parks, alongside the Great Lakes, or while enjoying outdoor dining. The sunset is breathtaking no matter where you watch it, but these nine locations offer experiences that are tough to beat.
Sunset Park
Petoskey is home to several sunset hotspots. A standout is Sunset Park, which lives up to its name by providing stellar views of Lake Michigan as the sun goes down. Sunset Park, 101 E. Lake St., Petoskey; petoskeyarea.com.
Sleeping Bear Dunes
These legendary dunes are the perfect perch to watch a Michigan sunset. The dunes are also a great spot tohike or stargaze. Visitors can climb the dunes or head over to the Sleeping Bear Heritage Trail that runs from the northern end of the park to a point south of Empire. Sleeping Bear Dunes, Maple City; sleepingbeardunes.com.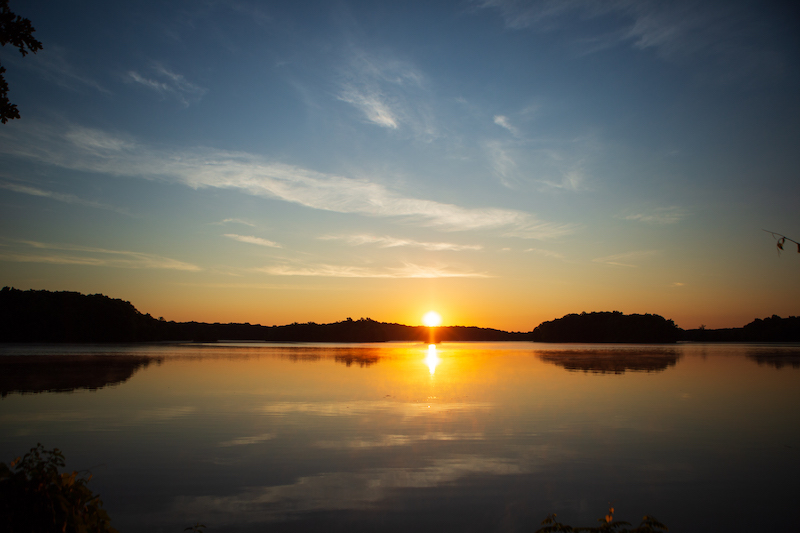 Caseville County Park
Caseville County Park is home to dozens of outdoor activities including camping and an extensive beach. Fishing is also permitted off the Caseville Pier. Take a break and relax while watching the legendary Caseville sunset. Caseville County Park, 6400 Main St., Caseville; huroncountyparks.com.
Oval Beach
Voted one of National Geographic Traveler's Top Freshwater Beaches in the USA and one of MTV's Top Five Beaches in the USA, Oval Beach is celebrated nationally. Adding to the aesthetic, Oval Beach offers a gorgeous view of the Northern Michigan sunset. Oval Beach, 690 Perryman St., Saugatuck; saugatuck.com.
Kensington Park
As one of the most popular parks in Michigan, Kensington doesn't disappoint. Kent Lake is located on the park grounds and stretches 1,200 acres. Start your day with a refreshing sunrise and end it with a relaxing sunset and enjoy everything Kensington has to offer in between. Open 6 a.m. to 10 p.m. Kensington Park, 4570 Huron River Pkwy., Milford; metroparks.com.
Laketown Beach
A more secluded spot in Holland, Laketown Beach is a fine selection if you want a romantic sunset experience. More than 300 stairs lead down to the beach where visitors can swim, picnic, and enjoy the scenery. Laketown Beach, 6710 142nd Ave., Holland; 616-335-3050; holland.org.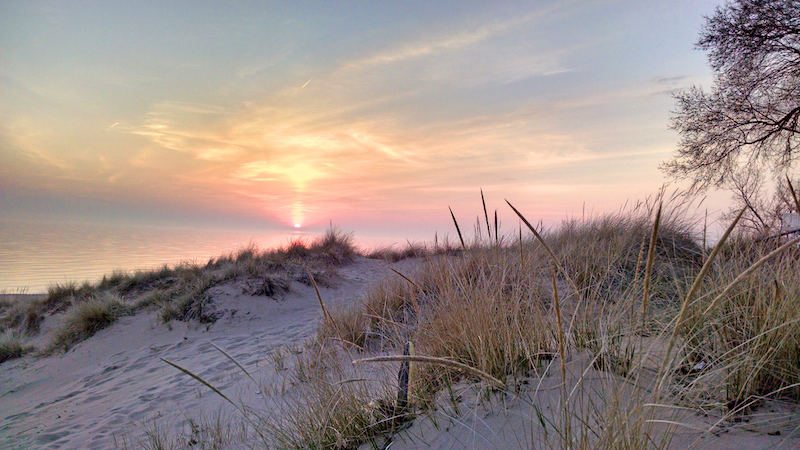 North Beach
Complete with sand volleyball courts, a dune deck, and a wheelchair accessible beach walk, North Beach is the perfect spot to enjoy the sunset with your whole family. Whether you're watching from the 745-foot shoreline or the top of a sand dune, you won't want to miss the breathtaking view. North Beach, 18775 N. Shore Drive, Ferrysburg; visitgrandhaven.com.
Heart Lake
If you're itching for a weekend getaway, look no further. Heart Lake Cottages are surrounded by pine trees and sit comfortably on the Heart Lake shore. Watch the sunset from the comfort of a back porch or head down to the water for a night swim. According to their website, "unpack and let the memories begin!" Heart Lake Cottages, 9603 Old Highway 27 S, Gaylord; heartlakecottages.com.
Sugarloaf Mountain
Take a break from the lake and climb Sugarloaf Mountain in Marquette for a unique sunset view. This elevated UP spot offers terrific hiking trails and a rewarding, uninterrupted view of the sunset. Fuel up before the 20-minute trek in downtoywn Marquette. Sugarloaf Mountain, Marquette; michigan.org.
This post has been updated for 2023.