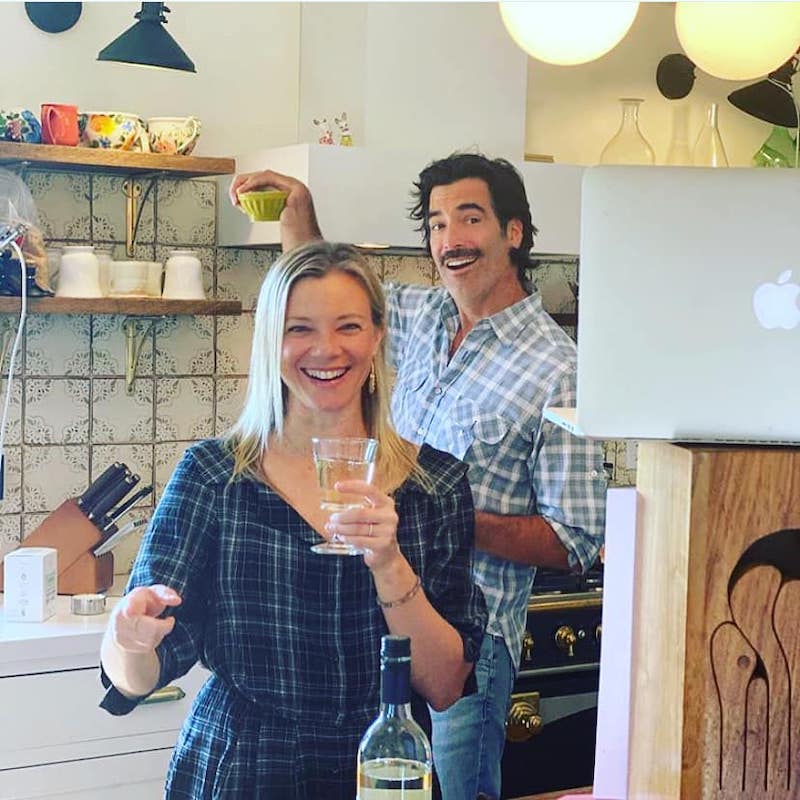 The team at Bonobo Winery classifies the Traverse City spot as a welcoming, fun environment where customers are like family. When the COVID-19 pandemic hit — and Bonobo had to close its doors to the public — the staff missed their customers and loyal wine club members. "We want to stay connected to them, let them know we are all in this together and that we'll make it through this," says Caryn Chachulski, marketing director for the winery. That's when the idea for a virtual happy hour was born.
At 6 p.m. every Friday, Bonobo Winery owner Carter Oosterhouse, a Traverse City native who rose to fame on TLC's Trading Spaces, and his wife, actress Amy Smart, host the virtual happy hour event from their home in California. They're joined via video call by the Bonobo winemaking team, Cornel Olivier and Dawie Conradie. Viewers are also invited inside the winery as well as inside the homes of some celebrities through Zoom and Facebook Live. Special guests have included Constance Zimmer of HBO's Entourage and Netflix's House of Cards, along with Ty Pennington from Trading Spaces and Extreme Makeover: Home Edition.
The virtual happy hour showcases Michigan-made products through cocktail creations, wine and cheese pairings, and cooking segments. During the latter, Oosterhouse and Smart cook a recipe featured in Bonobo's wine club shipment, while Olivier puts a spin on that same recipe. "Both of the recipes pair great with our wines, but it's a great way to see how versatile cooking, and food and wine pairing can be," Chachulski says.
In addition to cooking, the hosts, winemakers, and guests talk a little wine and interact with the viewers by opening up the happy hour to questions and comments. No matter how great their viewership grows each week, Chachulski  says it still feels like an intimate gathering.
This week's episode, on May 15, features Drew Scott of HGTV's The Property Brothers and his wife, Linda Pham, and a recipe segment with a meal inspired by springtime in Northern Michigan. "Our virtual happy hours are a way to bring the Bonobo experience to everyone," Chachulski says. "Not everybody can make it up to northern Michigan or has a chance to visit a Michigan winery, and this is an opportunity to bring the tasting room experience out to everyone."
Viewers can track each week's episodes and guests on the Bonobo website at bonobowinery.com, on the winery's Facebook page, or by calling 231-282-9463. Past quarantine, the winery hopes to continue hosting periodic virtual happy hours.
---
Looking for more drink content? Check out Hour Detroit's weekly Happy Hour program, hosted at 5 p.m. every Friday on Facebook.
Facebook Comments