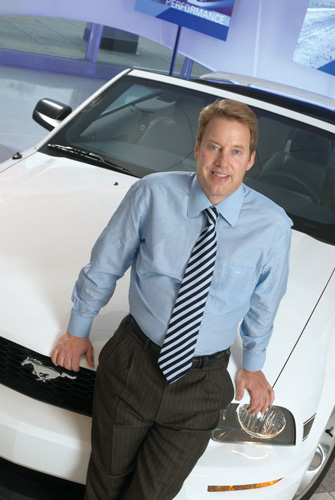 Just over two years ago, in January 2010, Bill Ford Jr. announced his intention to launch a side business, in conjunction with his everyday job as executive chairman of Ford Motor Co. It was a strategic investment firm, focused on finding companies that shared Ford's passion for, and keen interest in, technology and its potential for profoundly affecting all aspects of global transportation.
It was no surprise that Henry Ford's great-grandson was sinking a chunk of his share of the family fortune into a venture whose goal was to make the world more livable in the future. Ford, after all, was a longtime advocate of embracing the environmental challenges facing the car industry, going back to the late 1980s when he first joined the automaker's board of directors. The very name of this new venture, Fontinalis Partners, was a tribute to a private fishing club in northern Michigan, a favorite family retreat where Ford began going as a toddler and first fell in love with the outdoors, thanks largely to club caretaker Walter Babcock, who taught young Bill how to fly-fish in the Sturgeon River.
"Babcock had a profound influence on my life," Ford says, remembering when he and the caretaker would spend 16 or 17 hours outdoors in a single day. "Not only did he teach me how to fish, but he would grab edible plants or say, 'See that tree? That's a beech tree,' or 'See those marks? Those are slash marks from a bear.' "
By the time Ford became a board member, his love of the environment was exceeded only by his concern for the distinctly non-green direction the family business was taking.
"It was always clear to me our industry had to be green," he says, "if for no other reason we'd never attract the best and the brightest, because who'd want to come work for us if we're seen as a company and an industry that's on the wrong side of progress? To me, it was about owning up to the fact that our vehicles, while doing wonderful things for people in terms of mobility and freedom, [came at a cost]. And we needed to own up to that cost and figure out how to solve that."
Ford wasn't shy about making his opinions known to his superiors.
"I was a green Bolshevik," he says with a chuckle. "I was told that I had to stop associating with (quote), any known or suspected environmentalists and that I shouldn't be talking to (quote), those green wackos."
He respectfully ignored the advice, eventually becoming chairman of the Ford board of directors in 1999. One year later, in a speech at the Greenpeace Business Conference in London, he conceded, "There's no doubt [the business community was] overly cautious — I'm sure you would say obstructionist — in our initial reaction" to the evidence pointing toward climate change.
"The climate appears to be changing," he continued. "The changes appear to be outside natural variation, and the likely consequences will be serious. From a business-planning point of view, that issue is settled. Anyone who disagrees is, in my view, still in denial. We at Ford Motor Co. have moved on."
In the same speech, Ford told his audience that, while the automobile provided tremendous benefits to mankind in the 20th century, "it also had a major negative impact on the environment. To be considered a leader in corporate citizenship, an automobile company must demonstrate leadership in addressing environmental concerns."
"That didn't go over so well," Ford says with a grin and a shrug, perhaps at the delicious irony of it all: In the dozen or so years since that rebellious milestone appearance at Greenpeace, he's been making regular stops at green gatherings around the globe, delivering speeches, granting lengthy interviews, and partaking in conferences — all publicizing and promoting the virtues of environmental responsibility. Later this month, Ford will be a keynote speaker at the 2012 Mackinac Policy Conference (May 29-31), where he will discuss urban mobility, global gridlock issues, and communication innovation at Ford Motor Co.
And now here he is, sitting at a table in a tidy nook of his spacious corner office on the 12th floor of Ford's World Headquarters in Dearborn. Formal in a dark suit and monogrammed cuffs but still boyish at 55, he's six years into an epic turnaround at Ford, whose advertisements boast "no other [auto] maker offers more cars that get 40-mile-per-gallon fuel efficiency than we do."
In response to the obvious question about whether he feels any sense of vindication, Ford vigorously shakes his head. "Not at all," he says earnestly, "I'm just happy it happened, and now I just want to get on with it and attack the next series of problems."
That's what Fontinalis Partners is all about.
"I started to be aware that there was so much new technology coming into the transportation space," Ford says, "whether it was engine technology, like electric vehicles, and all the different pieces that spun off of that, or entertainment technology, like SYNC and My Ford Touch and all the apps that go into that, or whether it was technology to solve urban congestion issues."
Ford was barraged with business plans from entrepreneurs and academics, all wondering the same thing: Does your company have any interest in this?
"Almost invariably the answer was 'no'," Ford says, "because even though the technology might be interesting, it was way too early-stage for something Ford would be thinking about."
Those early-stage ideas included more than a few proposals for a flying car.
"As interesting as they are, you can't add that third dimension," Ford says. "You need a pilot's license, you need to take off and land at an airport, so that kinda ends that story."
Ford was intrigued by the possibility of exploring specific solutions for serious global problems that had long troubled him: urban congestion and pollution, expensive and inefficient transit systems, archaic and non-green use of energy resources.
"I went to my board," Ford says, "and told them I'm very interested in investing in this space and if I do it right, I can be early eyes and ears for the company, as well."
Ford's fellow founding partners in Fontinalis are Mark Schultz, who spent 32 years at Ford in a variety of executive roles, and Ralph Booth, a seasoned investment professional. "The day-to-day heavy lifting all goes to them," says Ford, who's quick to emphasize his job at Ford takes precedence and is where he devotes the bulk of his time.
He also says the goals of both his companies "are not mutually exclusive. Ford is working on big solutions with a lot of scale and Fontinalis, kind of off to the side, is working on very early-stage companies and technologies that hopefully some day will play into that scale."
Ford adamantly believes that both companies converge when it comes to grappling with the rapidly approaching onslaught of what he calls "global gridlock."
"There are 800 million cars in the world today," he says. "In the next 40 years, there will be 2 to 4 billion. There are approximately 7 billion people in the world today. Within our lifetime, that number will approach 9 billion."
He clicks off a well-rehearsed laundry list of daunting statistics and scenarios that have become a mainstay in virtually all of his speeches and interviews: The traffic jam in China in 2010 that covered 60 miles and lasted 11 days, the expectation that 75 percent of the world's population will be living in cities by mid-century, and that 30 percent of all the fuel currently burned in major cities around the world comes from drivers circling endlessly in their cars, looking for parking spots.
His message is adamant and scary: If we continue to follow this personal mobility model, the roads of the world will become congested beyond imagination, traffic jams like the one in China will be inevitable and ubiquitous, and the time and energies of almost everyone on the planet will be focused not on maximizing whatever viable economic opportunities they have, but solely on how to get from here to there, and back.
"Right now, it's just an inconvenience issue," Ford says, "but if we really go from 7 billion to 9 billion people and we go from a billion cars to 4 billion cars, it becomes a human-rights issue."
What's the solution?
"Technology will set us free," Ford says. "It will be the smart application of technology that will help solve the issue. In terms of moving people, all the transportation assets in a city are going to have to be integrated and work together. And all these systems are going to have to talk to each other, too, in a way that they don't today. But it's certainly all possible."
To that end, Fontinalis has made investments in a handful of small companies, which, as the website touts, "make transportation systems faster, smarter, and more efficient."
When we invest in these young companies," Ford says, "our thought process is not to just invest money to help them grow, although that's certainly part of it, but also through our connections, how can we connect these companies with other companies that might be additive to what they're doing?
"Often a lot of the companies have a lot of wonderful ideas but they don't know how to get anybody to listen to them, and we can certainly help with that."
One of the companies in the Fontinalis portfolio, called Parking In Motion, created an iPhone app, which allows users to find, reserve, and pay for parking across North America and in Europe.
"You basically just log in, say I'm here, and the meter starts running," Ford says, "and when you finish, you log out, use your phone to pay, and the meter stops running."
Ford believes there's a good chance a car being parked in a city of the future won't necessarily belong to its driver, which is why Fontinalis has also invested in Wheelz, a car-sharing company that targets college kids and executives as potential customers.
"The idea of owning a car and having it in a garage in these mega-cities is probably not very realistic," Ford says. "People will want access to a car but they probably won't own it. And that will spawn lots of different business models, and I just want Ford to be at the forefront of all of that."
As for the kinds of cars we will be driving — and sharing — one day, Ford recently unveiled its Evos Concept vehicle, showcasing its vision for the future, from a design and technological point of view. The idea is Evos will "learn" the habits of a particular driver and tailor vehicle settings accordingly, almost acting as a personal assistant as it links a range of connectivity systems between car and driver.
"Evos can check your blood sugar; it can turn your heat on in your house," Ford says. "It can do virtually anything that your PC, cell phone, or iPad can do for you. It makes the possibilities of the vehicle almost limitless."
Some possibilities: communicating with other cars on the road ahead about everything from inclement weather to accidents and alternate routes, even getting information from upcoming intersections.
"Think about coming home in the middle of the night," Ford says. "There's no other cars on the road; why should you have to stop for a light and burn fuel? Your car should be talking to that intersection, the intersection should be reporting back to your car: No traffic, light goes green, you go right through."
Ford is less sanguine about how the overall industry efforts in engine propulsion are going to unfold in the next few decades.
"We're placing a big bet on electric, and right now that looks like the way it's going," he says. "But if we were doing this interview five years ago, we'd be talking about ethanol and biofuels. And a few years before that, we'd be talking about hydrogen.
"As technology develops incredibly quickly, we need to be nimble enough to not be frightened by it, to embrace it, to figure out do we want to partner with it? Do we want to own it? Do we want to leave it alone? And those are the kind of decisions that a nimble company can and must make."
He sits back, flashes another grin, and says: "One thing is for sure, I could give you a blueprint today of how the world of transportation is going to develop in 20 years and I'd be dead wrong."
Ford glances at his watch. The allotted 30 minutes for the interview are almost up, time for one final question about his great-grandfather, and the responsibility to the legacy he bears.
"I think about him all the time," Ford says. "I'm obviously incredibly proud of what he did and what he stood for. But I'm also not a slave to the past. I try and re-interpret it for the future. And, to me, the great thing he did was to bring people the ability to choose where they lived, where they played, and where they worked. That is incredible freedom."
Now, it's that very freedom Ford feels is at stake as the 21st century races ahead.
"I want to make sure that people don't lose that mobility and that freedom in the future," he says, "even as the world in which they will be living will be much more complex, much more crowded, and have far fewer open spaces."
Before Henry Ford introduced his Model T to the world in 1908, most people lived their entire lives within 25 miles of where they were born. Today, just over a century later, Ford's great-grandson is leading the charge to solve many of the problems that were in large part hatched by Henry's genius and foresight. It's all richly ironic, but Bill Ford isn't one to dwell on the nuances of his challenge.
"I wake up every day thinking about it," he says. "And it's incredibly exciting."
With that, he pops out of his chair. Time for another appointment.
With a final shrug and smile, he adds: "I've lived it every day of my life, you know? So it's inside of me; it's in the DNA."
---
If you enjoy the monthly content in Hour Detroit, "Like" us on Facebook and/or follow us on Twitter for more frequent updates.