On-set grooming by Gjysta Nuculaj from Mijo-a' Make-Up Studio & Spa
Thank you to chef Jason Hayden from No. VI Chophouse and the Matt Prentice Group for providing lunch and light refreshments for the crew and their photographic subjects.
---
Lola Morales
Hamtramck, musician
"I refer to my style of dress as renegade chic. It's off the cuff, dirty, and glamorous, all at the same time. I'll mix high-end couture with Salvation Army. I developed my style from my grandmother. I love great finds from flea markets. For important events, I shop at Dolce Moda and Annex. Whatever you do, just learn your own style and rock it."
Wearing: Racoon and foxtail vest, tweed dress pants from Dolce Moda.
Tom Schoenith
Grosse Pointe, owner of the Roostertail
"The best tool for making clothes look their best is a good steamer. Don't get your clothes dry-cleaned so often. It's the worst thing to do. Spot-clean and steam. Another misconception for men is thinking you have to buy lots of suits. Buy a few good suits and lots of great shirts, ties, and pocket squares. Mix and match them. No one will ever know you're wearing the same two or three suits."
Wearing: Custom lightweight cashmere formal coat, Polo shirt worn with aquamarine/diamond studs and cuff links from Ahee Jewelers, ostrich dance pumps.
The Rev. Oscar King III
Detroit, pastor, Northwest Unity Baptist Church, and president of the Council of Baptist Pastors of Detroit
"My style of dress really emerged back when I was in school at Howard in Washington, D.C., and at Harvard. I call it 'urban preppy.'  I always wear bow ties; I never wear long ties. I have at least 75 bow ties to choose from. Almost all of my clothes, including the bow-tie collection, come from Carl Sterr in Birmingham. I also really like wearing Armani suits."
Wearing: Wool Armani suit and self-tie bow tie from Carl Sterr.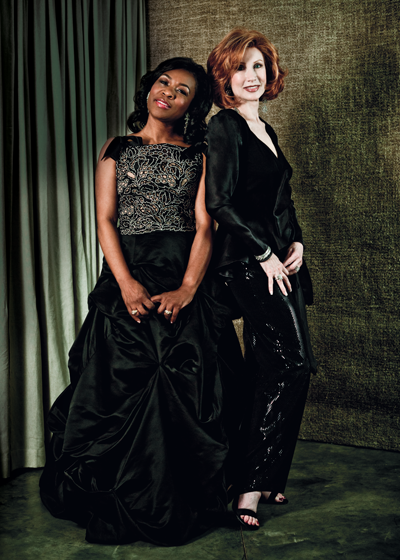 Sharon Madison-Polk
Detroit, President, Madison Madison International (MMI)
"I look at clothing as art. What collection something came from doesn't matter. The beauty always remains. That's why I like mixing vintage with current designs. Well- made clothing will outlast the person who buys it. I like Valentino, Barbara Bates, Lanvin, and Jason Wu. I shop at Tender, Linda Dresner, Neiman Marcus, and Saks Fifth Avenue."
Wearing: Jeweled Valentino top over a ball-gown skirt by Barbara Bates.
Harriett Fuller
Bloomfield Hills, fashion/image consultant, and former president, Productions Plus Talent Agency
"Sheldon, who I've been married to for 53 years, let me turn one of the bedrooms in our house into a wardrobe room. I go into one of my closets, pick an outfit, then go to the wardrobe room to accessorize. Accessories are essential. I wear a lot of Bill Blass [she's a former Blass house model], Oscar de la Renta, Armani, Donna Karan, and Chanel."
Wearing: Oscar de la Renta silk-organza blouse over pailletted St. John trousers. Earrings are vintage Chanel.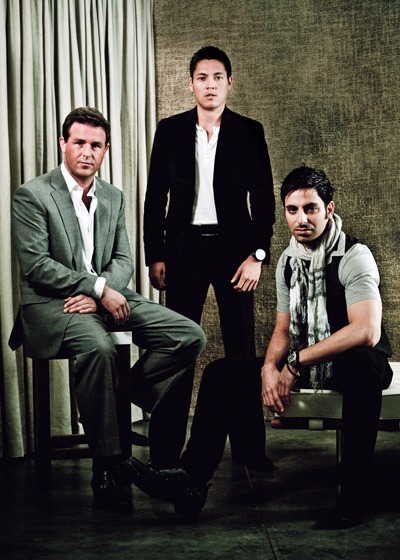 Bryan Chin
Birmingham, co-owner, Mon Jin Lau
"I dress for the occasion. At work, I like to wear a nice suit or sport jacket. But if I'm out at night, I like a nice button-up and jeans. I'm very particular about the way my clothes fit. I go to Dino the Tailor in Birmingham. Off the rack, I shop at Dolce Moda and Annex for accessories."
Wearing: Velvet Theory jacket, wool pants, Prada loafers.
Bobby McGargle
Detroit, proprietor, 24grille at the Westin Book Cadillac Detroit
"How you dress reflects your personality. If your clothes fit improperly, well, that kind of tells people a little something about who you are as a person. A good fit is so important. You've got to have a good tailor. My favorite item of clothing is Thomas Pink shirts. I don't even want to think about how many I have."
Wearing: Burberry suit, Thomas Pink shirt, Gucci loafers.
Georges Mokbel
Bloomfield Hills, general manager, Iridescence at MotorCity Casino
"I like clothes that are form-fitted but comfortable, and I'm really feeling the Bohemian look lately. I'm in a 'no designer-label' phase. The clothes I wear might be top designers, but you won't know by just looking at them — except you might recognize the Helmut Lang shoes (my weakness)."
Wearing: Neil Barrett vest under a Yigal Azrouël scarf (labels removed), Helmut Lang shoes.
Patti Prowse
Bloomfield Hills, philanthropist, former couture fashion designer, Patricia Rhodes
"Save all your good clothes — even if it's a jacket with big shoul- ders. Bring it back. Take the shoulder pads out and restructure it and wear it with this season's hottest new cigarette skirt. Don't throw any of your good clothes away. I do a lot of shopping at Neiman Marcus and Saks, buying Chloé, Carolina Herrera, YSL, Gaultier, Ferré, and Ralph Lauren. My passion is shoes. I have 250 pairs. My house was designed around my shoe collection."
Wearing: Oscar de la Renta gown with feather-adorned skirt.
Curtis Granderson
Center fielder, Detroit Tigers
"I try not to spend too much on clothes. I'm usually looking for something that doesn't cost too much. But I do have some expensive things. I like wearing what everybody else isn't wearing. Right now, I'm really into unique T-shirts. I like Ed Hardy, but all the guys wear that, so I look for more unusual T-shirts. I usually wear them with MEK Jeans, because fit is important to me. A couple of years ago, my thing was watches. I think I bought 10 in a three-month period. I like wearing suits and ties. That's the way I dress when I travel and for speaking engagements. I have my suits and shirts custom-made from Douglass Wayne out of Atlanta."
Peter Karmanos Jr.
Orchard Lake, chairman/CEO Compuware Corp., philanthropist
"I go through streaks. I wear my conservative suits and wingtip shoes and white shirts; then I get into this mode where I like doing my own thing — like a pinstripe suit and tennis shoes or jeans with a white shirt and tie. And I'll wear that to a hockey game or to meet with the governor. I have lots of gym shoes — especially Louis Vuitton. I mostly like wearing clothes by Brioni and Luciano Barbera."
Karen Jacobson
Bloomfield Hills, property management executive
"I like to overdress during the day and underdress for evening.  Carol Begdorian at Neiman Marcus helps me with most of my clothes, or Linda Dresner. When I'm in L.A. or New York, you wouldn't believe how many people approach me and want to know where I shop. It always blows them away when I say Detroit. I wear mostly Jil Sander, Stella McCartney, and Yogi. All bought right here in Michigan."
Vivian Pickard
Bloomfield Hills, director, corporate relations, General Motors Corp.
"Women have to assess their bodies and determine the styles and designers that are most flattering. I have broad shoulders, long arms, and a small waist. With my body structure, YSL, Dolce & Gabbana, Chanel, and Gucci work best. I do most of my shopping with Bessie Sneed at Saks Fifth Avenue and Artie Rivers at Neiman Marcus."
Art Van Elslander
Bloomfield Hills, owner, Art Van Furniture, and philanthropist
"I've been in fashion since I was a kid. When I came home from the armed forces, I got into the furniture business. It was a natural progression, still working with colors, fabrics, and textures. I'm very detail oriented when it comes to dressing. My suits and shirts are made by Cicchini Clothiers in Birmingham and Stefano Ricci in New York, all with special intricate signature details. For casual wear, I choose from a lot of Paul and Shark Yachting."
Lauren Rakolta
Birmingham, political-campaign finance director
"I'm professional with a little rock mixed in when it comes to dressing. I love belts. I belt everything. I like mixing it up — a shirt from Target, a skirt from YSL. It's important that you wear what looks good on you. You have to know your assets. Then, rock what you got."
Norman A. Yatooma
Bloomfield Hills, philanthropist, lawyer, and president, Yatooma's Foundation for the Kids
"When I was in high school, I used to dress to impress my childhood sweetheart, Nicole. Now she's my wife, and I still try to impress her. Except, now, she helps pick my clothes. Actually, Nicole and I were voted best dressed in high school. I'm as ostentatious as a lawyer can be when it comes to dressing — mixing patterns, wearing pink, and I always wear cuff links. I dress mostly from Cicchini Clothiers in Birmingham. I wear a lot of Brioni and Zegna."
Facebook Comments