Each year, society and style watchers hit the party circuit and beyond to keep an eye out for those metro Detroiters who wear it well — whether it's at a formal black-tie dinner or a semi-casual backyard fundraiser. Society writer and fashion maven Chuck Bennett asks this year's picks to discuss their style.
Jae Vitale Plawecki
Philanthropist, Owner of JVP Enterprises, A Consulting Firm, Auction Co-Chair for Kidney Ball
---
Fashion style
Contemporary, elegant, high fashion. "I'll wear anything from an edgy leather dress with cut-outs to an exquisite silk chiffon evening gown."
Favorite shops
"I go to my favorite personal shopper, David Crain at Neiman Marcus. I also shop at Saks Fifth Avenue."
Favorite designers
Armani, Versace, and Chanel
Fashion debut
"I grew up as an orphan in Korea. Fashion was nonexistent. When I was adopted and moved to America, my mother used to make my clothes. For me, that was heaven!"
Favorite outfit
"A contemporary black Versace business suit. It's my go-to suit for big business deals. I feel good in it. It fits me perfectly and it makes me feel confident."
Fashion hero
Princess Diana
Fashion advice
"You should always wear clothing that you feel comfortable wearing. Be careful of fads and trends. Keep it classic."

Ed Gordon
Broadcast Journalist, CEO of Ed Gordon Media
---
Fashion style
"I have two Eds. The one that is just heading out to do the day to day will be very casual [with] T-shirts, jeans, baseball hat. I have never felt the need to be dressed to the nines every day. The other Ed is the guy who loves classic, elegant clothing with a twist. I think about Billy Dee Williams in Lady Sings the Blues. Now that boy was sharp! I want something a little different with my outfit so I don't look like every other man in the room. A snazzy shoe, colorful tie, unique pocket square, and 'bad' hat."
Favorite shops
"I love Fashion International in Southfield. They have very unique and stylish items there. FitWel Custom Clothes has made most of my suits over the years. They give great attention to detail. I also love Nordstrom Rack."
Favorite designers
"I am not much into designers per se, I like what I like. I don't buy many suits off the rack, however I do love the cut and material of Canali."
Fashion debut
"Dressing well came naturally. Both my mother and father were real clothes horses. My father took me shopping all the time and when he died suddenly — I was 11 years old — one of the sympathy cards we received was from the boy's department at Hudson's."
Favorite outfit
"I just love outfits that make me feel sharp. Great attire gives you an extra bit of confidence and puts a spring in your step."
Fashion hero
"My father was an Olympic gold medalist and 6'4″ so with his athletic build, his suits always looked great. He loved Fred Astaire movies and Fred was always sharp so I checked his style out, too."
Fashion advice
"Do you. Don't fall into trends just because that's the hot thing. Also, know your environment I wouldn't wear the same outfit I'd wear to interview the president at the White House as I would going to a movie premiere in L.A."
Niki Serras
Owner of Scavolini Store (Detroit and Chicago)
---
Fashion style
Tailored/edgy. "My style is slightly retro but always professional enough for my next meeting. My 'uniform' is dark skinny jeans or tailored gypsy pants, cool leather booties and a loose button-up collared blouse and statement necklace."
Favorite shops
"I own a business in downtown Birmingham so I shop as much as possible in my commu-nity (solidarity!) — like Complex or Rococo. I always have great luck with BCBG (they have the best suit jackets for women hands down), and Nieman Marcus' CUSP. And for something special I like The Peacock Room in Detroit. For the more tailored items I go to Ann Taylor or Brooks Brothers."
Favorite designers
Vince, BCBG, Trouvé, All Saints, Pinko, Zara
Fashion debut
"After I graduated from U of M, I moved to Athens, Greece. I was exposed to European styles and I had access to much more fashion. The transition was gradual. …I slowly started to dress outside my own style 'boundaries.' I felt like I was spreading my wings."
Favorite outfit
"It was a vintage 1970s black, one-piece cat suit with tuxedo lapels and sheer sleeves with a heavy cuff. I got it at The Peacock Room, and fit perfectly, like it was custom-made. I matched [it] with a pair of Vince burgundy pumps."
Fashion hero
Linda Evangelista. "I love her short hair, yet she's still feminine and classic."
Fashion advice
"'You don't have to be pretty. You don't owe prettiness to anyone.' — Diana Vreeland. This resonates with me because it makes me feel free to be who I want."
Nicole Hale-McGuire
Hairstylist, Image Consultant, Owner of N Hale by Nicole, an Ann Arbor Beauty Salon
---
Fashion style
"I love fitted outfits that complement my curves. Ankle-length dresses tailored to fit my body. [And] also figure-flattering pant suits."
Favorite shops
All Saints, BCBG, Buckle, Saks Fifth Avenue, Max Mara, Michael Kors, LK Bennett, and Lululemon
Favorite designers
Alexander McQueen, Victoria Beckham, and Catherine Malandrino
Fashion debut
"Fashion became important to me during middle school. My mother took me to Jacobson's and bought me a pair of knickers, matching vest, hat, and boots. Once I was old enough to work, Jacobson's and Hudson's became my playground on payday."
Favorite outfit
"I have a long, fitted, backless black dress that I've worn only a couple times, but I managed to stop traffic both times that I did."
Fashion hero
Halle Berry. "She always gets it right — from head to toe."
Fashion advice
"Know your skin tone and undertone so you'll understand your color tone. Color is everything. Fit is next. No matter your weight or height, you should complement your clothes, not them complement you. And just because it's on sale doesn't mean it needs to go home to you."
Ali Saad
Cosmetic Dentist
---
Fashion style
Contemporary classic with a European flair.
Favorite shops
Neiman Marcus, Saks, Barneys NY, Bergdorf Goodman
Favorite designers
Tom Ford, Zegna, Ferragamo, "but I do not like to show logos. I like to keep it clean."
Fashion debut
"My father was the CEO of his own business. As a child I would go dressed up to work with him every day. I was wearing sport coats with a handkerchief as far back as I can remember. I've always believed in dressing really well and taking great care of yourself."
Favorite outfit
"When my wife, Salwa, and I got married, I wore a very slick, custom-tailored, navy tuxedo that was fit to perfection. It had lots of really cool intricate details, such as the stitching on the lapel matching my belt and handkerchief."
Fashion hero
Cary Grant. "He was a classic dresser with a timeless look. He always looked so well put together."
Fashion advice
"Find the best tailor you can. I use Ali the Tailor in Birmingham. It's money well spent because you can take an average suit, and with the right tailor with an eye for detail, well … you can make a perfect suit. Find a great stylist or personal shopper, too. They can inform you of new things coming to the market. I use Kamila Zak from Neiman Marcus, Somerset Collection. She's honest and great at putting garments together for me. Makes all the difference."
Antonio "Shades" Agee
Aerosol Artist
---
Fashion style
"I dress utilitarian. All my clothes must work in my work and work in my lifestyle as well."
Favorite shops
Spectacles, Detroit Mercantile, NoJo Kicks, and mostly online
Favorite designers
Yohji Yamamoto, Rick Owens, Tinker Hatï¬eld Jr., Carhartt
Fashion debut
"When I was young, my mom always dressed me well. When I became sober and decided to become a full-time artist, I learned to represent myself in a matter that made me feel comfortable, while still cool for boardrooms. That's when I found my utilitarian clothing style. Everything I wear is good for me to wear to a meeting or works just as well if I happen to be painting a huge mural on a building."
Favorite outï¬t
"I call it 'The Pirate' — a Y3 T-shirt, my Carhartt WIP pants cut into clam diggers, a great pair of kicks (preferably my Rick Owens GeoBaskets), and a hat that makes the day (mostly a baseball or bucket hat)."
Fashion hero
Willi Smith (the designer not actor)
Fashion advice
"Just be you and don't dress from a blog. Ha!"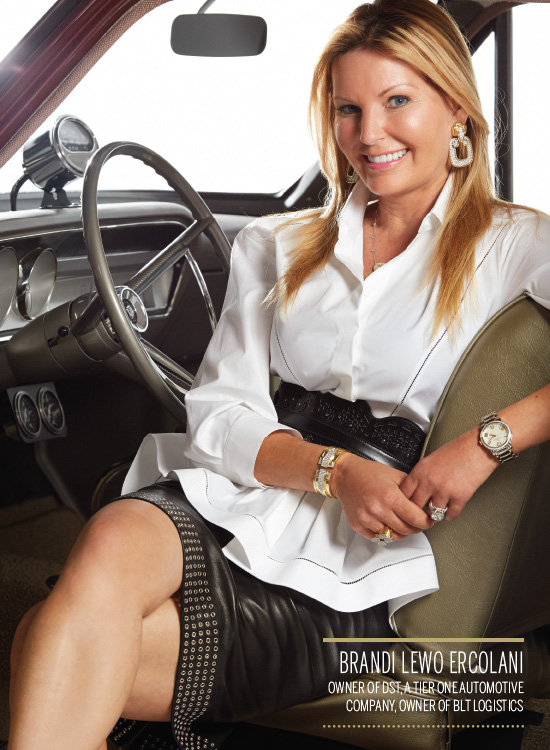 Brandi Lewo Ercoclani
Owner of DST, a tier one automotive company, Owner of BLT Logistics
---
Fashion style
"That's simple. My style is timeless. I have beautiful Chanel suits that are brand new and some that are 20 years old. The older ones still look as amazing as the new ones."
Favorite shops
Neiman Marcus. "My personal shopper there is Cynthia Reynolds in the Chanel boutique."
Favorite designers
Karl Lagerfeld, Coco Chanel, Christian Louboutin
Fashion debut
"I've loved clothes since I was a little girl. I used to save all my money to buy staple pieces — a black jacket, a good pair of pants, a good pair of shoes. I learned how to accessorize and make the most of what you have. I've been fortunate and I no longer have to save my money to buy a good black jacket."
Favorite outfit
"A Valentino gown that I wore to the Detroit Auto Show Preview a couple years ago. It is a deep aqua, crushed velvet gown with hand-embroidered flowers. It is so beautiful. It made me feel beautiful."
Fashion hero
Karl Lagerfeld. "I would say Coco Chanel, but he took what she did and pushed it one step above."
Fashion advice
"Buy some of the best pieces you can get your hands on and work it from there. Showing less is more, and it doesn't matter how much money you have or how much money you spend on your clothes, you can't buy class. A good personal shopper or sales associate can help you with your look if you don't know how to do it yourself."
Kacee Must
Owner/Founder of Citizen Yoga (Royal Oak and Detroit)
---
Fashion style
"My style is based on putting together different layers and lots of accessories. I usually pick one article of clothing or accessory to create an entire outfit, i.e. tank top, bra top, flannel. Usually the focal point piece contrasts the other more basic pieces. Since opening Citizen Yoga, the outfit that would best capture my style would be funky leggings, a tank with an accent bra, a plaid flannel … and Converse shoes."
Favorite shops
"Local stores I love are Caruso Caruso and Meghan Marion. For great basics and accent pieces, my go to is Aritzia. For yoga clothing [pants], I shop at Lululemon or Teeki. I [also] design and create our own Citizen tops."
Favorite designers
"If I had to name one [it's] Citizens of Humanity. Their pants fit the best."
Fashion debut
"Ironically, after living for 2½ years at an academy in India that was far from glamorous, I came home and no longer felt bound by what I believed I could or could not wear. Without rules, daily fashion became an extension and/or reinforcement of how I felt or wanted to feel."
Favorite outfit
"Anything paired with my favorite accessory — [a] rust-colored brimmed hat. [It's a] signature piece."
Fashion hero
Any female who lived in the '70s.
Fashion advice
"It is not about having a lot of clothing, but changing around what you pair together. Don't collect clothing because then it becomes confusing. Wear clothes that make you feel confident. It is better to take chances than stay in your comfort zone."
David Crain
Personal Shopper at Neiman Marcus, Somerset Collection in Troy
---
Fashion style
Edgy with a touch of classic tradition, for example, a bright-red, tailored blazer with a pair of camouflage pants and gray patent leather loafers.
Favorite shops
"Well, Neiman Marcus, of course, but I try not to limit myself. I enjoy shopping vintage, and I like to pop into different stores and boutiques."
Favorite designers
"I like elements from many collections, but no one designer sticks out in my mind. I respect many designers, more so designers of women's wear."
Fashion debut
"I can't think of a time when fashion wasn't important. I'm the youngest of seven [and] my siblings couldn't have been less interested. Even as a child, I had say in what I would and would not wear. My mom would put our clothes in the layaway at Kmart. When I [got] a job mowing lawns, I made enough money to buy a car… instead I bought clothes."
Favorite outfit
"I was lucky enough to go to the American Music Awards a few years ago. I found a great blue sharkskin suit at a vintage shop for $100. I had it tailored to perfection. I spent more on the alterations than I did on the suit itself. I put it with a great shirt and tie from Neiman Marcus and a pair of Gucci loafers. It was very Mad Men. One of my favorite looks of all time."
Fashion hero
"Anyone who challenges fashion by pushing the boundaries but staying respectable."
Fashion advice
"Be yourself. Challenge yourself. Be true to yourself. Once you commit to something, own it."
Marissa Van Noy
Model/Actress, Miss Utah USA 2013, Wife of Detroit Lions' Kyle Van Noy
---
Fashion style
"I like to dress casual chic — a cute day dress with statement heels, accent jewelry, and a blazer."
Favorite shops
"My go-to store is BCBG Max Azria, but I also love to walk around downtown Birmingham, Northville, or Plymouth to check out the local boutiques. I have also recently fallen in love with online shopping. I like to shop at shopbop.com because they have a great mix of casual wear to formal wear."
Favorite designers
BCBG Max Azria, Ted Baker, Aritzia, Anthropology, Chanel
Fashion debut
"I have always cared about looking and feeling put together. In high school I realized that it was actually fun to put outfits together and take risks. I played sports growing up, so a lot of the time I was in sweat pants … so I loved when I had the chance to dress up a little bit at school or at church."
Favorite outfit
"The gown that I got to wear when I competed for the Miss USA pageant. I wore a beautiful custom Ashley Renee gown that was everything I had ever dreamed of. It was white, fitted with a flare and amazing jewel embellishments that sparkled like crazy under the lights. I wore these gorgeous Stefanie Somers earrings."
Fashion hero
Coco Chanel. "One of my favorite quotes to live by is her saying: 'A woman should be two things: classy and fabulous.' "
Fashion advice
"Dress for yourself. If you love it you will feel confident … and that's all that really matters."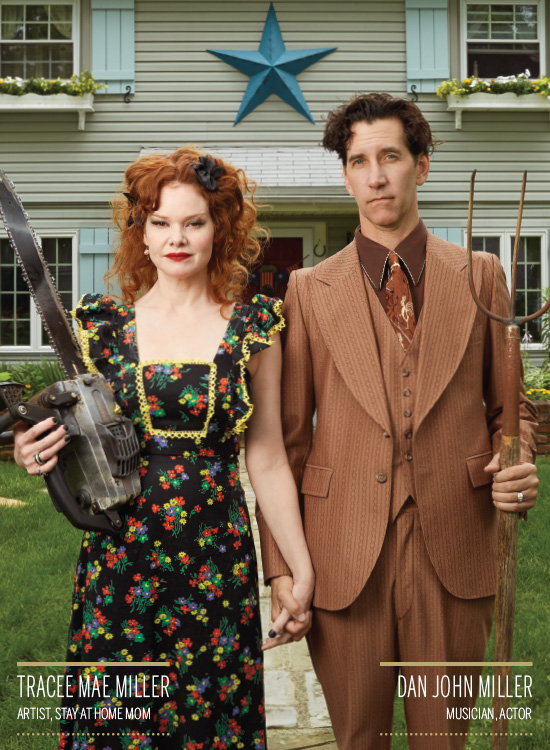 Tracee Mae Miller
Artist, Stay at Home Mom
---
Fashion style
"My recipe for fashion is one part Lawrence Welk, one part Victorian tea party, one part saloon girl, and a splash of Addams Family. One of my favorite combinations is my ivory Victorian-inspired maxi dress paired with my beat-up black patent-leather lace-up stacked heel ankle boots. Of course I have to work my hair into a tousled mess. I also love a prairie dress paired with ankle socks and heels."
Favorite shops
"I love all of our local vintage shops. Chi Chi and the Greek, Mother Fletcher's (been shopping there since I was 14), Lost and Found, and of course every Salvation Army and ValueWorld I pass."
Favorite designers
"I don't discriminate. If it's beautiful and unique I love it. If I had to name a few it would be James Galanos, Louboutin, and I would have loved being dressed by Edith Head."
Fashion debut
"I remember when I was in fourth grade I put together this fabulous outfit consisting of an orange puff sleeve T-shirt with Raggedy Ann on the front paired with orange and purple high-waist, wide leg trousers. I thought it was genius but when I took a trip to the bathroom I was harpooned by the other girls. They didn't share my keen sense of fashion."
Favorite outfit
"A -sleeve light blue Victorian style Gunne Sax dress over a vintage slip paired with opaque black stockings with contrasting red Maryanne's."
Fashion heroes
"My parents, Hy (sometimes known as Harmon) Harris and Nancy Harris. We lived in a 700-square-foot cottage [but] they always dressed like Ava Gardner and Frank Sinatra ready to jet to Monterrey."
Fashion advice
"Wear what makes you happy and hold your head high. Sometimes it's not easy. Our pizza man always compliments me on my 'costumes.' It's all good as long as you believe it."
Dan John Miller
Musician, Actor
---
Fashion style
"My limbs are long and jagged and different parts of my body don't fit together exactly right, but somehow work together. I try to dress that way. Odds and sods that when put together look a bit spiffy — kind of 'countrypolitan.' "
Favorite shops
Mainly the Salvation Army and Goodwill, but also occasionally at Lost and Found Vintage and Mother Fletcher's. "I don't get out much these days, what with our younguns."
Favorite designers
"We did a Blanche photo shoot in NYC for a big magazine and they had me wear a John Varvatos suit, which was very dapper and fit my style, but I had to give it back after the shoot. I like Shepler's Western Store, some guy there named Wrangler makes a nice Texas twill trouser that looks classy for 'jeans' and they last forever. I usually wear clothes until they meet a slow demise, which is the way it is for cars, too. Drive 'em til they die."
Fashion debut
"When I was a teenager, my mom gave me some money and instructed me to …  buy a nice suit for a neighbor's wedding. I went to Hudson's, and I couldn't pull the trigger on anything … the prices shocked me a little bit. I went to a thrift store and found a dapper blue sharkskin suit that I was immediately drawn to. [But] the waist was 40 inches and mine was around 32. And the sportcoat was huge. I found someone who did alterations inside a Farmer Jack's to do it that day. I made it to the church just before the bride and groom went down the aisle. With the iridescent sharkskin shining away. I didn't mind the looks I got. My mom was … surprised. Mostly, I felt comfortable. I still have the suit."
Favorite outfit
"The suit I wore [today] is one I found in Toronto at a thrift store. It reminded me of old nicotine-stained wallpaper."
Fashion heroes
Hank Williams Sr., Hoagy Carmichael, Cab Calloway
Fashion advice
"When you're going for some type of evening out, find one thing that you're really drawn to, that other people might find odd (or even wrong), and build around it."
Facebook Comments