William Slatkin
Seen here wearing a vintage Black Label Armani tuxedo shirt, black velvet Gucci blazer, and Balenciaga pants.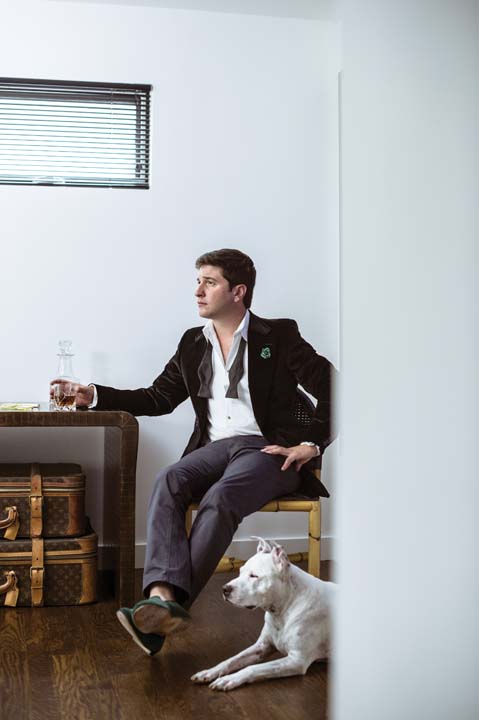 Occupation:
Property Management, Harry Slatkin Builders
Shopping:
Barneys New York, Caruso Caruso, Carl Sterr
Personal Style:
Timeless. "I look at what my father wore in the 1980s and what my grandfather wore in the 1950s. Quality pieces never really go out of style. In fact, I wear a lot of things inherited from my dad [the late Dennis Slatkin]. I love classic, elegant pieces."
Style Tip:
Don't listen to other people's fashion advice. Trust yourself. You know what you look and feel good in.
Fashion Debut:
"I've loved clothes all my life. The bug really bit me when I was involved in a fashion shoot at age 10. I loved the accessories they put on me; I still love accessories: pocket squares, cufflinks, studs. My favorite item of clothing, though, is beautiful sweaters."
---
Charles Boyd
Seen here wearing a burgundy blazer and shirt by Isaia, striped tie by Kiton, and Brioni tweed trousers.
Occupation:
Plastic surgeon, entrepreneur, owner and founder, Boyd  Beauty
Shopping:
Stanley Korshak, in Dallas; locally: Paul Cicchini Clothiers, Carl Sterr, and Neiman Marcus.
Personal style:
Classy, sophisticated with a flair. "I'm not the six-button suit guy, but I like details like functional buttons and interesting stitching. You won't see me with a big gold watch. Mine might be very simple, but if you know watches, you'll know which one I'm wearing."
Style tip:
Men shouldn't be afraid to think outside the box. Put a little color in your wardrobe. Even if you're a banker, you can add a little flair with special accessories such as cuff links. Let your external self be an expression of your inner self.
Fashion debut:
"I think I've always been interested in fashion, but more intensely when I got to college at Harvard University. I started doing some modeling at the time and got a better understanding of putting outfits together."
---
Nicole Eisenberg
Seen here wearing Wes Gordon silk-georgette blouse and cashmere skirt with fox trim, with Christian Louboutin shoes.
Occupation:
Philanthropist, DIA board of directors, art lover, wife, mother
Shopping:
Mostly Neiman Marcus with personal shopper Kelley Muzingo; also Linda Dresner and She.
Personal style:
"People who know me would say, anything black. Actually, I love supporting upcoming new designers. That's what fashion is all about — moving forward. Then I inject some timeless, classic looks into that."
Favorite designer:
"Right now, it's Wes Gordon and Christian Siriano. I'm a collector. Like most people collect art, I collect fashion. I have favorite pieces from every designer."
Style tip:
Don't wear all one look. Mixing and matching is essential. Also, make sure it works on you, and when it does, stick with it. Spice it up with exciting accessories and great shoes.
Fashion debut:
Playing dress-up in my mother's clothes.
---
Fair Radom
Seen here wearing Mary Katrantzou's pixilated still-life print silk dress with chiffon inserts, vintage Kenneth J. Lane Earrings, Louis Vuitton bracelets and ring, with Manolo Blahnik shoes.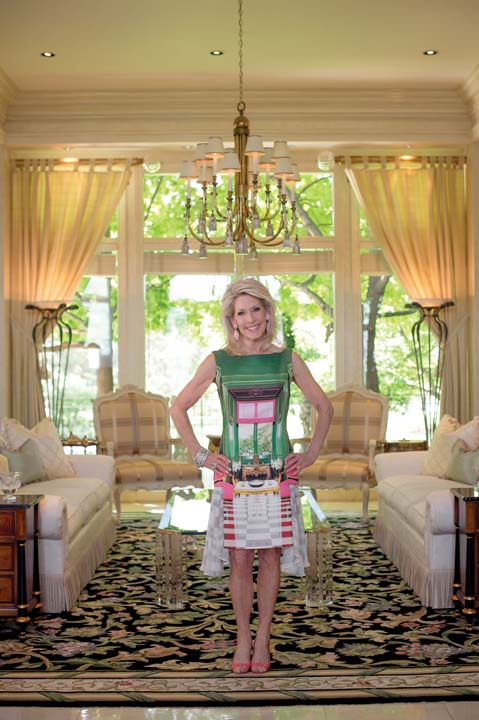 Occupation:
Owner, Imperial Group Inc., an insurance services company; community volunteer; co-chair of 2012 DIA Annual Gala.
Shopping:
Tender, Wolford, Zieben Mare for casual things, and Lululemon Athletica for exercise clothes.
Personal style:
Classic with a twist — always feminine.
Style tip:
Quality over quantity. All you need is a few stand-up pieces that will look good for a long time, as opposed to a closet full of trendy items that are only as good as the current season.
Fashion influence:
"My mother was very fashionable. She made her own clothes and even taught me to sew. When I was 16, I got a job at a fine women's clothing shop in Warren, Ohio. I always admired the women who came in to shop who were very well dressed."
---
Alison Laesser-Keck
Seen here wearing a Betsey Johnson cream lace dress and floral headpiece from Passion Flower.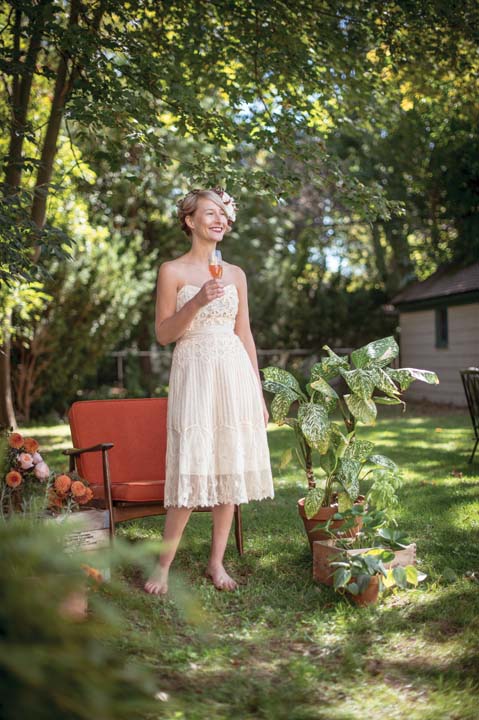 Occupation:
Owner, Viva La Diva event design and planning
Shopping:
Madewell. "I'm their No. 1 fan." Also, J. Crew and some Anthropologie.
Fashion style:
"I'm the busiest person on the planet as a wedding planner. I like to look good, but I like it to look effortless. I'll take something simple and classic like a black pencil skirt, then add a pop of color like a mustard silk blouse. I love yellow. My favorite winter coat is yellow."
Favorite designer:
"Right now, it's Elizabeth and James, and shockingly, it's designed by Mary Kate and Ashley. It's really amazing. They're great designers. I like Marc Jacobs, too."
Style tip:
You don't have to spend a lot of money to look good. You don't need a closet full of clothes to look good all the time. You buy a few quality pieces that you mix and match with things you already have.
Fashion debut:
"I was into fashion when I learned to dress myself. My parents used to complain because my room would be clean, then I'd get ready for school and try on 14 outfits before I'd decide what to wear."
---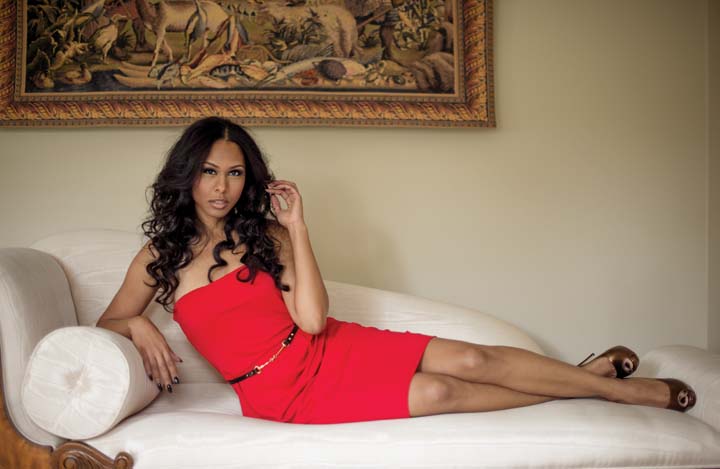 Sylvia Jones
Seen here wearing a red strapless Gucci dress with bronze Gucci shoes.
Occupation:
Makeup/conceptual-style artist, HB Salon, Somerset Collection North
Shopping:
The Shops at Bal Harbour, Neiman Marcus (for one-stop shopping), and Gucci.
Personal style:
Eclectic, a blend of rocker girl and romantic with tribal elements.
Favorite designer:
Alexander Wang and Gucci. Giuseppe Zanotti shoes.
Style tip:
Let your clothes show what you feel inside. Let your look be an extension of who you are.
Fashion debut:
"I really became interested in fashion when I had to wear a uniform every day in middle school. Trust me, that was no fun for a teenage girl who wanted to show her creative side. But I worked it out with cool accessories, and of course, rolling the skirt up."
---
Karen Lloyd
Seen here wearing a 1940s-inspired Carolina Herrera cocktail dress with vintage jewelry from Paris in Royal Oak.
Occupation:
Assistant Dean of Students, Oakland University
Shopping:
"I collect fashion like most people collect art. I shop everywhere, from vintage shops to Somerset Collection. Right now, I'm into custom clothing from Marsha's in Royal Oak."
Personal style:
"I still wear a cashmere cardigan that I got from Hudson's 30 years ago. I like classics that can stand the test of time. Black is my favorite color, and I'm really into fabric."
Favorite designer:
Marsha's of Royal Oak and Chado Ralph Rucci
Style tip:
Never too much. In my job, I have young women watching me all the time. I have to set an example for them. When I get dressed, that's what I think about.
Fashion influence:
"My strongest sense of fashion came from my mother, who always had an amazing sense of style and elegance.
---
Jeffrey Lance Abood
Seen here wearing a light gray Isaia Napoli suit with pink stripes, Thomas pink shirt, Zenga special-edition tie, and Ferragamo belt and shoes.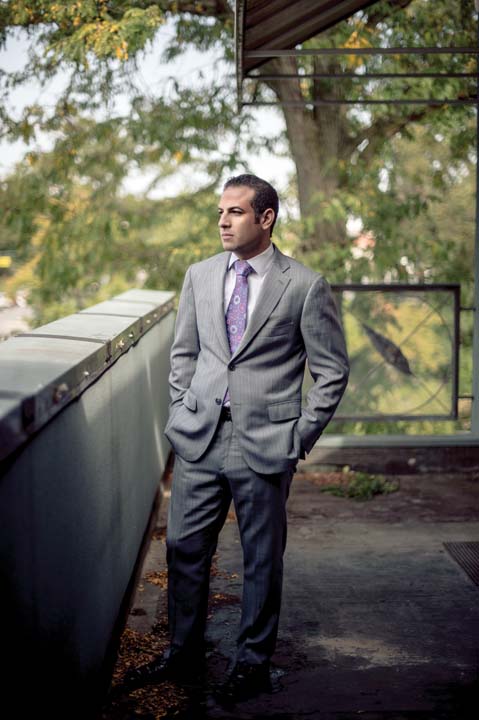 Occupation:
Attorney
Shopping:
"Primarily Saks Fifth Avenue. I also shop at Neiman Marcus and Thomas Pink."
Personal style:
"Generally, I wear suits to work, especially when I'm in court. On more casual occasions, I wear Robert Graham shirts, jeans, and Ferragamo shoes."
Favorite designers:
Canali suits, Ferragamo shoes, Thomas Pink shirts.
Style tip:
Always make sure your shoes are shined and your suits well tailored. Men should also stay well groomed (nails, eyebrows, skin). It's always better to be overdressed than underdressed.
Fashion debut:
"My parents got me involved in modeling for department stores when I was a kid growing up in Joplin, Mo. I really got into the clothes I would model. I've loved fashion ever since. I always tease that if I wasn't an attorney, I'd be a personal shopper or interior designer."
---
Kelly Johnson
Seen here wearing a Dolman-sleeve Vicky Tiel blazer, tulle skirt, and shoes from Kmart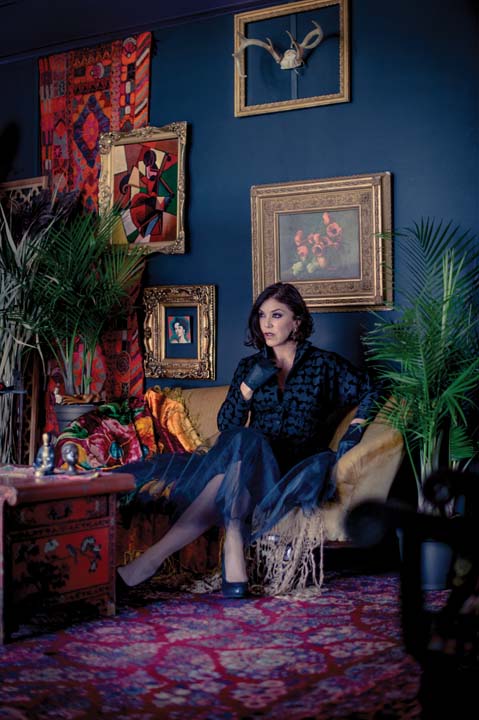 Occupation:
Owner, Chi Chi and the Greek fine vintage clothing
Shopping:
"I shop at my store, Chi Chi and the Greek. I've collected vintage fashion for 15 years. I wouldn't even know what to do in a mall. I buy what I sell."
Personal style:
"Eclectic. Sybil-esque. I don't have a uniform. One day, I wear a 1950s housedress; the next day, I'm in Ralph Lauren, circa 1970s. (By the way, I think that was his best time.)"
Fashion influence:
"I got it from watching my mom get dressed. She was a hairdresser. [When] she and my dad would go out dancing, she always looked great. She would even dye some of the tips of her hair purple and it would look like she had purple ostrich feathers in her hair. I was enthralled by the way she would transform into different looks. I still raid her closet."
Style tip:
Don't follow trends. Know what looks good on you and stick to it. Don't worry about things you see in fashion magazines.
---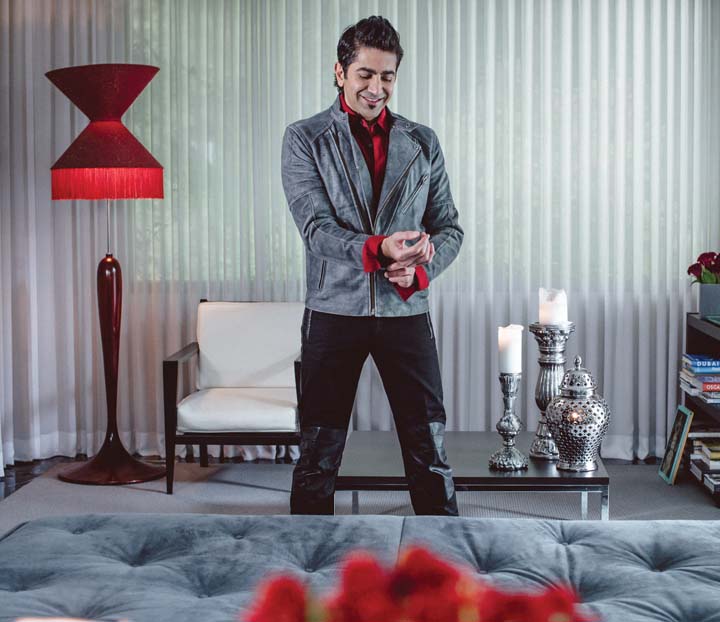 Bashar Kallabat
Seen here wearing a Yigal Azrouel distressed leather jacket and stretch jean and leather-trimmed pants from Amsterdam.
Occupation:
Stylist and owner, HB Salon, Somerset Collection North
Shopping:
Currently, Yigal Azrouel's showroom in New York. "I love his clothes and he's a close personal friend. I buy casual, fun stuff at AllSaints."
Personal style:
"Because of my height and weight, I can wear many different looks. It's hard to describe as one particular look because it constantly changes."
Style tip:
Start from a foundation of comfort, then take it one step forward. Sadly, there are some people who need to take a good look at what they wear and take it one step back.
Fashion debut:
"I became concerned about the way I dress at a very early age. When I figured out you can change what people think of you based on what you wear, I was all in. You can look like a nerd, a rocker, a businessman, whatever you want, simply by changing your clothes.