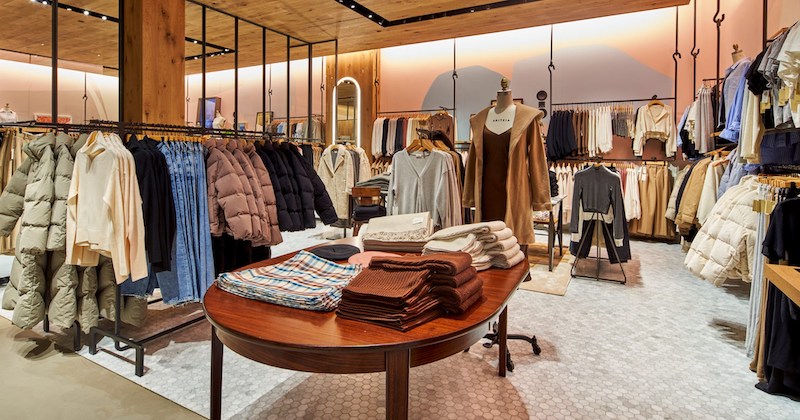 Aritzia — the Canadian women's fashion retailer known for its stylish basics, wardrobe staples, and popular items like the vegan leather Melina pants and The Cloud Puff jacket — has opened its new Somerset Collection location. The nearly 9,500-square-foot store carries goods from Levi's, AGolde, and Citizens of Humanity as well as Artzia's in-house brands Wilfred, Babaton, Tna, and Sunday Best. The shop also features the retailer's second A-OK Cafe in the U.S.
Located on the second level on the Troy shopping center's north side — next to Amazon 4-star and across from Hugo Boss — the recently opened Aritzia includes a mix of design elements. The shop, which has a 116-foot-long storefront and a 17-foot ceiling, features a cash desk made of Italian Deadlus marble, exposed brick walls and archways, custom-painted wall and ceiling murals, and halo-lit mirrors. Vintage furniture pieces from Brazil, Italy, Denmark, and France can also be found throughout the space.
Guests can peruse the shop at their leisure, using Aritzia's open-concept fitting room area to try on their selections. Or, they can sign up for the store's personalized styling and private shopping appointments. Those who work with Artizia's style advisors will have access to a Private Shopping room.
The A-OK Cafe is a new coffee shop concept by the Canadian retailer. The shop features Irish green marble countertops, a coffee bar with custom brass accents, and banquette seating and tables.
A-OK Cafe offers a lineup of espresso-based beverages, filter coffee, teas, a selection of micro-ground tea, and seasonal specials. Its fall '21 menu includes a Mushroom Late, made with a blend of five mushrooms; a Miso Caramel Latte, which is created using a miso-infused caramel syrup; and a Spiced Latte, which features house-made spice syrup and is topped with fresh-ground nutmeg. The cafe also serves pastries from local partners.
Aritzia is open 10 a.m. to 8 p.m., Monday through Saturday, and noon to 6 p.m. on Sunday. A-OK Cafe is open 10 a.m. to 7 p.m., Monday through Saturday, and noon to 5 p.m. on Sunday.
For more information, visit aritzia.com.
Facebook Comments