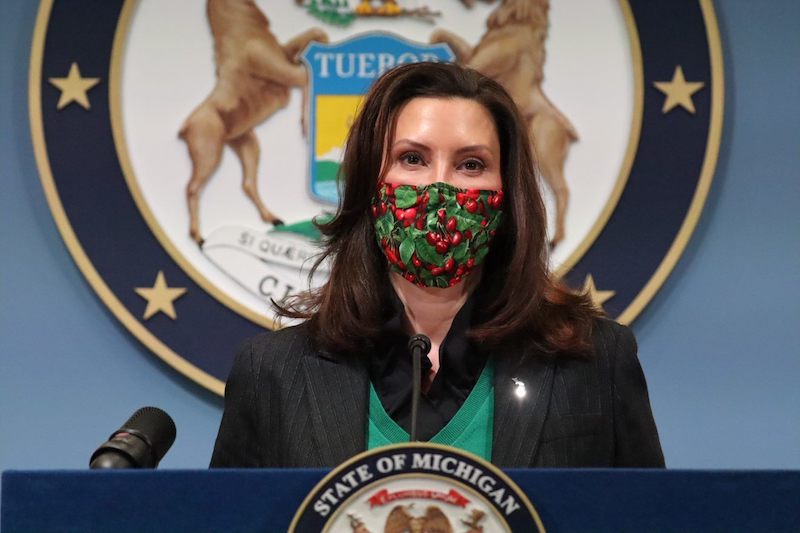 Indoor dining is coming back to Michigan with restrictions.
Gov. Gretchen Whitmer announced the reopening on Friday. Restaurants must operate at 25 percent capacity, close at 10 p.m. each night, and tables must be six feet apart with no more than six people per table. This new order will last through Feb. 21.
Kwame Kilpatrick's commutation this week drew mixed reactions in the city he once ran.
Reaction came fast and, in some cases, furiously this week after Donald Trump commuted the disgraced former Detroit mayor's federal prison sentence on his final night in the White House. Detroit Mayor Mike Duggan praised the now-former president's decision on Twitter, and Gov. Gretchen Whitmer says while Kilpatrick's crimes were "reprehensible," the 28-year prison sentence was disproportionate to what others have received for similar betrayals of the public trust. On the other hand, U.S. Attorney Matthew Schneider, who long argued against releasing Kilpatrick, was outraged. Nonetheless, Kilpatrick's family are happy for his release. And Rick Wershe, better known as "White Boy Rick," thinks Kilpatrick can go on to do a lot of good in his post-incarceration. But what does the commutation mean for Detroiters? Karen Dumas, former spokeswoman for ex-Mayor Dave Bing, wrote in The Detroit News that it "is a signal that it is time to move forward, together."
A federal judge granted preliminary approval of the $641 million settlement between Flint residents and the state of Michigan.
Under the settlement approved by U.S. District Judge Judith Levy, 80 percent of funds will go to children who were minors exposed to the Flint River Water after the city switched its drinking water source in 2014. The landmark settlement is likely the largest in Michigan state history.
Local leaders weigh in on the presidential inauguration.
Congressman Andy Levin, Congresswoman Brenda Lawrence, Congresswoman Debbie Dingell, and other Michigan politicians released statements on today's historic inauguration. "Today, I am honored to see two people make history who have also made a commitment to fight for the people in our district," Dingell said.
New Detroit Lions coach Dan Campbell agrees to a six-year contract.
The New Orleans Saints' assistant head coach/tight ends coach replaces Matt Patricia, who was fired in November after less than three seasons with the Lions.
The inaugural American Festival of Speed is coming to Pontiac.
Attendees can watch cars race on M1 Concourse's 1.5-mile road course, meet with industry insiders, witness a judged competition of the best of the best car classes, and more at the event, which takes place from Sept. 30-Oct. 3.
The new COVID strain pops up locally.
The B.1.1.7 variant — the new, more transmissible strain of the coronavirus — was detected Saturday in a COVID-19 test sample from a woman in Washtenaw County. Health officials are concerned about what this news could mean for the state.
An iconic Marvin Gaye song gets its own day 50 years after its release.
Gov. Gretchen Whitmer has declared Jan. 20 "What's Going On" Day in honor of the famous song. The Motown Museum is also kicking off a series of events held to commemorate the singer's entire What's Going On album.
Online sports betting will kicks off in Michigan on Jan. 22.
Greektown Casino, MGM Grand Detroit, and Motor City Casino are among the nine operators authorized by the Michigan Gaming Control Board to begin online sports betting or both online gaming and sports betting today.
---
Want more reads delivered straight to your inbox? Sign up for the Hour Daily newsletter today.
Facebook Comments