Detroit is a city of makers. From the automobile to the coney dog, Detroiters have conceived some iconic American creations. When it comes to making clothes, however, the city doesn't have the same reputation.
While working men and women around the world know the Carhartt name, and Detroit's John Varvatos has been a loyal ambassador to the fashion world, the city's fashion scene is secondary to New York, Paris, or Milan.
Three metro Detroit entrepreneurs are hoping to change the conversation where the Motor City and men's fashion are concerned.
Christen Morris, owner of Royal Oak boutique The Dirt Label, is showing the world that a city known for doing great things with steel can do the same with fabric, specifically with streetwear, a look influenced by skateboarding, hip-hop, and '90s grunge, with a focus on creating monochrome outfits that feature elements of flair.
Morris has been designing clothes in metro Detroit for over 10 years. He got his start designing layouts for area magazine Six Degrees. After a few years in design work, Morris began to sketch designs for his own clothes. His first design eventually became a Dirt Label staple; the "Wonder Boy," a kid in a WWII-style flight cap with crossed-out eyes, appears on a variety of Morris' merchandise.
The distinctive design got Morris his first sale. At a party in Troy, Morris was wearing one of his own shirts. His boss at Six Degrees insisted that he wanted one of his own and bought the shirt off Morris' back.
Morris worked on crafting the Dirt Label brand for several years while working in graphic design. After years of selling clothes online, he was able to support himself with fashion design work full time, and opened the Dirt Label flagship store in downtown Royal Oak in 2012.
Morris now looks to bring his made-in-Detroit brand (he rents production space at Pony Ride, the co-working space in Corktown) to the streets of the city in a series of pop-up shops. This month, he's planning to launch a Dirt Label mobile clothing truck; "think food truck but for clothes," he says.
Each pop-up will have exclusive pieces that will be available only that day, which appeals to fans of streetwear who flock to the idea of unique garments.
"We don't have the aura about us like the bigger streetwear brands, but there's something here in Detroit," Morris says. "People don't always think we're from here, so we get overlooked sometimes. (My) dream is that streetwear brands in Detroit can have a retail area where we can drive our own traffic."
While Morris is trying to carve out a reputation for Detroit in the streetwear scene, Aaron Cohen is working to bring high-fashion brands to the area. While upscale centers like Somerset Collection may already offer such brands, Cohen's Revive shop in Birmingham shows off more of Detroit's identity than a national store.
He started offering high-end streetwear after he noticed the traditional streetwear market was becoming oversaturated in the late 2000s. Cohen has met with brands like Balmain, a French fashion house established after World War II, and brought their lines to metro Detroit in a boutique setting.
Cohen likes to shine a spotlight on his hometown, even as he brings brands from around the country and world. When Japanese streetwear brand Fuct SSDD decided to run a Detroit-inspired fall collection in 2015 called "Motor City Burning," Cohen carried the line.
"Five years ago, brands would tell me 'I don't want to see my brand in Detroit.' Now they tell me 'Detroit is the next Brooklyn,' and they're in," says Cohen.
Then there's Donovan Patton, head of the House of Aperios label, a smaller label that the Detroiter is trying to build up. At the moment, he sells his clothes online only while he works his day job as a janitor at Chrysler. Patton started a Kickstarter campaign, which runs until May 22, that he hopes to use to promote his brand and also give back to local veterans.
Working by day and designing by night is a tough game, but Patton is determined to make it work. Last August, he snuck into the Agenda streetwear fashion show in Las Vegas as a buyer to get an inside look into the world of wholesale boutique retail. Patton says he'll only know he's made it once stores in Japan, a streetwear fashion hub, start carrying his line.
Fittingly, Patton's designs reflect his interest in Japanese culture, featuring iconography like geishas and Japanese characters. Patton chooses not to embrace traditional Detroit symbols like the "D."
"That's the thing in fashion; you don't want to be a tourist trap. Detroit clothing doesn't have a certain aesthetic. Other clothing brands, like European brands, have a certain overall look. Our aesthetic is either a Tiger or a Red Wing. I'm proud of being from Detroit, but how many times can you change the 'D?'
---

Nike quilted sweatshirt, $100, at Burn Rubber, Royal Oak; 248-543-3000; burnrubbersneakers.com.
Naked and Famous jeans, $145, at Caruso Caruso, Birmingham; 248-645-5151.
Bally hat, $495.
Balenciaga sneakers, $665, at Neiman Marcus, Somerset Collection South, Troy; 248-643-3300; neimanmarcus.com.
---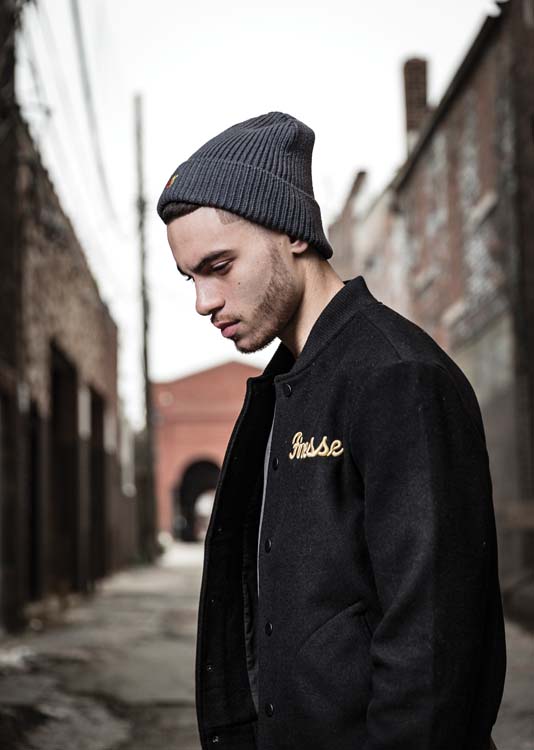 The Dirt Label jacket, $169, at The Dirt Label, Royal Oak; 248-268-3462; thedirtlabel.com.
NSF T-shirt, $172, at Found Objects, Birmingham; 248-220-4999; shopfoundobjects.com.
4 Daffodils skull cap, $30, at Burn Rubber.
---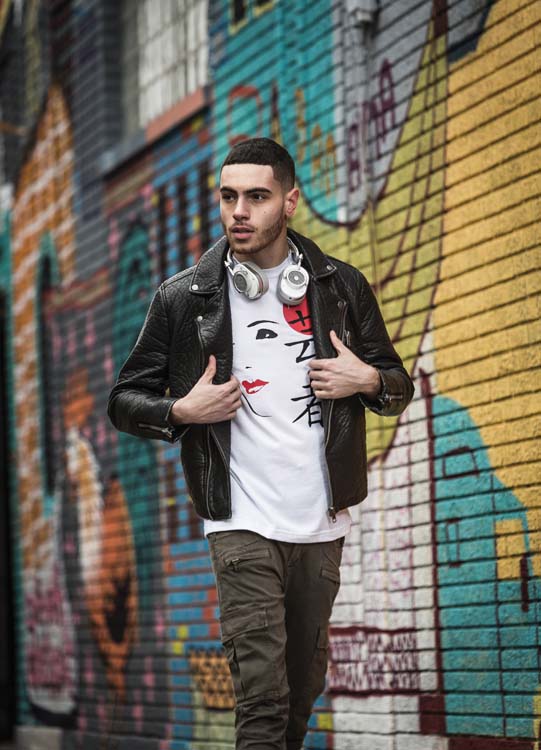 House of Aperios "Geisha" T-shirt, $55, at kickstarter.com/projects/HouseOfAperios.
Topman jacket, $168, and Hudson pants, $265, at Caruso Caruso.
Master & Dynamic MH40 Over Ear Headphones, $399, at masterdynamic.com and John Varvatos, Detroit; 313-437-8095.
---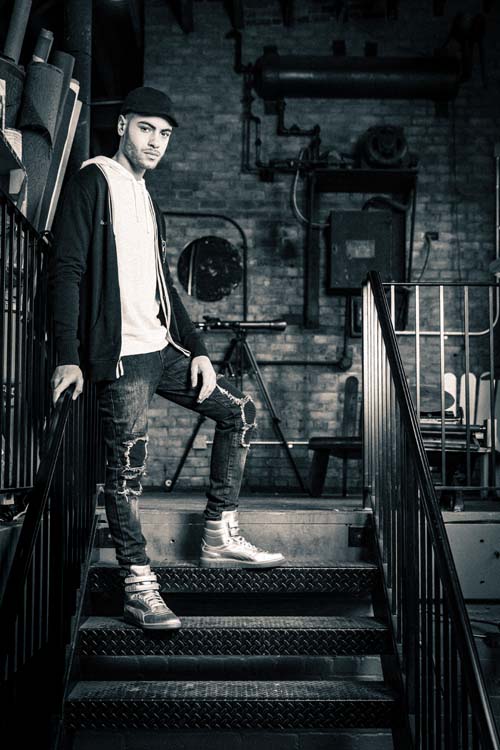 Rocksmith cardigan, $90, and Embellish jeans, $140, at Double Up, Birmingham; 248-644-6077.
Vince hooded T-shirt, $135, and Puma sneakers, $80, at Neiman Marcus. Hat, stylist's own.
---

Nike hooded sweatshirt, $100, Nike fleece pant, $100, Tackma T-shirt, $40, and Adidas Superstar Adicolor sneakers, $100, at Burn Rubber.
Vince vest, $795, at Neiman Marcus.
---

Detroit vs. Everybody sweatshirt, $50, at Caruso Caruso, Birmingham; 248-645-5151.
Embellished jeans, $140, at Double Up, Birmingham; 248-644-6077.
John Varvatos shirt, $178, Wolverine boots, $360, and Filson watch, $700, at Neiman Marcus.
---
Credits:
Stylist Assistant: Jennifer Pickering
Grooming: Monica Jadan
Model: Chase, Ford Models
Photo Assistant: Erika Fulk
Special thanks to Omnicorpdetroit
Shot at Eastern Market, Detroit
Facebook Comments