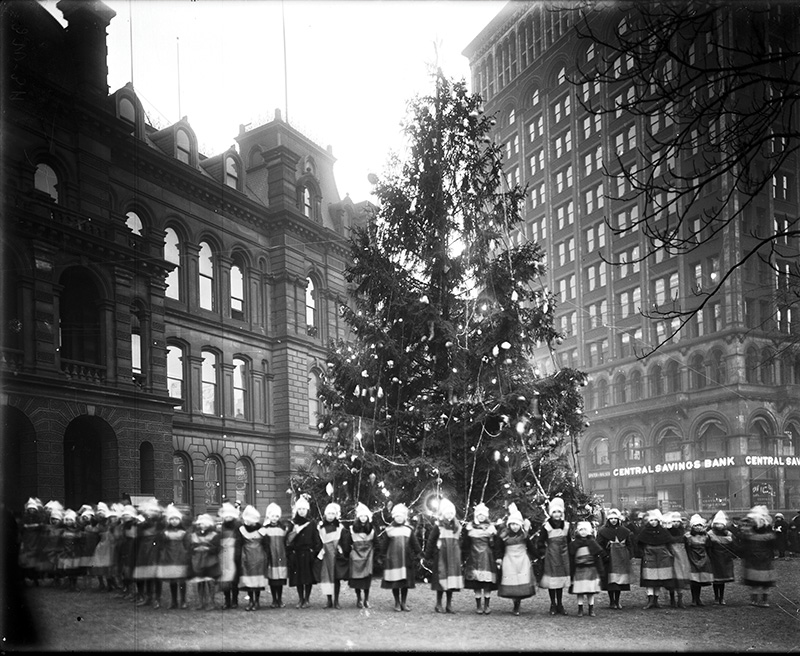 1920s This image at Cadillac Square and Woodward Avenue evokes memories not only of Christmases past but of Detroit's architectural past as well. Both edifices pictured here were built in the 19th century. The young carolers are raising their voices in song in front of the municipal tree, behind which stands the seat of Detroit's government, City Hall.
No one seems to be able to pinpoint when the modifier "Old" started to precede City Hall, though even when this photo was taken, the building was of a venerable age, having been erected in 1871. It was beloved by many, but some heaped scorn on it, calling it a mishmash of architectural styles. That it was, blending elements of Italian Renaissance, French Second Empire, and even a Georgian cupola, but its beautiful outdoor sculptures by Julius Melchers and its regal clock tower seemed to dampen most of the criticism. Most, but not all.
When the new City-County Building (now the Coleman A. Young Municipal Center) opened in 1955, Old City Hall's fate seemed sealed. Some called it hopelessly old-fashioned and a fire trap. Despite preservationists' protests, the wrecking ball tore into the building on the evening of Aug. 14, 1961.
The edifice to the right is the 1896 Majestic Building, Detroit's second skyscraper (the Hammond Building, where The Qube stands today, was the first). The cast-iron structure, designed by Chicagoan Daniel Burnham, was distinguished by marble and mahogany on the interior. At the time of its erection, it was the city's tallest building and remained so until the Ford Building on Griswold (another Burnham structure) topped it in 1909. The Majestic was demolished a year after Old City Hall, in 1962.
Much of Detroit's architectural history has been erased since this photo was taken, but one thing cannot be expunged. The Christmas spirit of peace and goodwill to all, which these youngsters projected through song, endures — even during a pandemic.
Facebook Comments