The Mexican-American diaspora in Detroit dates back more than a century, when, like other migrant communities, Mexicans began relocating here to experience the city's early industrial boom. Much of the population is concentrated on the city's southwest side, but also Downriver and in Pontiac, and out-state in pockets of Grand Rapids and Lansing. The community's growth is also a reflection of immigration policy, with the passage of the Bracero Program when thousands of Mexican farmworkers were "imported" during World War II to perform manual labor, the 1980s when immigrants who lacked legal residency in the country were allowed en masse to apply for legal status, through the NAFTA-era '90s when thousands more migrated to the United States in search of living wages. These waves of migration have resulted in a diverse mix of communities from all over Mexico, most noticeably from the state of Jalisco. The Jaliscense population is so concentrated, in fact, that many residents come from the same villages in that state's highlands.
The diversity can easily be seen on the storefronts that line Vernor Highway, one of Southwest Detroit's main drags, through signage representing Arandas (a pueblo in Jalisco); the Pacific coastal region of Nayarit; the northern Mexican states of Chihuahua, Sinaloa, and Durango, the southernmost state of Oaxaca; and the longtime Chicano Detroiters whose families have been here for generations. The result is a rich tapestry of culinary styles, music, art, and local traditions.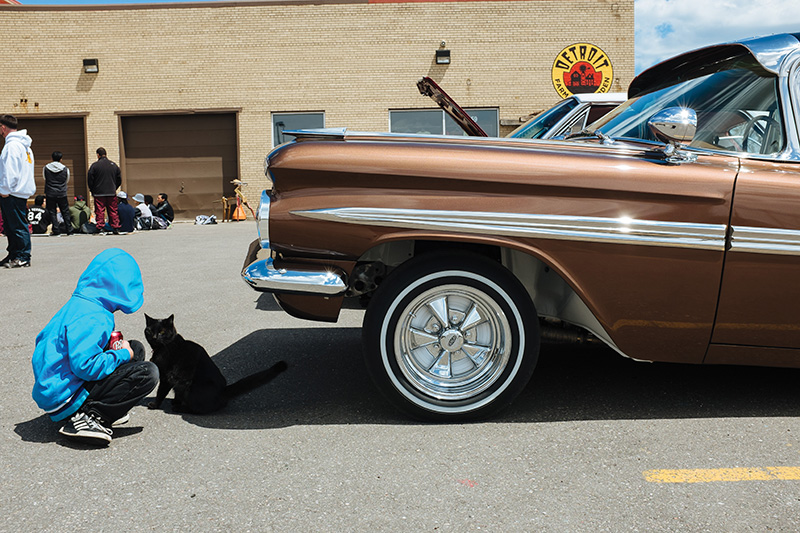 Don't Miss
One of the most visible reminders that you're in Southwest Detroit is the murals. Murals have a rich tradition in Mexican American culture, with roots dating centuries back to pre-Hispanic Mexico. During the 1960s and '70s, the Chicano mural movement served as a platform for political and social equality, featuring colorful and complex scenes that depict the deep history Mexican Americans have in this country. Today, dozens of murals cover the brick walls of local businesses and viaducts throughout the neighborhood. On St. Anne and Bagley, you'll find longtime works such as "Corn Field," painted by Vito Valdez, and "City Spirit," just across the street and painted in 1979 by Martin Moreno and George Vargas. Other works from a younger generation — such as Freddy Diaz, aka SW Freddy — can be spotted on the exteriors and interiors of dozens of local businesses. 
Speaking of murals, one of the most iconic Mexican murals in Detroit takes up four gigantic walls in the halls of the Detroit Institute of Arts. Mexican muralist Diego Rivera was famously commissioned by Edsel Ford during the Great Depression to produce "Detroit Industry," a fresco-style installation in the DIA's Garden Court. The painting is really 27 distinct paintings that portray the history of Detroit through the lens of laborers working at Ford Motor Co.'s River Rouge Plant as well as advances made in scientific fields, such as medicine and emerging technology. 
One of the most popular draws to Southwest Detroit every year is the annual Cinco de Mayo Parade, a staple of the community for more than half a century. The parade, which runs between Clark Park and Patton Park, is marked by days of celebration, including bar and restaurant crawls, mural tours, baile folklorico (traditional dancing), live music, and the Blessing of the Lowriders, a street-side showcase of decked out classic lowrider cars usually taken out of protective storage for the special occasion.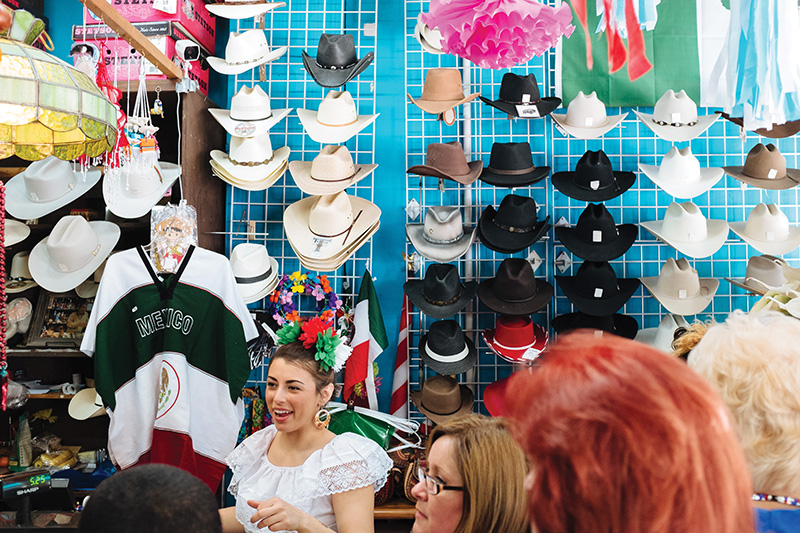 The Real Deal
Xochi's Gift Shop on Bagley is a 30-plus-year-old institution where shoppers could get lost for hours. The family-owned shop specializes in Mexican imports, featuring handmade Mexican folk art, extravagantly painted pottery, Dia de los Muertos artwork, sterling silver jewelry, and Western wear. Whether you're tapping into your Mexican roots or you got excited about a new recipe while perusing TikTok, Algo Especial, also on Bagley, is the place to go for those hard-to-find ingredients. Epazote for that Oaxacan recipe for tamales? Check. Flor de calabaza (pumpkin flower)? You got it. Dried chili peppers of all varieties? Check mate. Carniceria Guadalajara on Lawndale is a meat-lovers heaven, or in particular, a destination for folks looking for just what they need for the backyard carne asada (cookout). The shop produces chorizo, chicken fajitas, and arrachera-style marinated skirt steak, perfect when smashed into a grilled tortilla, and a round of chelas (beers).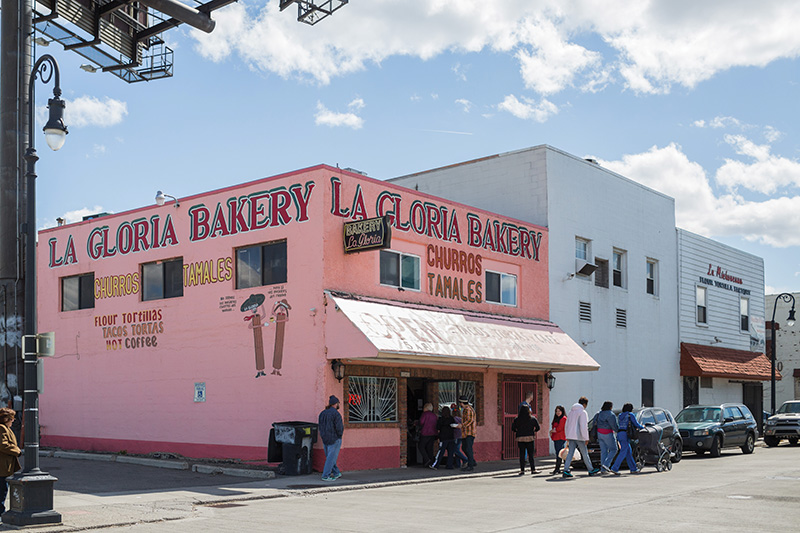 Tastes
On the topic of food, Southwest Detroit is arguably the largest culinary destination in the city. The Loncheria El Parian taco truck fleet has its trailers set up in six locations throughout the neighborhood, and also operates La Palapa del Parian, a brick-and-mortar spot on Lawndale. Customers of all walks of life line up daily during lunch break to grab a paper plate topped with tacos al pastor (marinated pork that's roasted on a spit), tacos de campechano (charred bits of carne asada and chorizo), meaty quesadillas, tortas, or burritos. The restaurant location also features a full bar and a variety of margaritas and fancy micheladas (a beer and Clamato "Bloody Mary" of sorts that usually comes to the table in an oversized goblet with a couple of Corona bottles dumped in upside down). Lots of spots feature a Jalisco specialty called birria, a chili and citrus-marinated meat (usually beef or goat) that is slow-cooked until the tender pieces can melt in your mouth: Los Altos, La Terraza, Tacos El Primo, El Caporal, and a growing number of other places. It's traditionally served on its own as a dish or soup, in tacos, or as a quesabirria, a griddled corn tortilla stuffed with birria and melty cheesy until crispy. Sweet-tooths should head over to Mexicantown Bakery on Vernor, La Gloria on Bagley, or Sheila's Bakery on Springwells for freshly baked conchas, churros, or pastel de tres leches (three milks cake). On hot summer days, hit Neveria Michoacana or Raspados y Obispos La Niña for paletas (Mexican popsicles made with fresh fruit and ice or milk), raspados (shaved ice drenched in fruit flavor), and aguas frescas (refreshing drinks made with fruit, flowers
like hibiscus, or rice).
Did You Know?
Southwest Detroit, with its proximity to Tigers Stadium, historically was a favorite neighborhood for both sports fans and Tigers players alike. Fans could hit up any number of Mexican restaurants to load up on snacks after the games — dishes like botana, an only-in-Detroit delicacy of fried tortilla chips, bean and chorizo mix, onions, sliced avocado, green peppers, tomatoes, jalapeños, and a mountain of melted Muenster cheese. Specifically, Armando's on Vernor was a legendary haunt for the players after game day. When the Tigers won the World Series in 1984, the restaurant's original owner, Armando Galan, hosted the team, locking the doors and celebrating all night long.
Side Trip

 
Detroit's Mexicantown has increasingly become home to a growing Central American community. While cultural landmarks or public points of interest representing this region aren't prominent, a few eateries have been making inroads in this department. Pupusería Y Restaurante Salvadoreño on Livernois is likely the most recognizable eating place to date. The specialty there is the pupusa, one of El Salvador's most beloved dishes, made of a thick corn or rice-based tortilla amply filled with any combination of pork, beans, cheese, or loroco (a flower typical of Central America). It's usually topped with curtido, a fermented cabbage relish, and a tomato-based salsa. Honduran restaurant Antojitos el Catracho
is another casual eatery where one can find pupusas but also Honduran-style pastelitos, baleadas, and Banana Tropical, a traditional Honduran soda pop. In Troy, El Guanaco,
a small restaurant and grocery on Livernois, is another popular destination for pupusas, Salvadoran-style tamales (wrapped in banana leaves instead of corn husks), as well as Mexican food.