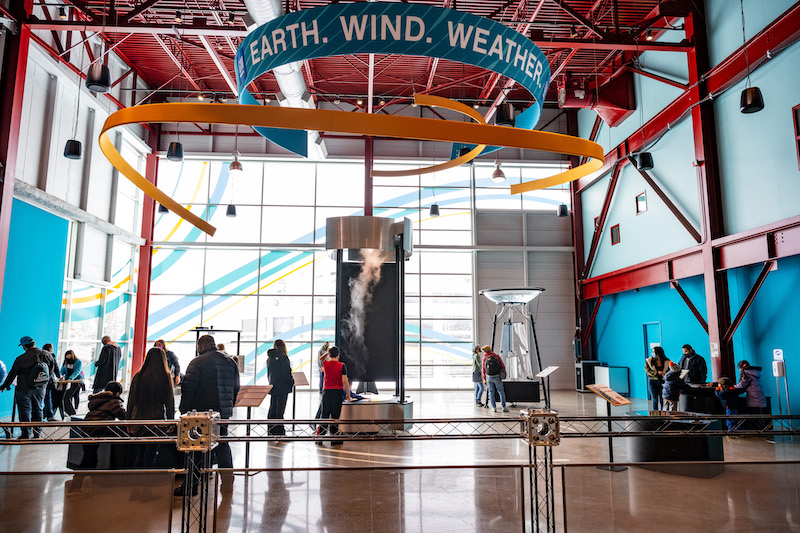 Have you ever wondered how clouds form? How wind impacts ocean waves? Or what sets off an avalanche? You can learn about all these topics and more in the Michigan Science Center's latest permanent exhibition. Debuting just a couple of days after Earth Day on April 24, the 2,500-square-foot Earth. Wind. Weather. exhibit gives guests a chance to explore climate science through hands-on learning.
The exhibit — sponsored by General Motors Co. and supported by audio electronics company Harman and software company Plex Systems Inc. — features 10 interactive activities. Among the attractions is a 12-foot tornado generator, a working model of a natural geyser, a magnetic globe, an orb that moves fluid in a way that's similar to how turbulent flows in planetary atmospheres, and an air blower that generates waves by mimicking the wind's action over the ocean. The exhibit also highlights careers in meteorology, oceanography, astrobiology, and geology.
"No exhibit puts you at the center of science better than Earth. Wind. Weather.," says Christian Greer, president and CEO of Michigan Science Center, in a press release. "This experience, that GM made possible, helps learners of all ages connect to STEM concepts that shape our world, as well as highlight potential career paths… Earth. Wind. Weather. is immersed in an aural soundscape featuring recordings from National Parks across America due to a generous donation from Harman."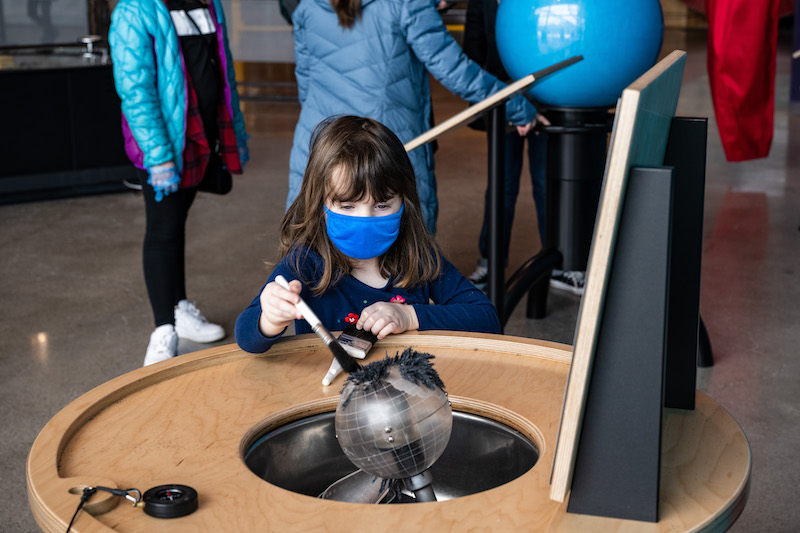 To coincide with the launch of the exhibit, the Michigan Science Center is hosting several special events on April 24. Pop-up activities, facilitated by museum educators, will focus on topics like temperature, clouds, solar scopes, and tornados. A staff astronomer will also host a show from the museum's Chrysler Science Stage that will look at Earth from above and cover weather patterns, changing seasons, and more. Michigan Science Center will go live on Facebook throughout the day to showcase these events. 
The museum will hold a preview of the exhibit for Michigan Science Center members on April 22. Those who attend the event will get the chance to see a special showing in the museum's 4D theater and explore the sky through a telescope. Pre-registration is recommended. 
Access to Earth. Wind. Weather. is included in general museum admission. Due to the pandemic, visitors — including members — must pre-reserve tickets online. Face masks must also be worn while indoors, and guests are expected to social distance. Food and beverage services are currently unavailable as well.  
For more information, visit mi-sci.org.