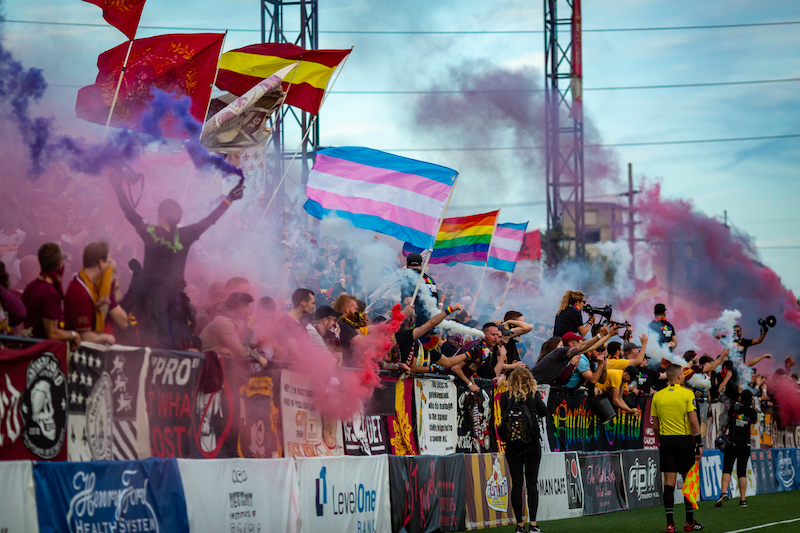 Have you ever wanted to be an owner of a professional sports team? Well, now may be your chance.
Detroit City Football Club — the city's professional soccer team that plays at Keyworth Stadium in Hamtramck and is known for its loyal fans who go by the name "Northern Guard" — has launched a new campaign that will give its supporters the chance to be partial owners of the club. DCFC's goal is to raise $1.2 million through the sale of 10 percent equity of the club.
Investors can buy-in starting at $125 through wefunder.com/dcfc. Current season ticket holders may also convert their tickets into equity in the club. Those who become partial owners will have the chance to participate in regular calls and meetings, and propose and vote on issues like annual charity partners and club policies.
"As the club navigates through the current pandemic and economic crisis and positions itself for success and continued growth for years to come, it only made sense for us to turn to our fans to shape our future," says Sean Mann, co-owner and CEO of the club, which will primarily use the funding to make improvements to Keyworth, increase its front office staff, and help with loses related to COVID-19. "Our fans who have given so much to the club have a justified sense of ownership in its success, and now they have the opportunity to have a legal ownership stake in the organization."
To support the new initiative, DCFC is launching a marketing campaign with Detroit-based agency Lafayette/American that will include billboards and social media posts. In announcing its new equity initiative, the team released an ad featuring the voice of Michigan-native Iggy Pop. The nearly 50-second video features scenes of the Northern Guard marching into Keyworth Stadium, releasing colorful smoke bombs, and waiving DCFC flags while the punk singer provides a voiceover. "We are city 'til we die," he says. "Now it's time to own up. Be an owner of Detroit City FC."
When the DCFC men's season resumes on July 31 with a game against the Cleveland SC, the club will also run a telethon — in partnership with Planet Ant, Former Co., and Aninterval — in support of the campaign. The match can be streamed at detcityfc.com/watchcity.
Facebook Comments