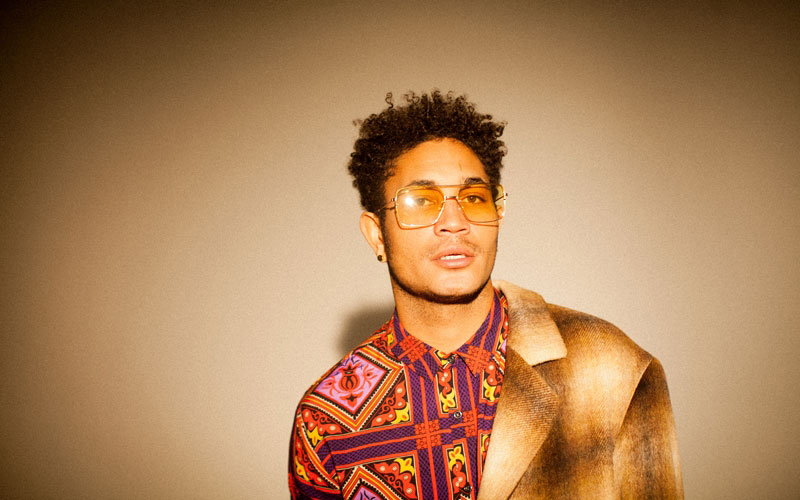 Bryce Ross-Johnson, known by the masses as Bryce Vine, recently connected with Hour Detroit to talk about his soon-to-release album, Carnival. Though a descendant of Hollywood fame — Bryce's mother played the troubled Dr. Eve Russell on NBC's daytime soap opera Passions — the 30-year-old New York City native still had to climb the ladder like most budding artists. You may know him, not from his 2018 single "Drew Barrymore", which has racked up 100 million-plus streams on Spotify and peaked at No. 46 on the Billboard Hot 100 chart this past year, but from his stint on Oxygen's The Glee Project, a singing competition series rewarding the winner a guest spot on Fox's Glee. After getting eliminated in the first round, Bryce signed with record label Kiva House Lambroza and produced his 2014 debut EP, Lazy Fair, featuring songs such as "Sour Patch Kids" and "Guilty Pleasure." Both songs earned a combined 11 million streams. We caught up with the artist before his Valentine's Day performance at The Shelter in Detroit.
---
Hour Detroit: Has your life changed since the 2017 release of your hit, "Drew Barrymore?"
Bryce Vine: Man, yes, it's very different. The success that I've had seemed like a pipe dream. It's very difficult to even get your foot in the door, but once you do, you are kind of prepared for this weird, surreal reality.
Why did you name your song after the actress?
She is kind of cute, cool, and badass, and has a story that is untypical. She's been in Hollywood her whole life, but she possesses a dynamic that other people, in fairness, just don't really have. She's the kind of girl I talk about in my new album, Carnival.
Has she reached out to you?
No, man, I'm kind of disappointed. Don't get me wrong, I don't expect her to call me. But I used her as an example in a positive way, and I feel like I would be flattered. Then it went platinum, so I know she has heard it.
Maybe, one day she will reach out.
That's alright. As long as she doesn't sue me.
Walking Dead's Christian Serratos stars in your "Drew Barry" music video. How did she get involved in that?
We had mutual friends. She was also my first girlfriend in high school.
Really?
We didn't even go to the same high school. We stayed close over the years, both of us being in very similar fields and having similar struggles kept us connected. She is the exact kind of person I am talking about in Carnival: super intelligent, hardworking, and has never took a hand out. I admire the hell out of her. I wasn't even going to bother her when we needed a lead for the video, because I knew she was busy with Walking Dead. So, when I called and asked her if she knew anybody in L.A. that would possibly be a lead, she was offended. "I can't believe you didn't ask me. I'll fly out and do it for free," was her response.
Tell me more about Carnival?
I don't know if I'm allowed to tell you this, but my next single, "La La Land," has a really dope feature from an L.A. artist. That's all I can tell you. But then there are these love songs on the album, where I talk about how somebody can make you feel, especially when it concerns breaking up. Otherwise, Carnival is for my listeners who experience the monotonous and sometimes unfair norms of life. I want the soundtrack to serve as an escape from the unpredictable things that are happening in our time; one where everyone seems to be angry with each other. When I was growing up, music was my therapy, it helped me overcome the things I was going through. Some people listen to death metal, others rap music, to feel alive.
What have you learned about yourself, as an artist and person, while making Carnival?
I've realized in the last year that my purpose is to reach out and bring people together. I was raised to be open and accepting, and never neglect logic, understanding, empathy and the realization that everybody is different. When we start trying to group each other into categories, it becomes easier to look down upon someone. I try not to do that. As an artist, I have no interest in preaching a political stance or swaying my fans in a certain direction.
What artist, unknown or famous, do you want to learn more about? Tell us in the comments below.
---
Related: Detroit Rapper Tee Grizzley On Prison-Time and That Rumored Big Sean Collaboration
Facebook Comments