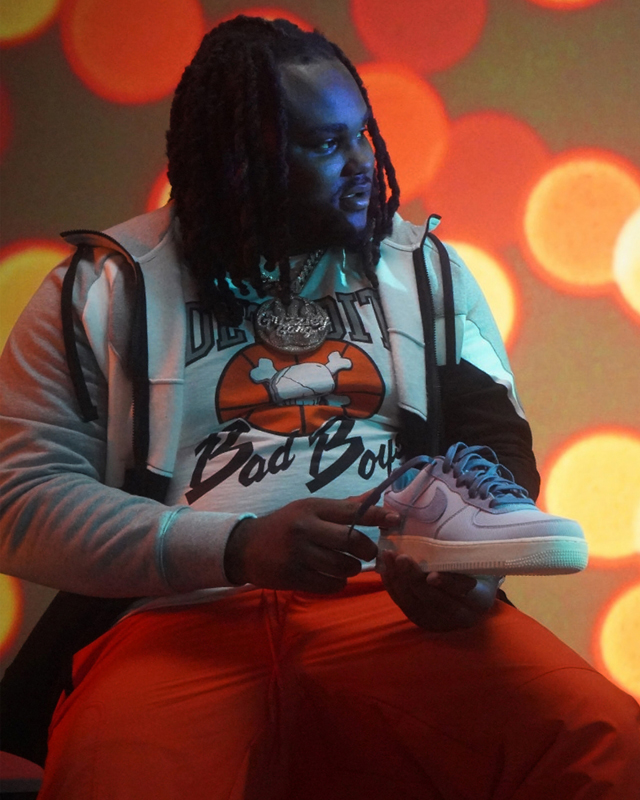 Terry Wallace Sanchez Jr. was indicted on burglary charges in September of 2015. At age 22, he was sent to Nebraska's Tecumseh State Prison to serve his sentence. When the Detroit native was released a year later, he was Tee Grizzley, a name he earned while imprisoned. His time behind bars lit a laser-like focus within him — one fixated on turning his dream of becoming a big-time rapper into reality. On the day of his release, he recorded his debut single, aptly titled, "First Day Out." One month later, he shared the retrospective single on the YouTube channel of 4sho Magazine, a highbrow urban culture and music digital magazine. It has garnered more than 81,000,000 views to date. After being signed by New York City-based record label 300 Entertainment in 2017, Tee Grizzley's anthem peaked at No. 48 on the Billboard Hot 100 chart the same year, as part of the release of his first mixtape, My Moment. The album caught the attention of then Cleveland Cavaliers player LeBron James, who took to Instagram with a video of himself dancing to "First Day Out," inspiring the #LeBronJamesChallenge. Hundreds of hip-hop fans joined in on the hashtag posting videos of themselves dancing to the sounds of Tee Grizzley's debut hit. Today, having received both BET Hip-Hop Awards and a MTV Music Video Award nomination, Tee Grizzley is focusing his attention on spotlighting Detroit rappers and a possible collaboration with Big Sean. We caught up with the Detroit rapper, who was sporting Nike's Detroit-centric Home & Away collection, minutes before his performance at Foot Locker's Eastpointe store opening.
---
Hour Detroit: Where did the name Tee Grizzley come from?
Tee Grizzley: I'm a tall dude with dreads and hair all over my arms — [when I was locked up,] they got to calling me Grizzley. I just put the Tee on it.
Why did you make your debut mixtape, My Moment, in prison?
I was locked up, and I didn't have anything else to do. I knew I could rap, so I just wrote it. Everybody in prison raps, so you're gonna write raps in there.
Your YouTube hit-single "First Day Out" focuses on the day you were released from prison. Why did you decide to write about that moment?
I just knew that it was something that I wanted to do. I grew up listening to rappers like Boots Riley. Tiki, he had a [song about his] first day out. I was like "I'm gonna make one, too."
What has this transition from being a federal prisoner to, now, a successful hip-hop artist been like for you?
It's definitely crazy. The only way that I can describe it is that it's just a blessing because you don't expect this. Once you get a whiff of a different side of life, it just motivates your spirit.
Any truth to the rumors about a collaboration between you and Big Sean?
He's busy, I'm busy. So, we probably haven't really had time to bump heads in a studio, but it'll come together when it needs to.
What was it like to work with Chance the Rapper, Offset, and Lil Pump for your second mixtape, Still My Moment?
It's cool because we're all on the same page. My best work happens when I have a genuine connection with whomever I'm collaborating with, before we do a song.
What advice would you give to upcoming rappers who may be having trouble trying getting into the music scene?
First of all, a lot of rappers make mistakes when they're coming up. Don't go to another rapper to find your sound because if it's sweet, they are gonna try to steal it. A lot of people are stingy with their platforms anyway, so you got to just do you. Drop your music and put it out there for the world to hear. That's how you start your fan base. But really, there's no certain formula to success.
You even talked about how you had trouble finding someone to plug you, initially, in "First Day Out."
Everybody has dreams, and some people are so blinded by their own happiness. My goal is for us to live our dreams, not my dreams.
Are you helping artists specifically from the Detroit area right now?
One person in particular is an artist named Sada Baby, who I had signed. [Detroit rappers] have it way more rough, so anytime I can help an artist, I'm gonna do it.
---
Who are your favorite Detroit-native artists? Let us know in the comments below.
---
Related: Blues Band Larkin Poe Talks Music, Gender, and Edgar Allan Poe
Facebook Comments