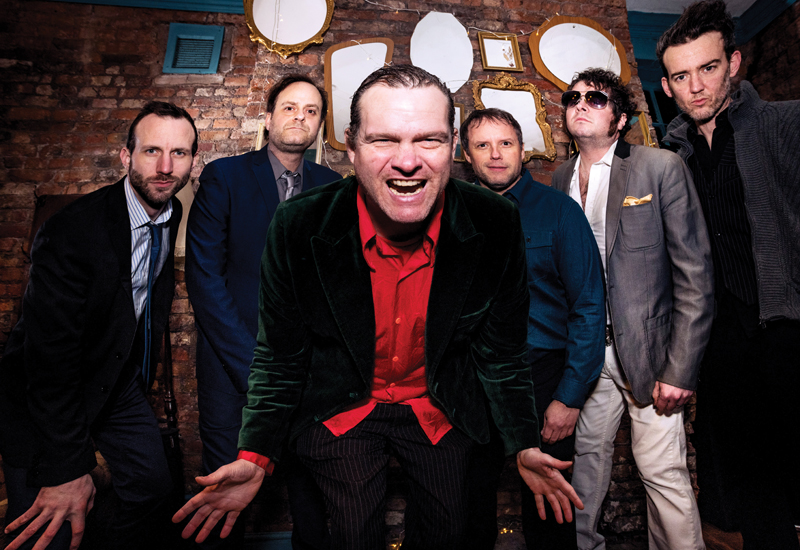 It's the turn of the millennium. Detroit is the music capital of garage-rock, thanks in part to the rise of native duo, The White Stripes. Cass Avenue is littered with guys in faded, flooded, denim jeans and wrinkled, solid-colored shirts. They're all heading to the Gold Dollar to see The Wildbunch, now Electric Six. The band approaches, turning heads in their dark leisure suits and some in sunglasses — reminiscent of a non-matching version of the Reservoir Dogs.
"When we started in the '90s, there was a lot of bands rolling up in T-shirts and looking all scrubby, like, kind of shoegazer stuff," says lead vocalist and main lyricist, Tyler Spencer (a.k.a. Dick Valentine). "We wanted to be the antitheses of that."
Spencer refers to that era as "the Gold Dollar scene," a prime time for bands like The Detroit Cobras, The Dirtbombs, and The Hentchmen. The retired, legendary music bar is where Spencer says, The Wildbunch "cut its chops," and befriended White Stripes front man, Jack White. White contributed vocals to Electric Six's song, "Danger! High Voltage," which Spencer credits as launching the group's big break.
"In 2001 when they broke, the whole world was looking at Detroit and trying to sign the next White Stripes or anything affiliated with that scene and we got caught up in one of the waves of that."
XL Recordings signed the band in 2002, informing them that a Bristol DJ collective had the name The Wildbunch and that they had to change theirs. "I still don't even know, to this day, what Electric Six means," Spencer says. "It just became the name."
Since then, the band has released a studio record almost annually. This year, they will release two — a standard nervous dance music record (an October release, which Spencer says belongs in an Apple iPhone commercial) and a Christmas album. While the last handful of releasees were produced by lead guitarist John Nash (a.k.a. Johnny Na$hinal or The White Wolf), the new material will be produced in the shared home studio of bassist Matt Tompkins (a.k.a. Rob Lower) and synthesizer player Christopher Tait (a.k.a. Tait Nucleus?).
"Basically, our singer usually comes with several really good ideas and then we kind of start shaping around what the vibe is," Tait says. Outside of Electric Six, Tait plays keys and sings in a '60s pop group called Belle Ghoul. The main challenge in recording, mixing, and producing the next Electric Six releases, Tait says, is balancing his pop instincts with the band's rock roots. "It's just me making sure that even if there's some bubble gum in there, the big muff pedals are going at all times."
Aside from the allotted self-studio time at home, Electric Six spends about a quarter of each year on the road. They recently returned from their annual spring Western Canada run.
"Lately, we've just been going from Detroit, south to Texas, all the way across the Southwest into California, all the way north into Vancouver, and then back across Canada the other way," says guitar player Dave Malosh (a.k.a. Da Ve). "We'll go back in the summer and kind of knife through the middle of the county and do spots that we missed." And at the end of every year, they take the tour overseas to Russia, Europe, and the U.K. "We don't like to be on tour for months at a time," Malosh says. "So usually, it's between three and five weeks no matter what we do."
Although Electric Six is the main hustle for the band members, it isn't the only obligation keeping them busy. Spencer lives in Brooklyn, N.Y. with his wife of 10 years, Kate, and their two children, 5-year-old Ramona and 6-month-old Tabitha. He has released five solo albums under his moniker Dick Valentine.
Malosh's wife, Melody Baetens, writes restaurant features for The Detroit News. Their 'baby' is Small's music bar in Hamtramck. The couple has owned Small's for nine years and when Malosh isn't on tour, he's booking bands and running sound at the bar.
In 2015, Tait started a nonprofit organization out of Hamtramck called Passenger while working at the Brighton Center for Recovery. Passenger benefits touring musicians that are on the road to sobriety. The organization provides a "clean" green room in Hamtramck for musicians performing in metro Detroit, affording them a safe space to rehearse or relax before gigs. Passenger also coordinates free transportation to recovery meetings in the area.
According to Tait, himself a touring musician in recovery from drug and alcohol abuse for seven years now, a substance-less environment and attending meetings with folks that endure similar struggles are a huge help when on tour. "You establish this core group of people that you rely on for support locally and then as soon as you go on tour, you lose that anchor," he says. Next month, Passenger will launch Compass, a national app that allows travelers to easily find recovery meetings in whatever city they are in.
Although the Gold Dollar scene and Detroit's heyday of garage-rock are distant memories, Electric Six prospers on. And while the band tries new tricks with their next batch of catchy dance tracks, the members have maintained a blithe approach to their craft. Case in point: Fourteen records and several lineup changes later, Spencer continues to hit the stage in his signature leisure suits. "I've always looked at this band as it should be fun first and foremost," he says. "That's how [we] like to approach music."