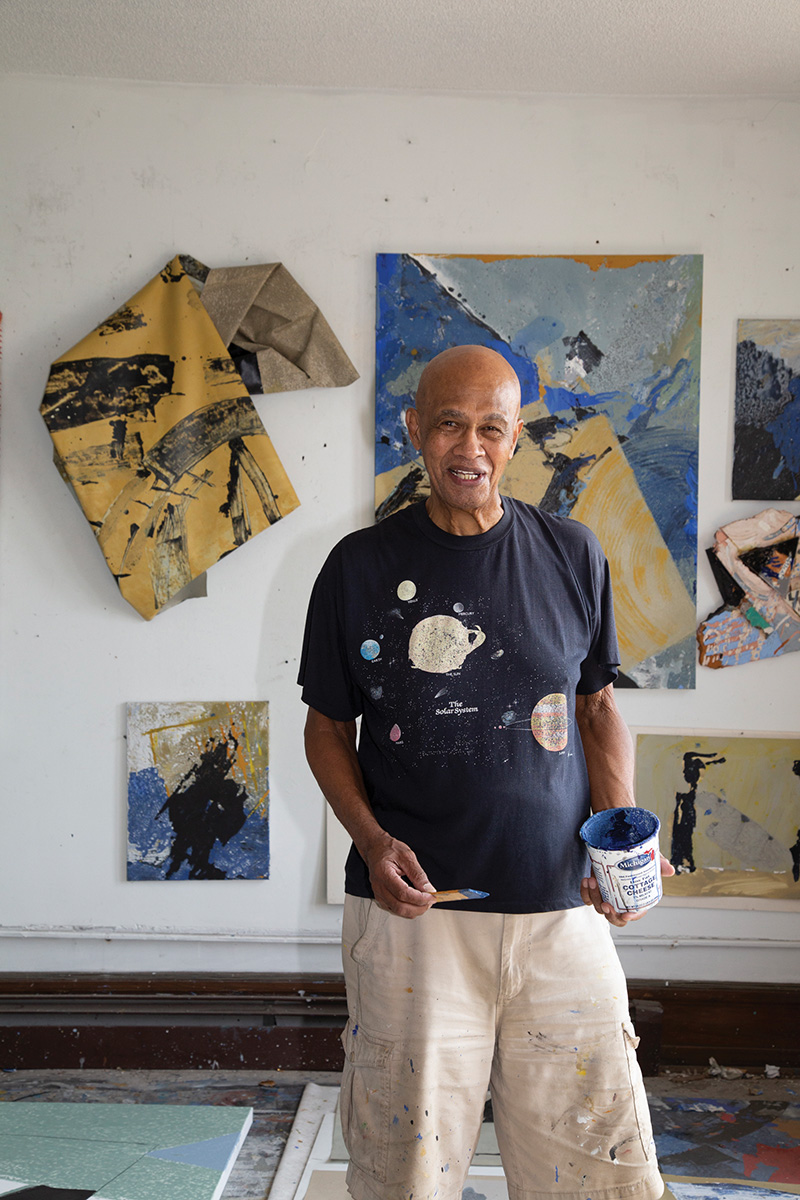 When artist Allie McGhee was attending college, he drew and painted just about anything, sometimes replicating the masters. "I really admired Michelangelo and Raphael and their control of rendering the human figure. So, at first, I was a figurative painter," the 80-year-old Detroit-based artist explains.
He started college at Ferris State University intent on becoming a commercial artist. "Then I made a detour in the early 1960s and went to [Eastern Michigan University] and switched to fine arts, which to me offers more flexibility, and there's more challenge and more reward."
At Eastern, one teacher asked McGhee a question that lit up the student's world like an added splash of lemon yellow to an otherwise dull painting. "He said, 'Hey, Allie, we got Raphael and Michelangelo. What do you bring to the table?' And I was thinking, 'What? They're fantastic! You know how long it took me to learn to draw like that?' He wanted me to be more creative with my technique and subject matter."
It was then that McGhee took his first 90-degree turn, "moving away from the realistic figure to something more impressionistic," he says. A couple of decades later, McGhee, who's had some 20 solo exhibitions during his career, would pivot again. "I wanted to broaden my vehicle and subject matter," he says, "with contemporary expressions."
The public gets to see that transformation in his current exhibition at Cranbrook Art Museum. Allie McGhee: Banana Moon Horn, which runs through Feb. 13, 2022, showcases works from several decades of the painter's life. From his Detroit studio across from Belle Isle, McGhee recently shared his thoughts about everything from his first recollection of becoming an artist and his passion for the universe to his love of animals and what he won't eat.
Hour Detroit: Do you remember the day you decided to be an artist?
Allie McGhee: I was 5 or 6 years old. I would draw on my mother's cabinets, refrigerator, and walls. I was immediately attracted to those areas with my crayons. And of course, a lot of people didn't appreciate that. But my mom said, "Don't bother him; he may do this for the rest of his life!" At around age 10, a friend of mine and I had a studio in my mom's basement. We'd go down there and draw and paint. He was fond of Degas. My favorites were the cubists. We thought we were big emerging artists, and we weren't even in high school. It's unusual to find purpose so early, something that was given to you, and use it for the rest of your life.
Is being an artist ever frustrating for you?
Every day it's frustrating. Some decisions are not the best or bad. For that reason, I'll work on four to six paintings at a time. When I'm frustrated by the direction a work is going in, I move on. And then time and time again, I come back to it.
Do you talk to yourself as you create? Or listen to music?
I've been known to say a word or two, like "Eureka!" Or "Hallelujah!" Or "I'll be damned!" Emotion plays a large part. I listen to music — jazz, blues, classical. When I was younger, I would hit the music box first thing when I entered the studio, but now, I enter and take a look at where I was yesterday and where I am today. Music comes later. There's a quiet time of observing.  
Ever get stymied or blocked?
Oh, yes. I'm right across from Belle Isle, so when it's dull, I'll go across the street for a little run. I feel so much better and I get my adrenaline pumped up and there's the glory of God. And then I go back to the studio. Sometimes I'll meander around with the materials, and that brings me to a point of working and I don't know if I'm making serious contributions. Three or four hours later I'm going at it like a wild man.
Do you really go to your studio every day but Christmas?
Yes! If anything is going to happen, it's at the studio. If I'm in the studio, whether I'm inspired or not, I've got the tools to answer the inspiration. That's the only way to capture the enthusiasm. You have to be there. 
Your Cranbrook exhibition title is Banana Moon Horn. Can you expand on what that references?
They're symbols. Like, we link the moon to the cosmos, horns to animals, and the banana just is kind of satirical and goes with the witty titles of some of my work — you know, the best parts of mankind come from wit. 
What about your collapsible paintings? How did those come about?
I started with those about 20 years ago. It's acrylic on vinyl mostly. I'd been painting for 30 or 40 years, and I was always using the illusion of the third dimension. Like, a still life or reclining figure is two-dimensional, but I'm giving you the illusion that they're three dimensions. So I thought, why not introduce a third dimension and have interplay between the two and three dimensions. I call them three-dimensional paintings or crushed paintings. You see the painting in different perspectives. So, when I started doing these crushed paintings, I'm creating an additional point of view. 
How does your artwork reflect your fascination with the cosmos?
The whole idea about cosmos and universe is that it's a micro-to-macro type of exchange. You look at the world in a microscopic way, and the essence of composition is the same, so that's where the idea of comparing my subject matter to cosmos comes into play. 
You're 80 and say you feel great. To what do you attribute that?
I'm a health nut and have been a vegetarian for 40 years. I've run 26 marathons. I do everything I can to preserve this precious life. The human body is phenomenal in its ability to repair itself. I don't eat anything with eyes, except potatoes.
So you're a vegetarian for health reasons?
I came to it from research, as an art, which stimulates everything. And then I discovered that animals are so beautiful, their behaviors and coloration and how they act. So I stopped eating meat for my love and respect for animals. People assume it's for health reasons, but it's a love of living things.
What do you think of your Cranbrook art show that's been assembled?
People will see works on paper, canvas, fiberglass, wood, some that go back as far as 1969 or are as recent as 2021. I'll enjoy this because this gives viewers an opportunity to see the development of work over 50 years. It also reflects history and the time that the works were done in. My sketchbooks are also in the exhibit.
Wouldn't it be awful if you weren't able to express?
Oh, yes. If you have that inside of you, it does you well to put it outside and to reflect upon it. 
Allie McGhee: Banana Moon Horn runs through Feb. 13, 2022, at Cranbrook Art Museum, 39221 Woodward Ave., Bloomfield Hills; 248-645-3323; cranbrookartmuseum.org.
---
This story is featured in the November 2021 issue of Hour Detroit magazine. Read more stories in our digital edition.
Facebook Comments