Not every show that opens at the Cranbrook Art Museum unfolds like a modern mystery and highlights a budding star of the next generation of Detroit artists — but maybe all the great ones do.
Two exhibitions kicking off the Cranbrook Art Museum's fall season aim to cement the reputations of the contemporary artists defining the city today and to showcase the groundbreaking artist whose influence on those very painters goes largely unappreciated, locally and beyond. Both shows, Skilled Labor: Black Realism in Detroit and LeRoy Foster: Solo Show, open on Oct. 28.
Skilled Labor is a straightforward and much-needed survey of Detroit's technically masterful Black painters and drawers over the past decade. The show features 20 contemporary artists from multiple generations, including Jonathan Harris (whose 2021 painting "Critical Race Theory" went viral), living icons Hubert Massey and Richard Lewis, and stalwarts of the scene such as Sydney G. James.
The exhibition also features two oil paintings by Mario Moore, the 36-year-old Detroit-born and -educated painter who co-curated the exhibit with Laura Mott, chief curator at the Cranbrook Art Museum.
During our interview, Moore sits in his small studio in Detroit's Core City neighborhood, surrounded by works in progress and completed oil paintings on canvas. Each one presents technically masterful yet relaxed scenes that invite the viewer to gaze deeply at its subjects.
There's a sense that you know the figures in his work and can empathize with what they're feeling.
As co-curator and painter, Moore is asking bigger questions about what Detroit's art scene can accomplish for itself.
"When you think about Black people and labor, it has this long, laborious, painful history about being underpaid, about enslaved labor," Moore says.
"How do we reimagine what that means for Black contemporary artists in Detroit specifically? It can't just be about the mechanical aspect of the hand. It has to be about the mental capacity behind it, too."
Moore has emerged as a star of the city's art scene, drawing comparisons to artists like Kerry James Marshall and Barkley L. Hendricks.
This year, the Detroit native was recognized as a Kresge Visual Arts fellow, which comes with a $25,000, no-strings-attached cash prize, and received the College for Creative Studies' Distinguished Alumni Award.
It's not the first local recognition of his work. In 2021, his solo show Enshrined: Presence + Preservation opened at the Charles H. Wright Museum of African American History, exploring the social economics and layered reality of Black life in America.
Two of Moore's paintings have been acquired by the Detroit Institute of Arts, a major milestone and point of pride for any local artist — and especially for Moore, whose parents met at the DIA and who had a job as an usher at the Detroit Film Theatre while he was attending CCS.
The DIA purchased "The Council" in 2022, two years after Moore returned to Detroit from the East Coast. He earned his MFA in painting from the Yale School of Art in 2013, was awarded the Hodder Fellowship at Princeton University, and established himself as an artist in New York City.
"The Council" depicts Moore seated at a table with three of his artist friends during the COVID-19 pandemic. At the DIA, it is displayed around the corner from a work by Moore's favorite painter, Diego Rodríguez de Silva Velázquez.
The DIA's other Moore acquisition, "Queen Mother Helen Moore," is a portrait of the artist's grandmother displaying framed photographs of her sons. It's a nod to the generational wealth of talent that Moore hails from.
His mother, Sabrina Nelson, an accomplished artist and educator, worked for years at CCS, where Moore studied illustration. (Nelson's work is also featured in Skilled Labor).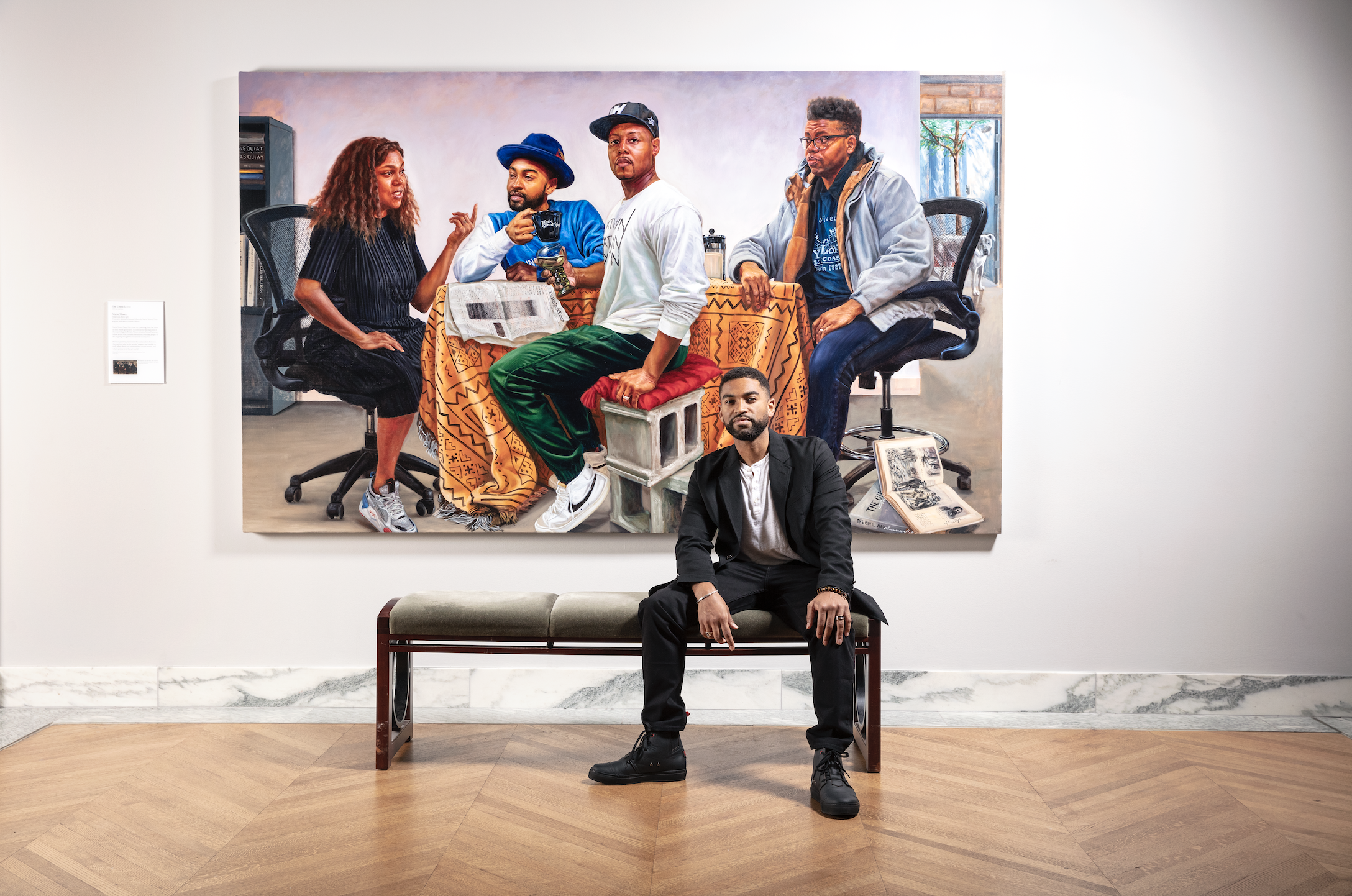 Like Moore, many of the artists featured in Skilled Labor were educated through Detroit schools and institutions. Moore believes that explains the city's high concentration of technically skilled painters who have been drawn to realism, alongside an organic community of artists who share ideas, studio space, and support.
"There's an exchange of ideas and also a technical prowess that's passed down to other artists," he says. "I always tell people that when I learned how to paint in oils from Richard Lewis, I had no idea what I was doing."
Now, Moore has a sure sense of his purpose beyond the paint. He hopes Skilled Labor helps to broadcast Detroit's Black art scene to the rest of the world — and to make sure the powers that be are paying attention.
"The international art world has not really recognized Detroit artists," Moore says. "Detroit has always been a place where you make your own way in the art world. It's still that, but I think it's time to focus on what's really happening here and for it to go beyond that. For museums to start collecting Detroit artists, for writers to take note, and for some attention to be paid to a figure like LeRoy Foster."
You could argue that groundbreaking Detroit figurative painter LeRoy Foster had to walk so artists in Moore's generation could run. The idea of passing the torch to the next generation is alive and well in LeRoy Foster: Solo Show, which features more than 30 paintings by the man dubbed the "Black Michelangelo" for his depictions of Black faces and forms in his signature Renaissance-influenced paintings.
Born in Detroit in 1925, Foster drew from the masters of art history at a time when African American artists felt under pressure to represent the "Black experience" to primarily white art audiences.
He was hailed as a creative genius by critics and peers in his time, firmly cemented in Detroit's Black arts movement from the 1950s to the 1970s. Yet while Foster was lauded as the "dean of Black artists in Detroit" during his heyday, he died broke, blind, and in obscurity in 1993 after health complications from diabetes.
Local art organizations like the DIA have recently shown Foster's work. Last year, the sprawling queer art showcase Mighty Real/Queer Detroit made Foster a focus of the monthlong exhibit, and the Hannan Center's Ellen Kayrod Gallery presented The Soul of LeRoy Foster: An American Painter from Detroit spearheaded by curator Richard Reeves. Cranbrook's Solo Show represents the most significant Foster exhibition ever assembled.
"There are so many stories that haven't been told," Moore says. "There are so many avenues for [realist painters] to explore with the human figure and, in particular, with the Black body that have just never been dealt with."
Foster's best-known work — "The Life and Times of Frederick Douglass" (1972), a mural depicting the abolitionist at several stages of his life — is still on display today, albeit tucked away at the tiny Douglass branch of the Detroit Public Library on Grand River.
"His compositions create several worlds within worlds within one picture, which is really, really hard to do as an artist," Moore says.
The complicated multitudes of Foster's life and career came into focus for Moore and Mott, who worked in tandem on Solo Show and Skilled Labor. As they debated who to include in Skilled Labor, Foster's name kept resurrecting itself out of the archives of Detroit art history — a name kept alive by those old enough to remember, as a griot would keep a story alive through storytelling, but that is largely unknown by the younger artists of today.
Out of the prep work for Skilled Labor, a separate exhibition was born to honor the "Black Michelangelo," creating a beautiful link between one of the city's greatest forefathers of painting and the next generation carrying on Foster's legacy, whether they realize it directly or not.
"Everybody got really excited because [Foster] really deserves much more than what has been given to him," says Moore, who adds with a bit of Detroit pride: "To be honest, [Foster] is a way better painter than Michelangelo. … his work is more majestic; it's more grand. I think [a lot of younger painters] have learned from that. But he never really got any recognition on any kind of level, except from his local community."
For co-curator Laura Mott, Foster had been a point of focus for a few years. Several of his works were in Cranbrook's permanent collection, including a painting that was supposedly found in a closet in one of the houses on the institution's sprawling Bloomfield Hills campus.
But putting Solo Show together — the flurry of research, phone calls, and interviews, sorting through collections — was like turning the pages of a slow-burning detective novel.
"It's been the best kind of curatorial adventure," says Mott, who, alongside Moore, has been conducting oral histories and searching the city for Foster's works with help from Valerie Mercer, the DIA's curator of African American art.
Foster sold hundreds of paintings during his lifetime, but many of them ended up in the possession of the Wright Museum, which provided several paintings for Solo Show, or in private collections, rarely if ever seen in public but buzzed about by those in the know in the local art scene.
"It's interesting because a lot of the collectors are primarily generationally closer to LeRoy Foster," Mott says. "It's a lot of phone calls, a lot of word of mouth. It's not something you can Google. He's not in a lot of major museum collections or anything like that."
Like the younger artists featured in Skilled Labor, Foster learned his craft at educational institutions in his own backyard, starting at Cass Technical High School.
One of his oil canvas murals, "Renaissance City," proudly hung at Cass Tech from 1982 to 2005, when the school moved buildings. (Foster painted it in 1978 for George Elementary School; after the school closed down due to budget constraints, the mural was moved to Cass Tech.)
The mural is modeled after Eugène Delacroix's "Liberty Leading the People" (1830) in style and content, depicting Detroit rising from the ashes of the 1967 rebellion.
Foster showcases Black men as godlike figures overlooking the city, with Detroit's evolving skyline in the background, signaling a broader message of resilience, progress, and unity across racial lines. It's a vibrant, breathtaking work that shows landmark buildings like the Fisher Building and the James Scott Memorial Fountain on Belle Isle painted with great detail.
During the more than 20 years that the mural was displayed at the school, it greeted several of the artists featured in Skilled Labor who graduated from Cass Tech, including Senghor Reid, Lewis, and Moore, who remembers viewing "Renaissance City" every day at school.
"At that time, I didn't know who LeRoy Foster was, even though I grew up with my mom and was surrounded by the art community of Detroit," Moore says. "But as I got older and my work started to circulate, a lot of people said my work reminded them of him. It's kind of like a full circle type of thing."
After Cass Tech moved in 2005, many believed the mural was destroyed or lost. Amazingly, Moore and Mott rediscovered it rolled up on top of a cabinet at the new Cass Tech location. It had remained in the old building until a group of art teachers moved it in 2011, shortly before the building was demolished.
Now, the massive, 15-by-9-foot oil canvas mural anchors Solo Show. For the occasion, "Renaissance City" is being restored by Becca Goodman of Goodman LaFon art conservation. (Goodman also created a detailed timeline of the mural's history and context.) The city of Detroit's Office of Arts, Culture and Entrepreneurship awarded a $7,000 grant help with the project.
After being displayed at Solo Show, which wraps on March 3 of next year, the mural will be reinstalled at Cass Tech, still one of the city's leading art schools.
"That's the most beautiful part of this story," Mott says. "You'll have a whole other generation of artists who will have a visual reminder of LeRoy Foster, in the same place where he was so influential to the artists that are in Skilled Labor."
Foster unapologetically celebrated the Black body. In ways, Moore is finding the same sense of purpose, escape, and pleasure in painting the human body that Foster found.
Consider Moore's stunning "A Student's Dream" (2017), which hangs in the Skilled Labor exhibit. It's a self-portrait of sorts, referencing heavily the vanitas paintings of the 16th and 17th centuries that dealt with life, materialism, and the inevitability of death, often incorporating skulls, as Moore does here.
He's laid out on a makeshift operating table, completely in focus and enshrined in light, while the "doctors" above him are covered in shadow.
"It's about the experimentation on Black bodies, which was happening in early America," Moore says. "They would exhume bodies, grave-rob, and use Black people to conduct different types of experiments. I wanted to show what it was like on that table but also to be the only one that was lit."
Moore tackles those larger ideas in that painting, but it's deeply personal for him, too.
Shortly before creating the painting, Moore was diagnosed with a nonmalignant tumor on his brain that was affecting his speech. When he woke up from surgery, he feared he wouldn't be able to draw or paint again. Friends brought a sketchbook to his bedside.
"I was so nervous because I wasn't sure what was going to be affected, if it was something I'd be able to do," he remembers. He eventually tried his hand by sketching his wife, Danielle, and the painting "A Student's Dream" wasn't too far behind.
Moore's own experience as a painter sums up the goal of Skilled Labor — to celebrate the immense technical gifts of Detroit's creative class but also the deeper stories within. And with a focus on Black realism, those stories are often seen first and foremost as a Black experience versus a broader human one, which Moore says each artist in the show approaches in their own way.
"Art history has a bearing on Black artists to have certain specifications — like whatever you make as a Black artist is going to have a racial context," Moore says. "For me and my generation, we're interested in all of that, but at the same time, there's a certain kind of liberation I want in dealing with the figure. The human body allows me to liberate myself from any context, any bearings."
"Foster, first and foremost, was interested in telling stories through the language of painting," Moore says. "He had this technical prowess that allowed him to tell a story in the tension of an arm or a muscle.
"He's mythology right now, but I want to make him real again."
---
This story is from the October 2023 issue of Hour Detroit magazine. Read more in our digital edition.