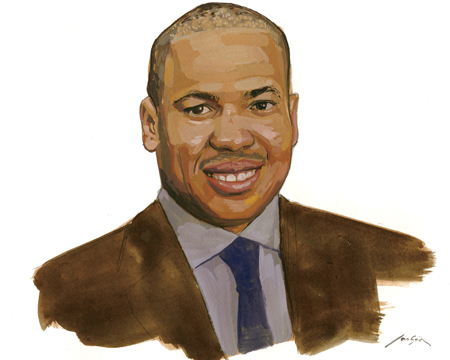 A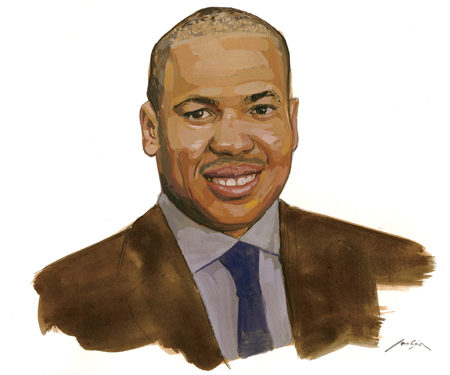 fter earning a degree in urban studies from Cornell University, Austin Black II returned to Detroit in 2004 to work for a suburban-based developer. By 2010, he had established City Living Detroit as a real estate brokerage. We caught up with him to talk about the challenges of living in the city and which neighborhoods might be the next hidden gems.
---
Hour Detroit: When did you start City Living Detroit?
Austin Black II: I was working for the developer full time and on the side was doing [City Living] as a nonprofit. The real estate market started declining [especially the] super high-end. Shortly before getting laid off, I was approached about doing sales. [After] I thought I may as well try it. Initially, all the money City Living Detroit was receiving was mostly from developers [and] banks in the form of sponsorships. For example, Peter Cummings and Ram Real Estate [sponsored] our website. In 2007 the market started slowing down and [City Living] pretty much went dormant. I started working for Max Broock in Birmingham. Then in 2010, I decided to go off on my own and revived City Living Detroit as a real estate brokerage.
The market is obviously better now. 
[I've] been doing a lot in historic neighborhoods for the last four to five years. Indian Village/West Village. Boston-Edison. The Palmer/Sherwood/University District.
West Village has gone nuts recently. Corktown, too.
Grandmont/Rosedale, too. There's a lot going on [business wise] on Grand River. Pages Bookstore, Detroit Vegan Soul. Hubbard Farms is also one, but there's not a lot of listings. You don't see turnover of property much. The number of people who want to be in those neighborhoods far exceeds the number of available properties. Recently, for someone looking for single-family homes in the $150,000 -$725,000 range, there were only 50 available [properties] in the entire city!
Any other areas starting to trend? 
One area that has a lot of potential is the Bagley neighborhood just west of University [District] and Sherwood [Forest]. You have the city focusing on Livernois to redevelop that commercial district, and Rehabbed and Ready [a program that includes the Detroit Land Bank Authority, Quicken Loans, and The Home Depot]. [Plus] those homes are much more manageable.
"The condo market downtown is becoming less of an option. … So these people start saying, 'Why don't we look in the neighborhoods?'" — Austin Black II
Less than 2,000 square feet instead of a mansion? 
Right Solid brick construction, they still have the details and the character. And there's a wide range of condition of homes. That's appealing to someone who wants to do the work themselves. They feel more comfortable investing because they see the [sales prices] for comps [comparable homes]. What I see trending [is] there are people downtown who have been renting one or two years. They start analyzing what they're paying, and say, "Maybe I need to buy a house." You have a larger number of empty nesters coming downtown, too. The condo market downtown is becoming less of an option, because the prices are going up and there's not a lot of inventory. So these people start saying, "Why don't we look in the neighborhoods?"
Bagley is more pedestrian-friendly, because Livernois never got as wide as, say, a street like Grand River. 
A couple years ago people were questioning the whole idea of single-family homes. Is that trend dying? [But] what I'm finding is, including myself, as you get into your late 20s, early 30s, you start thinking a little bit differently. Even if you don't have a family, you're wanting to spend more time at home as opposed to going out. Hosting people. Having a backyard. But [people] still want that walkability. Look at West Village, and how walkable that's becoming. Marygrove near Bagley, too, has smaller homes with a lot of character. [Recent sales] are setting a new benchmark for the area. People who don't want to move are starting to fix their homes. They see the value in staying.
Once they start having kids, the school question starts ticking. 
I have this conversation a lot. I have friends and clients that grew up in the suburbs and still went to private school. So they're thinking automatically they'll send their kid to private school. Then you have parents that not only want to make a commitment to Detroit, they [want] to try and make it work in the Detroit public school system. But if you want to see neighborhoods like Bagley grow … schools are going to be critical. When the mayor [Mike Duggan] announced he was running for re-election, he said he wants to focus on retaining families in the city and work hand in hand with education.
What other factors are holding the city back?
Not that it's not an issue, but safety is not brought up like it used to be. Schools [are] probably a bigger issue than anything else. [There are] three big issues. Schools. Taxes. Insurance. Those have a major impact on people's ability to actually afford to live [in Detroit]. Fix those and [growth] would accelerate. Particularly … middle-class families.
---
Resume
Name: Austin Black II
Age: 36
Hometowns: Detroit and Birmingham
Education: 
• Seaholm High School
• Bachelor of Science in urban and regional studies, Cornell University
• Public policy and international affairs fellow, University of Michigan's Gerald R. Ford School of Public Policy
Experience:
2010-present: Broker/president, City Living Detroit
2007-10: Associate broker, Max Broock Realtors
2005-07: Sales associate, Detroit Urban Living
2004-05: Associate, Victor International (Bloomfield Hills and Bay Harbor)
Honors:  
2013: 40 under 40 by the Michigan Chronicle
2012: DBusiness magazine 30 in their 30s
2010: Realtor magazine 30 under 30
2006: Crain's Detroit Business 20 in their 20s
Boards and Committees:  
• Detroit Downtown Development Authority
• Downtown Detroit Boll Family YMCA
• Detroit Athletic Club Community Outreach Committee