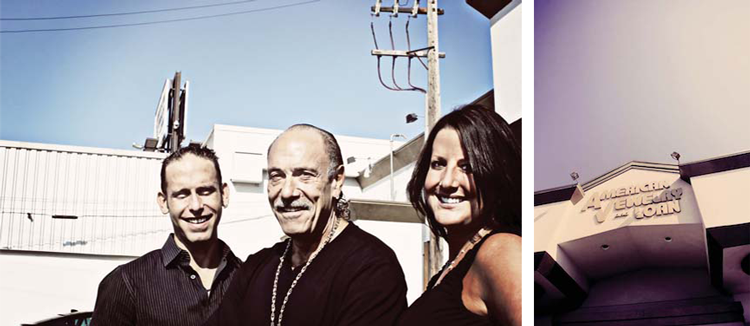 The young fellow dressed in full vintage British commodore regalia — "Lord L.J. Robertson," according to his business card — is pleading his case over the jewelry counter. He's trying to persuade Ashley Gold Broad, general manager of American Jewelry and Loan, to purchase his collection of handmade baubles fashioned from local manufacturing parts.
Broad, displaying more compassion than millions of TV viewers believe she possesses, patiently explains that her pawnshop has no market for such trinkets, but an area museum might welcome them. She even volunteers to research possible venues. "Be sure to come back tomorrow, because I don't want to do this for nothing," she cautions.
Across the way, former Detroiters Tom and Coreen Simoncic are chatting up store co-owner Seth Gold. "God, you guys look saner than you do on TV," Tom observes. The couple ferried their classic auto from Florida for the Woodward Dream Cruise, but felt their trip wouldn't be complete without visiting the massive 50,000-square-foot pawn emporium on Greenfield near Eight Mile. "We had to come here," he says. "The way the family works together, it's really neat. And they don't hold back; they yell at each other. It's perfect."
Maybe not perfect, but certainly remarkable. Ashley, Seth, and their father, veteran Detroit pawnbroker Les Gold, are the unlikely stars of the top-rated reality show on cable's truTV, Hardcore Pawn. Amid the recent furor over the future of Michigan's media incentives and the potential demise of in-state productions, this made-in-Detroit series has become a durable international hit on its own accord. Seen in Canada, the U.K., and Australia, as well as the States, the show launches its fifth season this month.
Shot at American Jewelry and Loan — billed as "the baddest pawnshop in Detroit" in the show's intro — Hardcore Pawn was developed by onetime Jerry Springer Show producer Richard Dominick, who became aware of the Gold family when Springer's former security chief, talk-show host Steve Wilkos, did a commercial for the store. The show's improbable success has brought with it a layer of unique challenges now that the Golds are actual TV stars. Video crews regularly inhabit the pawnshop, disrupting business and attracting characters like "Lord L.J.," who go to extraordinary lengths to get on camera. A steady stream of visitors comes in just to meet them and reminisce about favorite episodes; the Golds take time to treat each one like a welcome guest. ("Where are you from?" "Thanks for watching the show.") Unbelievably, Hardcore Pawn has made the store as much a tourist destination as Greenfield Village or the Motown Museum.
"We've had tour buses come here just to see the place," marvels Seth, 30. "People are funny. Once you're on that little box in their house, everything changes.
"A lot of people don't understand what it is to pawn. They don't get it, and that's understandable. But they might have a sister like mine, a brother like me, or a dad they can relate to. That's what you need for a successful show, and I think that's why our show is so unique. Because what's going to draw you back? The items that are being brought in? I've seen a PlayStation 3 a thousand times. Who cares? It's the story behind it."
Much of Hardcore Pawn revolves around conflicts with customers and family squabbles between the Golds, much to Ashley's chagrin. "I'm perceived by viewers as the meanest person in the world," says the 33-year-old who is, in reality, a charming person who laughs easily in conversation. "I've had people come up to me and say, 'Oh my God, you're that bitch on TV!' I'm better off staying home when I'm not working. I wish people didn't perceive me like that, but [producers and editors] pick and choose what they want viewers to see."
Ironically, the show nearly was quashed before it began. Seth fielded the inquiry call from producers pitching the concept, and "immediately I said no," he says. "But my father being president and CEO, I felt I owed it to him to mention the offer." Les, 61, leaped at the idea.
"The playing field changes when you're on television," says Les, capitalizing on the show's success to open a second American Jewelry and Loan in a Pontiac strip mall. "What the show has done is, it's taken away our need to advertise. Seth came to me when he started working here and said, 'Dad, what about billboards?' I told him I wanted to be everywhere and anywhere. We had 100 billboards and we saw an influx of people coming in. But now, being on national television, there's no competition.
"What's changed in America is, it's cool to come to the pawnshop. We have suburbanites coming in to pawn an item just to have the experience. It's not about being a star or a celebrity; it's not any of that. It's all about dollars and cents."
Adding a local celebrity to the mix can't hurt their bottom line, however: The Golds have hired retired Detroit Red Wings star Darren McCarty as an apprentice pawnbroker, his learning curve surely to be chronicled in future episodes. Has their family dynamic changed away from the camera's glare? "I think it's actually made the family closer," Les says. "We have a strong family. If we had a weak family, it might have disintegrated. But we talk a lot, we discuss family, we discuss business. We can separate the two."
The rough-and-tumble nature of Hardcore Pawn has generated its share of detractors, especially in contrast to its rival show, Pawn Stars. "I've known the family for a long time; I went to high school with Seth," says Ben Frank, owner of Norman's Jewelry & Loan in Southfield. "It's a circus. A lot of people don't want to be on TV, especially if they're coming in to pawn something. Why would they want their hardship plastered all over TV? And they treat people like crap on that show."
None of which seems to matter to one older couple browsing through the pawnshop, visiting Detroit from Washington state.
"Are you here for the Dream Cruise, too?" Seth asks them.
"Dream Cruise? What's that?" the husband replies, puzzled. "We came to see this."
---
If you enjoy the monthly content in Hour Detroit, "Like" us on Facebook and/or follow us on Twitter for more frequent updates.

Facebook Comments