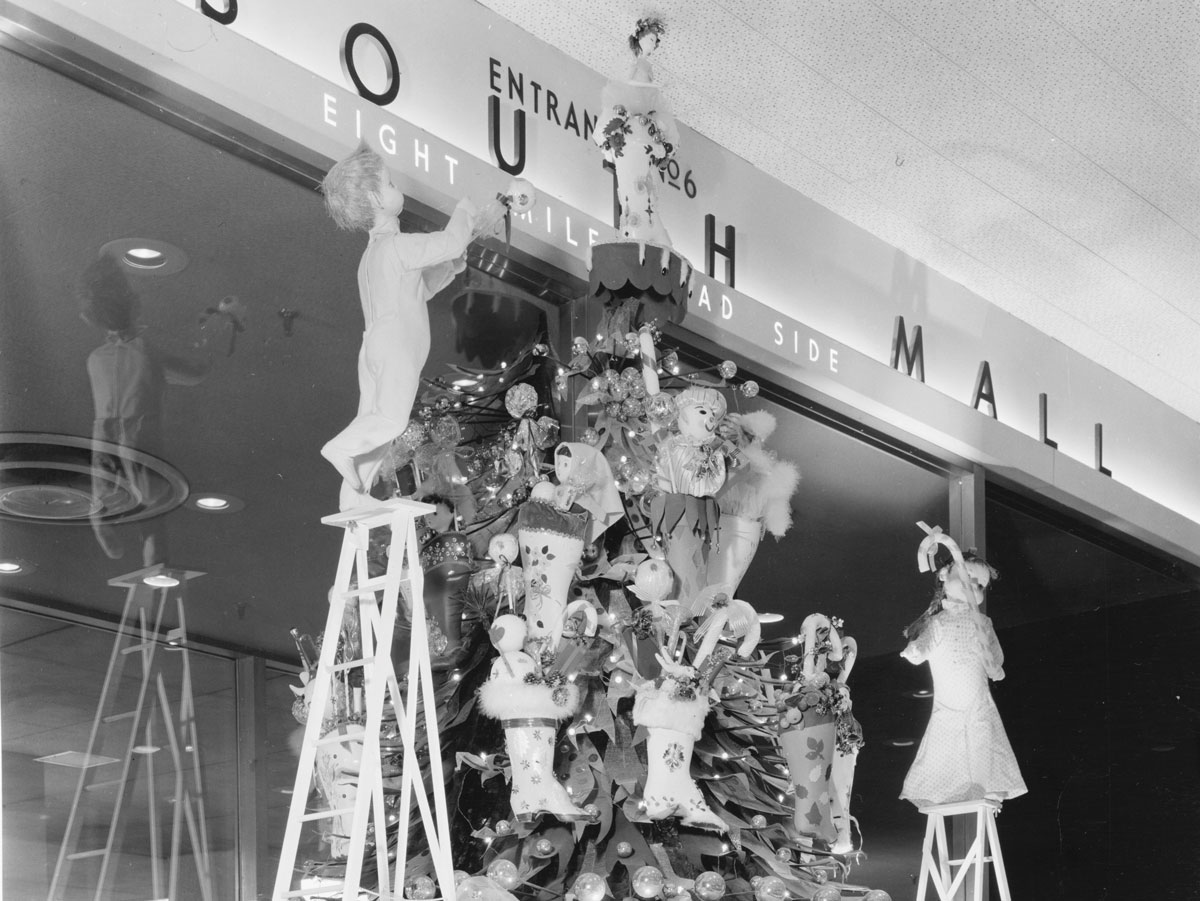 1956
Long before the quick, convenient, and downright impersonal ability for consumers to shop online, brick-and-mortar stores did everything to lure customers into their shops, and to ensure the experience was as memorable as possible.
Businesses went the extra mile during the Christmas season, and festive displays such as this above an entryway at Hudson's Northland in Southfield were meant to enchant and delight shoppers, enticing them to linger and buy. The signage states: "Entrance No. 6, South Mall, Eight Mile Road Side."
Two tots climbing ladders trim a tree, already laden with decorations. No department store could rival downtown Hudson's in choice of merchandise and customer service, but the Hudson's corporate leadership couldn't ignore the explosive growth of Detroit's suburbs after World War II and decided to join the expansion by building Northland Center, at Greenfield Road and M-10.
Ground broke in 1952, and, at the time of its opening in 1954, Northland was the largest regional shopping mall in the world. Of course, the cynosure of the center, which was designed by Victor Gruen, was the four-level Hudson's, but the area was also adorned with attractive sculptures, landscaping, fountains, and many other attractive, albeit smaller, emporiums.
The area maintained an open-air atmosphere for years, but the mall was enclosed in the 1970s.
When this photo was taken shortly after opening, Northland was a major destination, swarming with shoppers. But gradually, it lost its luster.
Soon, Hudson's opened outposts at Eastland, Westland, and Southland. Then the population migration moved farther away from the inner-ring suburbs.
Northland, so popular when it opened, waned precipitously, so much so that by 2015, it shuttered. At press time, the grand old place was being dismantled. But Christmas? It steadfastly endures.