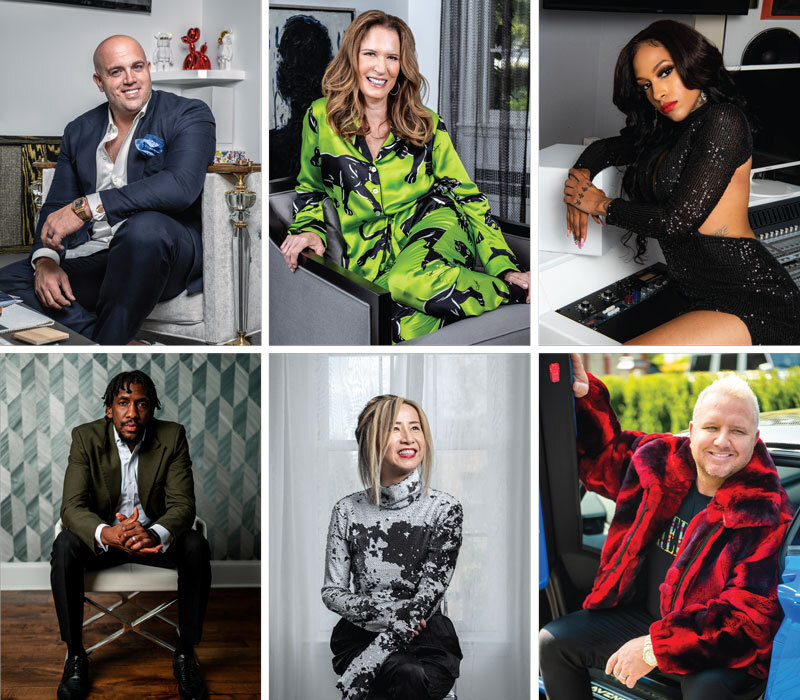 We identified our annual crop of Best Dressed metro Detroiters and asked them about their COVID style. What we found: Their flair has not been hampered by the pandemic. Some say they're a bit more casual now, while others confess to getting decked out just to go for a ride. In any case, this stylish crew still knows how to get dressed up — even when there's no place to go.
2020 Best Dressed List 
---
Elyse Foltyn
Occupation: Chair, Museum of Contemporary Art Detroit, mom of seven with two sets of teenage twins still at home. Perpetually working on writing a book. Retired chief marketing officer and financial executive.
Favorite charity: Museum of Contemporary Art Detroit, of course. In addition to exhibiting work by internationally renowned artists, MOCAD provides a venue for artists who might not be known and might not otherwise be shown. 
Fashion style: I love to wear clothing that at first glance may appear typical but then reveals surprising details in fabric or design or is more casual/athletic than you initially recognize. 
COVID style: More casual. More relaxed. Less fussing around with clothing, shoes, hair, and makeup. I don't think I've touched a blow-dryer since COVID took over our lives. I'm wearing more jumpsuits, casual pants, and leggings (again!) during the day. Silk pajamas and cashmere sweatpants usually fit the bill at night.
Favorite designer: Dries Van Noten
Favorite store: Always Linda Dresner, Birmingham.
Fashion hero: Linda Dresner. She has it all: experience and an eye, a heart, a soul, and a lady. She travels constantly and never takes more than a carry-on. Plus, she is the greatest asset to me at MOCAD. I try to include her in every meeting. She has become my absolute best Zoom friend. Linda is perpetually a reasonable thinker.
Clothing obsession: Shoes. Must be great looking and comfortable. Given that David [attorney David Foltyn, her husband] and I have two sets of twins, we have always bought lots of shoes. But, especially for our children, good-fitting and high-quality shoes are a must. I'd bet we were Stride Rite's No. 1 customer, at one point.
Fashion advice: Listen to Linda Dresner and wear what is comfortable — like a second skin. Otherwise, you will never wear that piece again. The bad news is I have given away too many pieces of clothing that still bear price tags. The good news is we have five daughters, and one of them usually fits into the clothing I'm giving away.
---
Langston Galloway
Occupation: I'm a professional athlete for the Detroit Pistons; entrepreneur with my own startup, LG Kicks; tech investor; and family man. I've had the opportunity to partner with my wife [Sabrina Galloway, who appeared on last year's Best Dressed list] to start our own charity, The Langston Galloway Foundation, which enriches our youth in health, wealth, and well-being.
Fashion style: My fashion style is very distinguished and versatile. I really can make nothing into something. I love being different when it comes to my style. I try not to dress branded, but Black-owned and under the radar.
COVID style: COVID hasn't changed my style much, but there are different brands that I'm rocking with now. I have some of my own branded gear, and I like supporting brands that are on the rise.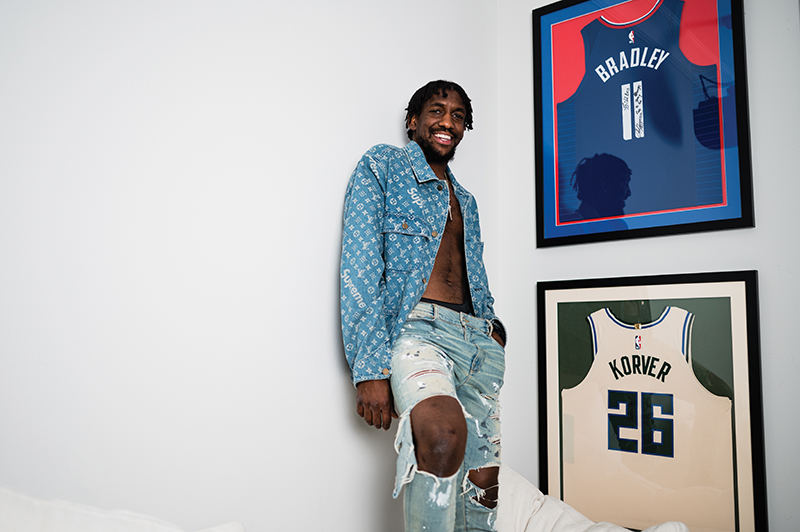 Favorite designer: My favorite designers right now are Amiri, Thom Browne, Fabletics, Dandy Detroit, and Todd Patrick.
Favorite stores: Blue Sole Shoes and Dandy Detroit
Fashion hero: My fashion heroes are Spike Lee and Dapper Dan.
Fashion obsession: My obsession is my sneaks.
Fashion advice: My fashion advice is wear what you want and enjoy whatever style you're comfortable in.
---
Anabelle DiPilla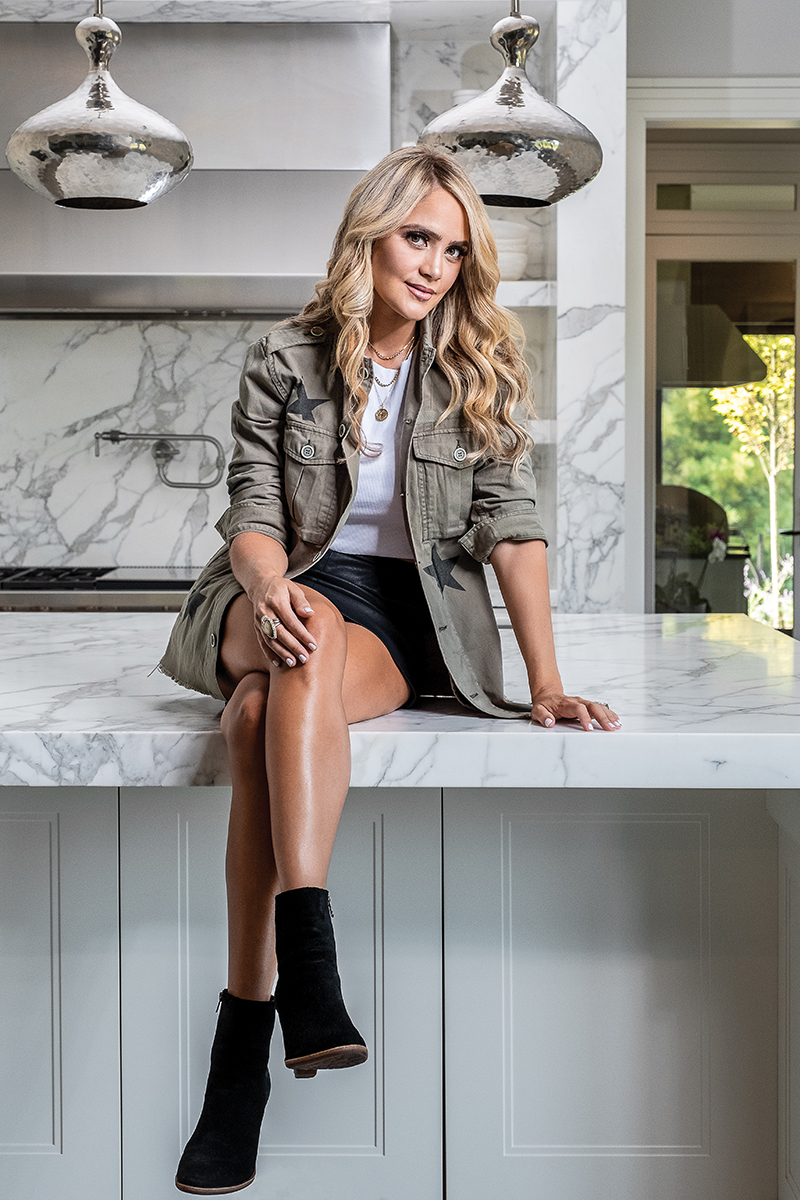 Occupation: Vice president of national accounts at Megatel Capital Investment 
Favorite charity: My husband [celebrity cosmetic dentist Robert DiPilla, who appeared on the Best Dressed list in 2017] and I are avid supporters of two local charities: NF Forward, which raises awareness and capital to end neurofibromatosis, and the Crohn's and Colitis Foundation, which is near and dear to us. We have chaired and co-chaired the Spring into Style fashion show and have been involved with this event over the last 10 years.   
Fashion style: I'm originally from the Dominican Republic, a country where people dress up even to go to the grocery store. My style is very feminine and elegant, with a hint of sexy. I'm very "girly." I love wearing dresses, skirts, and heels. Like a good Latin girl, I tend to choose formfitting outfits, but I can also rock some jeans and high-tops with an oversized sweater if I'm strolling around with my kids. 
COVID style: What style? I honestly made a point to dress up once a week during quarantine to lift my spirits. My husband would look at me coming down the stairs and would just shake his head. Then I would make him take me out for a car ride. 
Favorite designer: I am not a huge fan of fashion that breaks the bank, and because of that, I honestly don't follow any designer in particular. I shop everywhere and buy anything that looks good on me. Then I enhance it with nice shoes and accessories. If I had to name one designer, I really like Skazi, which is a Brazilian brand sold mostly through boutiques. For shoes, I love Aquazzura and Sophia Webster. 
Favorite stores: I shop mostly online at Saks, Revolve, Forward, Intermix, and ASOS, but my favorite local boutique is Lola B. Couture in Birmingham. I also do a lot of my shopping in the Dominican Republic. 
Fashion hero: As a fellow Dominican, Oscar de la Renta is someone I've always admired. Not only was he extremely talented and showered the world with his fabulous, classy, and timeless designs, but he was also really humble and a true philanthropist. I remember being a young girl admiring the ladies wearing his designs. 
Fashion advice: The most important element of a great outfit is a good fit. This advice goes especially to the ladies. Stay true to your size! My second piece of advice is to be selective with how much skin you show at once. You can always be sexy while remaining classy. 
---
Liz Jones
Occupation: Owner and Pilates instructor at Lizadore Pilates 
Favorite charity: The Pure Heart Foundation is a community-based nonprofit organization in Detroit that offers therapeutic, emotional learning and embracing experiences for children of incarcerated parents. My husband [Detroit Lions linebacker Christian Jones] and I got involved with the foundation because of his personal experiences, and we fell in love with the kids there and the mission.    
Fashion style: My fashion style is a blend of streetwear mixed with luxury fashion. I like to mix high and low — so, vintage or thrifted — paired with modern designer pieces. 
COVID style: I'm usually teaching Pilates, so on a typical day I'm wearing leggings or sweatpants and an old baby tee. So COVID hasn't changed my style that much. When I do get the chance to go to dinner or step out during this COVID era, I like to dress up and make a statement in a bold color, statement jewelry, or mixed textures.    
Favorite designers: Alexander Wang, Jacquemus, Fenty, Amina Muaddi, Helmut Lang, Dior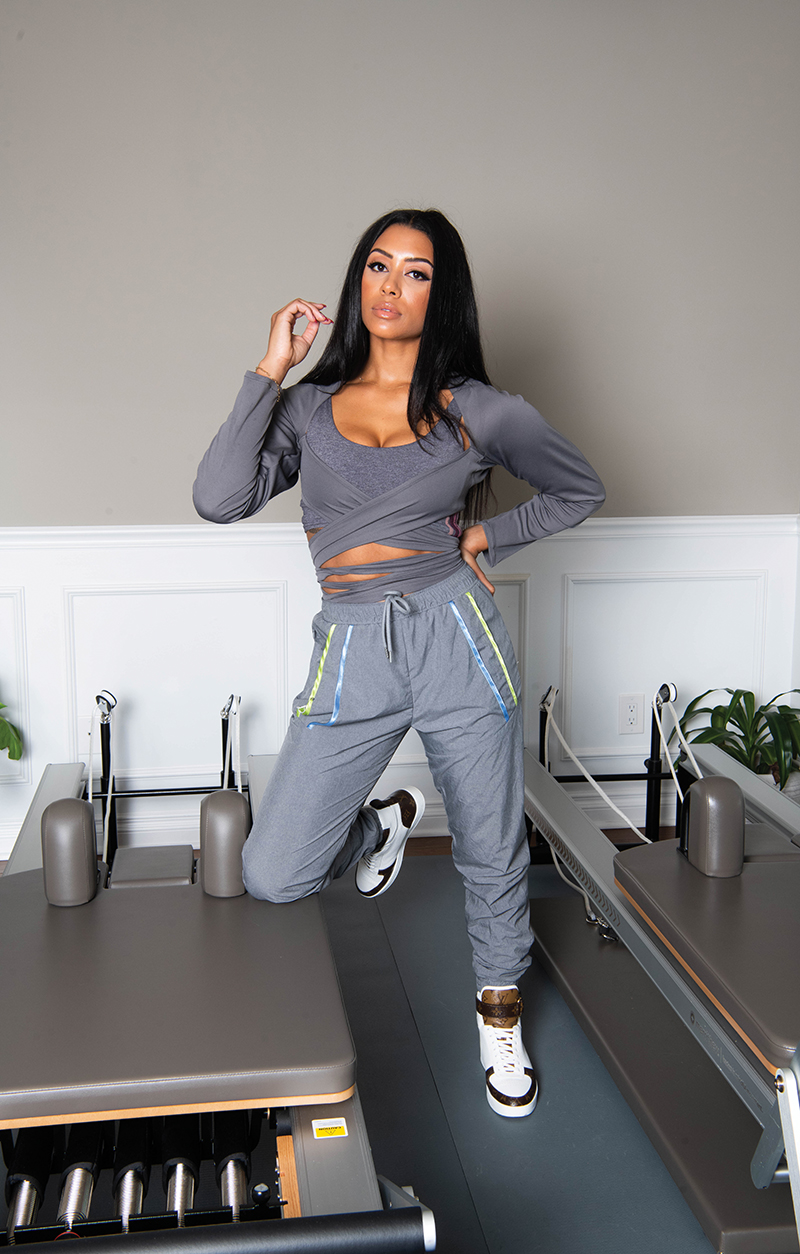 Favorite stores: American Rag Cie in L.A. My husband and I will go there once a year and stock up on unique pieces and vintage Levi's galore. I'm obsessed. Locally, I love Saks Fifth Avenue. Mary, one of the stylists at Saks in Troy, is the bomb. 
Fashion hero: Kristen Noel Crawley, Zoë Kravitz, and Sami Miro. I love seeing young, Black women unapologetically doing their own thing in the fashion world. 
Clothing obsession: I'll definitely splurge the most on an investment piece, like a designer handbag. Sometimes I'll style my entire outfit based on that bag. That one piece will totally elevate the rest of your outfit — even if your outfit was inexpensive or thrifted. 
Fashion advice: When shopping for your man, always grab pieces that you can also wear. But seriously, dressing well is so accessible now with all of the fast-fashion options out there, like Forever 21 or Fashion Nova. You can take inspiration from the runway and put your own spin on it for less without breaking the bank.
---
Jocelyn Chen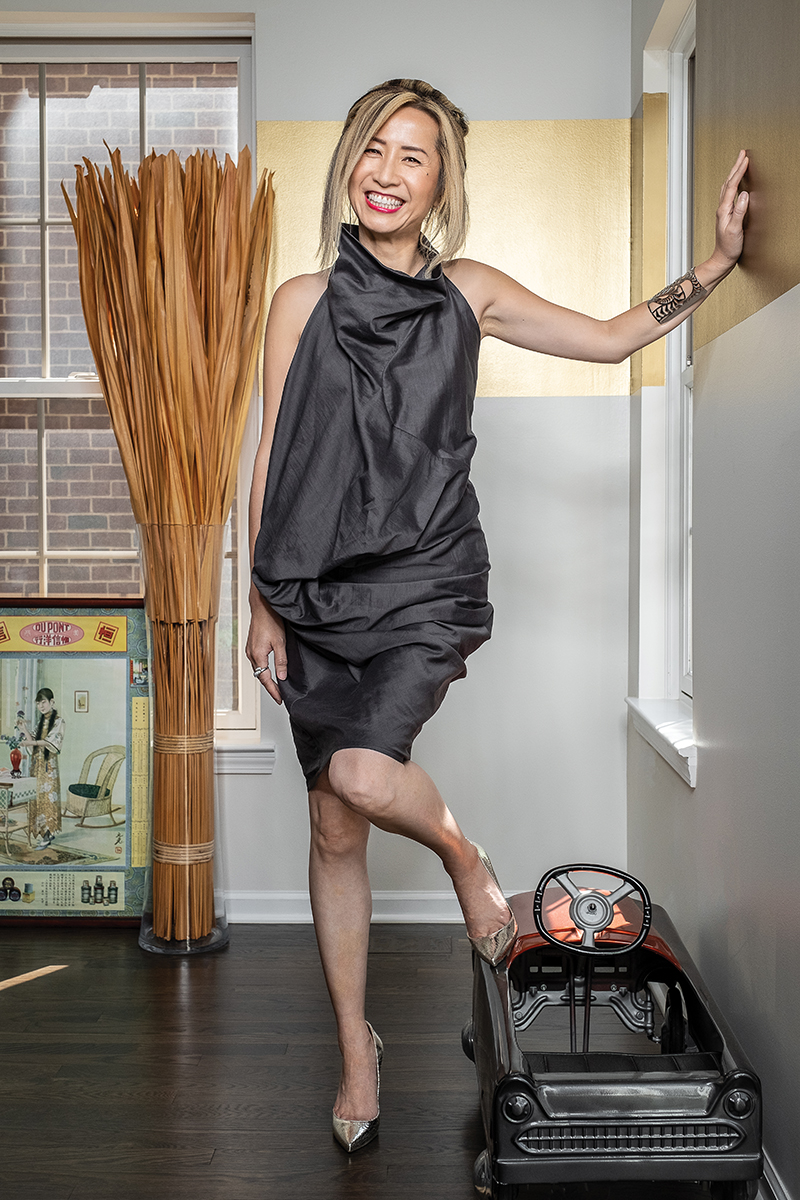 Occupation: Founder and executive director of DESIGNCONNECT
Charity: My favorite charity is the nonprofit I founded, DESIGNCONNECT, which provides career pathways in creative design for inner-city middle and high school students. My experience in the design industry, belief in the power of education, and love for visual arts led me on a path to connect students and create access to the creative design field through exposure, mentorship, and financial assistance. 
Fashion style: I would describe my style as "sculptural avant-garde." I'm attracted to designs that push the boundary between clothing and art, that feature bold yet balanced sculptural qualities. It's natural that I'm drawn to innovative designs that challenge and intrigue my aesthetic impulses. 
COVID style: Honestly, I haven't been paying much attention to how I dressed during the pandemic. Maintaining a high level of professionalism in every aspect, including the way I dressed, was the focus as we pivoted our programming to the virtual world.
Favorite designers: Rick Owens, Maison Margiela, Yohji Yamamoto
Favorite stores: Stores that feature innovative and unique designs, such as Dover Street Market in London and L'Eclaireur in Paris. Each of L'Eclaireur's three Paris locations is unique in its curation of clothing brands and features interior designs that enhance the curatorial theme.
Fashion hero: I admire those everyday fashion heroes who make bold statements about themselves through the way they dress and are completely confident about it, even if their choices are not appreciated by everyone.
---
Jayson Waller
Occupation: CEO of Powerhome Solar and host of the True Underdog podcast
FAVORITE CHARITY: Toys for Tots (we donated $50,000 and 2,000 toys this past Christmas for kids in Detroit)
Fashion style: Custom sport coats with pop culture graphic tees of hip-hop or rock 'n' roll from the '90s, with designer jeans, designer belts, and designer shoes. One button buttoned.
COVID style: COVID has prompted me to wear more jorts (jean shorts) with the pop culture graphic tees and designer jeans, designer belts, and designer shoes.   
Favorite designers: Cicchini Custom Clothier in Birmingham. Also, Gucci, Louis Vuitton, Golden Goose, Joe's Jeans, Dolce & Gabbana, and Yeezy. 
Favorite stores: Cicchini Clothier, Nordstrom, Saks Fifth Avenue 
Fashion inspiration: Myself. I put my own looks together with my wife Elizabeth's help. I don't want to look like anybody. I like to be a trendsetter. My most extravagant purchases include my iced-out AP [Audemars Piguet] or Rolex watches. All diamonds.
Clothing obsession: Shoes! I have about 109 pairs — Christian Louboutin, Gucci, Golden Goose, Dolce & Gabbana, and more.
Fashion advice: My advice is to mix it up and be yourself and be bold. I think if you want to stand out, then stand out by being bold and different yet fashionable. Bam!
---
Neisha Neshae
Occupation: Singer, songwriter, entertainer, actress
Fashion style: Classy with a taste of street
COVID style: Since COVID, I've been connecting more with myself through the way I dress. I've always worn a lot of black (something I'm trying to get out of). Now I figured instead of dwelling on my love for black apparel, I'd just make sure all my black outfits are fire.
Favorite designer: I've never been too much into designer clothing. As long as it fits well and feels good to me, it doesn't really matter what the name brand happens to be. It all looks fly on me! Designers I'd love to work with, though, include Donatella Versace, Kanye West, Virgil Abloh, Michael Costello, Angel Brinks.
Favorite store: I love custom gear. Can never go wrong with Saks Fifth Avenue and online shopping. 
Fashion hero: I've always been inspired by Missy Elliott's style. 
Clothing obsession: I'm extravagant with dresses for sure.
Fashion advice: Dress how you want to dress — whatever feels good to you. It doesn't matter what people think about how you express your style as long as you're happy.
---
Nicole Blank Becker
Occupation: Sex crimes attorney 
Fashion style: Fashion for me is all about my mood — it's a reflection of how I'm feeling that day. Typically, I prefer to be dressed sleek and sassy throughout the day and comfortable and unconcerned at night. I will rock a timeless dress with a rocker T-shirt with studs on my shoes. Fashion always reflects who I am. 
COVID style: COVID-19 definitely changed my fashion direction. At the beginning of the lockdown, I started wearing a lot of matching sweat outfits, less makeup (if any), and less hair preparation (ponytail). I put fashion by the wayside. But eventually, I glammed myself up, even if it was for a court hearing via Zoom. I look at it like this: Life is a journey and you never know who you may meet along the way. Therefore, I'm committed to being the best fashionista I can be. 
Favorite designers: Dolce & Gabbana for my dresses (both work and fun), Chanel for my purses (what else is there?), and I will dabble in Philipp Plein for my husband (I love a skull or two). 
Favorite stores: I love the stores in Italy. Those stores, hands down, have the most impeccable shopping I have ever experienced. I'm old-school. I like to feel the texture of the clothes and try them on. I could probably out-shop most of Michigan. 
Fashion hero: My husband [Justin Becker, who was on last year's Best Dressed list] is quite the fashionista. He actually asks me before we go out at night what I'm going to wear so he can match me. His style is over the top, so he inspires me to go outside the box sometimes. 
Clothing obsession: My dresses. All I want to do is parade around in a princess dress for life. I recently purchased the most amazing D&G pink princess dress but unfortunately have nowhere to go in it … not yet. 
Fashion advice: Great fashion isn't all about the cost of the item — it's all about your mood when you're wearing it. Forget what people may say. Live in a "no judgment" world and be your best you.
---
Jeremy Sasson
Occupation: Founder/CEO of Heirloom Hospitality Group, owners of Townhouse Birmingham and Detroit, Prime + Proper, and the soon-to-come Sauce. 
Favorite charity: Forgotten Harvest. I love the energy and tenacity they have to feed those with less. They are a true hospitality company. 
Fashion style: I dress to impress myself (and my wife, Aly, of course). My style and fashion choices tend toward polished but still edgy. I like wearing clothes, shoes, and accessories that are timeless, but they have to have a little flair. You might catch me in a custom-made gold sport coat and black Amiri suede boots, or a Dior tracksuit and Off-White x Air Jordan sneakers.
COVID style: The pandemic has not really changed my style. Maybe just more online shopping, if anything. 
Favorite designers: Stefano Ricci, Tom Ford, Dior, Mike Amiri, Greg Lauren, Saint Laurent, Fear of God, custom suits by The Birmingham Tailor 
Favorite stores: Revive, Kith, Mr Porter, SSense, Union, StockX 
Fashion hero: James Bond (for polish) and Lenny Kravitz (because he gives no F's) 
Clothing obsession: Shoes and watches. As far as shoes, I have too many, yet there is always room for a few more. I enjoy all types of boots; fashion sneakers; Air Jordan III, IV, V; and the occasional loafer or slipper. For watches, I collect and enjoy mostly Patek Philippe, Audemars Piguet, Vacheron Constantin, and a few others. 
Fashion advice: Dress to your genuine personality. That will never go out of style. 
Back to the top