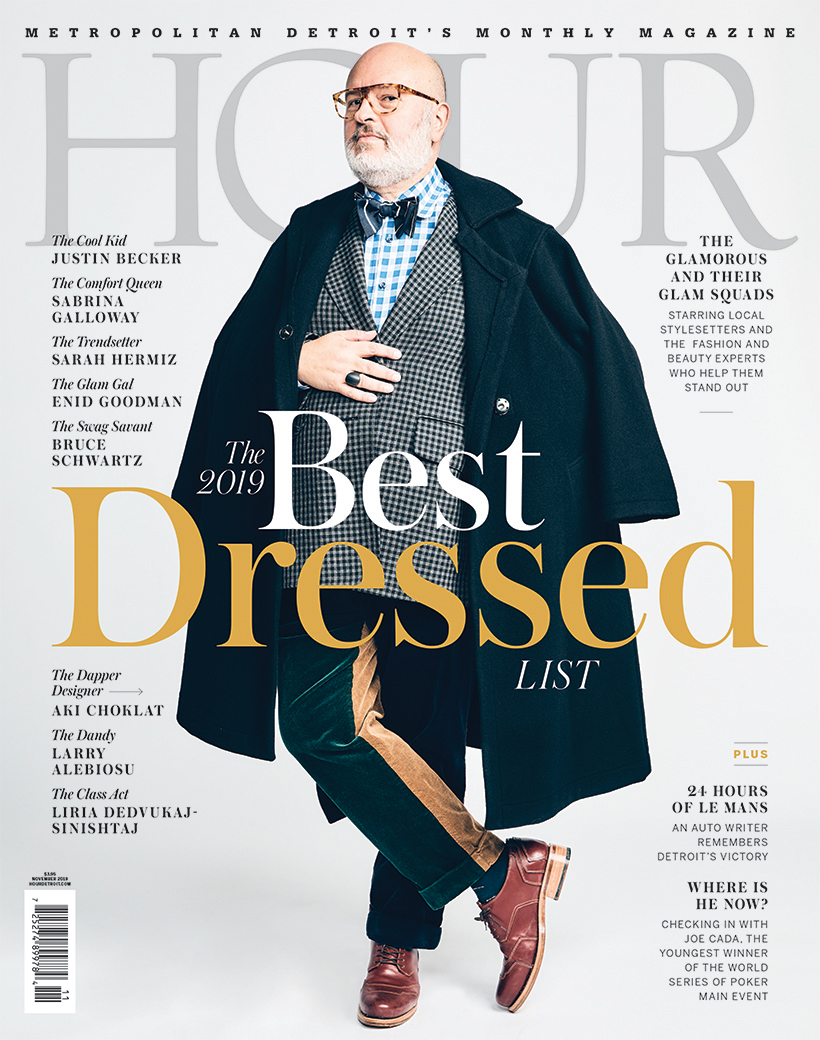 Each with their own distinct style sensibilities, the 2019 Best Dressed winners divulge the sartorial principles that govern their day-to-day style and celebrate the fashion and beauty teams that help them look their very best.
THE 2019 BEST DRESSED METRO DETROITERS
---
with hairstylist Dezi Santiago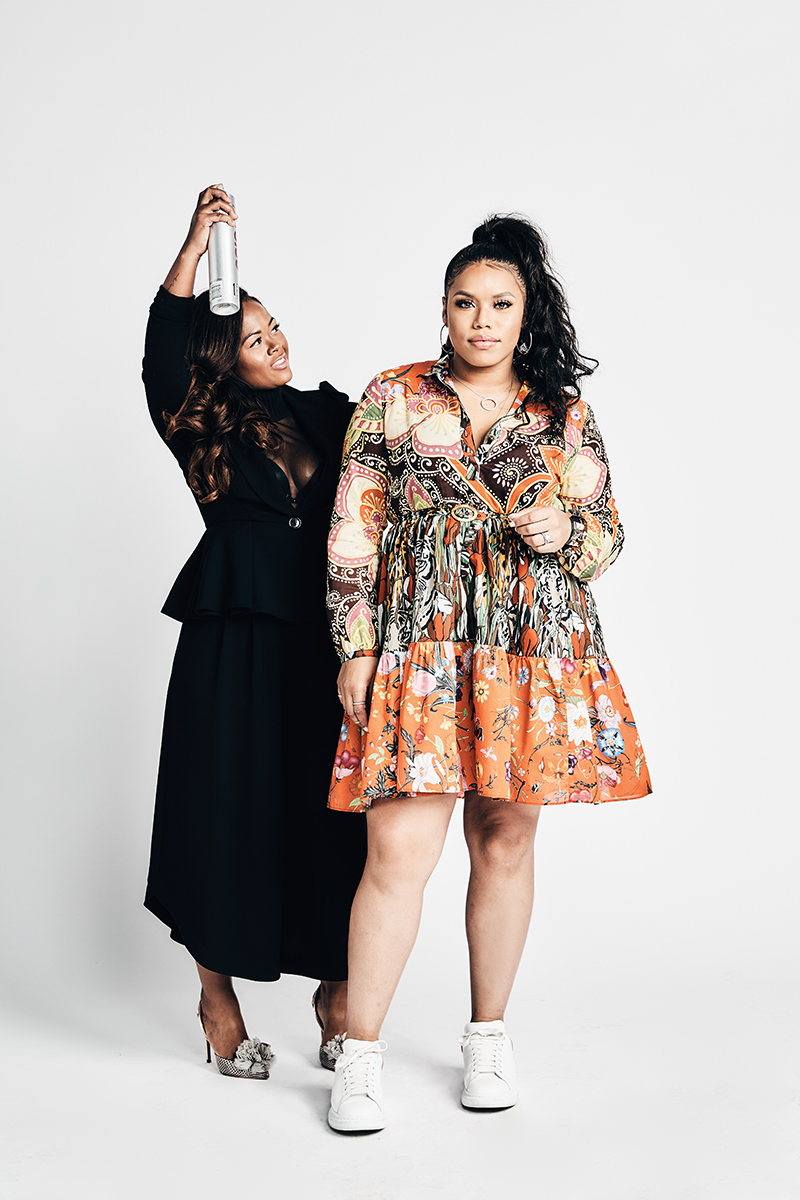 Look good, feel good is Sabrina Galloway's style mantra. "I feel inspired when I find the perfect comfortable-but-cute outfit," she says. "I love a polished look that can be dressed up or down especially because my day can consist of several different audiences."
Galloway says her style is classic and fun, and most importantly, comfortable. "Being a mom, a wife, and an entrepreneur, my life is on the go," she explains. "You can catch me in the carpool line or at a meeting with a client. Maybe overdressed, but with sneakers."
Chanel is Galloway's favorite designer. "Anyone who knows me knows that I love Chanel — I also love a good bargain," she says. "I love to mix highs and lows because no one needs to go broke over fashion." She shops at Saks Fifth Avenue, Zara, and online at Asos. Her favorite local shop is Rotate Boutique in Bloomfield Hills.
When dressing for special occasions, her husband, Pistons shooting guard Langston Galloway, gets first look. "Then I go to my group message of friends," she adds. "I like to get both opinions, but in the end, I go with my gut." Galloway relies heavily on her glam squad, a group of pros who put the finishing touches on her looks. "They get me right every time and try to push me outside of my comfort zone with different looks. I couldn't do it without them."
You can find Dezi Santiago at Sway'd Style Lounge, 600 N. Old Woodward Ave., Ste. 101, Birmingham; 248-646-7929; swaydstyle.com.
---
with barber Ted Rousos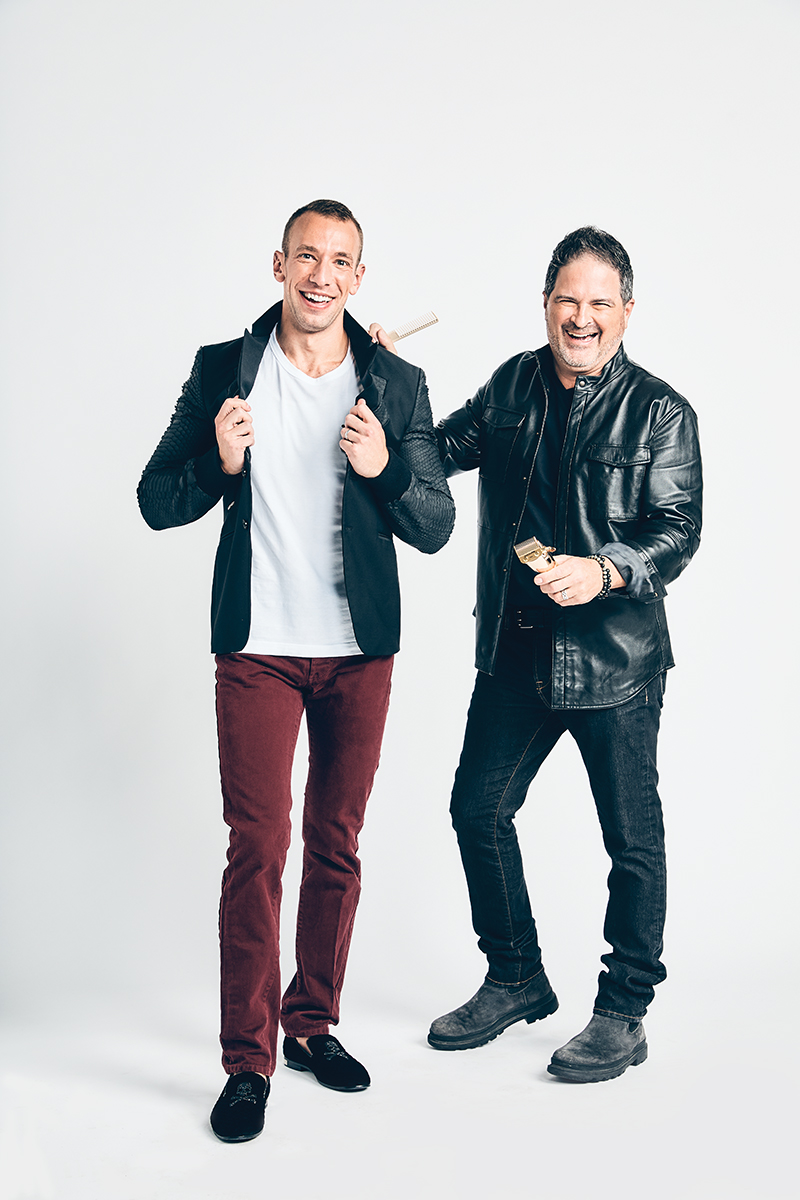 About two years ago, Justin Becker's wife, attorney Nicole Blank Becker, told him he dressed far too boring for her taste. "She started showing me some different designers that she liked, and with the addictive personality that I seem to have, my style started to take a life of its own," Becker explains.
Among some of Becker's many favorite designers are Dolce & Gabbana, Gucci, and Philipp Plein. "One of the designers my wife introduced me to was Philipp Plein," Becker recalls. "I went on the website, and I've been hooked ever since. I even got to meet him earlier this year when we were invited to his fashion show in New York City. I haven't washed my hand since."
He likes to dress "out of the box," wearing pieces he hasn't seen before. "I like having fun with fashion," he says. That translates into crafty, whimsical T-shirts teamed with vibrant, highly detailed jackets and a killer collection of shoes.
Becker says he does 95% of his shopping online at sites like Farfetch and Yoox. His fashion team consists of his wife, his tailor, Ali Cheaib, and his barber and friend, Ted Rousos.
You can find Ted Rousos at Fringe Salon, 33000 Northwestern Hwy., West Bloomfield Township; 248-539-2211.
---
with shoe designer Tom Carbone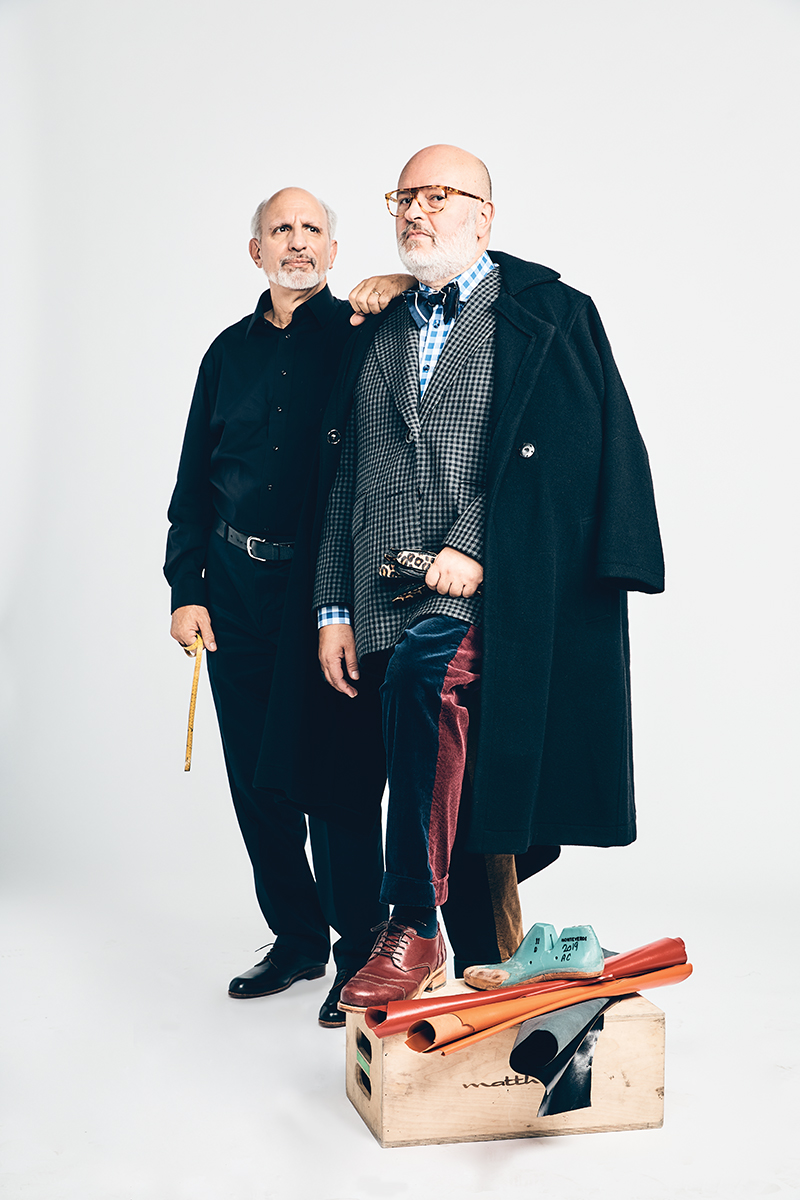 Behind every great look is great detail for Aki Choklat, whose fashion sense is inspired by history. "Clothes and accessories were so much more interesting [in earlier years]," he says. His style is eclectic, mixing menswear with womenswear and utilizing various historical references.
"I shop exclusively at Linda Dresner in Birmingham," he continues. "She always has unisex styles that fit me — Yohji Yamamoto, [Maison] Margiela, Balenciaga. I'm very happy that I live a few blocks from her store. For my shirts and tailoring needs, I go to Mohammed Kalam at Crown Custom Clothing. He used to run fashion businesses in New York's Garment District. So, he gets fashion. For bespoke shoes I go to Tom Carbone. He has my measurements and a last [a foot form for shoemaking] made for me." 
Michael Grayer at Linda Dresner is his pseudo fashion consultant. "Michael is always a good person to go to for advice. He knows what I like and what works." Choklat's heroes include Mariano Fortuny, David Hockney, Sergei Diaghilev. "From present day, I love Hamish Bowles' style. He's always flawless."
You can find Tom Carbone at College for Creative Studies, 201 E. Kirby St., Detroit; 313-664-7400; collegeforcreativestudies.edu.
---
with jeweler George Khalife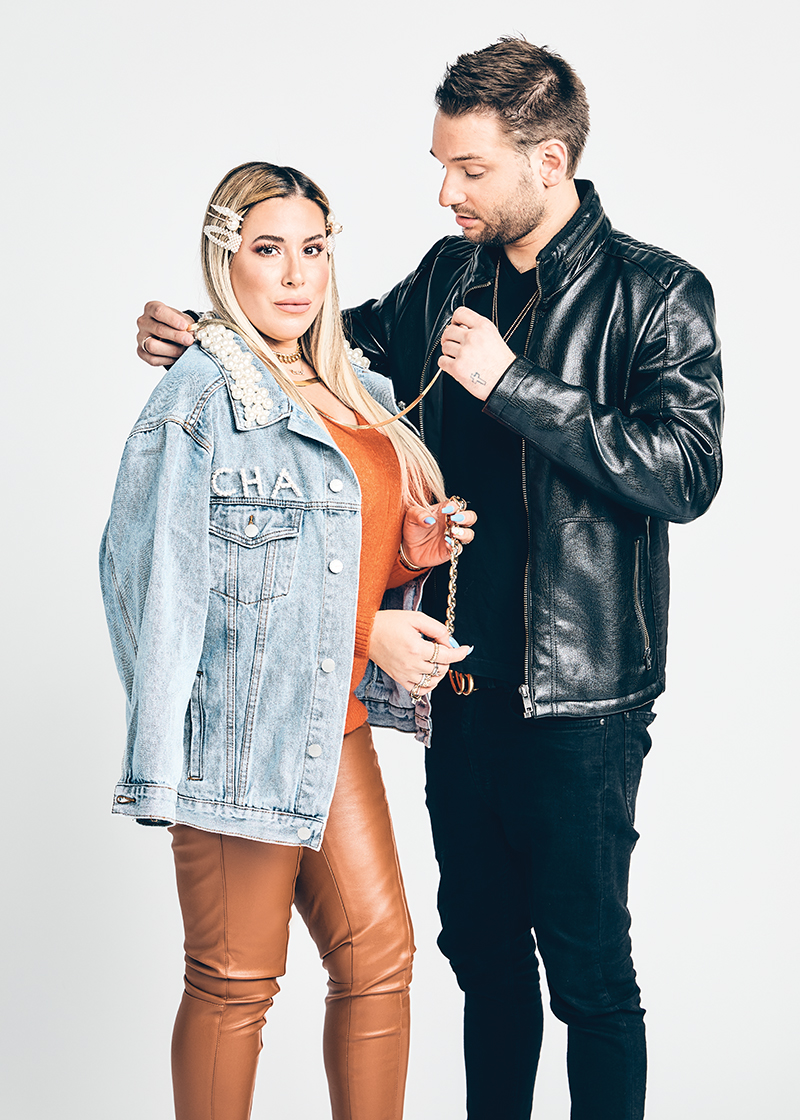 Sarah Hermiz gets ideas for her looks by observing the latest trends during New York Fashion Week. "I go to as many shows as I can," she explains. "I pick out the colorful things, and I mix and match them to achieve my own personal style."
These days, Hermiz gravitates toward anything leather, heavily accessorized with jewelry and hair clips. "It's sort of funky, New York street style," she says. Her favorite designer brands are Alexander Wang, Gucci, and Louis Vuitton. She enjoys shopping at Saks Fifth
Avenue and Intermix at Somerset Collection.
With more than 100,000 Instagram followers, Hermiz delights in sharing her style ideas. Rihanna is her fashion idol. Although she has people who help her get dressed for special occasions, she doesn't have an actual glam squad. "I do, however, look to Georgie for his
input," she says, speaking of her friend, George "the Jeweler" Khalife. "He's my best friend and his opinion is always the ultimate." 
You can find George the Jeweler at Gold Corp. Inc., 21600 Greenfield Rd., Ste. 100, Oak Park; georgethejeweler.com.
---
with photographer Bre'Ann Whlgn and stylist Sean Stoudemire
"This city inspires me and my fashion," says Bruce Schwartz. "That's high fashion and streetwear. A hat, glasses, and my two watches; a Shinola on my left to rep my city and an Apple Watch on my right to make sure I hit 20,000 steps a day."
Schwartz is a fan of the way Mick Jagger dresses ("What a fashion legend," he says). "I also dig Rick Williams' style from Distinct Life and Burn Rubber, but I have to say, it all started with my parents. I loved how they weren't afraid to push boundaries and express themselves through their outfits even though it was in the '70s and '80s."
His favorite designers include Louis Vuitton, John Varvatos, Virgil Abloh of Off-White, James Jebbia of Supreme, and Jessica Mindich of Caliber Collection. He shops at Shinola, StockX, Henry the Hatter, Heritage Optical, Lululemon, and Détroit Is the New Black. "I've also found great Detroit brands at Eastern Market and the Cadillac Square Markets, where up-and-coming entrepreneurs like Oaklin, from Good Boy Clothing, sell their products."
As for his overall style sensibility, for Schwartz, comfort is king. "When it comes down to it, I'm the one who needs to feel comfortable in what I'm wearing when I walk out the door. However, if I am looking for feedback on an outfit, I'll go to my wife Jessica, good friend Sadelle Moore of StockX, Sean Stoudemire with John Varvatos, or Bre'Ann White [Whlgn]. They all have swag!"
You can find Bre'Ann Whlgn and Sean Stoudemire at breannwhite.com and John Varvatos, 1500 Woodward Ave., Detroit; 313-437-8095; johnvarvatos.com, respectively.
---
ensemble designed by dressmaker Elizabeth Blascyk
Enid Goodman's look is glam, edgy, and funky. Her inspiration, first and foremost comes from her husband, Gary Goodman. "He can look on a rack and pull things for me I wouldn't even notice, and nine times out of 10, they're winners," she says. She also turns to high-end runway shows and pages through fashion magazines for ideas. "Then, I put them together my way."
Some of Goodman's favorite designers include Gianni Versace, Alexandre Vauthier, and Flavio Castellani. She does much of her shopping at small boutiques and online at Forward by Elyse Walker, Farfetch, and Revolve. "My dressmaker, Elizabeth Blascyk from New Look Custom Sewing in Orchard Lake is also a style visionary. She can reimagine a dress or pantsuit and improve the style over and above the designer."
Goodman's fashion hero is her mom, Lillian Schwartz. "She never leaves home without full makeup and hair, and she still wears high heels in her wheelchair." (At press time, Lillian Schwartz is 101.)
"I like wearing statement pieces like a large earring or an oversized belt buckle to balance the look. And you'll never find me in a flat shoe. I love my platform YSL sandals in the summer and a pair of high-heel boots the rest of the year. In my next life, I hope to be taller — and blonder."
You can find Elizabeth Blascyk at New Look Custom Sewing, 4123 Orchard Lake Rd., Orchard Lake; 586-770-0238. By appointment only.
---
with hair stylist Neta Lulgjuraj and makeup artist Fjolla Berishaj-Ivezaj
Liria Dedvukaj–Sinishtaj has an affinity for timeless fashion.  "I'm not a big fan of the
flavor of the day, seasonal, trendy styles, or trying to be different just for the sake of being different," she says. "I can go from casual, to comfy, to evening chic, but I always try to keep it simple — and a little sexy."
Her fashion hero is her grandmother, 84-year-old Maria Ivezaj. "She made my traditional [Albanian] costume called 'xhubleta' when I performed on stage for the first time at the age of 9," she recalls.
Dedvukaj-Sinishtaj is a self-proclaimed shoe fanatic. "I always pick my shoes before the rest of my outfit." When it comes to naming her favorite designer, she says, "At the moment, Tom Ford is killing it with shoes. Versace and Elie Saab with gowns, and I love Chanel bags."
She shops at Lost and Found Vintage in Royal Oak and has her gowns made by friend and couture dress designer, Katerina Bocci of Katerina Bocci Fashion Designs. For cool accessories, she depends on Vajzë by Valentina Juncaj. "When I can't make up my mind, thankfully, I have plenty of family members and friends that I can ask for help."
You can find Neta Lulgjuraj and Fjolla Berishaj-Ivezaj at The Beauty Lounge, 6381 Orchard Lake Rd., Ste. A, West Bloomfield; 586-690-1864; beautyloungesalon.com.
---
with tailor Hassan Yaseen
Larry Alebiosu's fashion sense is inspired by his Nigerian roots, the bright colors and boldness in African fabrics, and social life. His style is contemporary, yet classic, and his outfits are highly accessorized with unusual but crafty color combinations — and always impeccably tailored.
Alebiosu got his fashion savvy honestly. His fashion hero was his father, Tairu Alebiosu. "He loved clothes so much that he learned to sew and bought a sewing machine only for personal use," he recalls. "He was the king of coordination, hats matching clothes and shoes. He had a shoe cobbler that took his clothing fabric to make matching shoes. For Africa back in the day, that was revolutionary."
Alebiosu's favorite designers are Gianni Versace and Giorgio Armani, and he buys almost all of his clothes at his own shop, Fashion International Designs in Southfield. He says his staff is his fashion team. "Whenever I am not sure of a particular look, I turn to my staff of fashion experts at Fashion International."
You can find Hassan Yaseen at Fashion International Designs, 15614 W. 10 Mile Rd., Southfield; 248-552-8810; fashioninternationaldesigns.com.
---
Digital Bonus!
In addition to photographer Shayan Asgharnia's portrait of fashion designer and print cover star, Aki Choklat, the Hour Detroit team celebrates not just one, but all eight of the stylish honorees on the 2019 Best Dressed list with fashion-packed digital covers.
Facebook Comments