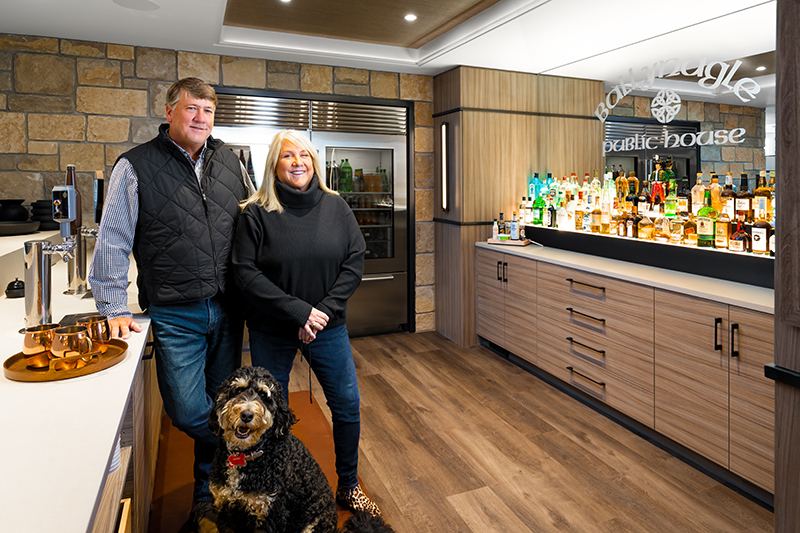 When building her current home, Colleen McInerney Nagle had the idea of creating what would be her second Irish bar in the lower level. She and her husband, Rob, incorporated one into their former home after being inspired by trips to Ireland to visit her relatives. "My grandparents were from teeny towns near Ennis in County Clare, and my cousins are still there," she says.  
But it's one thing to go on vacation, she says, and yet another thing to stay with the locals. 
"Rarely do you go into people's homes when vacationing to see how they live," Nagle says. "The things we experienced started resonating with me during a trip there with the kids when they were quite young." Her youngest child even made his first communion on Easter Sunday in a church where his great-grandfather once was a member. (The kids are now 28, 27, and 24.)
"After that communion celebration we went to the bar across the street," she says with a laugh. "The kids drank Orange Crush. It's quite something — people in Ireland are just always pulling out their fiddles, tin whistles, or bodhrans [drums]. They dance a jig, tell stories. I saw that everywhere — and in hotels just about every night. I was moved by that and wanted to create an Irish bar in our home." 
Her second Irish bar, now in her nearly 2-year-old home in Bloomfield Township, is much brighter than the family's first pub. To achieve the look for what the couple call their "Ballynagle Public House," Nagle worked with interior designer Marianne Jones of Marianne Jones LLC in Birmingham. 
While contemplating what she'll need to stock up on for the holiday season, she shared information about what she and Rob have collected over the years — and the newfound perks of the pub life. Says Nagle: "The great thing now is that with the kids grown, we don't have to lock up the booze."
A Closer Look at the Nagle's Irish Home Bar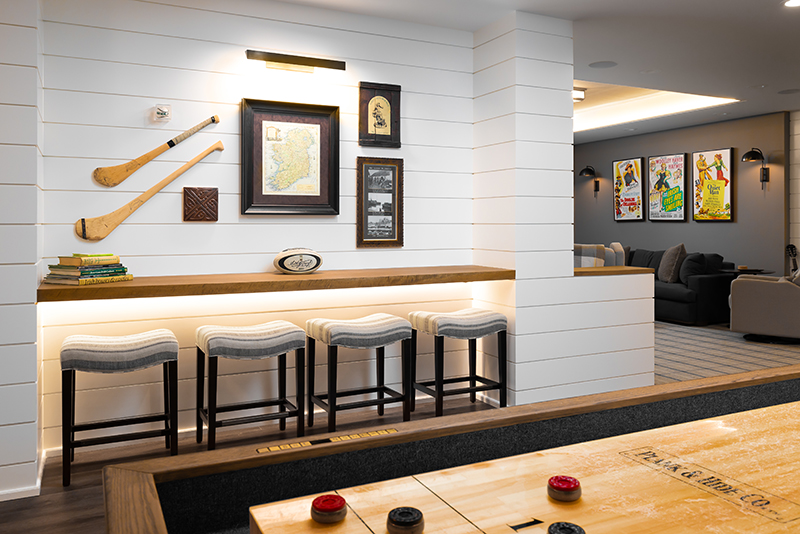 All in moderation
"Rob and I hardly ever drink. But when the kids are home and their friends are here, we go through it," Colleen McInerney Nagle laughs. 
Liquid gold
On a trip in Ireland a few years ago, Nagle and her cousins toured the Jameson whiskey distillery. "You can have your own labels printed onto the bottles, so I had one printed that says 'Ballynagle Public House.' I keep that bottle on display in the bar; we are saving it for a special occasion."
Creative crafter
Designer Jones and Nagle worked with Troy-based Perspectives Cabinetry to create the bar. "We actually used the same stone we used on the exterior of the home for around the bar
to give it a cozy feeling," Nagle says. The top of the bar is made of concrete.
On tap
"The kids and I designed beer pulls and gave them to my husband for his birthday." Bowie Brew, named after their dog, often has Modelo beer on tap; Elroy Ale and Little Orange Man are named after the family's orange tabby cats; the fourth says 'Rob Nagle, Est. 2020.' The house beer is usually Smithwick's (an Irish red ale-style beer). Nagle typically keeps two kegs on draft at a time during "drinking season," she says, "which is Thanksgiving through Super Bowl, and then summertime."
Poster posterity
In the theater room off the bar, several posters that feature Irish-themed movies — such as The Quiet Man and Irish Eyes Are Smiling — adorn the walls.
Stick to your theme
During a visit to Ireland, Nagle's cousin gave her husband and son hurling sticks (called hurleys) and balls to play with. The equipment now hangs on the wall in the pub. The sport of hurling is of ancient Gaelic Irish origin.
By the foot
Nagle's bar is a bit longer than 19 feet and is about 4 feet deep. "We jokingly call it the 'Nagle Long Bar."
---
This story is featured in the December 2021 issue of Hour Detroit magazine. Read more stories in our digital edition. And click here to see more metro Detroit interiors.