When the pandemic began last March and we all started spending way more time at home, a lot of us pledged to put all that shut-in time to good use with ambitious home improvement projects. Many sought to create welcoming — and more practical — living/working environments and opted to tackle their projects themselves because, well, having strangers in your home wasn't exactly following social-distance guidelines.
Alas, for most of us, our ambitions soon collided with reality, and our big DIY dreams fizzled. How many Zoom gatherings have we joined where the conversation went something like: "Well, we ripped out the tile and the carpeting in that storage space to create a cool home office, but there's this weird stuff underneath, so we're going to put the project on hold until …" Or, "The microwave broke, so Dad ordered one online and he decided to put it in himself. That was last April and we still don't have it installed because …"
But then there are the successes! Here, we meet some truly savvy hammer-and-nail folks who clearly know how to get things done. One year after the arrival of COVID-19, several homeowners offered to share their victorious DIY journeys. Each discovered that perhaps there were some minuscule home-front benefits — the sheerest of silver linings — to the blasted, incessant pandemic.
Game for Lounging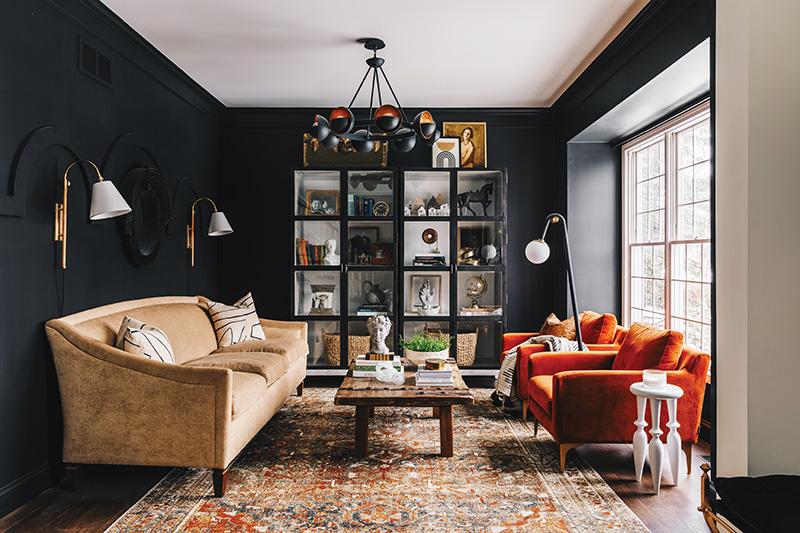 It wasn't that Haneen Matt didn't like her living room: She simply needed a change. "It was a pandemic and I wanted something different," the Canton resident says. "It had a Moroccan vibe and wasn't speaking to me. Knowing we'd be home weeks and months at a time, I wanted it to be cozy, warm, and modern." The family uses the space for reading and board games — or Matt enjoys a glass of wine there with husband Tarek. "There's no TV," she notes.
Besides bringing in new furnishings (and pieces from around the home), Matt, the mother of four children ages 7 to 17, put up unique arch-style molding. The arched molding harks to the 1990s, says Matt, an interior design aficionado who has more than 63 thousand like-minded followers on her design-centric Instagram feed (@haneens_haven). She found the molding at Home Depot. "It's basic trim work in the shape of an arch, so I decided to make a feature wall with three arches, one larger in the center and two smaller on either side."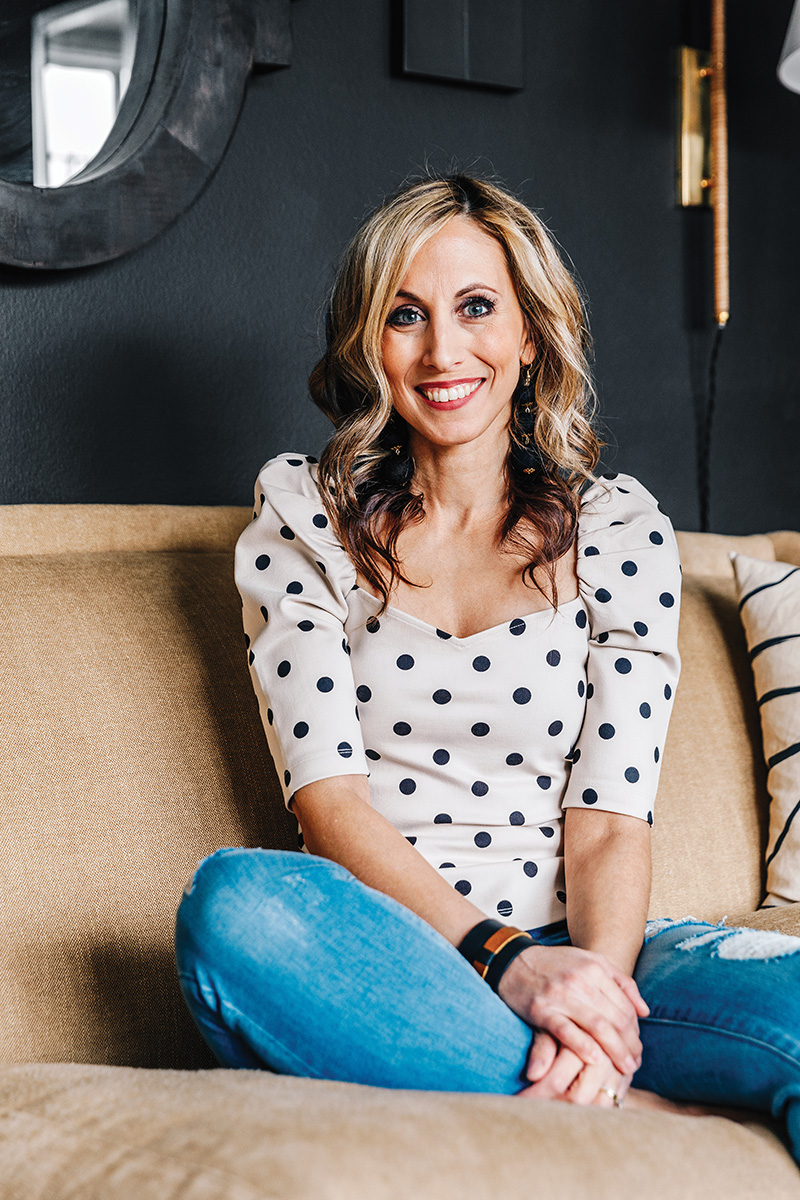 She and Tarek nailed them into the wall and then, using a miter saw and nail gun, Matt cut straight pieces to extend the look. 
She painted the whole room in Benjamin Moore's Jet Black so that it seemed three-dimensional. After mixing in a reclaimed wood coffee table, sconce lighting, table lamp, modern glass cabinetry with interior lighting, and more, the space is modern-chic. All of the lighting is from Hudson Valley. As for the new ceiling fixture, it's yet to be turned on. 
"It was a pandemic, so no electricians in the house. We hung it and it's for looks now. We'll wait to get it turned on," she says. The design fan also bought two orange chairs and a rug from Wayfair. Matt believes mixing wood (the coffee table) with steel and glass creates an inviting look. And so does a chess set, especially if it complements the decor. For the space, Matt spruced up her own chess set using interior paint and masking tape. She simply painted the pieces from her inexpensive chess set in Sherwin-Williams' Naval and Copper Mountain. She then sanded the board, taped the checkered areas off, and used Sherwin-Williams' Grizzle Gray and Dorian Gray coated with a Polycrylic finish to protect the coat. 
Matt renovates or redesigns various spaces in her home regularly, and Instagram followers (on haneens_haven) are crazy about her unique touches and keen eye for color. "My oldest kid says our house isn't normal," she says with a laugh. "And I tell her that's a good thing. I don't want it looking like every other house on the block. This is how I use my creativity and my art degree." 
Pink to Perfect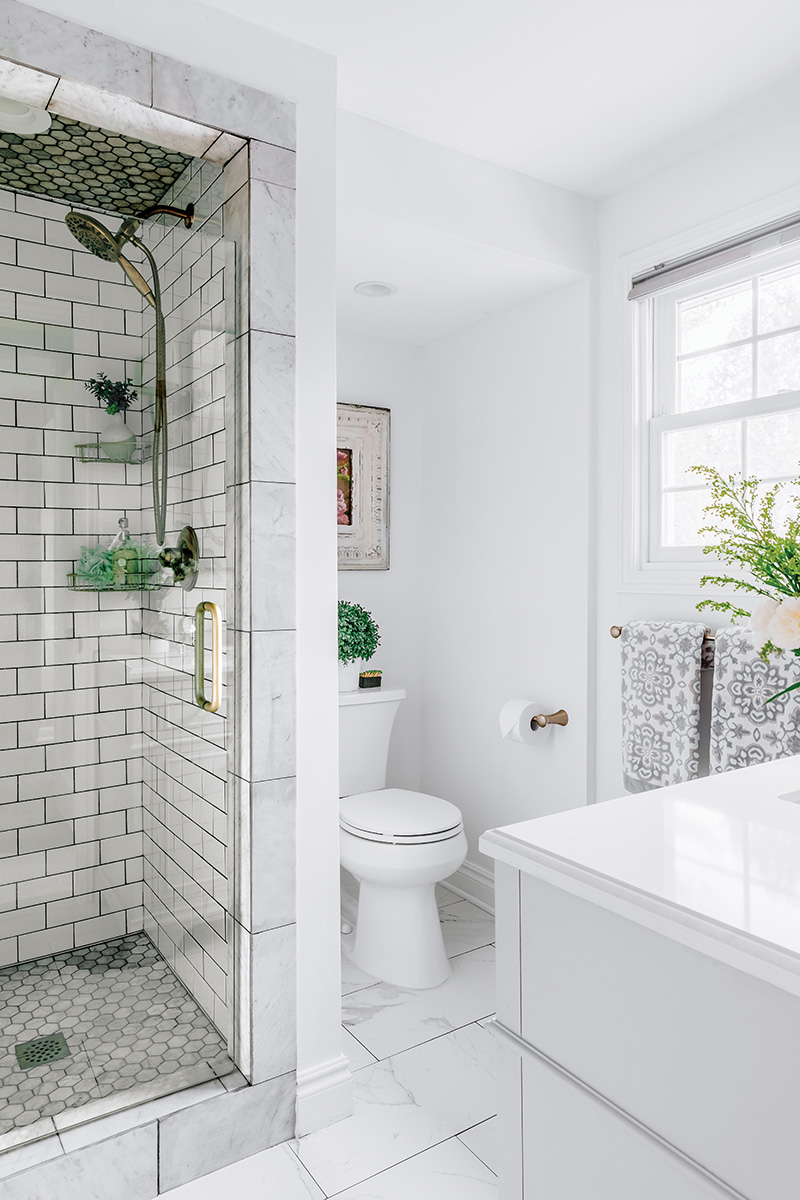 When Ashley and Collin Dickey, parents of two boys ages 2½ and 6 months, moved into their Birmingham home in 2019, they knew that at some point they'd need to update their pink(!) master bathroom. 
"It was a decades-old bathroom that needed to change," Ashley Dickey says. With both of them working at home beginning last March due to the pandemic, they each found more time to spend not only on thinking about the makeover task at hand, but also actually planning it and doing it.
"You can take breaks throughout the day, so that adds time in our lives, plus we used that time that we would use on commuting to our offices," Dickey says. Not going out at night or on weekends added loads of extra time too, she says. 
Both attorneys, the industrious couple finished their bathroom DIY project in November. "It was something to look forward to during the pandemic," Dickey says. "We wanted to make it more upscale but also make it fit with the style of our home, which is classic, and light and bright with neutral décor."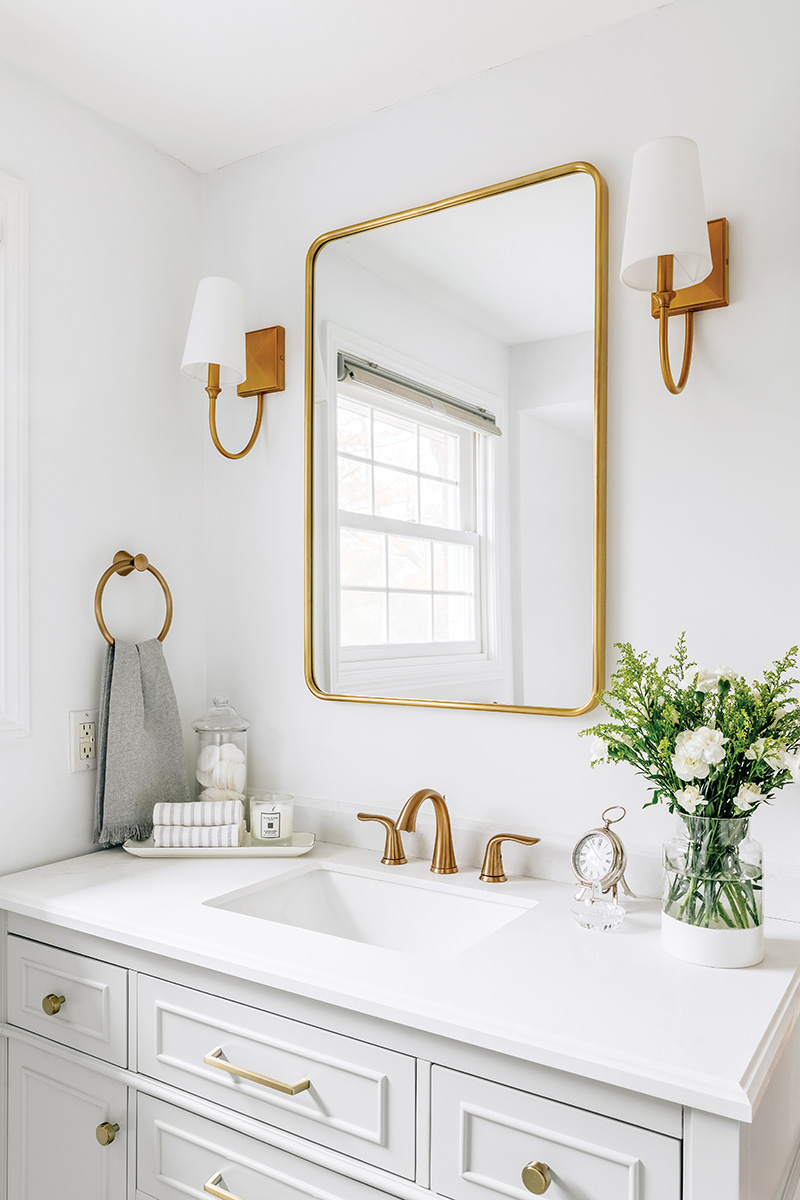 Chic changes included Carrera polished porcelain flooring (using larger tiles purposefully and placed to elongate the bathroom); hexagon-style Carrera marble for the shower floor, ceiling, and part of its exterior; and subway tiles with dark grout for the shower walls — all from Home Depot. An updated shower door with painted hinges in a champagne-bronze color to echo other new fixtures, plus new shower racks, shower faucet, vanity, sink, sconces, and mirror, all add to the beauty. 
Dickey, a design buff (see her Instagram feed at @lifestyledbyashley) whose side hustle has included staging homes for resale and redesigning small office spaces, painted the walls in Benjamin Moore's Chantilly Lace, which she used throughout her home. 
Contractor Patrick R. Byrne of Livonia did the demolition, plumbing, and tile work. "With time on our hands, we could really plan it out and shop smartly for items," Dickey recalls. "Collin painted all the trim, installed a new Kohler toilet, faucets, and fixtures, and took down the old finicky sconces and put up new ones. We learned so much — especially about electricity," she says with a laugh. "The mirror was so heavy Collin had to figure out how to hang it. Everything was pretty much self-taught." 
They stuck to their budget and the only big surprise was that the flooring beneath the old tile was in rough shape. "The contractor had to build a new floor," Dickey says. 
"Today, when I walk into the renovated bathroom, I feel like I'm in a hotel. It's fresh, clean, and bright."
Let's Get Moving!
In addition to their master bath, Ashley and Collin Dickey renovated a dingy basement space located off their laundry area. "It was dark and gross; we used it for storage for months," Ashley Dickey says. But when the pandemic hit and gyms closed, the couple craved a dedicated fitness spot. That space was just the ticket. 
Collin ripped out the carpet and they installed a foamy flooring that looks like wood grain — ACHIM interlocking tiles from Home Depot.
"They're tiles, sort of bouncy like what you see in gyms, and that was the perfect solution," Dickey says. They also painted the walls, hung mirrors and towel racks, placed inspiring decals from Etsy on a wall, and added a bench, speaker, and various pieces of gym equipment. 
"We shopped our own home for a lot of the items, which is easy, plus we didn't have to go to a store. That kept us safe," says Dickey. "We were so cooped up at home and with the kids constantly, so this little gym improved our minds and bodies." The biggest challenge? Placing the tiles, Dickey says. "The room is oddly shaped, so we had to cut and fit the square tiles so that the edges met perfectly. Of course, I wanted the wood look of the flooring to all go in one direction, which was tricky, but worth it!"
Cure for

 

the Curio
Dr. Lisa Awan, a Beaumont Hospital-affiliated radiologist, remembers well the weeks when she was in COVID-19 lockdown. "I had four weeks off, sitting at home back in April," says the mother of four children ranging in age from 3 to 10. Her employer canceled all non-emergency procedures, she says. 
Looking around her dining room one day during the lockdown, she made a decision to change up something that had been bothering her. "I like to look at (and use) items in my curio cabinet, but the cabinet itself seemed like an eyesore," says Awan, who features home-decor favorites on her popular Instagram feed (@homeinspirationlulu). "I didn't want to get rid of it, but it had that early 2000s brown vibe and it didn't fit with the rest of the dining room. I told myself, 'I'm going to do something with it.' "
Awan had used chalk paint before on a console table and liked its effect, so out came the paint and then it was off to her computer, where she searched for just the right hardware.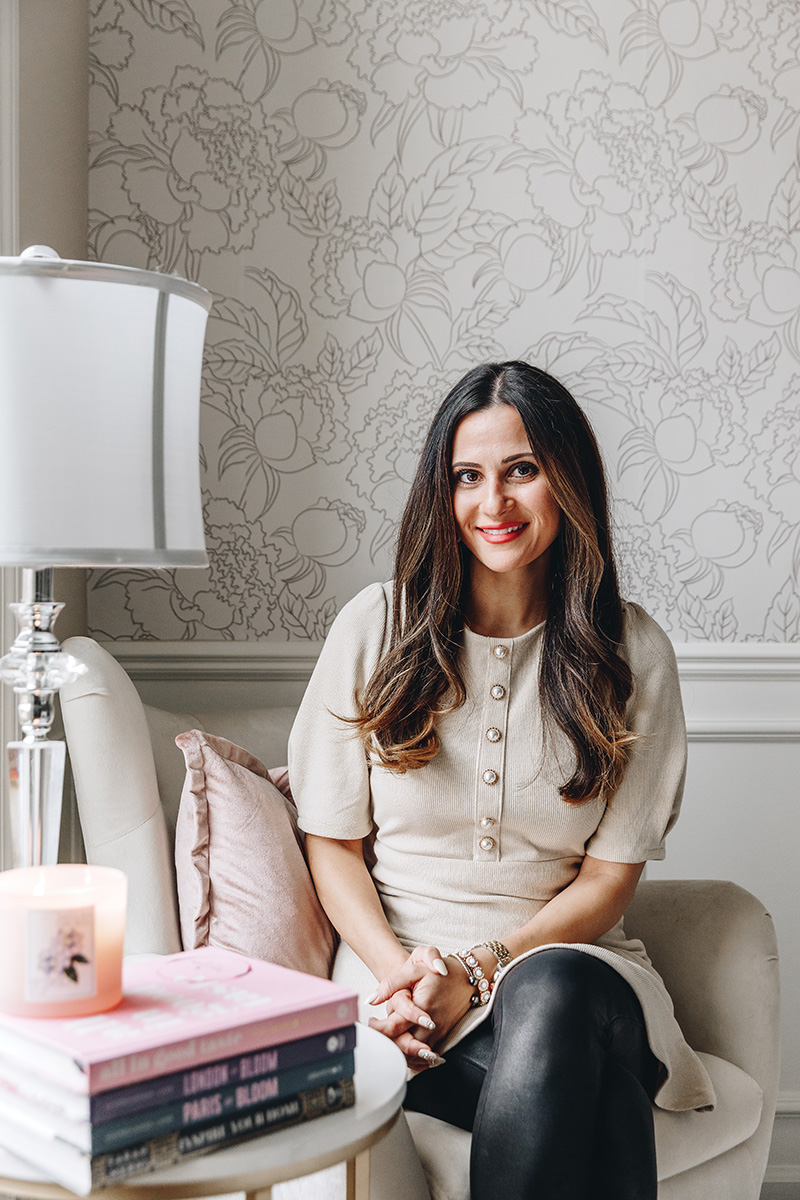 "You don't have to sand first with chalk paint," she said, adding that Magnolia Home Chalk Style Paint is her preferred brand. "I put painter's tape around the glass, gave it three coats of paint in the Shiplap color, and then used a handheld sander to create a vintage look, wearing down the edges a bit so the old brown shows through here and there." She then applied a sealant wax. 
Once it was dry, Awan added her new hardware (from Hooks and Knobs) — lucite and gold handles for the drawers on the bottom and the doors on top. "The handle style gives it a modern look," the DIYer says. 
With glass sides and an interior light, everything from heirloom pieces to her fine china to crystal drinkware now glows even more with the lighter paint and sparkling hardware.  
"Does it look perfect? No," Awan says with a laugh. "Does it look a lot better? Yes!"  
Creating a Living Room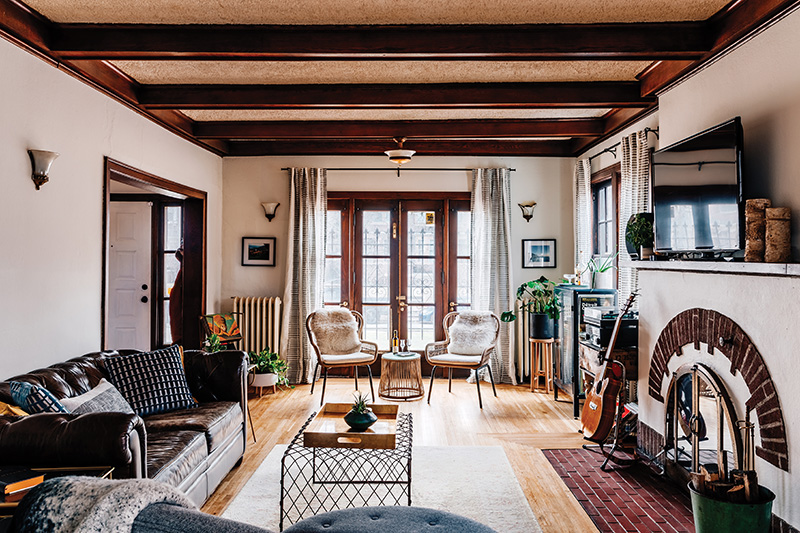 David Richter was just about to sign a contract on a new business property to begin life as a food entrepreneur in Detroit. After a stellar career working for various companies around the country and in New York City, Richter planned to open a café-style eatery with prepared foods and what he calls a "lounge-y area, wine bar, and a private-event space." 
"I wanted to paint my own picture in Detroit. I was impressed with what was happening here," says Richter, a Sterling Heights native. 
He and his wife, Becca Spindler, had found a 1914 Tudor-Craftsman home in Detroit's Hubbard Farms neighborhood and were ready to begin again. But then the pandemic crashed onto the scene. "It hit while I was reviewing our business letter of intent, landlord contract, etc.," Richter says. "Luckily, I didn't sign anything."
With business plans quashed, what was the couple to do? Fix up their charming, stucco-clad new/old home, of course. The couple moved into the house, designed by architect J.H. Gustav Steffens, in October. 
For renovation starters, the couple had insulation installed on the top floor. Richter also repaired plaster, rehabbed old windows, painted walls, and removed old varnish from doors. But it was the living room that he and Spindler wanted to spruce up the most, because that's where they spend most of their time. The most important task: preparing the wood flooring for a refinishing. Pulling up carpet, removing glue and staples, and repairing holes in the inch-wide oak planks filled Richter's lockdown hours.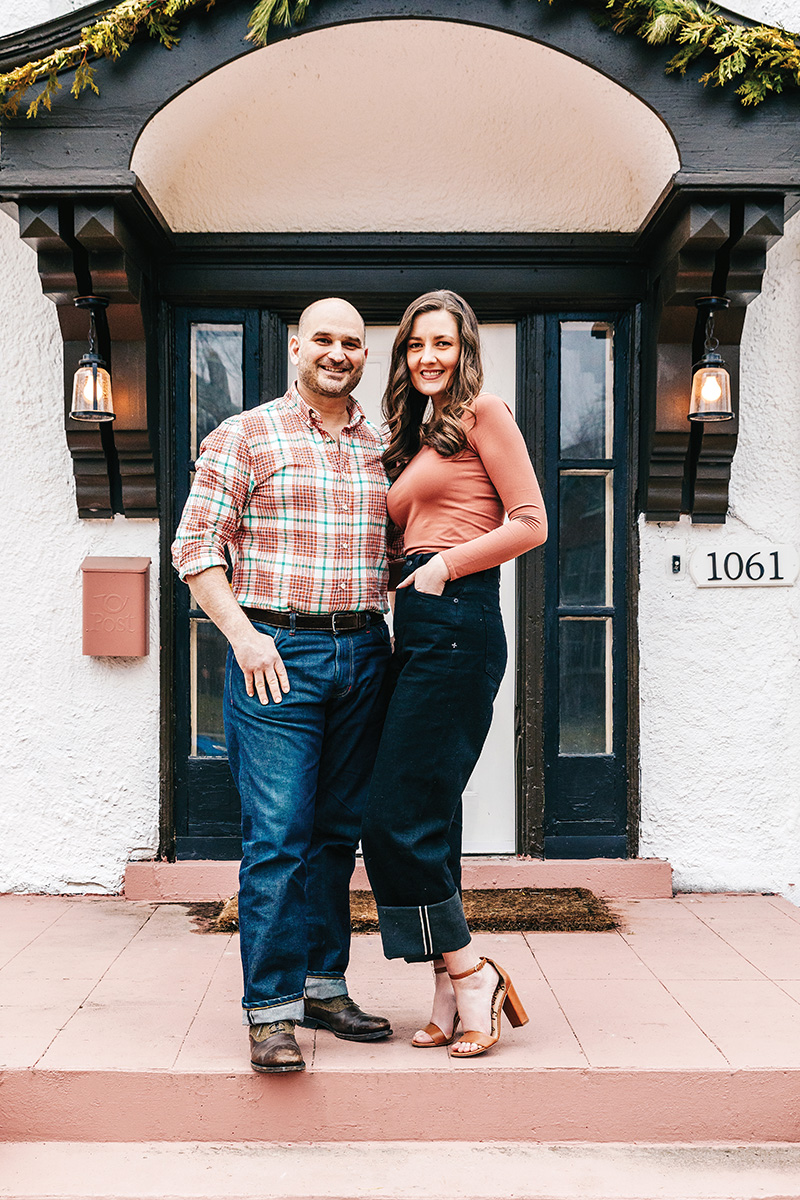 Accustomed to handmaking furniture pieces (he built his turntable stand, for example) and repairing what needs repairing, Richter found the pandemic helpful in that it gave him time to truly go to town on his home. The living room trim work, in fact, looks today as it must have been in 1914, thanks to Richter. 
Determined to replace the missing intricate trim around some of the glass built-ins and French doors that had been held together with duct tape over the years, Richter turned to specialty wood shops.
"I had to go to places like Public Lumber Co. in Detroit in order to repair the trim work around the room's French doors with the exact trim from the era, because they have blades to cut trim a specific way and they carry such antiquated trim products," he says. There, he was able to buy 8-inch-tall trim and then modify it to create glass stops (molding) that matched that of the original in the home. He also had similar challenges for trim around the front door and other built-ins and was able to come up with the same type of solution. "You don't go to Home Depot for this," he says. 
Once the trim and floors were repaired and refinished, the living room came together perfectly. Now filled with eclectic furnishings from their travels (and lots of cookbooks and record albums), the Richter-Spindler living room is a warm respite for the couple and their dog, Maybelle. 
"It's a welcoming space where we love spending time," Spindler says. "The detail on the floor is beautiful. It's a great focal point."
"We don't watch TV," Richter adds. For these two, it's books, music, and staring into a gorgeous, historic, not-usable fireplace that is, Richter says, "next on the list." 
Lullabye Land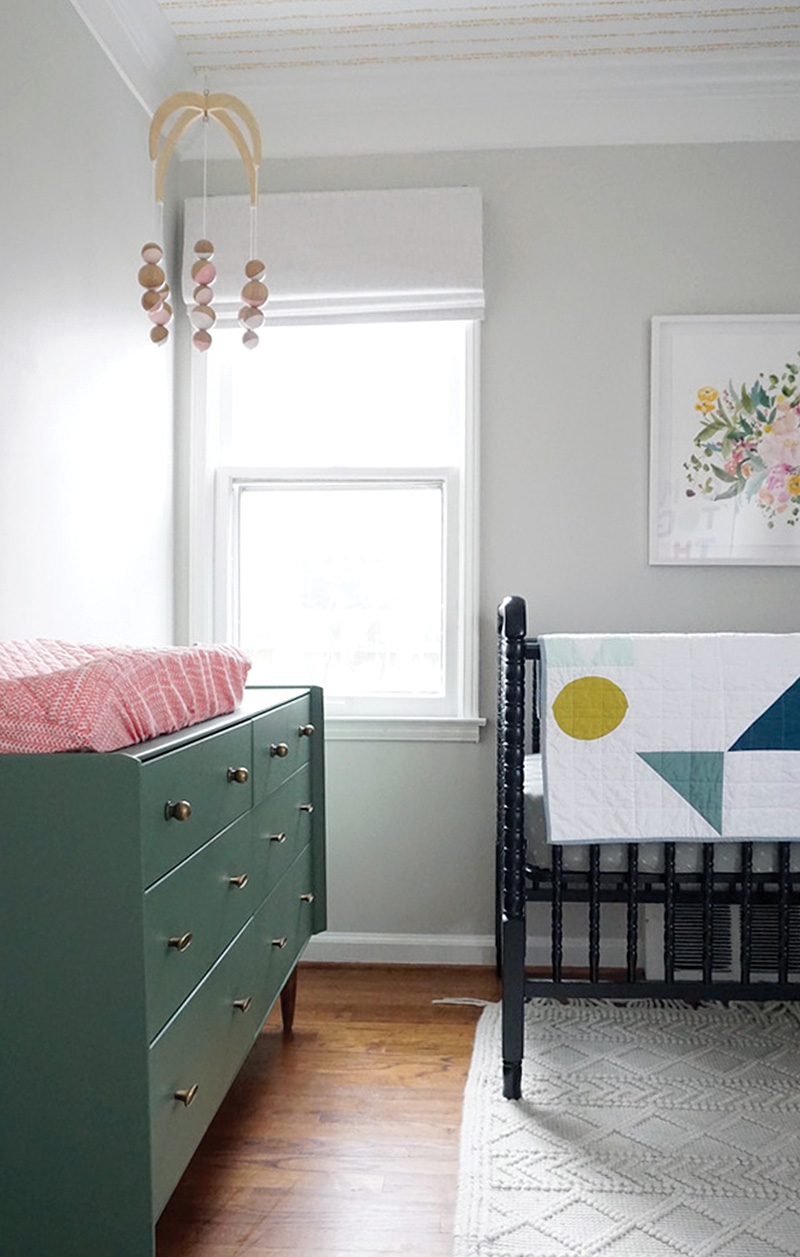 Megan Pavleshyn and her husband, Sean, learned last April that they were going to have their first child. The couple, who live in Berkley in a 1947 bungalow-style home, were in lockdown, working at home (she's the director of marketing and events for Gilda's Club in Royal Oak and he's associate creative director at Quicken Loans) when they started to think about creating a nursery for their newborn. Rolling up their sleeves, the two went to work. 
Formerly a spare bedroom and office, the little nursery now brims with cheer. They say it was especially enjoyable to create because they had extra time to search out various sources they would not have discovered in their pre-COVID busy lives. "We knew we were having a girl, and I think the colors started with a floral painting of my wedding bouquet my sister painted," Megan Pavleshyn says, "and a print (it says COME TOGETHER, by Ampersand Design Studio) that Sean got me for our wedding anniversary. The colors pull off of each other, with mustards and soft pinks." 
To complement the art, they painted the walls last fall in a soft custom gray Sherwin-Williams color. "We're not super pink nursery people," Pavleshyn says. 
The space came together beautifully with a hand-me-down wood crib from one of Megan's other sisters; a wood dresser the couple had that they sanded and refinished in a green tone (Basil by Sherwin-Williams) with hardware from Etsy; a quilt another sister made based on a pattern Megan bought through Instagram from New Song Quilting Co., Grand Rapids; ceiling wallpaper (a custom dotted stripe by Ventura, in collaboration with Chasing Paper); wallpaper, also by Ventura and Chasing Paper, in the closet; black-out Roman shades; and a pretty rug from Rugs USA. The closet was what Pavleshyn calls a "Berkley closet," with one shelf and a rod and "not functional," she says. "We found a closet photo online and got inspired," she says. Her father, Dan Hengesbaugh of Howell, and Sean created the built-in shelves and then Megan and Sean wallpapered the inside of the closet. 
"Peel-and-stick paper sounds easier than it is. But we did it!" Pavleshyn says. "I love the way the closet came together. Taking down the existing closet door really helped open up the room." The wallpaper, called Petit Garden from Chasing Paper, creates a cute focal point and helps tie it all together.
For Sean, the nursery — now occupied by baby Josie — represents collected parts that together create a beautiful whole, not unlike the handmade crib quilt that warms the baby. "I like the way all the parts came together, from family pieces and taking time to source from artists and shops, to build it all," he says. "It's a tiny space and it incorporates all of that."
Boathouse to Schoolhouse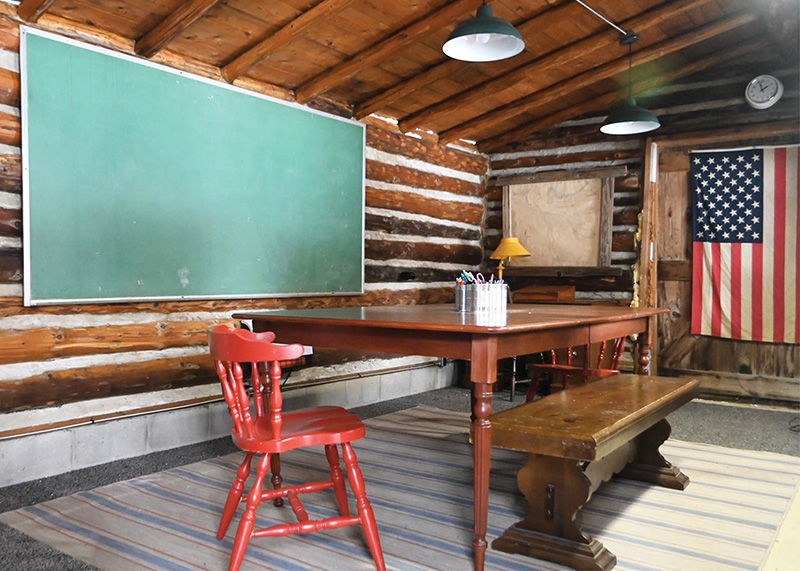 "I know I'm not alone on this, but at some point early last summer, I was channeling a lot of emotions into cleaning this place out," says Callie Sullivan, a mother of four who lives in Detroit's Indian Village. She's referring to a quaint, log-style boathouse on her northwest Michigan cottage property. 
Located in East Jordan on Lake Charlevoix, the boathouse, built in 1940, was moved from the shoreline decades ago due to risky high waters and was being used as a shed. Sullivan and her husband, Ryan, decided to transform it into a schoolhouse for their school-age children: Jack, 10, and Hudson, 7. (Sullivan posts many of her home-renovation successes on her Instagram page: @with_love_from_detroit_home.)
"I was so frustrated with the pandemic," Sullivan says. "We had a lack of control, and cleaning and organizing was the only control I had." She had no idea what she was going to do with the space when cleaning it, but eventually the thought came to her: "As soon as we got the news last spring that schools were canceled, we packed up and went to the cottage, quarantining here for six months."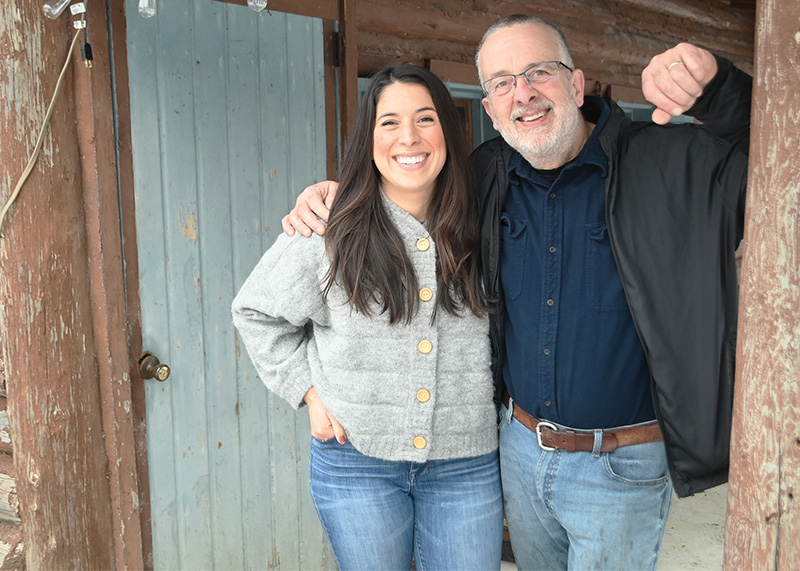 Sullivan called on Dad, Tim Clausnitzer of Brighton, to help her with the project. "He told me what to do and I did it," she recalls. Dad helped out with the electrical requirements and other "not-fun stuff," Sullivan adds. "He finds great joy in doing this type of thing, and I find great joy in letting him." 
Her list of to-do's included acid-washing the floor, power-washing everything, and scrubbing and oiling every beam. For décor, she ventured out to various antique shops in the area, looking for everything from a large communal table for the center of the space to smaller desks for separate learning units. The two younger children (ages 2 and 5) needed a space there, too, so she carved out a spot for them as well. 
Clever accents include a vintage pull-down map and a somewhat yellowed, early 1960s American flag that she found at a nearby shop still in its original box, unopened. "And my uncle offered to us a 1960s 8-foot chalkboard that he had. I, of course, said yes." Painted floors ("the cream color we used was a mistake, so we put rugs over it"), a new cedar-shake roof, a barn door, sconce-style lighting, and more round out the vintage look. The Sullivan children attended virtual school there the entire month of September and on and off every time the family went to the cottage, often for weeks on end. 
Creating the schoolhouse with their own hands felt good, Sullivan says. "You couldn't hire people to come to your home because of COVID-19. This was a reminder that we can do plenty of things on our own. It's a malleable life." 
Facebook Comments