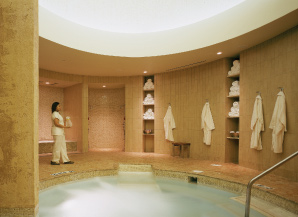 Tony suburbs are the most likely locales for spas, but at least three lavish ones have sprung up in downtown Detroit in the last three years: The Woodhouse, on Woodward near Grand River; Immerse Spa, in the MGM Grand Detroit; and now "D"Tour Spa, in the MotorCity Casino Hotel, an 8,000-square-foot facility that opened on April 8. It just shows that city dwellers and suburbanites both need to decompress.
Like its rival Immerse Spa at MGM, "D"Tour has loads of amenities: a steam room, whirlpool, and sauna in both the men's and women's locker rooms, access to a fitness room, several showers, lots of plush towels — and plenty of room. Immerse also has a pool, but "D"Tour's whirlpool is more spacious. Oh, the hairsplitting details one has to deal with in the world of luxury.
"D"Tour is a fresh, clean place, with a contemporary décor that's spare but elegant. The color scheme is in earth tones (mostly tan and brown), with lots of wood and tile. It forgoes the usual Asian ambience prevalent at so many spas, but still manages to be tranquil.
Employees suggest that clients arrive early to use the amenities, which turned out to be a good idea. I arrived about 45 minutes before my massage appointment, which allowed me to use the steam room, luxuriate in the whirlpool, and shower. All of that was relaxing, but my back and neck needed some professional attention.
Swedish massages tend to employ long strokes with only light or moderate pressure, but my massage therapist, Aaron, must have sensed that my neck and back were tighter than a kettledrum, because he used acupressure and more vigorous manipulation than is common in a Swedish massage. However, it was all for the best because I needed some serious straightening out. After the hourlong therapy, my range of motion was vastly improved. Aaron also suggested some exercises to strengthen my back muscles.
My next move was to have a "D" Sport manicure. The name, I suspect, is simply to make the procedure more appealing to males, because there's nothing relating to sports about it. Monica, my manicurist, was pleasant and attentive, and in addition to using the usual oils and salves, she used an especially appealing spearmint and lemon-lime moisturizing cream. Like Aaron, she had some advice, too. She told me that, although my hands were in nice shape, my cuticles tended to be dry, which can be corrected with cuticle oil. Lotion just disappears after handwashing, she said, and baby oil can work in place of cuticle oil.
"D"Tour offers some unusual services that sound intriguing. One is "MotorCity Music," a massage with speakers embedded into the massage table, enabling you to hear and "feel" the music. Another is the Tandem massage, in which two therapists work on you simultaneously. Both are good reasons to make a return trip.
Technically, the spa is on the ground floor, but clients still have to take an elevator to get there. Don't feel foolish about asking the front desk or other employees for directions; the casino, hotel, and parking garages are mammoth and labyrinthine. But once you find the spa, you realize that the circuitous journey is worth taking.
"D"Tour Spa, inside the MotorCity Casino Hotel, 2901 Grand River, Detroit; 313-309-4595, motorcitycasino.com. Sun.-Thur.: 9 a.m.-8 p.m.; Fri.-Sat.: 10 a.m.-midnight.