---
Grooming
15 Destinations for Cuts, Shaves, Facials, and More
By Lyndsay Green // Photographs By Josh Scott
Baus The Grooming House
Clients turn to Baus for a tech-oriented approach to an old-fashioned service. A new app allows you to easily schedule appointments for a manual cut, as well as color treatments and skincare services. In addition to quality work, it's the welcoming environment and kind staff that keeps guests raving.
790 N. Old Woodward Ave., Birmingham; 248-385-5764; bausgrooming.com
BAUS THE GROOMING HOUSE
---
Beach House Day Spa
For those who suffer from ingrown hairs or redness brought on by shaving, Beach House's Gentleman's Facial is designed to soothe irritation. Exfoliation promotes cell turnover and extractions purify pores — the perfect recipe for a clear complexion.
34645 Woodward Ave., Birmingham; 248- 220-4485; beachhouse-dayspa.com
Dapper House Barber & Shop
With tufted leather seating and a flat-screen TV on the wall, Dapper House is a sophisticated space with a touch of a sporty feel. Gents seeking a polished look from head to toe can book the shop's Cut & Facial Combo, Scalp Massage, and Premium Shoeshine to boot.
306 ½ S. Main St., Royal Oak; 248-206-7951; dapperhousebarber.com
Detroit Barbers
Specializing in classic services — cuts, trims, or hot shaves — Detroit Barbers pairs its old-fashioned techniques with a vintage aesthetic in each of its locations. Maintain your style at home with their product line, including soaps, beard oils, and more.
23236 Woodward Ave., Ferndale; 248-929- 5959; 2000 Michigan Ave., Detroit; 313-284-4100; detroitbarbers.com
Goodfellows Barber Shop
This Royal Oak destination caters to the classic inhabitants of an increasingly trendy city. Contrary to the downtown barbers with hipster airs, Goodfellows is a family-run, kid-friendly space where every cut is complete with a traditional neck shave.
28530 Woodward Ave., Royal Oak; 248-556-0082
Immerse Spa
A stone's throw away from the MGM Grand Detroit Casino is Immerse, a modern facility with a men's spa included. Between bets and hitting the slots, men can opt for the Essence, an exfoliating treatment that sloughs away dry skin and delivers a healthy glow.
1777 Third Ave., Detroit; 313-465-1656; mgmgranddetroit.com
---

Unscented Shave Oil
$30 at Detroit Barbers; 2000 Michigan Ave., Detroit; detroitbarbers.com

---


Elite Pro High Performance Hair Clipper
$60 at Wahl; wahl.com

---


All Natural Beard Balm
$9 at Beard Balm; beardbalm.us

---

Age Defender Power Serum
$50 at Kiehl's Somerset Collection; 2800 W. Big Beaver Rd., Troy; kiehls.com

Genuine Ox Horn Pocket Comb
$16 at Detroit Grooming Co.; detroitgrooming.com

Luna 2 For Men Facial Scrub Brush
$199 at Foreo; foreo.com
---
Master Dorian's Barbershop
Purveyor of some of the coolest cuts in Detroit, Dorian's clients turn to him for intricate designs and sleek fades. Follow the Dominican barber on Instagram (@masterdorian) to keep up with his latest work — and for occasional videos of him in action with salsa blaring in the background.
7000 Michigan Ave., Detroit; 313-406-9340
Rivage Day Spa
Whether clients are in industries of manual labor or simply care to keep their hands well groomed, Rivage offers a 30-minute manicure service to smooth callused palms, buff jagged nails, and nourish damaged cuticles. Therapeutic pedicures are available, as well.
210 S. Old Woodward Ave., Ste. 250, Birmingham; 248-839-2021; rivagedayspa.com
Sam's Barber Shop
Since 1954, owner Sam Zeolla has been a mainstay in downtown Detroit. Offering four simple services — haircuts, beard trims, hot shaves, and shoe-shining — Zeolla runs his shop just as he did nearly 65 years ago. There's no website, clients must call to book a visit, and appointments are written into a ruled book.
719 Griswold St. Ste. 220, Detroit; 313-961-7373
Standard Barber Co.
As its name indicates, Standard Barber Co. is a quaint, no-frills space that overlooks some of downtown Detroit's most iconic buildings. With just four vintage barber chairs, Standard is designed for clients seeking refuge from the downtown bustle.
138 Cadillac Sq. 2nd Fl., Detroit; 313-965-6500; standardbarber.squarespace.com
STANDARD BARBER CO.
---
The Hi Hat Head Dressers
A hybrid concept — Hi Hat is part hat shop part barbershop — the charming, dimly lit space offers fresh cuts in the front and a diverse collection of hats in the back. From the self-proclaimed "head dressers," you'll find a mix of essentials from Detroit Grooming Co. grooming oils to Goorin Bros. fedoras.
195 W. Nine Mile Rd. Ste. B-1, Ferndale; 248-219-9777; hihatdetroit.com
The Social Club Grooming Co.
Equal parts barber shop and hub for community engagement, The Social Club reimagines the idea that the barbershop is a space for men to share perspectives. Come for a precise line-up, stay for enlightening conversations — and perhaps, impassioned debates.
5272 Anthony Wayne Dr., Detroit; 313-832-4950; atthesocialclub.com
The Woodhouse Day Spa
The Gentlemen's Therapeutic Stone Massage ($120) is 50 minutes of a hot stone massage. Therapists use Himalayan salt or volcanic stones to ease tension. The service is perfect for clients with athletic, physical, or simply high-stress occupations.
1447 Woodward Ave., Detroit; 313-965- 6270; detroit.woodhousespas.com
Union Barber
The contemporary approach to otherwise traditional services at Union Barber creates a lighthearted environment enveloped in impeccable style.
185 W. Maple Rd., Birmingham; 248-480-8811; 212 W. Nine Mile Rd., Ferndale; 248-733-3358; unionbarber.com
WiseGuys Haircuts
Few beauty and grooming locations in southeast Michigan offer hair removal services specifically targeting a male clientele. In addition to haircare, skincare, and nail care, the WiseGuys franchise offers full body waxing services from brows to Brazilians — yes, men deserve those essentials, too.
324 E. 14 Mile Rd., Madison Heights; 248-589-1240; 7376 Triangle Dr., Sterling Heights; 586-731-7333; wiseguyshaircuts.com
---
Winning Whiskers
Wahl's Man of the Year offers tips for keeping your beard award-worthy
By Lexi Trimpe // Photographs By Josh Scott
Jason Heien at Detroit Barbers in Corktown
JASON HEIEN'S BEARD HAS EARNED HIM a lot of attention lately. The Michigan native took home Wahl Clipper Corp.'s Man of the Year award in January, beating out 10 finalists from around the U.S. who competed for the best facial hair in the country.
"It's the most attention I've gotten for not doing something," he says with a laugh. But don't be fooled by his humility. Heien carves out 20 minutes for his morning grooming routine — a process that he has down to a science.
When asked for his beard-grooming tips, Heien says the way a man chooses to style his beard is personal. "I would say, keep it groomed depending on your face shape," he explains, preferring to keep his own beard in a clean, angular shape. "I like it tapered. It makes it look more natural." When shaving your neck, Heien says to avoid going too high above the Adam's apple. "Otherwise, it looks chin-strappy and then you get weird lines. But that's my personal preference."
In the end, Heien says, "The best thing would be to wear confidence." That, he has in spades.
But for Heien, winning the Man of the Year award means more than just an ego boost. "I would much rather be known for using my beard powers for good rather than just having a beard," he explains. "If this attention can help me talk about the charities that I love, then I'm all about it."
Heien is active with a variety of charities including Mittens for Detroit, which collects, purchases, and donates mittens and gloves to children and adults in need in Detroit and other underserved cities, and Giving Songs, a non-profit which produces downloadable music by local artists to benefit multi-disabled children. Heien is also involved with the Progeria Research Foundation of Michigan.
Handsome and a humanitarian? It's easy to see why Wahl chose their winner.
---
Trends
| | | | | |
| --- | --- | --- | --- | --- |
| | Michael Kors Spring/Summer 2018 | | Louis Vuitton Spring/Summer 2018 | |
---
A Twist on a Classic
A. SILVER-TONE LON SUNGLASSES, $160 at Michael Kors; michaelkors.com
B. POLO RALPH LAUREN BUTTON-DOWN COLLAR PRINTED COTTON OXFORD SHIRT, $100 at Mr. Porter; mrporter.com
C. KHAKI LINEN SUIT JACKET, $348 at Banana Republic; bananarepublic.com
D. WHITE SLIM JEANS, $70 at Gap; gap.com
E. CONTRASTING PLIMSOLLS, $40 at Zara; zara.com
With inspiration from the runways of Michael Kors, Louis Vuitton and more, bring your Hawaiian shirts to the forefront of your closet this season. Caitlin Riney, founder of the Detroit-based menswear boutique George Gregory, says this spring's printed shirts are more slim and breathable than the traditional "dad's favorite vacation" look. Revamp the style by "leaving the rest of your outfit fairly neutral, such as pairing the top with solid color chino shorts or trousers," she says. "Try skinny jeans for an edgier look. Add your favorite pair of sunglasses, and you're ready to take on the day." — Emma Klug
---
Personal Style
8 Trend-Setters Captured on the Streets of Metro Detroit
Photographs By Viswanath L. Swamy

MATTHEW TALBOT, 29
Based in: Detroit
Occupation: Realtor
AMIR PAKRAY, 28
Based in: Detroit
Occupation: Radiologist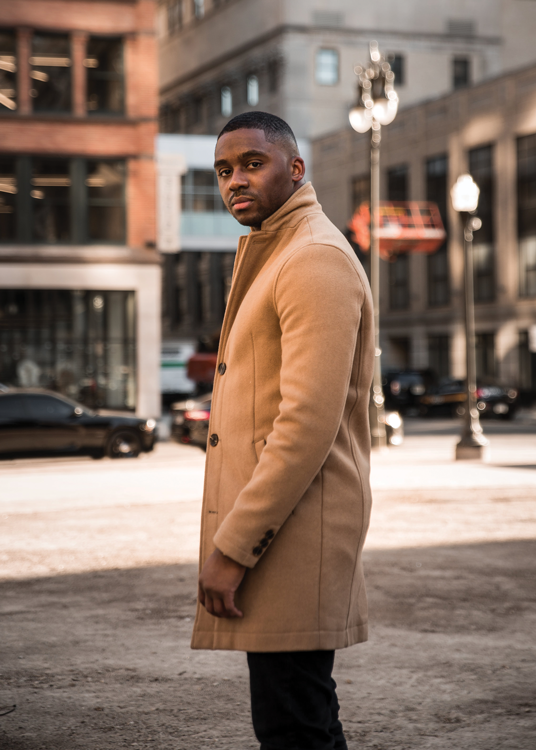 WILLIAM PINSON, 29
Based in: Detroit
Occupation: Director of banking
KEITH MAGNA, 30
Based in: Detroit
Occupation: Clothier
FASHION VEGA, 32
Based in: Detroit
Occupation: Designer/stuntman/speaker
JOHN NOFAR, 27
Based in: Rochester
Occupation: Small business owner
STEVE ROSS, 41
Based in: Pontiac
Occupation: Program manager
JIBRAN AHMED, 32
Based in: Detroit
Occupation: Executive director
---
Retail
12 Shops to Build a Stellar Wardrobe
By Tabinda Sial
1701 Bespoke
The trio behind 1701 Bespoke is dedicated to producing high-quality clothing. The shop offers handmade suits, shirts, trousers, overcoats, and tuxedos, and fittings are by appointment only.
4160 Woodward Ave., Detroit; 313-444-3680; 1701bespoke.com
1701 Bespoke
---
Alexander's Custom Clothiers
Alexander and his family have owned clothing shops around metro Detroit and abroad for over 80 years. Alexander's specializes in custom suiting and offers image consulting at clients' homes or at its Northville store, which features Brazilian cherry wood floors, a fireplace, and leather sofas.
124 W. Main St., Northville; 248-349-6080; alexcustom.com
Cicchini Custom Clothier
The store was founded in Detroit by Italian tailor Paul Cicchini following World War II. Today, Cicchini occupies 6,000 square feet in Birmingham, and offers custom suit and shirting as well as alterations, wardrobe development, and home and office stylist visits.
494 S. Old Woodward Ave., Birmingham; 248-646-0535; cicchinicustomclothier.com
Claymore Shop
Balancing classic style with contemporary fashion, Claymore Shop is a self-described "best in class" menswear store. The shop has a variety of custom fitting options, and it's in-store tailor has 30-plus years of experience. The retailer carries items from brands like Oxxford Clothes, Peter Millar, Jack Victor, and Ralph Lauren.
908 S. Adams Rd., Birmingham; 248-642- 7755; claymoreshop.com
---
Out of a Hat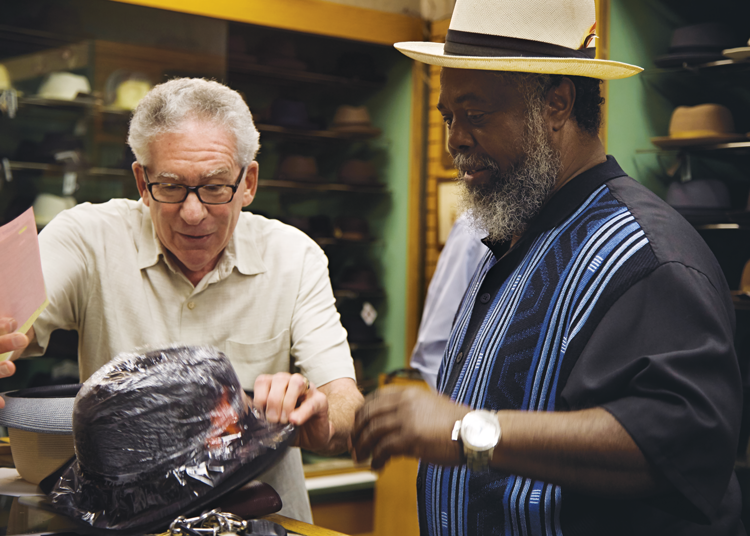 Henry the Hatter
Since its inception in 1893, Henry the Hatter has weathered the ebbs and flows of Detroit's retail market. Occupying various iconic downtown locations, the shop has provided hat maintenance services and styles for notables like former President Dwight D. Eisenhower and group members of Run DMC, as well as Sunday church hats and winter caps for everyday locals. Last summer, the shop closed its Broadway store where it spent 65 years. With much community support, Henry the Hatter owners quickly and with ostensibly good spirits relocated to Eastern Market, lining the shop's new walls with vintage fedoras and vibrant Kangols encased in original shelving units. Whereas the previous Broadway location was quaint with few updates since the 1960s, Henry the Hatter's Eastern Market location is a new-age rendition with nods to its historic past. — LG
Henry the Hatter: 2472 Riopelle St., Detroit; 313-962-0970; henrythehatterdetroit.com
Learn more about Henry the Hatter in an interview with documentarian Corey Turner at hourdetroit.com.
---
Cyberoptix Tie Lab
Founded in 2006, the Eastern Market store can create neckties, bowties, and pocket squares in thousands of colors, prints, and size options. Stand out with a leather necktie, a pocket square inspired by the Guardian Building, or an industrial felt bow tie. All items are printed by hand.
1440 Gratiot Ave., Ste. 1D, Detroit; 313-404-2053; cyberoptix.com
Detroit Denim Co.
Established in 2010, the brand's jeans are handmade in Detroit, by Detroiters, using high-quality materials from American companies. The store also offers leather belts, denim duffle bags, grooming products, and denim repair services.
2987 Franklin St., Detroit; 313-626-9216; detroitdenim.com
Dolce Moda
Operating for 15 years, Dolce Moda carries clothing and accessories from brands like Ted Baker and Hugo Boss. Known for its selection of fashionable merchandise for men, the store has become a must-stop shop.
323 E. Maple Rd., Birmingham; 248-399- 6200; dolcemoda.com
---
George Gregory
Arriving to Corktown less than a year ago, George Gregory was founded by Detroit-native Caitlin Riney. Riney stocks the store's shelves with T-shirts, flannels, and jeans in a range of price points and sizes. Available brands include Yellow 108, Civil Society, Komono, Ebbets, Bridge & Burn, and more.
1422 Michigan Ave., Detroit; 313-285- 8345; shopgeorgegregory.com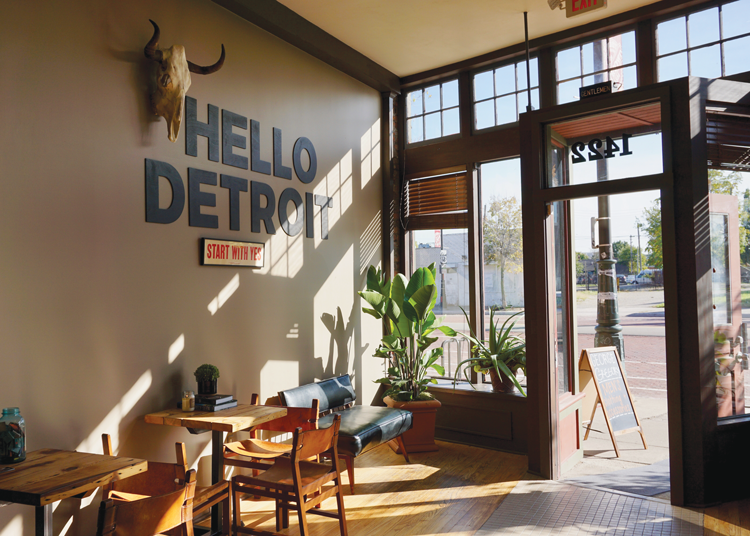 GEORGE GREGORY
---
John Varvatos
Fashion designer John Varvatos grew up in Detroit and is known for his leather jackets, boots, graphic tees, and edgy accessories. His downtown Detroit storefront, which features instruments and vinyl records, reinforces the brand's old-world craftsmanship, modern innovation, and rock 'n' roll attitude.
1500 Woodward Ave., Detroit; 313-437- 8095; johnvarvatos.com
L'Uomo Vogue
The shop was established nearly 40 years ago as "metro Detroit's largest high-end men's boutique." Today, it carries brands like 7 for All Mankind, Giorgio Armani, Salvatore Ferragamo, Versace, and Valentino.
4145 W. Maple Rd., Bloomfield Hills; 248-855- 7788; luomovogue.com
Manno Clothing & Tailoring
This family-owned business offers tailoring as well as ready-to-wear clothing and accessories from Michael Kors, Calvin Klein, Jack Victor, and more. Group fittings, useful for wedding parties, are available.
23810 Michigan Ave., Dearborn; 313-561- 1419; mannoclothing.com
Urban Angelo
Curated by the owner of Bird Bee, Urban Angelo is a menswear pop-up shop, which carries pants, sweaters, hoodies, and shoes from bands like Detroit's York Project.
Select metro Detroit locations; online orders are available for pickup at Bird Bee, 1228 Griswold St., Detroit; urbanangelo.com
---
Q&A: Jeffry Aronsson of Project Treadwing
Metro Detroit native Jeffry Aronsson has served as the CEO of companies like Oscar de la Renta, Marc Jacobs, and Donna Karan. He's now planning to launch Project Treadwing, a Detroit-based fashion center that will offer end-to-end supply chain functionality, training in apparel manufacturing, and more.
How has the fashion and retail landscape evolved?
Fashion and retail is changing all over the world. Both have become victims of comfort with the familiar and fear of thinking beyond convention.
There is increased demand among consumers for supply chain transparency in addition to immediate delivery of finished products. … Immediacy requires local and flexible product development, production, and logistics.
Current supply chain functionality is inefficiently scattered throughout the world due to the industry's continual search for least expensive labor. Lead times for orders are months ahead of selling without opportunity to react timely to then market demand.
Why is Detroit an ideal location for project Treadwing?
Localization of fulfillment requires re-imagining the role of labor from minutes-per-unit to fixed overhead amortized by units and time, a process that's already highly advanced by automobile and aerospace industries local to Detroit.
Detroit's existing assets position itself as the place for (the apparel, fashion, and luxury industry). Local fulfillment will require relatively inexpensive land [that is] located close to modern logistics, and access to institutions of higher learning excelling at engineering and supply chain management.
What other Detroit design projects have captured your attention?
Detroit's robust cultural underground is reflected in the many new indigenous restaurants, re-purposing and artful restorations of historic landmark buildings. DC3 [now Design Core Detroit], Empowerment Plan, William & Bonnie, Rebel Nell, Pony Ride, Detroit Fiber Works, the Wasserman Project, College of Creative Studies … I could go on. What could be a better testament to design and Detroit than its designation as the only American UNESCO City of Design? — EK
Project Treadwing By the Numbers: