Nearly everything in Muffy Kroha's West Village home is intentional and curated. But none of it is pretentious. In fact, look closely, and you'll see much of it is worse for wear; some of it is just plain broken and glued back together. But you're unlikely to notice in this space where the organized, pleasing chaos of a bigger picture overwhelms and obscures the duct tape holding the three-story illusion together. Kroha's knack for smoke and mirrors served her well during her 20-plus-year career as a window dresser, which included a lengthy tenure at The Somerset Collection's Neiman Marcus store. When she recently gave us a private home tour, she was understandably cagey about which things had been gleaned from retired Neiman window displays (there are more than a few). But she was generous in sharing the philosophy that guides her unconventional approach to home décor.
When I first moved in, I thought I was going to be a minimalist. My apartment before this was sort of a Mexican-surf-movie-tiki-bar-hillbilly theme. I probably had enough thatching in there to build a Polynesian village. Not joking. So when I got the house, I told myself I was going to stick with one idea. Originally, I wanted the theme to be chocolate-brown walls, white trim, chrome, and pale pink furniture. Well, I don't know if you've ever tried to pick a pink, but it gets real juvenile real fast, and a sophisticated shade of pink was a million dollars. Pink is a cruel mistress — just sayin.'
To make a long story even longer, the minimalism went out the window because I just had too much cool sh*t and I couldn't have it all [stored] in the basement. So, I decided I was going to do that thing where you paint the walls a very light color, all your furniture is white, and you accessorize the sh*t out of it. It's sort of a French salon look with blacklight posters.
To me, there's a big difference between a styled group of stuff and clutter. A big difference and a fine line. It's about grouping, thoughtful placement, presentation, and scale. I love big things. Like, right now, I'm going through a phase where all I want to wear is giant clothes. There's no such thing as too big for me. I also don't care if something is broken. I have this ceramic boot by my door that's been broken so many times, I finally just Scotch-taped it back together. I just like how it looks, and the fact that there's a crack in it doesn't ruin it for me. It's about the big picture. The rest is smoke and mirrors.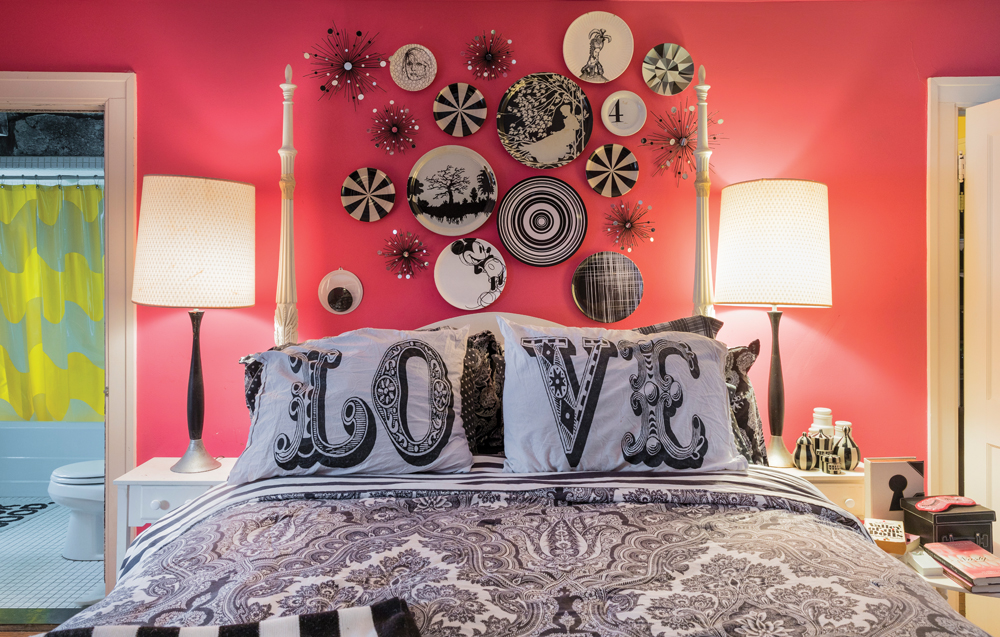 I never call myself an artist. I've had people argue with me about that, and I'm not putting myself down, it's just I don't identify with that. I would like the term 'maker,' but it sounds so pretentious, and it's mortifying to think about saying that out loud. I don't call myself original either. But I'm definitely inspired. I've always loved imitating things. I would see stuff and I would want it, but I could never afford it, so I would have to make it myself. And this is where I am a display person and not an interior design person. Displays are meant to be temporary, which is why I'm always gluing stuff to the wall, and it's always falling off, and I'm always sticking it back up. Interior design just sounds so much more serious. You have to deal with real furniture, as opposed to garbage-picking. One time, I garbage-picked an end table, and it turned out my roommate had just thrown it away. And I have this stainless steel chair in my living room that I rescued from the trash, and I made a new seat for it with this piece of zebra hide that I had been saving. Honestly, I strapped that zebra hide to myself and tried to wear it so many times before I made it into that chair. I'm glad I dressed like a hooker when I had the chance.
Nowadays, I am a realtor, and I'll often bring over my own furniture to help a homeowner stage their house. In real estate, people say a house has to look like home and smell like a f***ing pie. I just don't feel that way. I think people need a hint. They need to imagine themselves there, not see how they're going to live working around how you do. I'll go toe to toe with anyone on that. I recently helped this couple style their house. I brought over a dining room table and chairs. I styled their bar. And there were five showings the first night. Somebody even called me the next day screaming at me because he didn't get to bid. And the house went for 10 grand over asking. So, I do a mean f***ing listing. Just sayin.'
"When I first bought the house, I rented the third floor to some friends, and when the last one moved out, I promptly ran up there with my bucket of paint. I seriously had the entire upstairs flat redone in two weeks. My library up there was inspired by this patchwork coat I had, and I thought it would be so cool to do a room in this giant patchwork of wallpaper. So, I got a bunch of sample books, took them apart, and systematically stacked them up by color story — at which point, I discovered that there are really only three main color stories in the world of wallpaper, and that's burgundy, mustard, and hunter green. And then, I started to cry. As Dolly Parton says, it takes a lot of money to look this cheap; I found out it takes a lot of thought to look this random. But after I got done crying, I found a way to make it work. Now, I rent the third floor (above) as an Airbnb. Pretty much everyone that comes through is overwhelmed. I think it's obvious from the pictures that you know what you're in for. But everybody says, you still have to see it in real life."
"There are four major themes in my house: booze, pills, Afros, and Union Jacks. I'm not a junkie or anything. These are all just things that I love, and as you go through the house, you're going to see them everywhere.' "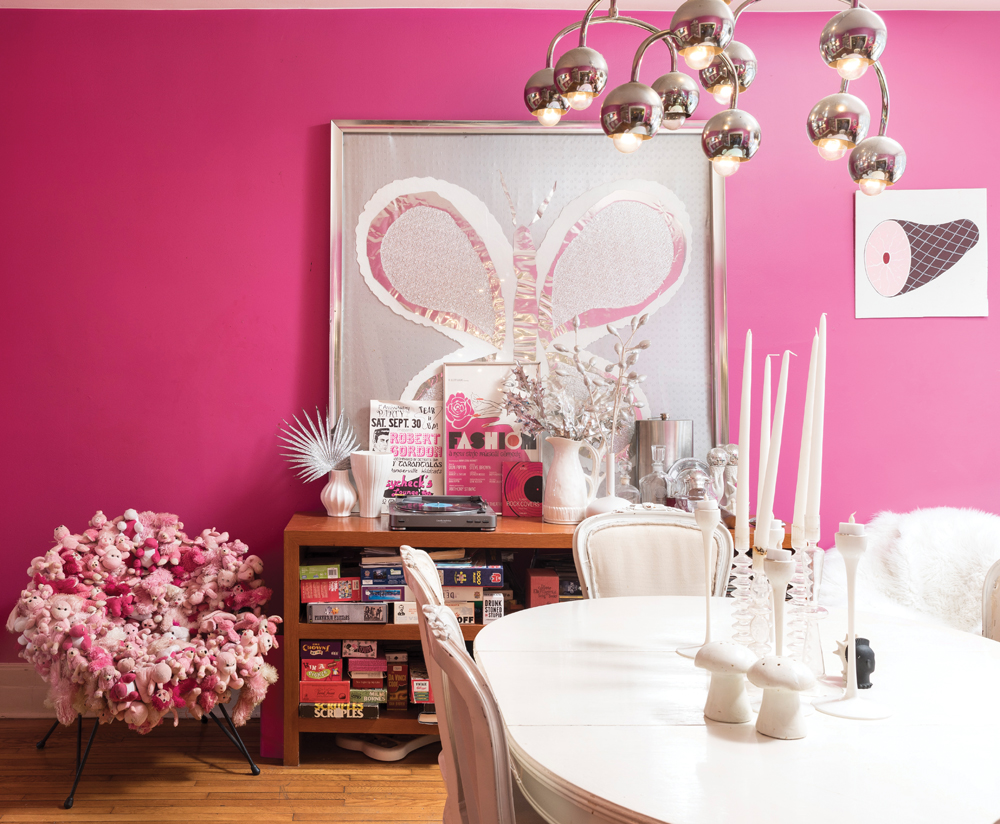 "My dining room is way more edited. When I [styled] that 15 years ago, a big trend was a single bright shocking color with one furniture color. Recently, Domino magazine did this article about how they were feeling 'nostalgic' for the IKEA catalog of 2002. And it looked just like my dining room. I was like, 'Oh my God, that's vintage now!'"