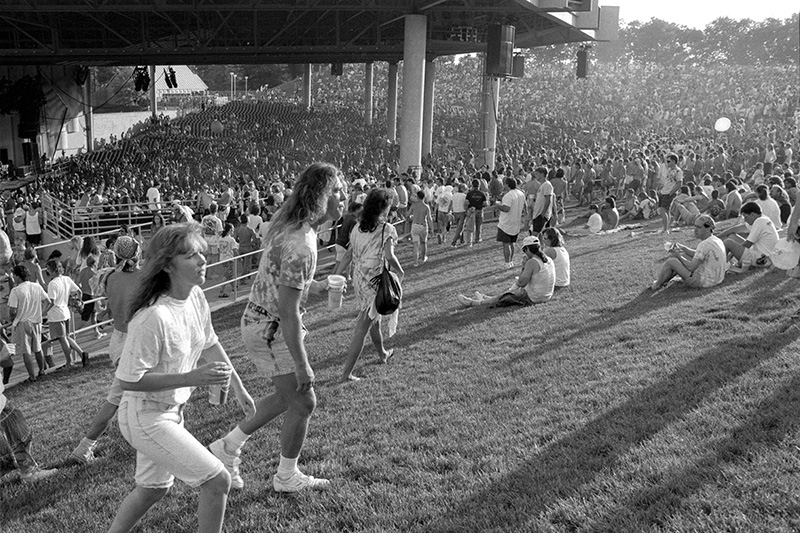 If you called it DTE Energy Music Theatre, you sounded like a used car salesman sticking to a company line. And no one was buying what you were selling. The real ones always called it by its true, original name — Pine Knob. A holy musical pilgrimage for metro Detroiters for 50 years. 
The award-winning outdoor amphitheater was christened with a matinee concert by teenage heartthrob David Cassidy on June 25, 1972 (a few days later, old-school crooner Andy Williams and multihyphenate Quincy Jones hosted a five-night run at Pine Knob to mark the occasion). It was the largest venue of its type in the country at the time, currently able to accommodate 15,000 patrons.
A couple of weeks later, the first rock concert at Pine Knob forced the police to shut the place down — a sign that Clarkston's new venue had a little something for everyone. 
The James Gang is responsible for classic rock-station staples like "Funk #49." When they rolled into Pine Knob that inaugural summer, an estimated 25,000 "young people" tried to storm the venue. That's according to a report in the Detroit Free Press at the time, which noted that the rest of the "hard rock" concerts scheduled for that summer would be canceled after the ruckus. That included an upcoming show by Detroit's own Bob Seger, who would go on to play more than 25 sold-out shows at the venue over the years.
Maybe you were at that show, or the more than 3,000 other concerts that have taken place there. Thousands of metro Detroiters have made memories at Pine Knob over the years, whether blurry-eyed ones from the top of the hill or once-in-a-lifetime front row experiences from within the comfort of the pavilion (which, admittedly, could've been blurry-eyed, too).
When Pine Knob changed its name to DTE Energy Music Theatre in 2001, it was those memories that kept the original name alive. Even the bands that played there and recorded live albums there called it Pine Knob. "It's always been Pine Knob to me. I always call it that from the stage," Peter Frampton told Billboard earlier this year. "I am really happy Pine Knob's true identity has finally been returned." (Frampton recorded his 1999 album Live in Detroit at Pine Knob.)
For its 50th anniversary, a duo of new sponsors — United Wholesale Mortgage and Trinity Health — made the wise move to tap into that well of nostalgia by bringing back the original name and some of the retro aesthetic to the signage and logo.
The upcoming season kicks off with indie pop trio AJR on May 27 and will feature massive names throughout the summer such as Miranda Lambert and Little Big Town (June 3), Josh Groban (June 17), Jack Johnson (July 2), and Imagine Dragons (Aug. 24), among many others.
Those are some of the shows where we'll make new musical memories this summer — and that's the most special thing about Pine Knob. If you look around the country, it's littered with amphitheaters just like this one. It would be hard to tell them apart if you put them in a lineup. But Pine Knob is our amphitheater, and it's our experiences there that drive it, so Hour Detroit and 101.9 WDET-FM, Detroit's NPR station, teamed up to collect your memories of attending Pine Knob over the years. Here's what you shared:
Reign On, Carole King

 
My friends and I were 17 and huge fans of Carole King in 1973. Pine Knob was packed, and we were on the lawn. Carole was fantastic. During the concert, it started to rain and quickly became a downpour. No one left. We didn't care if we were getting soaked. The lawn turned muddy. Our bucket of KFC filled with water. It didn't matter. She was so great we didn't want to miss a minute of it. I remember her saying how touched she was that we all stayed. Bar none, one of the best concerts I've attended. —Julie Martin, Washington Township
Fan from Day One
I have been going to Pine Knob since the venue first opened. We would go to five or six concerts per summer, sitting on the lawn for $5. Back then, you could bring in your own food and beverages. Since the drinking age was 18, you can imagine how crazy it could get on the hill. Some of the many performers we saw include Chicago (had to see them every summer), The Beach Boys, The Eagles, The Doobie Brothers (which we saw in the pouring rain — everybody just stood the whole time), Hall and Oates, Sha Na Na, John Denver, James Taylor, Pat Benatar, ELO, Santana — the list goes on and on. It was such a fun place to go in the '70s and early '80s. One thing that most of the ladies will remember is the long line down the hill to the only women's bathroom, which I think only had four stalls. We all tried to go during the intermission between the opening act and headliner so we didn't miss any of the main concert. I know at least once, a group of us ran down the hill and took cuts, feigning illness, and we were even bold enough to use the men's bathroom, which of course had more stalls than they needed.  —Lauren Mitchell, Ypsilanti
A Kid Rocks
My first show was '78-79, with REO Speedwagon and Blue Oyster Cult. I was 5 or 6. This was when you could walk in with your own cooler, keg, etc. At that show, all I kind of remember was my stepdad and uncle getting xxxx-faced. … About 50 shows later, my stepdad took me to the concert that changed my life. It was Rusted Root opening up
for the Allman Brothers [Band]. And if you have been to an Allman Brothers show, it is an equal mix of bikers and hippies. At this show, which is so unlike me, I was able to stop a bunch of bikers about to beat up a hippie.  —Matt Formagin, Calgary, Alberta, Canada
From Eddie Money to Grandma Ginny
I have countless memories of magical nights spent at Pine Knob. I was even lucky enough to have my graduation ceremony there (shoutout to Clarkston High School class of 2010!). Growing up, buying a cheap, $10 lawn ticket was the go-to move on a summer night. We always looked forward to Eddie Money (RIP) as the season opener. Those concerts were always especially wild — you were bound to see someone who had imbibed a little too much passed out on the hill (it's OK, we've all been there). 
While combing through the many pictures I've taken there over the years, I came across a couple from 2012 of my dear grandmother Virginia (Ginny). [She is] tailgating in the parking lot with my dad and aunt and then, later that night, watching The Temptations from the wheelchair-accessible section. I remember she had so much fun that night, singing along to every lyric and rocking out in her glow-in-the-dark gear. —Betsy Patterson, Waterford
---
This story is from the May 2022 issue of Hour Detroit. Read more stories in our digital edition.