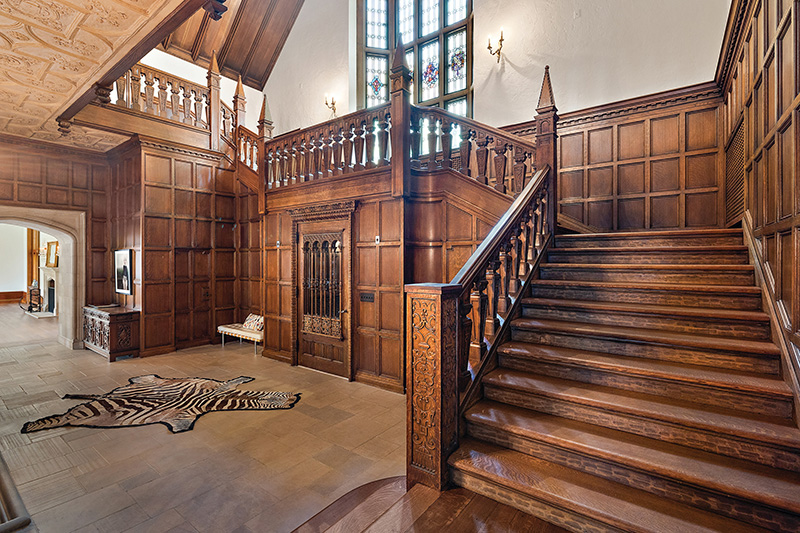 At $4.9 million, it ranks as the most expensive home sale in Detroit's history. But the numbers alone — as impressive as they may be — tell only a small part of the Alfred J. Fisher mansion's story, says real estate agent Kathy Broock of Birmingham's Max Broock Realtors, who brokered the recent sale of the landmark estate in Palmer Woods to Stellantis North America chief operating officer Mark Stewart and Antonio Gamez Galaz. 
"The woodwork, the plasterwork, the handcrafted faces" are just a few highlights to be seen in the approximately 20,000-square-foot, 29-room residence, which boasts 15 bedrooms, six full bathrooms and four half bathrooms, a ballroom, an indoor swimming pool, a solarium, and elaborate gardens, Broock explains. "It's built like a castle because it was Detroit's version of one."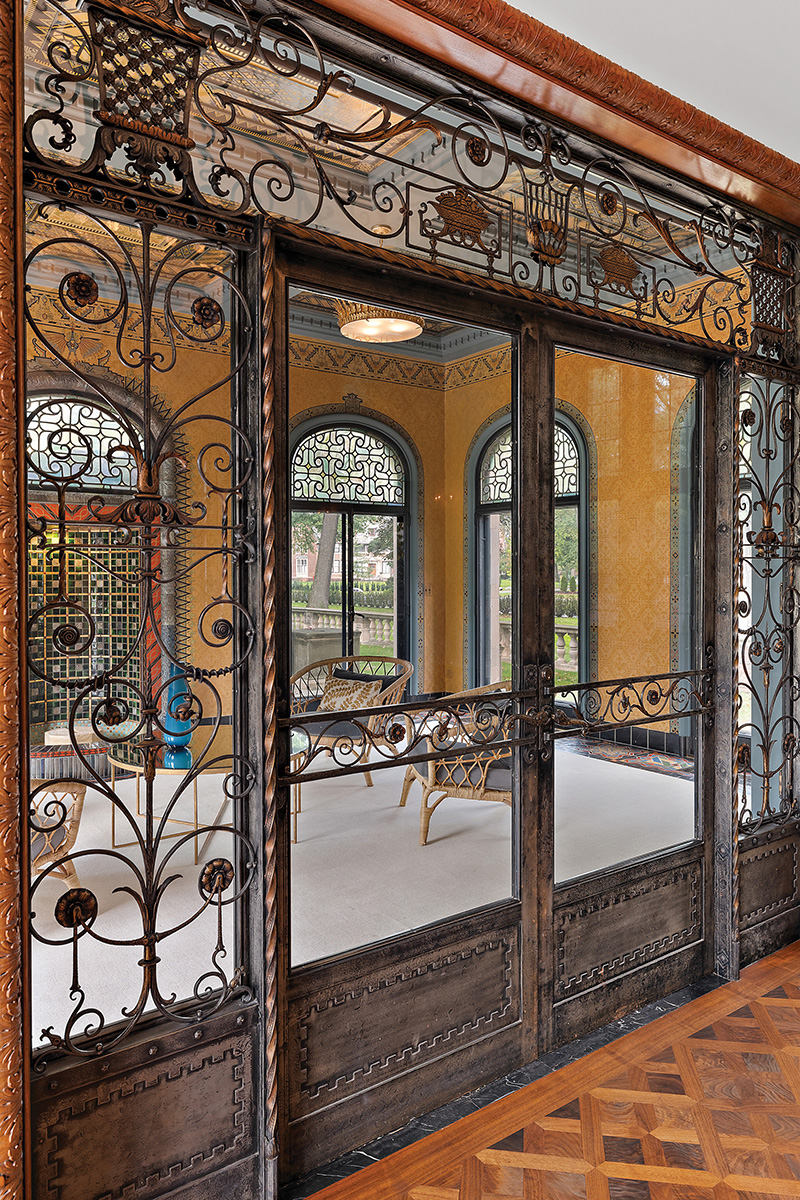 Dating to 1926, the house, located at 1771 Balmoral Drive, was designed by architect Richard Marr, with interior designer Wallace Newton and landscape architect Bryant Fleming, for Fisher and his wife, Alma. The Fisher brothers — Frederick, Charles, William, Lawrence, Edward, Alfred, and Howard — of Fisher Body Co. fame, were part of one of Detroit's first automotive families who made their fortune in the city's burgeoning car industry.  
Broock has sold the historic house twice, the first time in 2015, when it was officially listed and garnered interest from people all over the world. During showings, "people would stay for hours; there's just so much to see," she says. She worked with then-owner Brad Lamm, a California businessman in the health and wellness sector, who hoped to turn the house into an addiction treatment center but was opposed by neighbors and the city zoning commission.  
Daniel and Pernilla Ammann ultimately purchased the house in 2015 for $1.5 million, Broock says. At the time of the sale, Daniel Ammann was a General Motors Co. executive and CEO of its vehicle company Cruise. The Ammanns later purchased two additional nearby acres (once the site of brother William Fisher's home, destroyed by fire in the 1990s) in 2017 and lived in the house until recently, when Ammann left the company and the couple left Detroit for their "next chapter" in south Florida.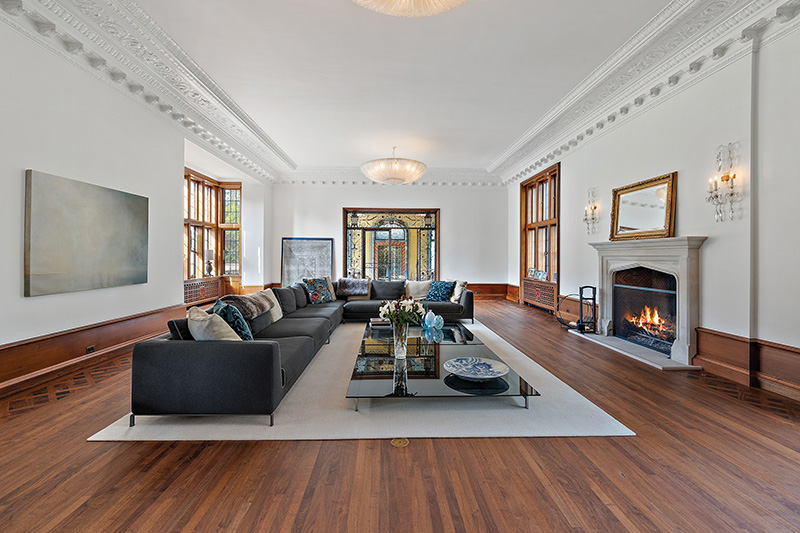 Two things initially drew the couple to the house, Ammann says. It was "a combination of it being a once-in-a-lifetime house of that caliber and character and the opportunity to do our small part to contribute to the continued rebirth of Detroit, by moving our family into the city and investing in it," he explains. 
When they purchased it, the vast majority of the house was still more or less in its original condition, Ammann points out. "The bones of the house were in great shape, all things considered," he explains. "That said, there were a lot of aspects that had been let go or underinvested in, so there was a lot to do to bring things back to where they deserved to be," he says. 
The work that took place over the following years fell into three main categories: restoring original details to their former glory ("This was probably the biggest single component of the work we did," Ammann says); rebuilding and upgrading systems such as plumbing, electric, and HVAC; and renovating parts of the house "that had already been significantly compromised from their original state," including the kitchen and indoor pool. 
Not surprisingly, living in the house was without comparison, says Ammann, who notes that the expanse wasn't overwhelming. "Despite its overall size, it is a very friendly and livable house. It didn't feel like you were living in a small corner of some museum. Even after several years, there would be new details that you hadn't noticed before. … I even noticed some when we were packing up to move out." 
He has mixed feelings about the move. "Leaving a place that you've called home for several years is, of course, bittersweet," he says. "We will always have amazing memories of our time at Balmoral (as we called the house). We're glad to have helped preserve this amazing piece of Detroit history and to have left it in better shape than we found it in."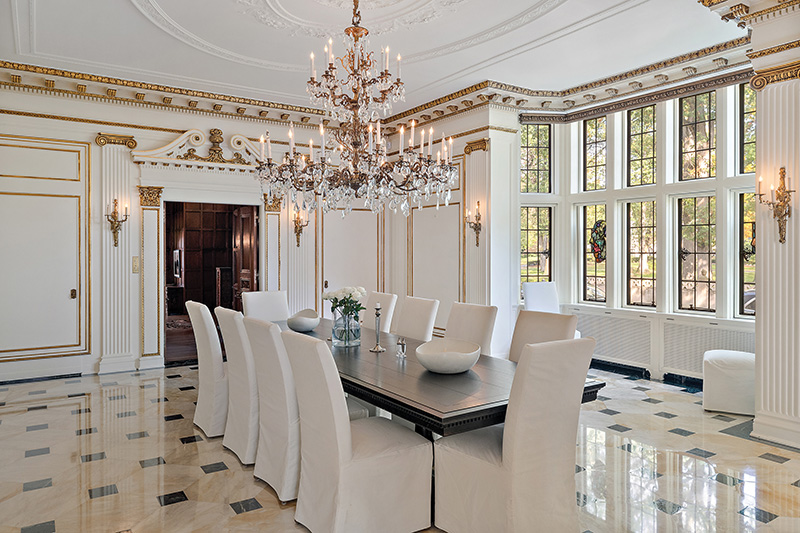 The extensive improvements no doubt helped sell the house, as well as boost its selling price. This time, Broock sold the house privately and in the middle of winter, traditionally a slow period in the real estate business. "A house like this shows well no matter the season," she says. 
The realtor even has a personal history with the property. Her great-grandfather, Max Broock, who  started his realty business in Detroit in 1895, and her grandfather were involved in many of the city's early residential developments, she says. "My grandfather, Ferd Broock, would have socialized and spent time in the Fisher Mansion. I can't believe he walked on the same floors. I wish he was here so we could talk about it and compare notes."
---
This story is from the May 2022 issue of Hour Detroit. Read more stories in our digital edition. 
Facebook Comments