For more than 40 years 220 Merrill has been one of the most popular restaurants in Metro Detroit, delivering iconic experiences and cherished moments for guests. Now, they're elevating every detail of the dining experience and debuting new menus for dinner, lunch, brunch, and happy hour — just in time for patio season on April 15.
"We knew it was time for an update and to provide a fresh direction, look and selection for our guests," said Zaid Elia, Founder and CEO of The Elia Group and its portfolio of hospitality businesses, the Iconic Collection. "220 Merrill is a mainstay of Birmingham and Metro Detroit's dining scene. It was extremely important to us to continue to drive iconic experiences, and the highest quality and ingenuity within our menus."
220 Merrill is best known as the place where families, friends, and business associates come together to celebrate momentous occasions and create special memories. The restaurant has received numerous awards and recognition and earned OpenTable's 2023 Top Hotspot in Metro Detroit award.
So, when it came time to design updated offerings, Chef Jordan Hoffman knew he had his work cut out for him. Hoffman, who has cooked in and led kitchens around the country, executed a meticulous upgrade on everything from the tactile menu to the flatware and drinkware, as well as the thoughtfully refreshed food and drink items.
"For a restaurant like 220 Merrill, we want to build something unique and experiential for every guest who joins us," he explained. "As a chef I have built on my experiences both growing up in Metro Detroit and being at some of the most important locations in modern dining and hospitality — from overseas to Miami, Vegas, Napa Valley— to create a menu that appeals to our core guest, but still invites them to explore something new," Hoffman shared.
In addition to classic dishes from 220 Merrill's recent past that have been enhanced but never changed, Hoffman has crafted tantalizing offerings like the towering shellfish plateaus set off by flowing dry ice, pasta dishes exploding with flavor, and delightfully delicious appetizers and shared plates perfect to begin any meal with.
"We wanted to offer dishes that are familiar and keep the classics that have made 220 Merrill what it is today, while providing distinct options for guests that are seeking more advanced notes," Hoffman continued. "We want every bite to be fun, thoughtful, and amusing to the palate of everyone who joins us."
He points to the Mediterranean Branzino, served with rapini pesto, accompanied by roasted Brussel sprouts and confit baby potatoes, and topped with a smoked almond gremolata as one such dish.
The spring refresh also includes an inspired new beverage list carefully crafted by veteran mixologist Ross Ziga, who comes to 220 Merrill by way of the Four Seasons Hotel Las Vegas. The revamped and inventive drink menu features cocktails for every palate, from smokey and aromatic to bright and bubbly, along with wines from the world over by the bottle or glass, and a selection of non-alcoholic modern mocktails.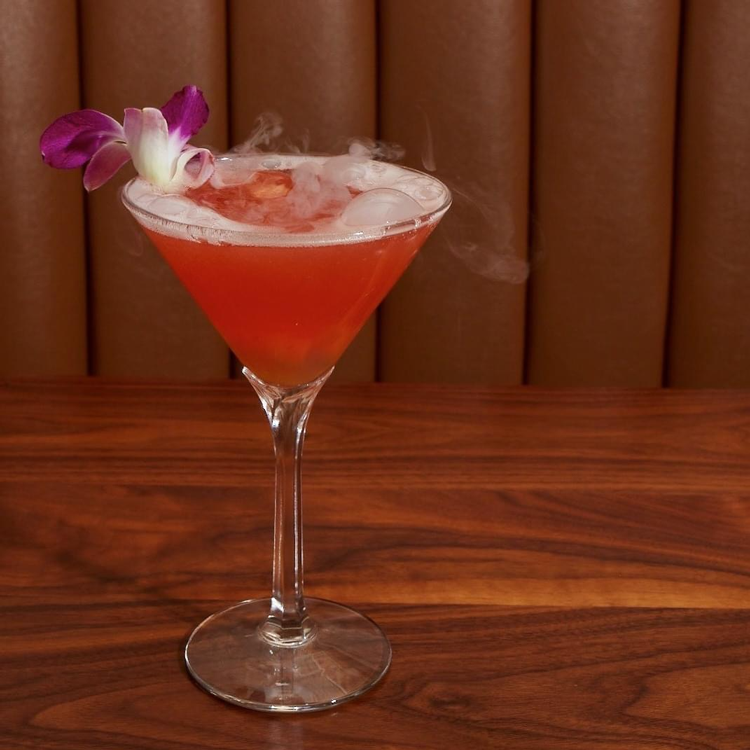 The Exquisite Martini with its refreshing mix of Ketel One Vodka, elderflower liqueur, raspberry, rose water and prosecco, garnished with rose petals is fast becoming a standout. 220's hallmark cocktail, the Fuzzy Bubbles, an alluring showstopper also remains a customer favorite.
"We feel that the most important thing in the dining experience is to be able to enjoy thoughtfully created dishes in a way that is celebratory and unique. 220 is continually the most fun location in Birmingham. We invite anyone who has not yet had the opportunity to enjoy it to come by and have an iconic experience with the most important people in their lives," Elia shared.
New 220 Merrill Lunch, Brunch, Happy Hour, and Dinner Menus are available now. Happy Hour at 220 Merrill is Monday through Friday from 3 p.m. to 6 p.m. Patio season at 220 Merrill will begin on Saturday, April 15, weather dependent.