The iconic Westin Book Cadillac Detroit is about to get a $20-million makeover.
Starting in January with an expected completion in summer 2023, the project includes a redesign of the hotel's 453 guest rooms and suites, 36,000 square feet of meeting and banquet facilities, and all public spaces. A new dining experience will be introduced in 2023, with details to be announced soon.
Director of Sales and Marketing Scott Stinebaugh has been on property since the hotel underwent a $200 million restoration before it opened in its current incarnation in 2008. He explains that the Book Cadillac, originally built in 1924 by the Book brothers — J.B. Jr., Herbert, and Frank, who also constructed the Book Tower, Book Building, and other downtown landmarks — operated as one of the finest luxury hotels in North America during its first decades of existence.
"In Detroit, it was one of those places everybody came to celebrate something," Stinebaugh says.
The hotel also was known for welcoming prominent figures including several presidents, top entertainers, and professional athletes, and for hosting major social galas.
Closing in 1984, it remained vacant until it was purchased by the The Ferchill Group, based in Cleveland, in 2006. Renovations then took about two years before the hotel could reopen.
"It served as a catalyst of revitalization of the city that's continued to progress forward since it opened in 2008," Stinebaugh says.
In 2021, Chicago-based Oxford Capital Group purchased the Westin Book Cadillac Detroit. Given it's been 15 years since the last renovation, an upgrade is due, Stinebaugh notes.
"Typically, a hotel would do a soft renovation seven to 10 years out," he says. "We have not had a renovation since we opened the hotel in 2008. "The materials they used have withstood the test of time. If you come into the property, it doesn't immediately look like it's in dire need of renovation."
Still, plans call for updating the color palate and textiles. The hotel's redesign will pay homage to the Italian Renaissance style embraced by original architect Louis Kamper with a fresh, contemporary aesthetic.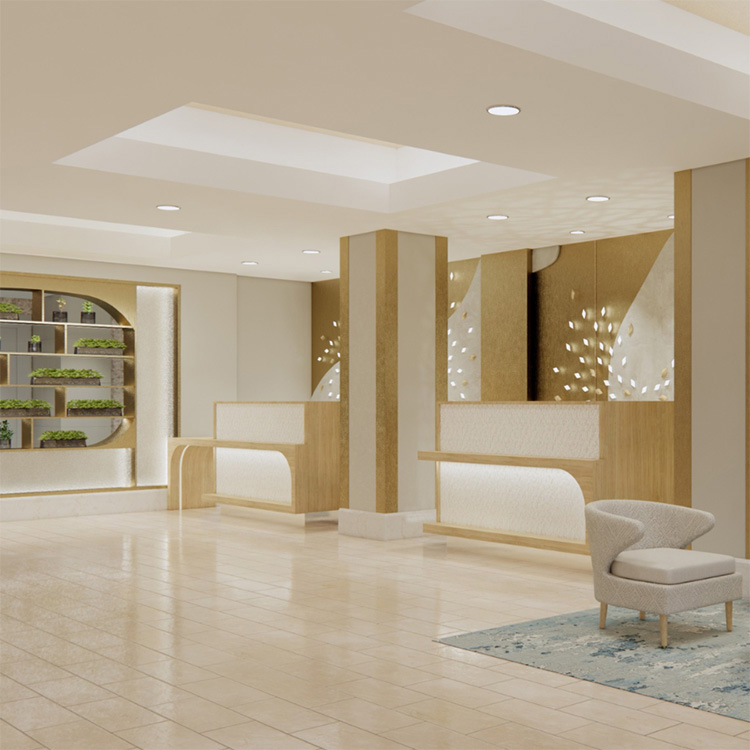 The Concierge Lounge gets a new look, furnishings, and window and flooring treatments as do the second-floor guest reception lobby and the Washington Boulevard entrance lobby. The hotel's 17 meeting rooms including the Crystal Ballroom, Italian Garden, Woodward Ballroom, and Venetian Ballroom also will see new flooring, seating, and window treatments.
The project additionally calls for:
– conversion of 133 Double Double guest rooms to 133 Double Double Queen rooms
– the addition of pull-out sofa beds in 32 executive suites
– most guest bathrooms with tubs to be updated with walk-in showers incorporating the water-saving Heavenly Rainhead and dual-function hand shower, along with illuminated vanity mirrors
– the redesign of two, 1,500-square-foot luxury suites
All rooms will include Westin's Heavenly Bed and Heavenly Bath, in-room spa services, an oversized work desk, a 55-inch Smart TV, a laptop safe, a minifridge, wireless Internet, dual-line cordless phones, a hair dryer, and an iron with ironing board.
And there's more. The Boulevard Room breakfast restaurant and The Motor Bar will be outfitted with fresh furnishings, seating, flooring, and window treatments. New workout equipment, a mural design, flooring, and pool furnishings/greenery will be featured in the fitness center.
"Our concept is to retain the property's beauty by balancing the strong architectural motifs and patterns with soft natural forms and dynamic flowing movement," says Ryan Schommer, a director at Gettys group — that's the Chicago-based company overseeing the hotel's transformation. "Spaces will offer varied comfortable, yet refined, furnishings and styling that honors classical elegance in a new way."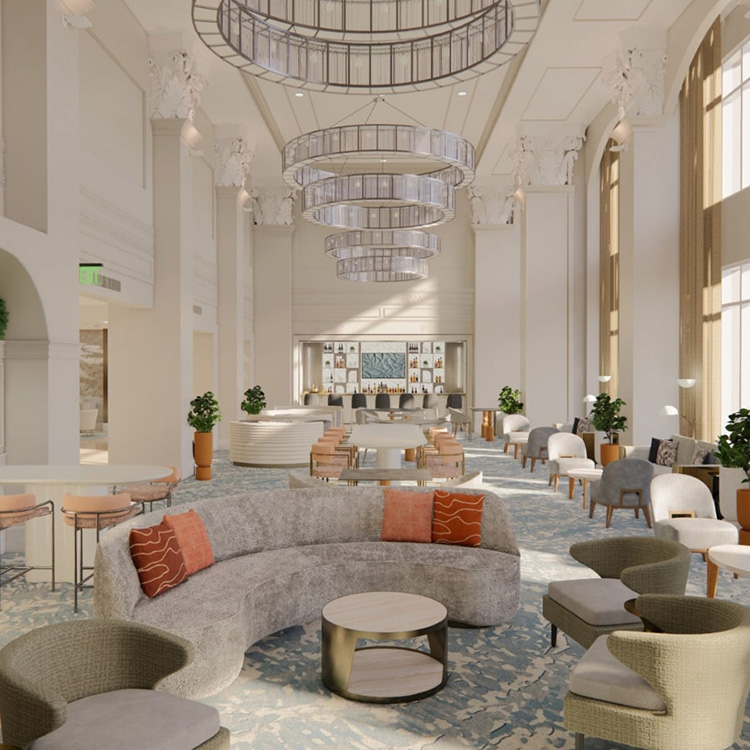 The Westin Book Cadillac Detroit also offers 64 luxury living units on floors 24-32, where residents have access to the hotel's restaurants, fitness center, and housekeeping and valet services.
The hotel will remain open and operational during the renovation process. General Manager Debra Schultz says the staff is excited about the plans.
"Our guests have always enjoyed our hotel's welcoming and elegant experience," she says. "When we emerge from our renovation, we look forward to amplifying that familiar experience with a rejuvenated one that invites guests to create new, inspiring memories."
The Westin Book Cadillac Detroit participates in Marriott Bonvoy®, Marriott International's award-winning travel program that allows members to earn and redeem points for stays there as well as at other hotels and brands across Marriott Bonvoy's portfolio. Westin Hotels & Resorts operates more than 230 hotels and resorts in 40 countries and territories.
Oxford Capital Group is an award-winning international real estate investment, development, and management firm centered on large-scale acquisitions, developments, redevelopments, and operationally intensive real estate. Involved in more than $3 billion in real estate and private equity investments, its primary focus is on hospitality; hospitality-anchored mixed-use projects including multi-family; senior housing; urban retail; and parking.
For more information, visit www.bookcadillacwestin.com or visit The Westin Book Cadillac Instagram. To make reservations, call (313) 442-1600.
Facebook Comments