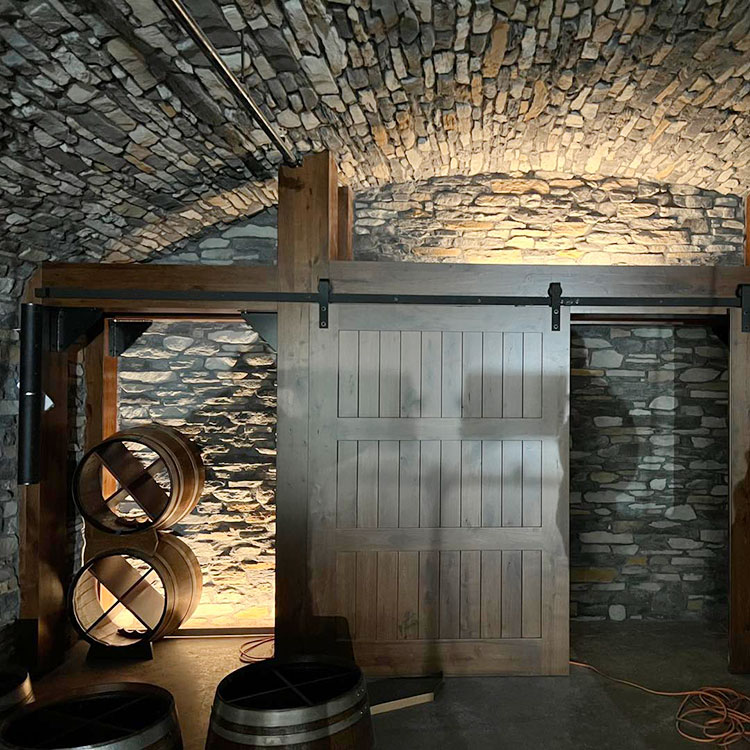 Gervasi Vineyard Resort and Spa is where Tuscany, Italy meets Canton, Ohio. Lush vineyards span 5 acres of the 55-acre property. A destination winery resort, Gervasi features award-winning wines and spirits, three distinct restaurants, lavish overnight accommodations, a boutique marketplace, and soon, a luxurious spa and intimate wine-tasting room, The Cave.
The Cave at Gervasi Vineyard is part of their 2023 multi-use expansion project that is soon to open at the destination in Canton, Ohio. The Cave is all about the WINE. Gervasi Vineyard is striving to deliver a world-class wine tasting experience in a unique and intimate environment.
The Cave will consist of an underground 1,000 sq. ft. tasting room and an adjoining 4,500 sq. ft. wine barrel cave for aging. The intimate tasting room will be open select hours for traditional wine tasting experiences and tours. The wine barrel cave will house all of Gervasi Vineyard's wine barrel aging and showcase a unique educational opportunity during tours.
During public hours, the wine tasting menu will offer four or five wine tastings for guests to experience. The Gervasi Wine and Spirits Ambassador will guide them through the tasting tableside. Light refreshments will be available and include a whipped feta spread, a savory tomato jam, and a decadent mascarpone cheese spread.
Ticketed wine tasting tours will begin with an educational video that outlines the winemaking process. The tour, then, will be guided through a wine tasting that focuses on four of Gervasi's wines and includes an antipasti cup as a light snack. It will conclude with a tour of the Barrel Cave and an insider view of Gervasi's wine barrel aging process. The ticketed tasting tours will also be led by a Gervasi Wine and Spirits Ambassador.
Gervasi is known for their private events and experiences. Guests will be able to reserve The Cave during off-hours for private events and tastings.
"We are not your typical winery where we have a designated 'tasting room.' The Cave will give us the opportunity to showcase our award-winning portfolio along with educating our guests about the wine-making process in a unique experience," said Scott Swaldo, General Manager of Gervasi Vineyard Resort & Spa.
Gervasi's winemaking philosophy is that every aspect of the process from grape to glass is one of deliberate contemplative action with artful intervention aimed at producing elegant wines of the highest quality. The winery's fundamentals are based on passionate old-world craftsmanship joined with new-world science and technology. Guests will be immersed in a wine-tasting experience that will walk them through Gervasi's winemaking process from grape to glass.
Details of The Cave include an elegant atmosphere with beautiful décor and accents, like wrought iron, handcrafted furniture, and warm lighting. Guests will experience the look and feel of being in an underground wine cellar.
An official open date has yet to be announced but, hopes of opening to the public by early March are in the works. For more information about The Cave and details about Gervasi Vineyard Resort and Spa, visit www.gervasivineyard.com.
Open a bottle of Gervasi wine and "Celebrate Life" at The Cave at Gervasi Vineyard Resort and Spa.