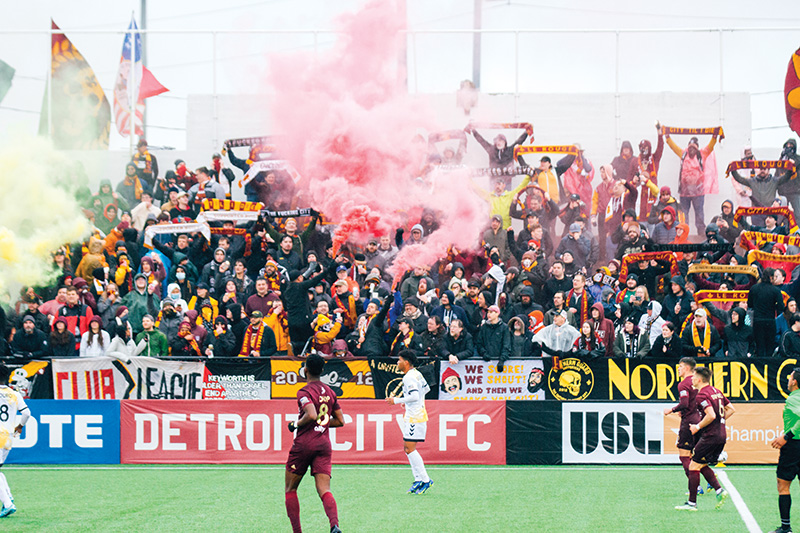 On the mid-March morning of Detroit City Football Club's home opener, a freezing rain pours steadily and doesn't appear likely to stop anytime soon — certainly not ahead of the 4 p.m. kickoff against the visiting Charleston Battery, of South Carolina.
The weather though, has apparently no bearing on the game's attendance. More than 5,300 "supporters" — or fans, in the parlance of pro soccer — brave the elements at Hamtramck's Keyworth Stadium, for a 1-0 victory. It's the club's most important game to date, after all — a celebration of a major "promotion," the soccer-world term for rising to a more prestigious and competitive league. DCFC this year joined the USL Championship, a step up from their previous league, the National Independent Soccer Association. The best-known Major League Soccer stands atop the hierarchy of American soccer, followed by the USL.
If you're a less-than-casual soccer fan whose knowledge is limited to Ted Lasso, and you're already a little lost, that's OK. It's a little complicated. So, here's what you must know: Today is a big deal. DCFC, founded in 2012, has staged a dizzying rise, against long odds.
That DCFC has made such a rapid climb is plainly surreal. The club moved to Keyworth from Cass Technical High School's stadium in 2016 and usually surpasses average attendance of 5,000 people — topping out at an average pre-pandemic attendance of 6,341, in 2019. 
An hour before kickoff, the Northern Guard Supporters, which is essentially a fan club, lead a few hundred fans on the March to the Match. They pass out flags at Fowling Warehouse bar on Christopher Street. Percussion instruments and folks with megaphones — "capos," as they're known around these parts — narrate the walk, lighting smoke bombs and leading chants characterized by general statements of disdain for the opposition.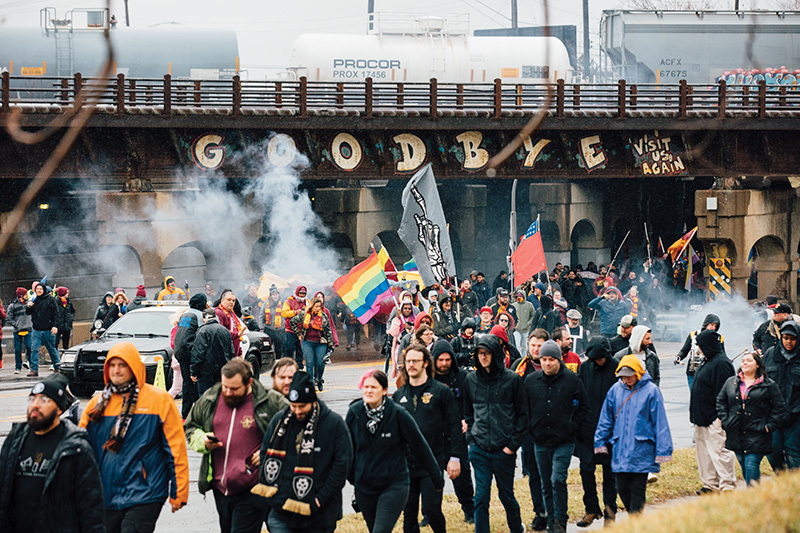 "You either sing for City or you're shit!"
Bum, bum, bum
"You either sing for City or you're shit!"
Bum, bum, bum
The same morning, Detroit Free Press subscribers open their papers or apps to an essay by sports columnist Carlos Monarrez with a predictabl  inquiry into why soccer has never really taken hold in the United States. He opens his screed with the admission that he's a secret soccer fan who can no longer hide in his closet because he's too excited about DCFC. The headline asks: "Detroit City FC moves up one level. Could its next move be to MLS?"
With that, it remains clear that the biggest voices in town still just don't get it. The question of whether DCFC ever joins the MLS is beside the point. They might; they might not. But it's not how anyone around here judges its success.
Rather — and yes, this may make you roll your eyes — its goal is to stand for something while promoting the sport ("a community-focused, supporter-driven, design-forward club," team co-owner Alex Wright calls it), to create an authentic soccer experience, from the European era before the game became one of the biggest businesses in the world.
Their "moral compass," Wright adds, follows that of FC St. Pauli, a German-based team founded in 1910 that, in the 1980s, picked up a fanbase of left-wing political activists with a knack for being rowdy. It was the fan bonding experience, as much as what happened on the pitch, that built the team following into a social and financial success.
DCFC is doing something similar, albeit perhaps not uniting fans so much around a political creed as around a sense of metro Detroit pride. Moving to the MLS would require a move away from Keyworth, a rugged, Great Depression-era stadium that lines a railroad track and was opened personally by President Franklin Roosevelt, in 1936. It would slap more restrictions on a ruthless, boisterous fan atmosphere that has attracted players like Antoine Hoppenot of France and Francis Atuahene of Ghana, both former MLSers now playing here.
Hoppenot and Atuahene follow a long line of players who've seen or heard about the atmosphere at Keyworth and have gone out of their way to be part of it.
"It's incredible. It's loud. I can't hear anything, and it's the way I like it," Hoppenot says after scoring the winning goal against Charleston. "It makes it real. It makes it true. Sometimes you play a game and there's no one. This makes it feel like a real, professional game." 
On the pitch, DCFC is led by a dangerous group of scorers that includes Hoppenot, Maxi Rodriguez of Texas, Pato Botello Faz of Mexico, and Commerce Township native Connor Rutz. On the back end, it's captain Stephen Carroll of Ireland and goalie Nate Steinwascher, a Sterling Heights native. Players receive housing and a salary of between $40,000 and $60,000, but some, like Steinwascher, who is an accountant, have day jobs. He's been with the club since 2016 and recorded nine "clean sheets," or shutouts, in 16 games during last year's fall season.
They're led by manager Trevor James, a one-time talent scout and interim head coach for the MLS' LA Galaxy back in the aughts, when David Beckham played there. James got a taste of the charmingly homespun nature of DCFC when he landed at 6 a.m. in Detroit, for his job interview in 2019, expecting to be picked up by club co-owner Sean Mann. Instead, he found a text on his phone from Mann: "Sorry, I'm having a problem with day care. Can you get an Uber?"
James, a heavily sought-after recruit after helping to lead Indy Eleven to promotion from NISA to the USL in 2017, was bemused. "It was typical Detroit City, to be honest," he says.
To fans, he's known as "TMFJ," his initials embellished with two letters that stand — lovingly, of course — for a common expletive. Under his tutelage, DCFC has been a significantly better team, winning multiple season and tournament championships in NISA. Last season, DCFC lost just one game over 34 matches, between April and November, en route to spring and fall league championships.
Yes, that's right — there's a Detroit football team that wins. A lot.
James' task this season is a bit more daunting. DCFC will play a 34-game regular season from March to October, all streamed via ESPN+. The league sends the top seven teams from the Eastern and Western conferences to the playoffs. DCFC resides in the East.
"When you move up a league, you get players that played at a higher level, you get players that have played at a lower level that all get matched in one group," says Rutz, now in his third season with DCFC. "There can be some disagreements about the standards. I think that's what Trevor does very well, is he keeps a good core to move the standard up."
James' approach, and that of the club, is a bit unusual for pro sports: "We try to sign players who've got character and a little bit about them, you know? It's not always just about their ability
on the field."
Indeed, DCFC opts against the sort of professionalized, super-serious approach that most pro teams in any sport enact. Instead, it sees itself as a genuine "club," not just a team, with the public a key piece of the community and camaraderie. "This is a scrappy, blue-collar club playing in a [nearly] hundred-year-old, blue-collar building that's surrounded by neighborhoods and factories," Wright says. "It is in every way reminding you about who we are."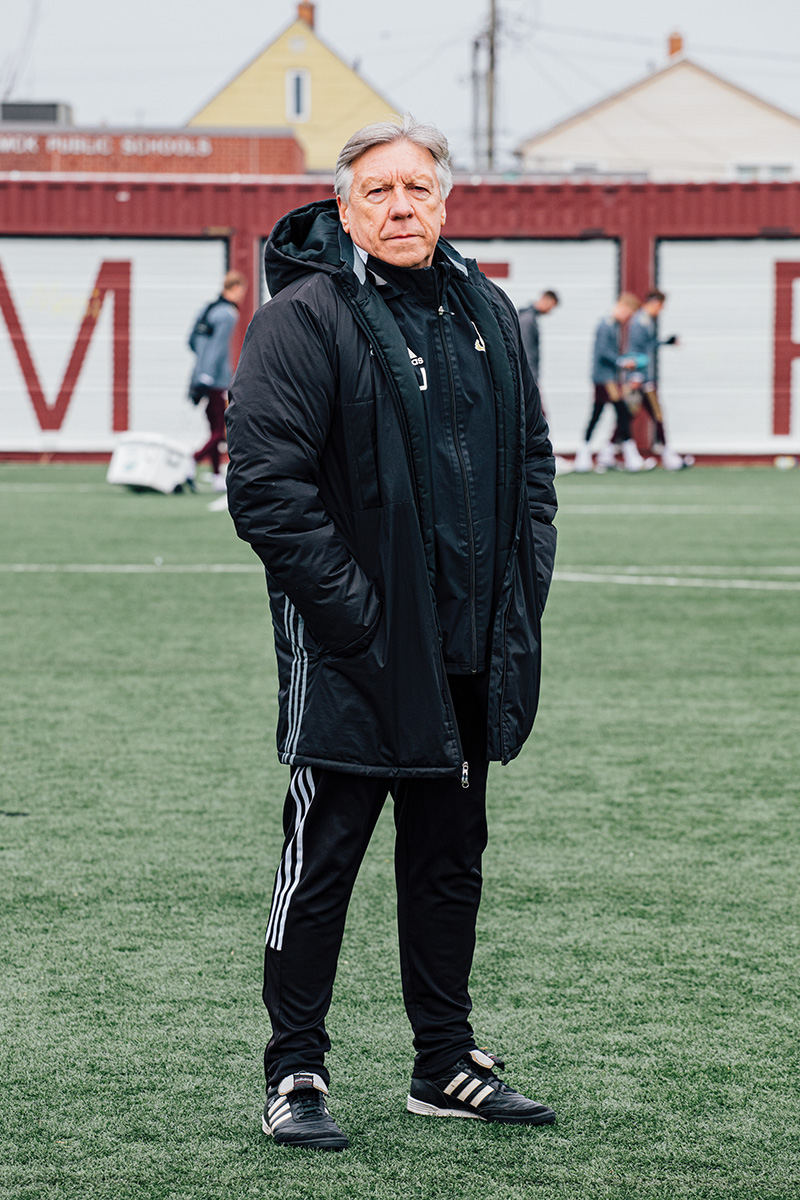 As pro sports events go, it's also a bargain. Season tickets for adults start at $150 for 20 home games, about $8 per game. That's about half the cost of a fancy beer at Little Caesars Arena. Season tickets for children ages 7 to 17 cost $85. Single-match tickets run $12, $15 if purchased on the day of the match. Kids 6 and under are admitted for free.
"We provide people an opportunity to enjoy a game that's beautiful at a cost they can afford," Wright says. "This isn't about not making money. It's about finding a way to respect your fans, keep them invested and engaged. You wouldn't exist without them."
There has been no shortage of helping hands from the sidelines. Sean "Red" Novak, a supporter, hosts the 4:51 Podcast, a DCFC-centric show named for the code for a popular soccer field player formation. He aims, he says, to "nurture that relationship between the city and the club. I guess the trifecta for 4:51 is Detroit, soccer, and community."
On the Tuesday before DCFC's home opener, for instance, Novak hangs around the Detroit City Fieldhouse, their practice site on East Lafayette in Detroit, waiting to speak with James. That alone is extraordinary; hosts of fan-driven podcasts rarely have that sort of access with a pro team, even in soccer.
Formerly an ice rink that once served as the Detroit Red Wings' practice facility, the 75,000-square-foot facility was remodeled to house indoor training and other day-to-day activities for DCFC players and staff. Players are served two meals a day there, get their training in, watch film. The team's administrative staff works upstairs, in offices adjacent to a bar — Detroit City Clubhouse — overlooking the turf.
The podcaster is a Detroit native and lifelong soccer fan and has been a DCFC die-hard since 2015. He's also been a central figure in several community-based service projects, including the Rusty Nut Fund. During Keyworth's 2016 renovations, some groups had an idea to sell off the remnants as jewelry and keepsakes. Novak delivered $500 in proceeds to the Hamtramck soccer coach in a sandwich bag, he recalls.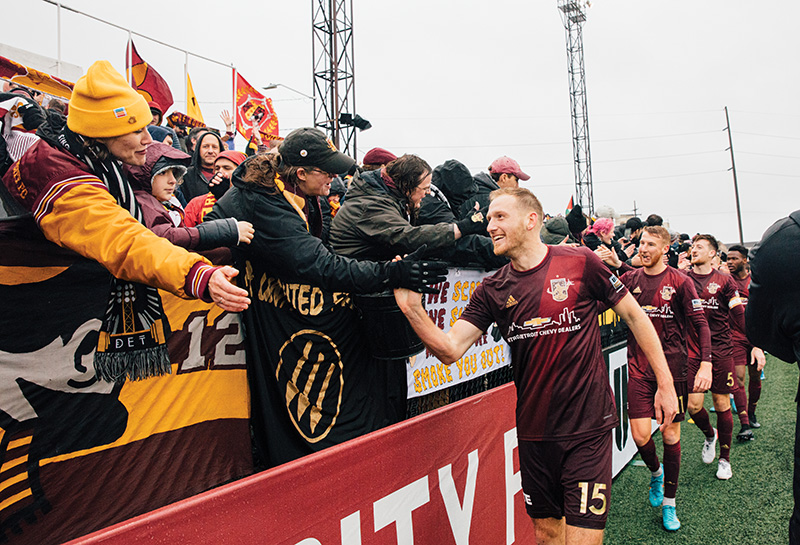 He figures there are "maybe even a few thousand" supporters as intense as he is.
Actually, that number can reasonably be estimated at about 3,000 — the number of supporters who helped keep DCFC solvent by buying shares when the club sold off 10 percent of its ownership to raise nearly $1.5 million needed to weather the pandemic-induced downturn. "I don't know what all nearly 3,000 of our investors were dealing with in their personal lives, but in my personal life, it was not a time when I was looking to give money to anyone, to invest in anything, whether I believed in it or not," Wright says.
Some supporters, owners, and supporter-owners have taken a hands-on approach by volunteering to assist with Keyworth renovations. Others make regular grocery runs for the players or drop off food at the facility. "From the first day, you could feel how welcoming they are," says Devon Amoo-Mensah, a Chicago-area native and first-year DCFC player. "Something as simple as coming in here and them bringing us dinner and lunches — it's really nice for them to have that feeling towards us and appreciate us like that."
The point, Novak says, is to be part of something bigger than themselves, to be a cog in the wheel: "The soccer was always the cherry on top. What's most important to me about this club is that the relationship between the club and the city of Detroit and the broader metro regions is nurtured."
Unlike with most professional sports teams, which Wright says often leave fans feeling powerless and irrelevant, there's an element of trust between supporters and owners. In some ways, that goes against everything that we know to be true about professional sports in the United States — the bigger and shinier the better — and DCFC brass gripe that that has hurt their pursuit for local media coverage. They're not trying to move to a bigger stadium or more prestigious league if doing so will mean diluting the fan experience. 
Both local papers, The Detroit News and the Free Press, have covered DCFC games sporadically — without quotes and without sending reporters to attend games —and have done bigger features at key moments. DCFC, of course, wants more. 
"We've been on the cover of more magazines in Europe than we have in the city of Detroit," Wright says. "We get more requests from international and national soccer writers than we do from local writers. They come here, and they're like, 'Holy crap, this is the sport that my grandpa told me about.'"
Soccer is here. And in due time, DCFC's owners and fans insist, people won't be able to misunderstand or ignore them — because an entire generation of Detroiters is being taught to love soccer with pride.
---
This story is from the May 2022 issue of Hour Detroit. Read more stories in our digital edition. 
Facebook Comments